Boating, a cherished pastime in Canada due to our abundant freshwater lakes, has experienced remarkable growth in recent years. Among the various types of watercraft, pontoon boats have surged in popularity, particularly among families and recreational enthusiasts. The allure of pontoon boats lies in their accessibility and user-friendly design, all while offering the luxuries typically associated with larger vessels. These boats provide an excellent platform for outings with friends and family, come at a relatively affordable cost, and boast abundant onboard space and numerous amenities. We will explore a dozen exciting new pontoon models that promise to be the perfect getaway for your group.
* prices and specifications subject to change without notice
---
Armada Eco LX 168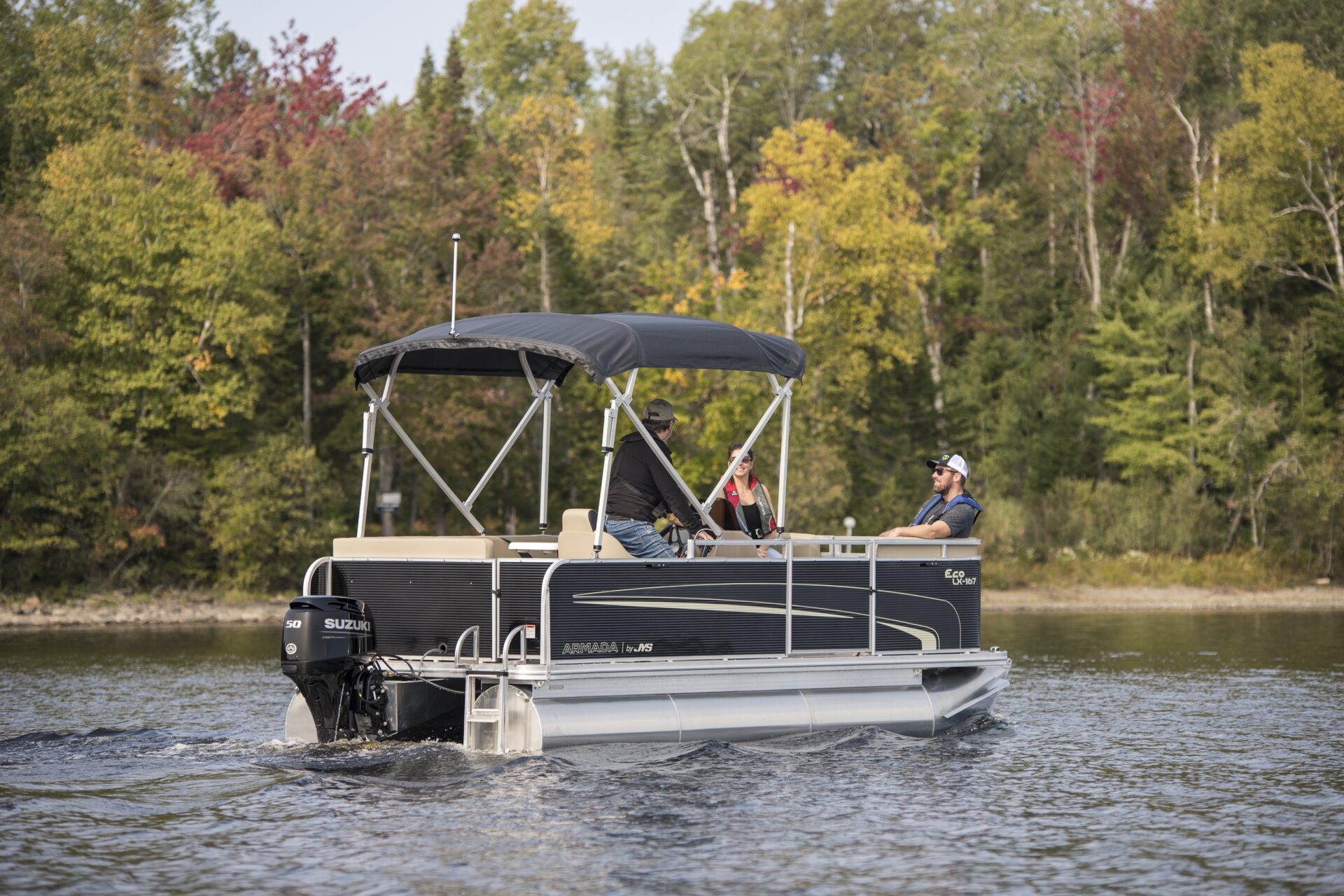 Sometimes all we want to do is get on the water. We don't need all the bells and whistles. We need functional, simplicity, and quality. The Eco LX pontoon by Armada delivers just that, quality at an affordable price. READ MORE!
---
Avalon Waketoon – 23

I would never have thought that we would see a pontoon that you could actually wake surf behind.  When you think about the traditional pontoon, there is a small wake if any wake at all. The Avalon waketoon changed all that in 2020 when it was named the National Marine Manufacturers Association Innovation of the Year.  Since 2020, the Avalon Waketoon has literally and figuratively been making waves on the water.  READ MORE!
---
Barletta Reserve – 26 UC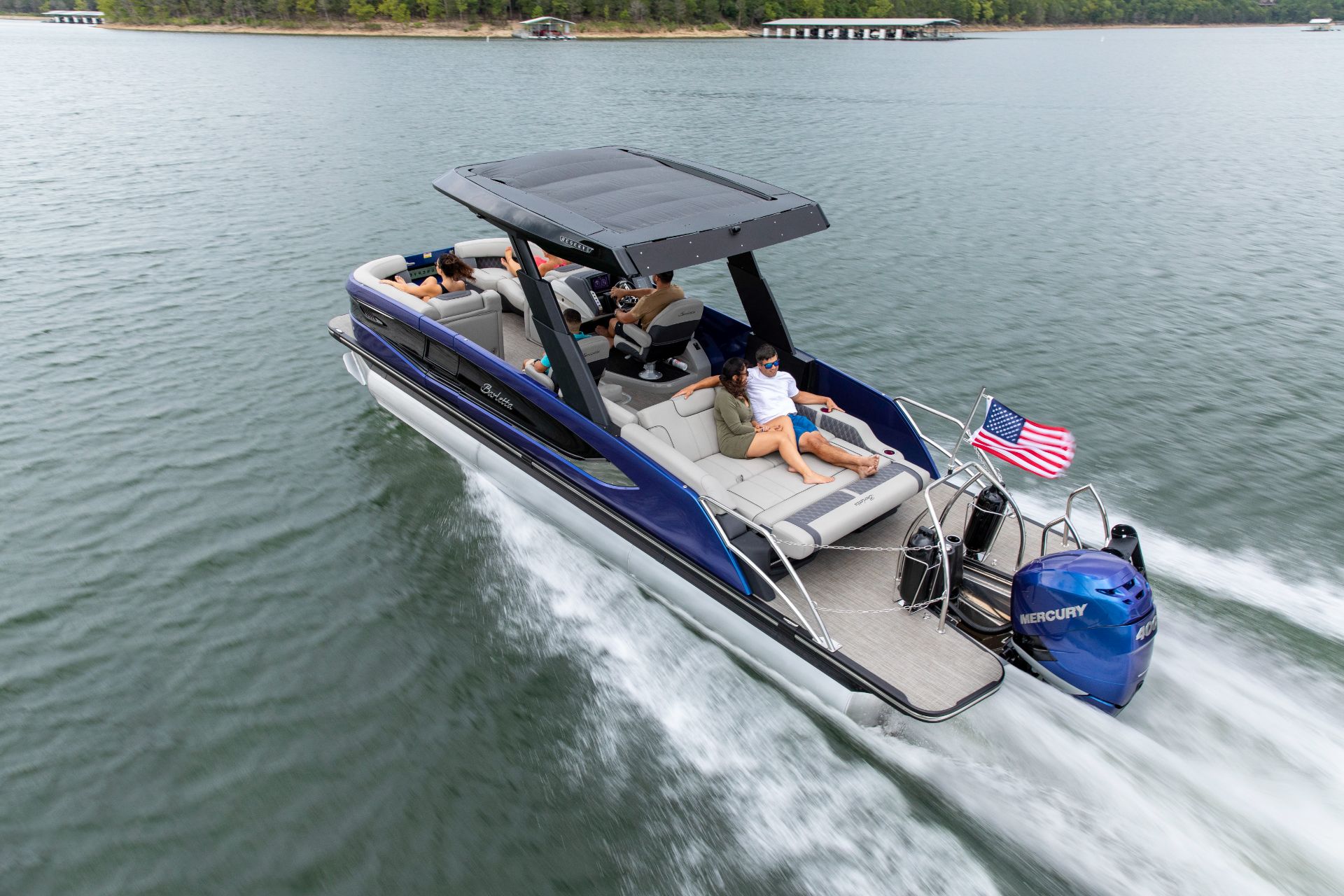 All new for 2023, the Barletta Reserve is the flagship of their lineup. Not only is this their flagship, but the Reserve might be setting a whole new level of luxury for the entire pontoon market. The elegant styling features and high-end, high-quality materials including yacht style hardware throughout the entire boat set this pontoon apart from the rest. READ MORE!
---
Bennington 22 LX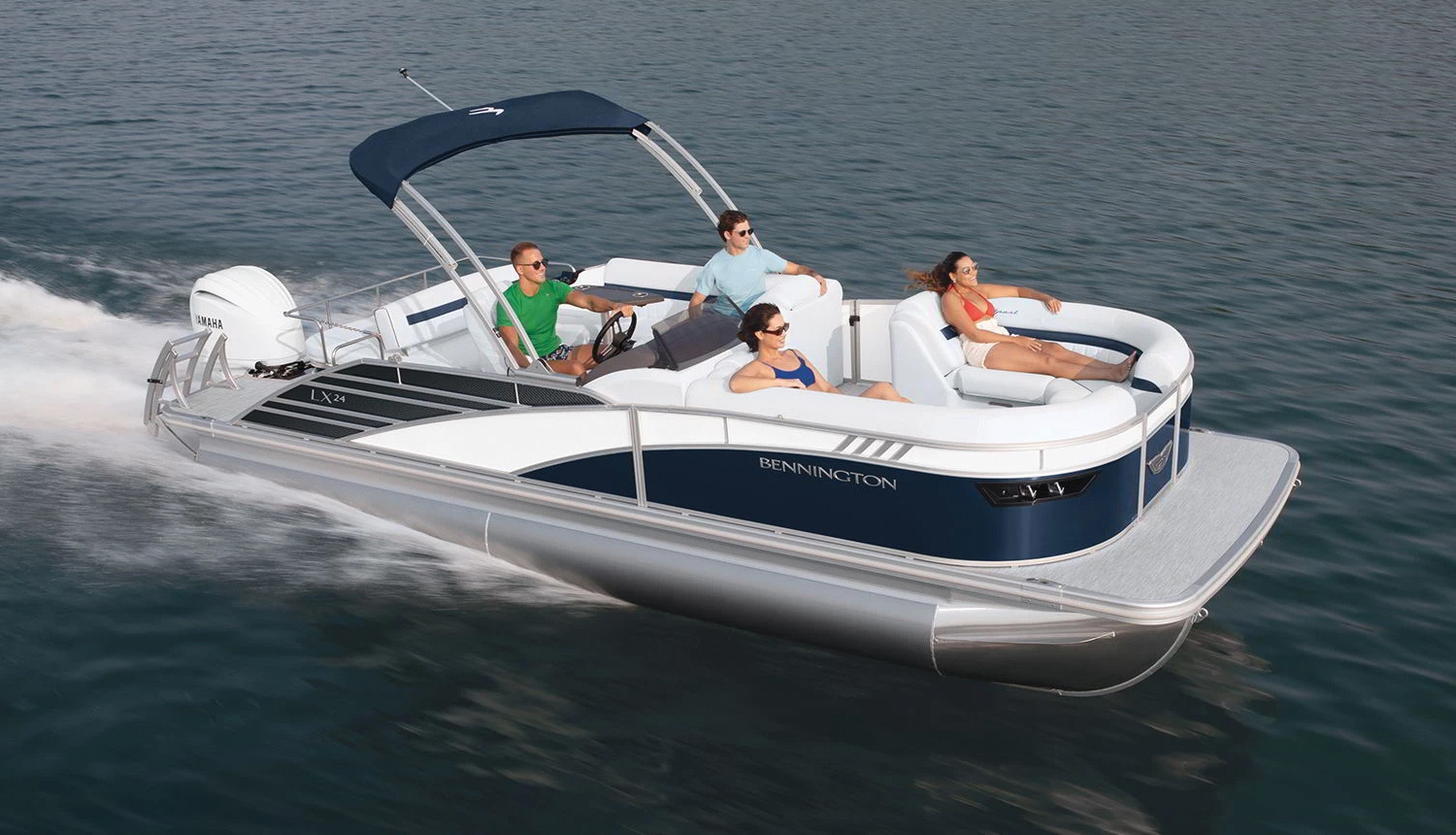 Boat manufacturers are constantly coming out with new models and improvements to existing models – mostly because of customer requests or needs. Bennington is one manufacturer who listens to customer feedback. In 2021, they redesigned the exterior of their L line of pontoons, and for 2023 they have introduced 22, 23, 24, and 26 ft LX Sport models which are the top of the line in their L Series. READ MORE!
---
Godfrey Mighty G
Founded over 60 years ago in Elkhart, IN., Godfrey was a pioneer in the manufacturing of pontoon boats and today makes a wide variety of pontoon boat models starting with a two tube 15-footer entry level pontoon boat, up to a 27-foot deluxe 'tritoon' model. READ MORE!
---
Harris Cruiser 190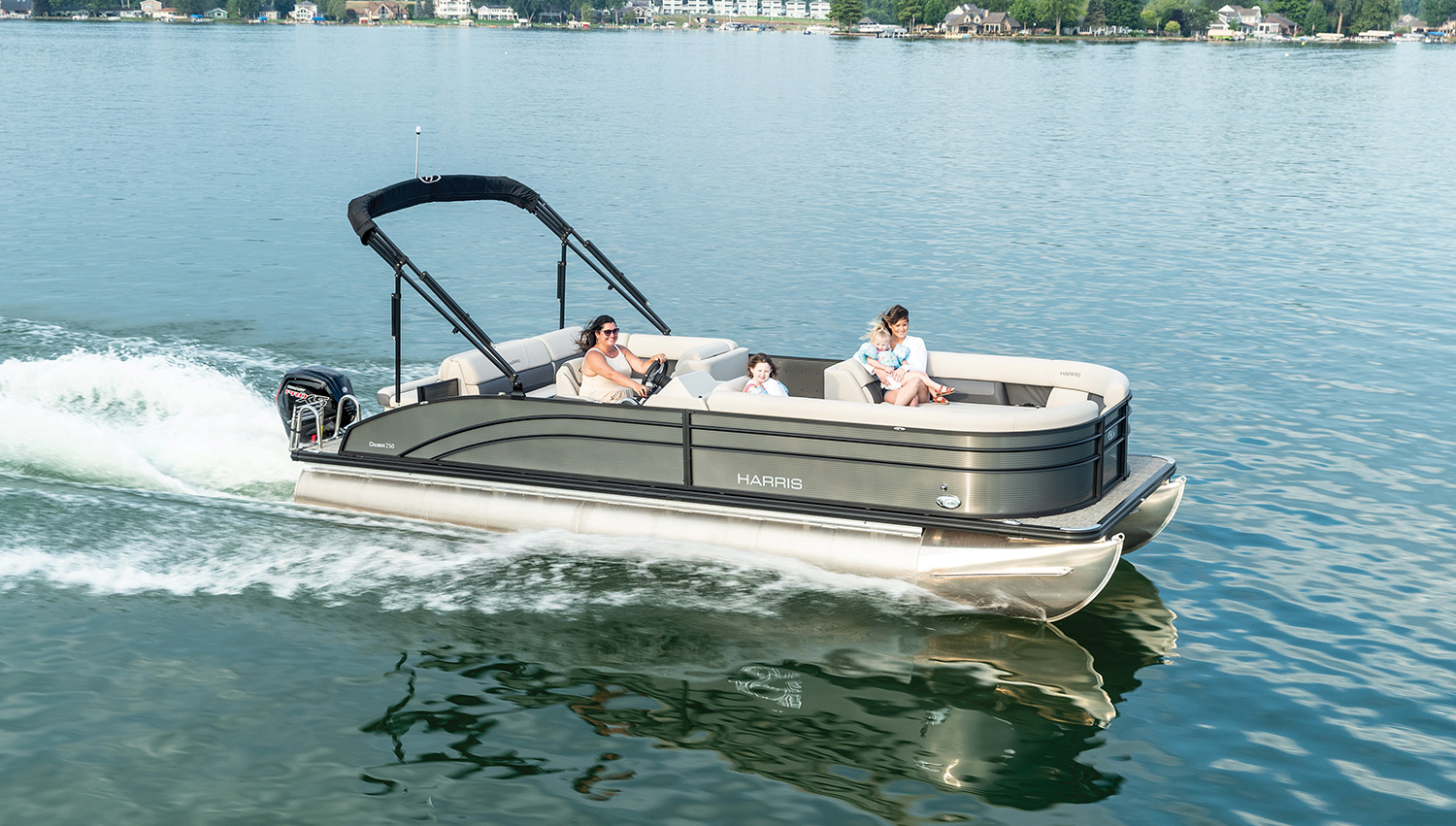 Last year we published a review of the Harris Crown SL 270, their top of the line 'tritoon' boat, but this year we're looking at their Cruiser 190 model, Harris' entry level two tube pontoon boat. Harris is no stranger to pontoons and have been building these boats for over 60 years. READ MORE!
---
Legend V-Series, Aqua Tower Sport Pro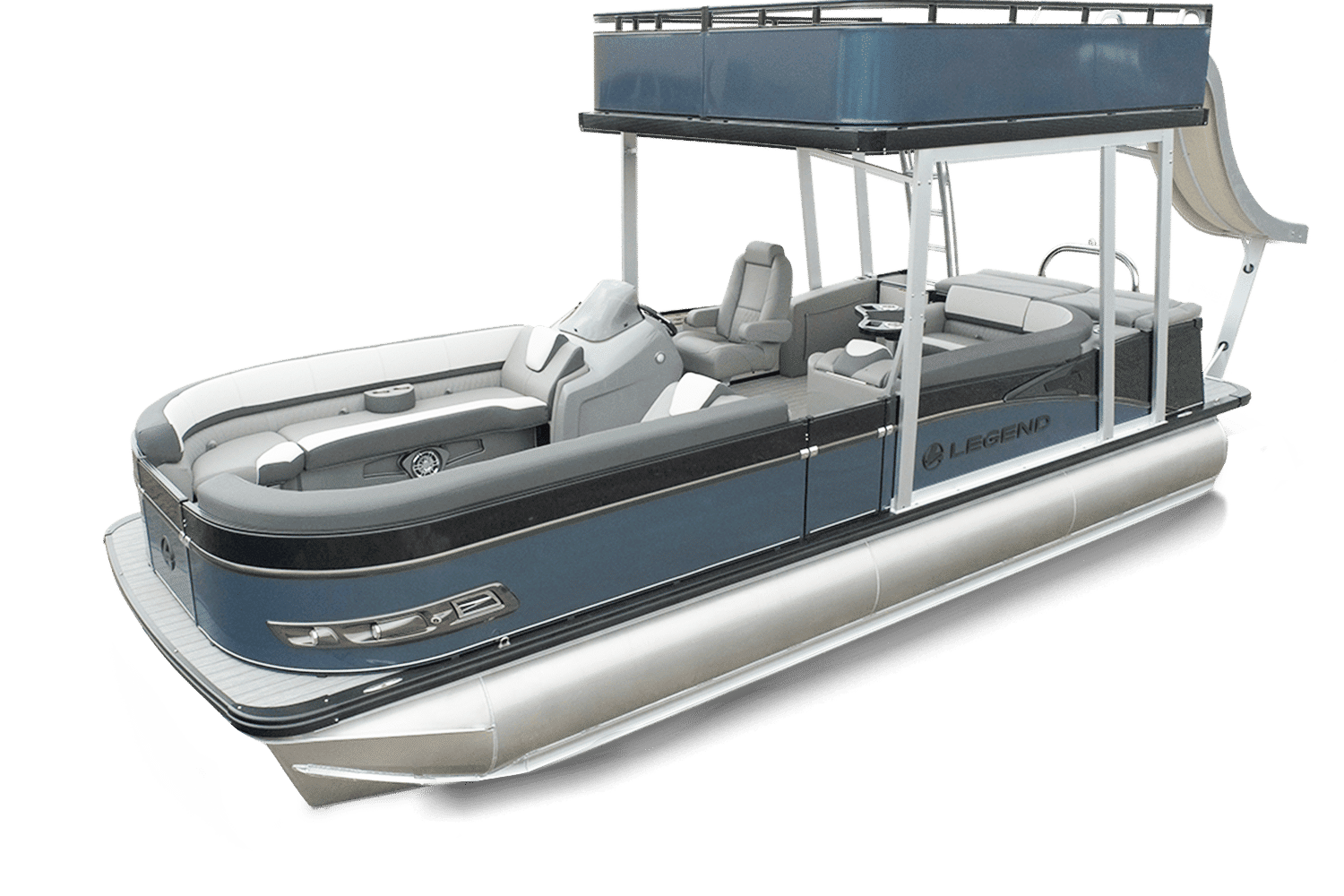 Legend's Aqua Tower pontoon will be a huge hit with the kids as it is like having your own personal waterpark on the lake. This 26-and-a-half-foot craft is a head-turner for sure with its upper deck that includes a slide with a three-foot drop at the end. There is a non-slip ladder that leads up to the top ensuring a safe climb for all participants. The top level also doubles as a great viewpoint and fishing spot. READ MORE!
---
Manitou Explore 22 Max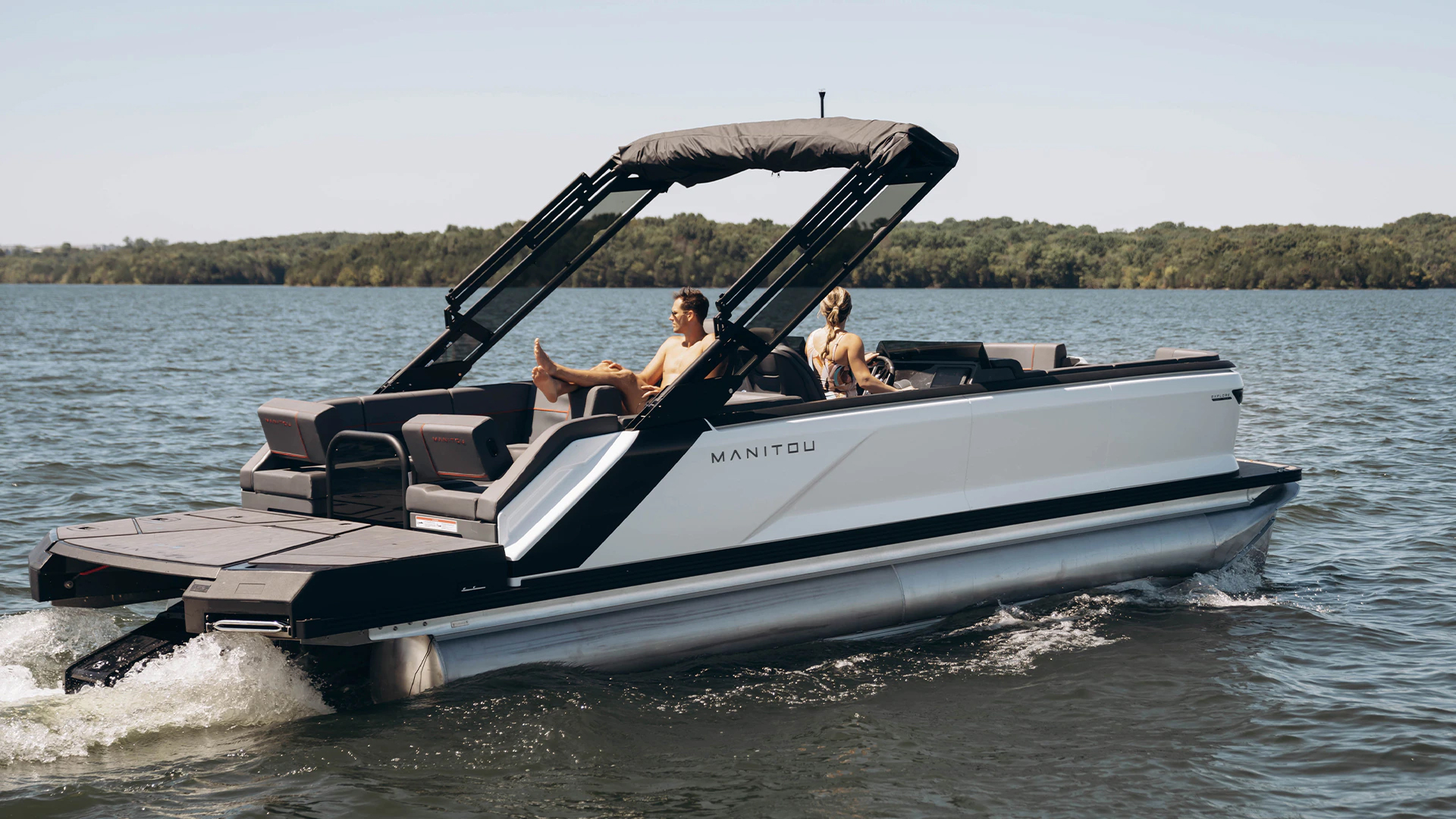 The current generation of pontoon boats are setting new heights and expectations for the Manitou brand and the way that we will view pontoons in the future. Combined with the BRP Rotax S outboard motor, the design, functionality and performance of this pontoon is something that you would expect to find in other segments of the marine market.  READ MORE!
---
Princecraft Vogue 25 RL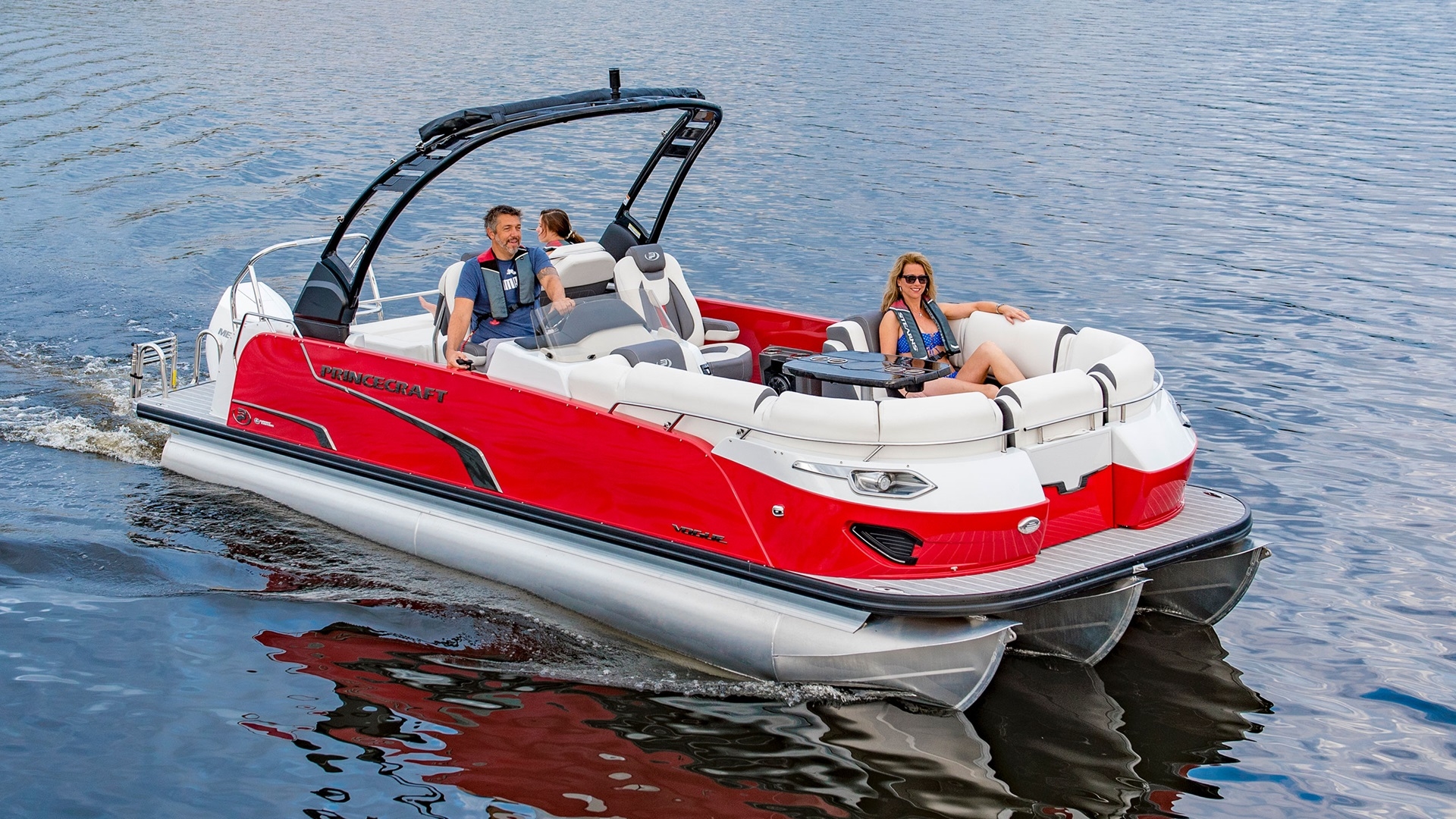 At first glance the Princecraft Vogue series will grace your dock with an unforgettable presence. Its sleek futuristic design leaves the aesthetics of other comparable models in its wakes. We congratulate Princecraft, for its design and engineering making it arguably one of the most attractive pontoons of its class. READ MORE!
---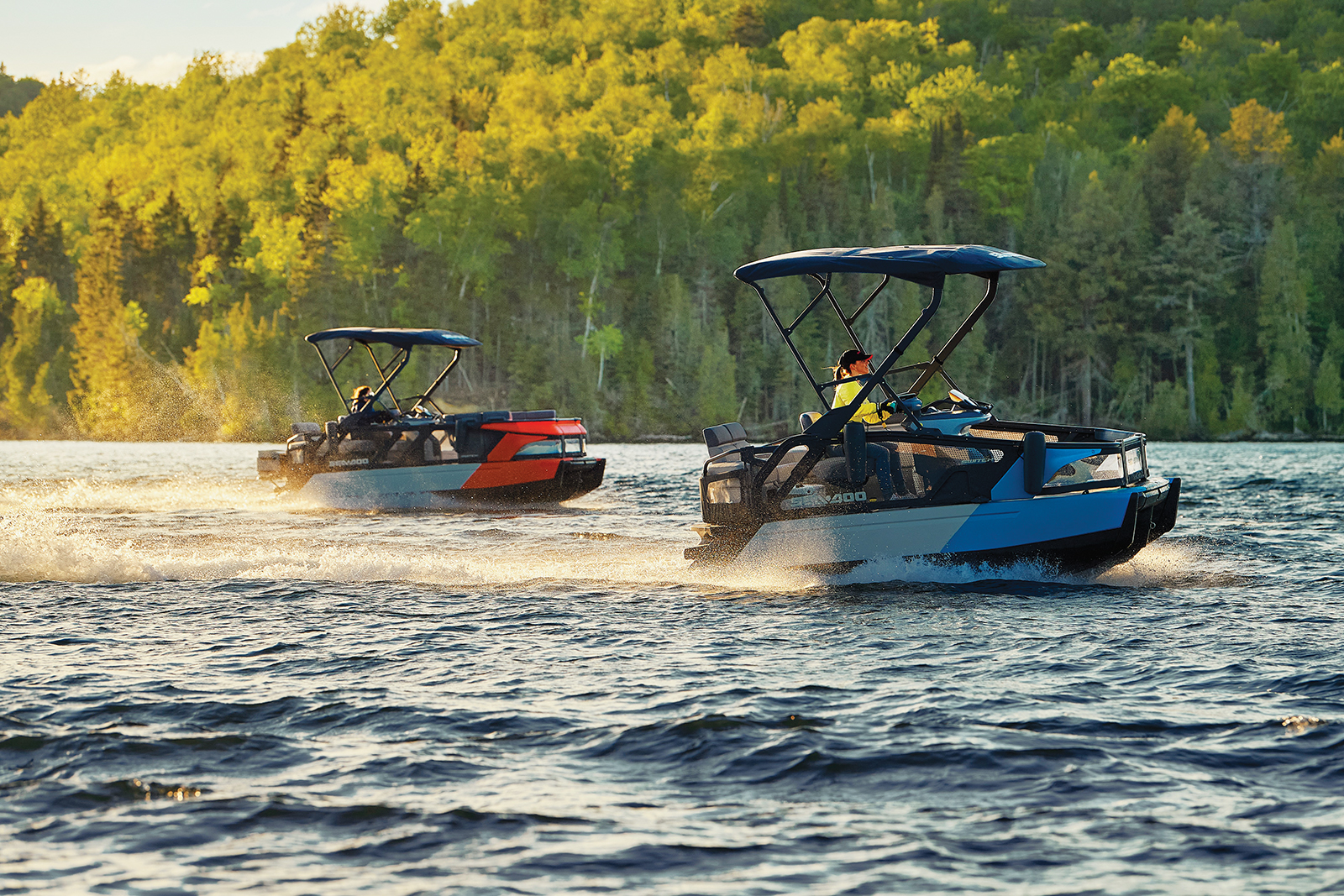 Sea Doo's new 'Switch' model is like nothing you have ever seen or been on before, and when I first saw one, I looked and thought – well I'm not sure what I thought as it looked kind of like a pontoon, but it was short and there were no obvious pontoons. The Switch's vibrant colours were what first caught my eye, a vibrant lime green colour that shouted "wow," and the Switch's shape was, well it was a totally new, innovative, and revolutionary new pontoon shape. READ MORE!
---
Starcraft SLS Q DH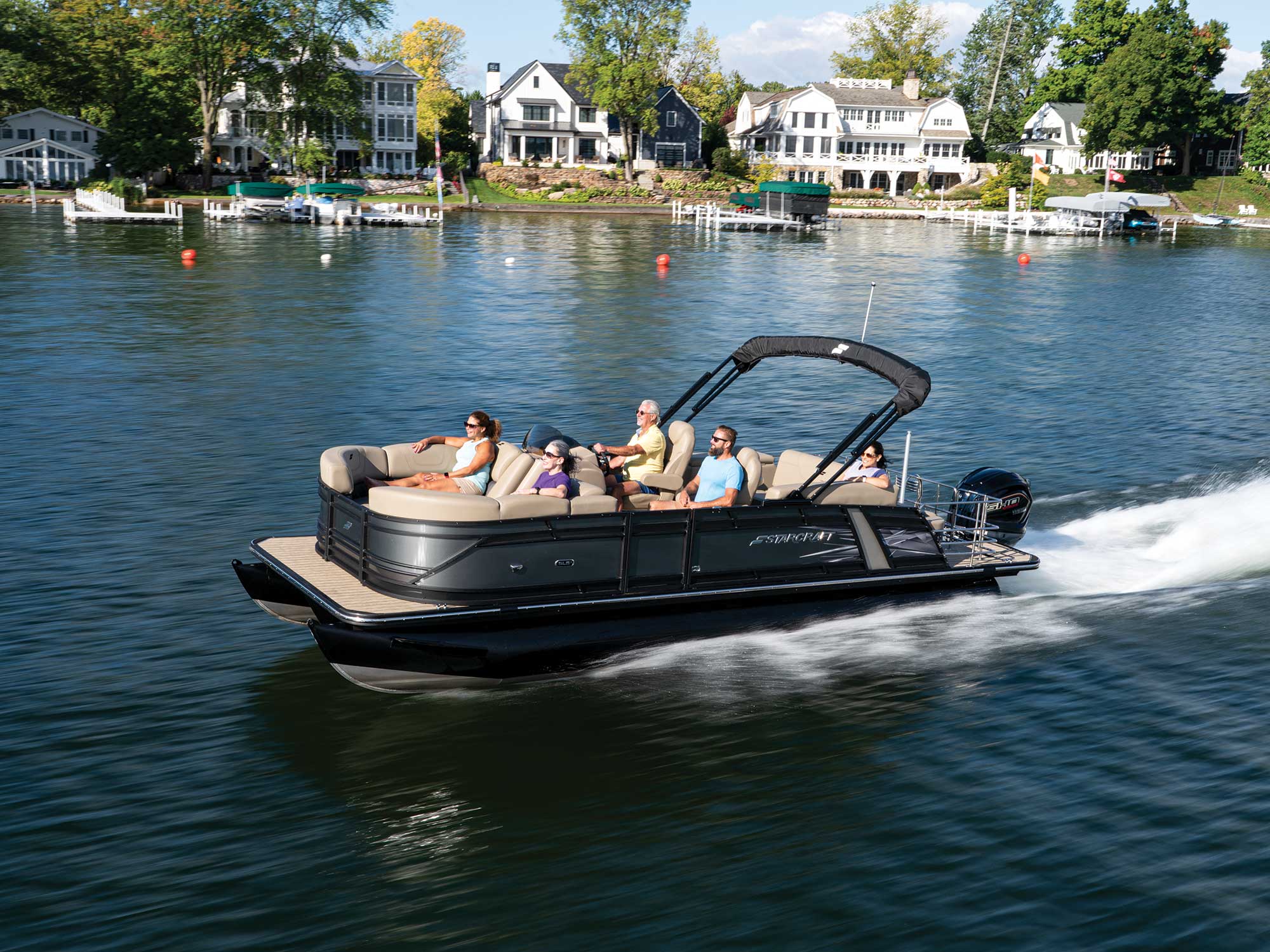 Starcraft keeps pushing forward with their fresh new innovative designs and their target to hit luxury style and performance with the SLS Series lineup. The SLS proves to compete with even the best of Luxury Pontoon models available on the market. With its many options for layouts, the SLS is equipped with performance enhancing HMX tubes, the SLS Series performs with increased speed, better lift, less surface drag with an all-around optimum maneuverability and effortless handling. READ MORE!
---
Sunchaser Geneva Sport 23 Fish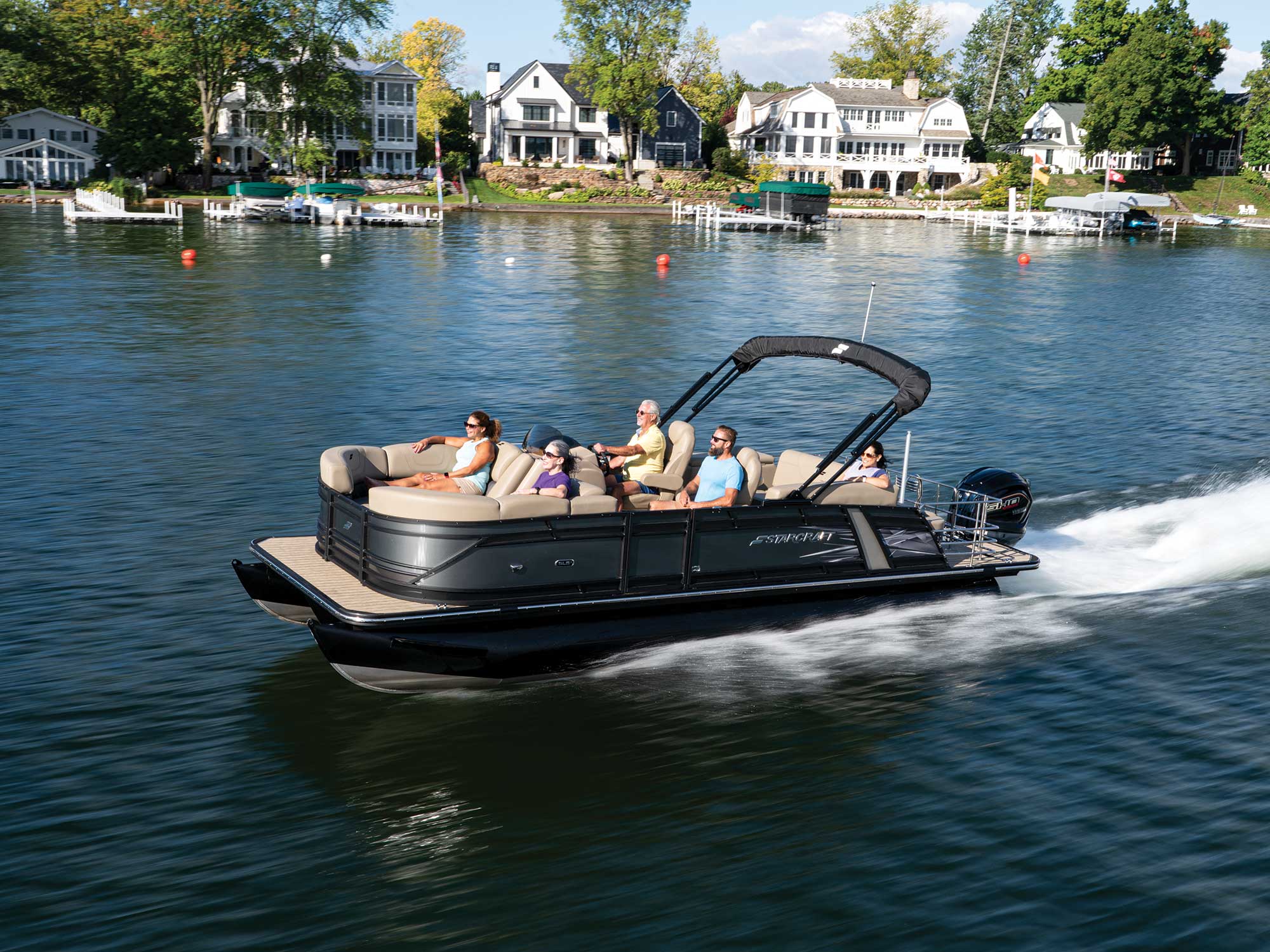 The versatility of the Geneva Sport 23 Fish makes this one of Sunchaser's most popular models as it offers a little something for everyone. Whether you want to hang out at the local sand bar, pull a tuber or do a little fishing, this pontoon has all the amenities for everyone without shorting one feature over the other. Adding a live well to a pontoon doesn't make it a true fishing boat. Sunchaser has taken a true fishing boat and incorporated it with all the amenities that you would expect to find on a pontoon. READ MORE!
---
Sylvan M5 LZ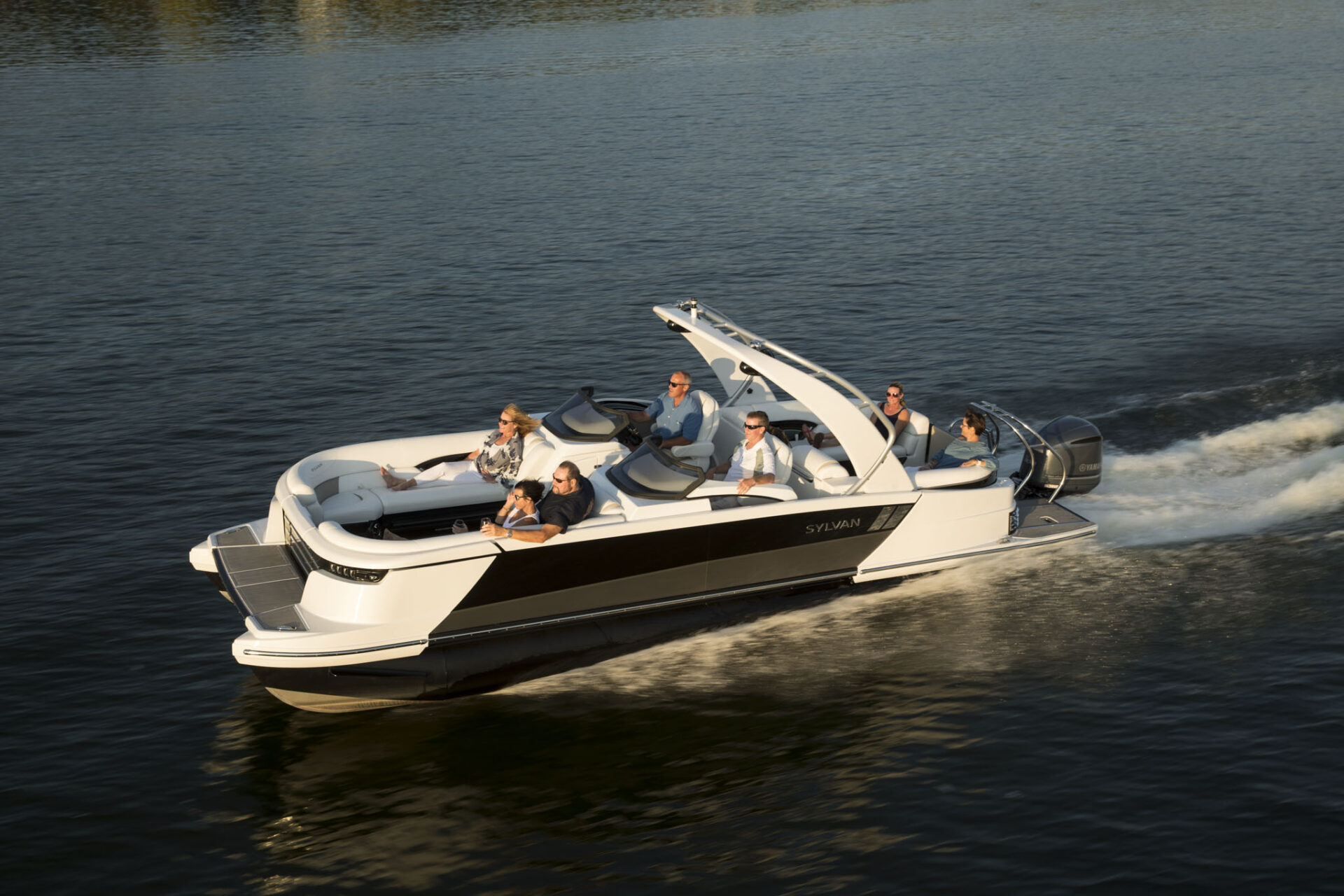 Sylvan's M5 series takes extravagance to a whole new level with five unique layouts to choose from.  Whether you want a dual console with a windshield or an overabundance of seating, the M5 series has something to offer everyone. One of my personal favourites is the M5 LZ layout as it has a little something for everyone and the lines on these boats are head turners. Stylish designs that make you look twice to see whether that was an Italian sports car or a sleek pontoon. Using a combination of fiberglass moldings and aluminum extrusions the M5 series doesn't look like your average pontoon. READ MORE!