The Armada Eco LX 168 is an exceptional entry-level pontoon.
By: Chris Kourtakis
Sometimes all we want to do is get on the water. We don't need all the bells and whistles. We need functional, simplicity, and quality. The Eco LX pontoon by Armada delivers just that, quality at an affordable price.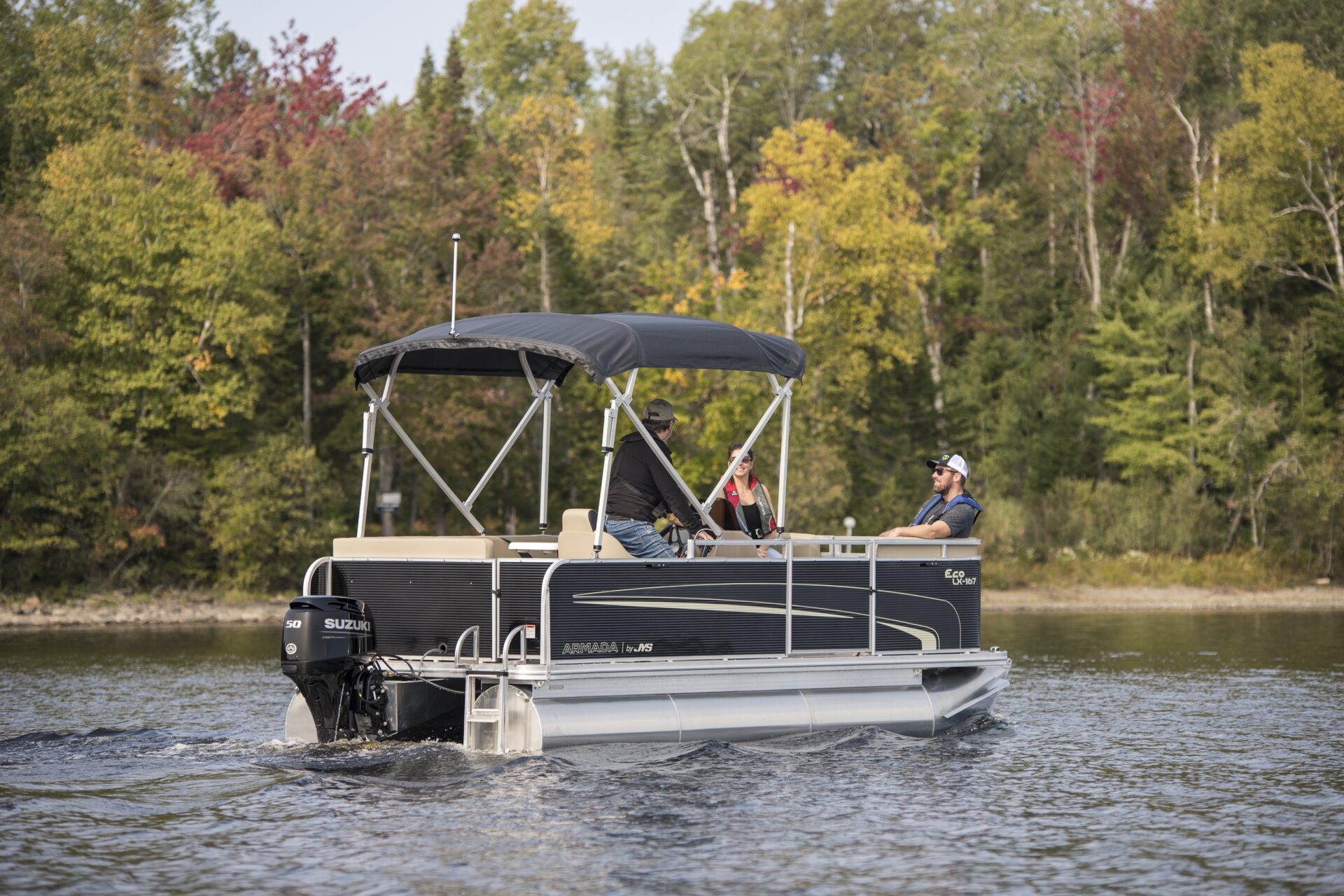 The Armada LX 168 is built for a stable ride. Standard with an 8-foot deck that maximizes the space, this layout is perfect for an enjoyable day on the water. The standard 25' pontoons have built in splash proof strakes. The motor well extends just past the deck to allow for easy engine mounting for up to a 65-hp engine. The deck stretches almost the entire length of the pontoons to maximize the deck space on the boat.
The bow area has two benches on either side of the inside railing that are facing each other. Each seat can comfortably seat one to two adults. The back rest adorns the railing and wraps around the back of the seat to provide additional comfort. All the seat bases are aluminum and will not rot or rust. The 1 ¼" tubed bimini top can be easily set up quickly by almost anyone on the boat.
The Armada's L-shaped seating to the aft of the cockpit and on the starboard side can accommodate an additional three to four adults comfortably. There is a small removable table that can be put into place for enjoying your favourite cocktails or putting out a few snacks for your guests. The fiberglass helm is functional and is immediately across from the seating area. The helm has a removable windshield. There is also ample room on the dash to mount additional electronics or gauges of your choice as needed. The three rocker switches are conveniently mounted to the starboard side of the steering wheel on the dash. The captain's chair is adjustable and swivels. The rear gate just behind the captain's chair provides access to the permanent aluminum swim ladder that is mounted to the top deck and to the starboard pontoon.
A couple of the optional items that I would add to this model is the Bluetooth stereo system and LED lights under the floor that provide lighting at night and a nice ambiance at sunset. I would also recommend that you get the built-in fuel tank unless portability is a factor where you boat.
Overall, the Armada EXL168 packs a lot of quality into this model with all the basic features that you need on a pontoon. If you are looking for something that will get you on the water and not break the bank, the 168 is the perfect model for you.
For more information on this model and others, please visit www.ArmadaMarina.ca.
Specifications:
LOA: 17'2"
Beam: 8'
Weight: 1,201 lbs
Max HP: 65 HP
Passengers: 8
Starting at $29,500 USD