By Jarrett Matthews
Legend's Aqua Tower pontoon will be a huge hit with the kids as it is like having your own personal waterpark on the lake. This 26-and-a-half-foot craft is a head-turner for sure with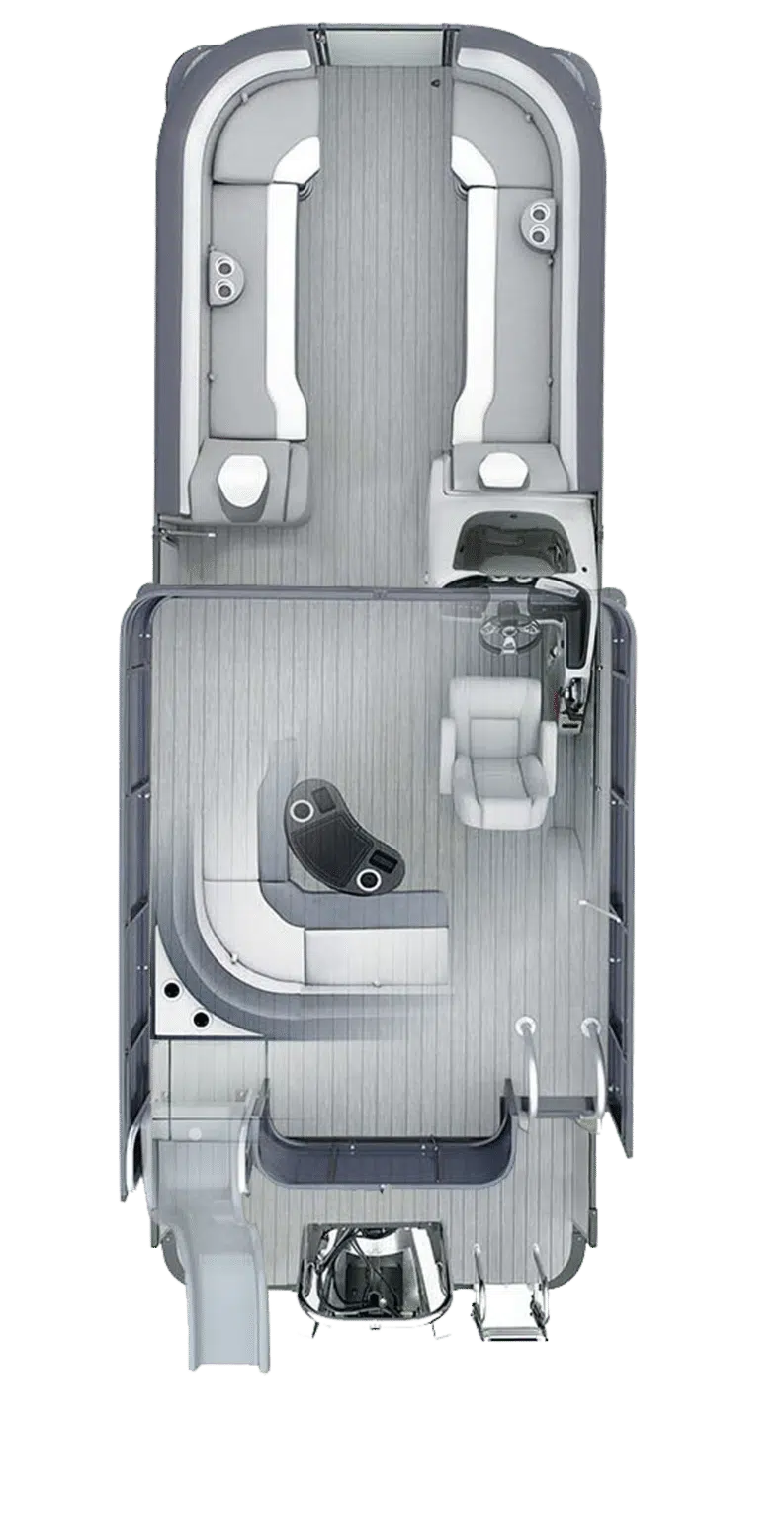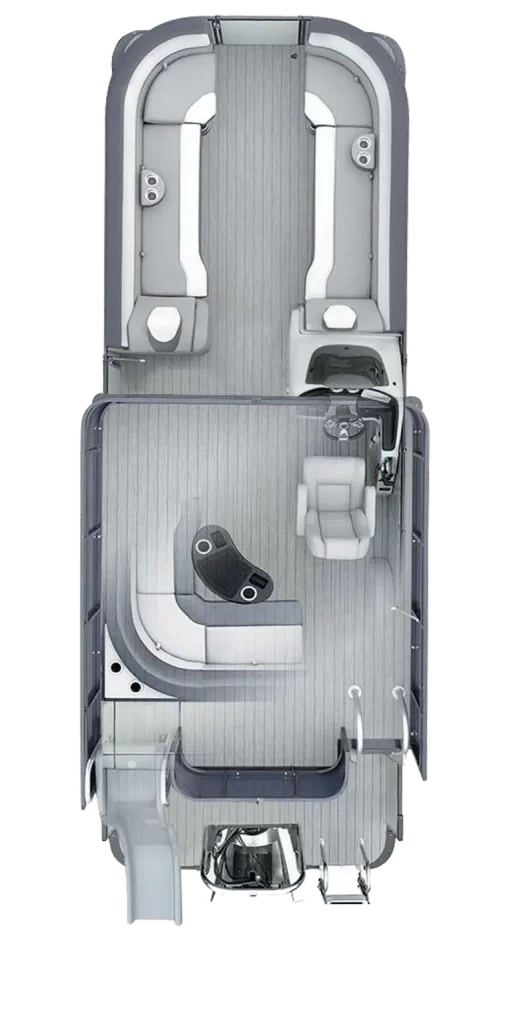 its upper deck that includes a slide with a three-foot drop at the end. There is a non-slip ladder that leads up to the top ensuring a safe climb for all participants. The top level also doubles as a great viewpoint and fishing spot. 
With 64 square feet of deck on the top deck alone, there is plenty of room for the whole family, up to 14 people. On the lower deck, there is massive seating space with large sofas capable of seating six just in the bow area. There is also tons of storage space available underneath for all of your supplies and toys. The deck offers three different gates for entry and exit with position locking latches. 
This single-outboard, aluminum pontoon has a great Fusion sound-system as well as blue LED lighting all over and even in the cupholders to create immaculate vibes at night. The dinette area comfortably seats four with plenty of room for food, drinks, or games. 
There is an option of an In-Dash Smart 80 Medallion 7" Touchscreen Configurable Gauge and Controller embedded into the fiberglass conch shell helm stand to make it extra easy to navigate the lakes. 
The hydraulic assist steering will help you make quick turns, and the lifting strakes will help you get on plane with ease and enjoy the performance of your pontoon. The chrome gauges on the black dashboard are exceptional and are illuminated for low light. 
Additional features include four deck-mounted mooring cleats and an integrated changeroom perfect for a wardrobe change after fun in the water. As for safety, this pontoon has navigational lights, Bimini-mounted anchor light and docking lights to make pulling up to shore a breeze. 
Whether it's the functionality of the immense space on board or the uniqueness of the waterslide above, the Aqua Tower Sport Pro from Legend Boats is sure to impress and entertain the whole family. 
Specifications
Overall Length: 26' 6"
Deck Length: 25' 3"
Pontoon Length: 24' 0"
Beam: 201"
Maximum Horsepower: 250
Pontoon Diameter: 27"
Fuel Capacity: 219 L
Maximum Persons: 14   / 2825 lbs
Weight: 3300 lbs
Power: Mercury 115 – four-stroke

MSRP: 112,999 CAD All in 

For more information:  www.legendboats.com

2023 pontoon, Aqua Tower Sport Pro, best boat, best boat models, best boat trailer, best pontoon, best runabout, Best Used boat, boat accessories, boat parts, boat reviews, boat test, boat tests, boat touring, BOATING Buyer's Guide, boating guide, BOATING in-water Tests, boating lifestyle, Boating Lifestyle Magazine, BOATING rentals, BOATING rentals near me, BOATING traveller, boating vacation, buying a new boat, go boating, go boating Canada, how to choose a boat, Legend, Legend boats, Legend pontoons, marine accessories, Mercury, new Bennington, new boat, New Boating Products, new boats for 2023, New Pontoon, party pontoon, performance boats, Pontoon, pontoon test, Power Boating Canada, Slide, Tender boat, top boat models, top boats, top cottage boat, top cruiser, top power boat, Tritoon, Yamaha 2023 pontoon, Aqua Tower Sport Pro, best boat, best boat models, best boat trailer, best pontoon, best runabout, Best Used boat, boat accessories, boat parts, boat reviews, boat test, boat tests, boat touring, BOATING Buyer's Guide, boating guide, BOATING in-water Tests, boating lifestyle, Boating Lifestyle Magazine, BOATING rentals, BOATING rentals near me, BOATING traveller, boating vacation, buying a new boat, go boating, go boating Canada, how to choose a boat, Legend, Legend boats, Legend pontoons, marine accessories, Mercury, new Bennington, new boat, New Boating Products, new boats for 2023, New Pontoon, party pontoon, performance boats, Pontoon, pontoon test, Power Boating Canada, Slide, Tender boat, top boat models, top boats, top cottage boat, top cruiser, top power boat, Tritoon, Yamaha