Maximum comfort.
By: Timmy McNamee
Starcraft keeps pushing forward with their fresh new innovative designs and their target to hit luxury style and performance with the SLS Series lineup. The SLS proves to compete with even the best of Luxury Pontoon models available on the market. With its many options for layouts, the SLS is equipped with performance enhancing HMX tubes, the SLS Series performs with increased speed, better lift, less surface drag with an all-around optimum maneuverability and effortless handling.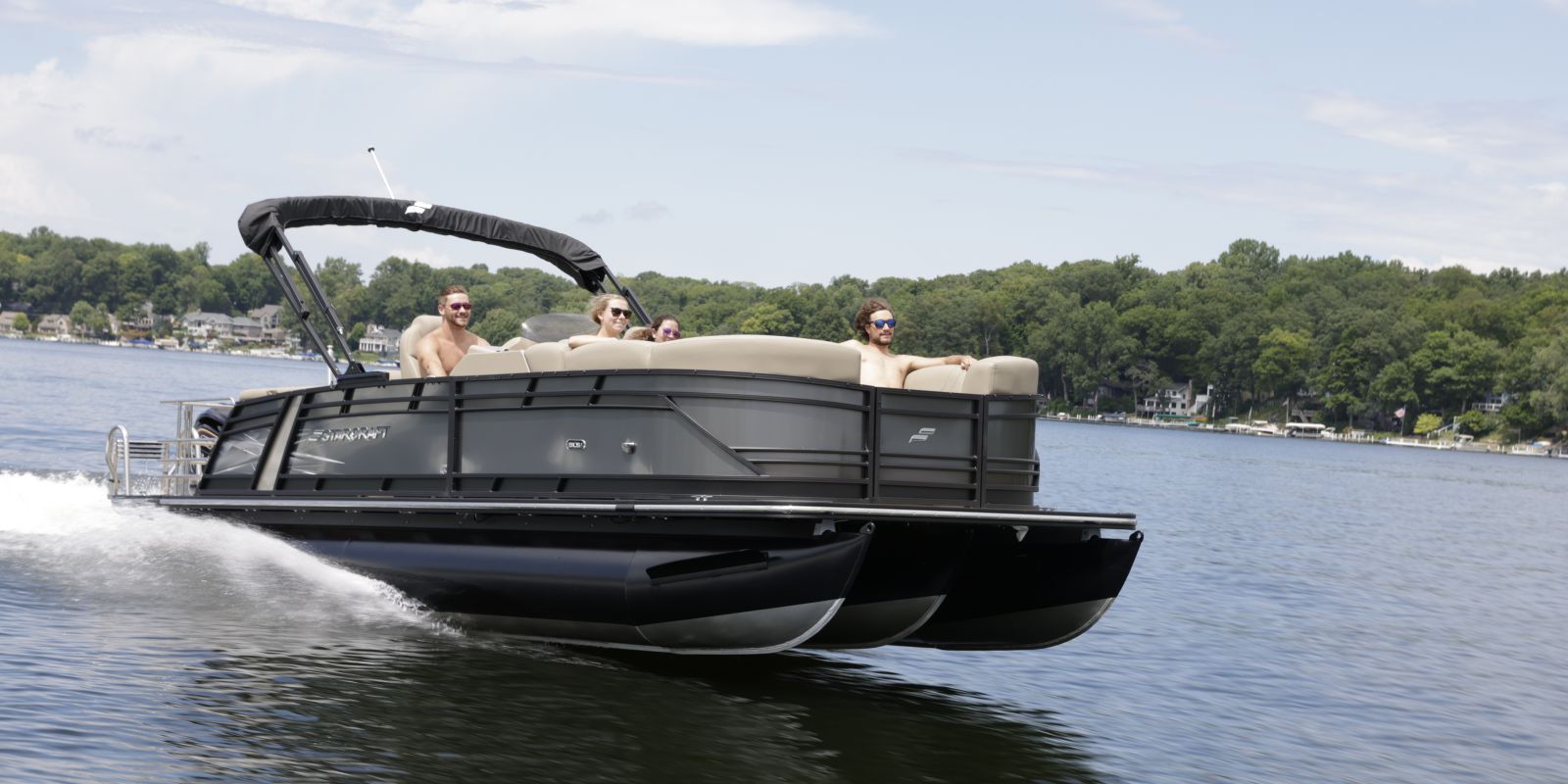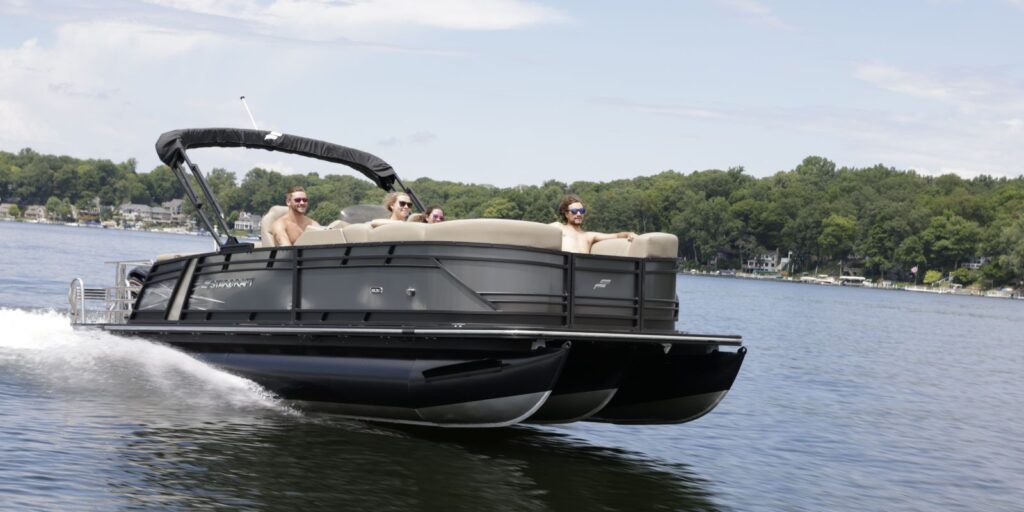 The attention to detail Starcraft engineering has put forth into the SLS series is nothing short of beautiful. At the mid-ship, both the captain and passengers seating feature a swivel and slide bucket seat with plush arm rests allowing you to rotate forward and aft to sit in on where the party is happening. A power Bimini top is equipped with a push button at the helm, which is fantastic for those with clearance issues in their garage, boat house or waterway. 
A simplistic master switch control pad is located to the left of the steering wheel where all accessory controls are accessible at the flip of a switch. Below the accessories, the master controls for the premium JL audio sound system can be accessed. With analog gauges displayed front and centre, a convenient watertight glove box is located just behind the wheel for cell phone storage including 12V and USB ports. An LED illuminated Starcraft logo along the dash really ties in the beauty of the SLS.
Wood grain flooring is featured throughout the entirety of the SLS, while multi textured and premium vinyl gives an overall image of maximum comfort. Recessed cup holders along with additional USB ports are in each seating area. Coupled with storage under each seat, a massive in-floor storage locker exceeds 6 ft in length and can fit copious amounts of gear and watersports equipment. Four different entry points encompass the SLS Q DH with a full 30" forward entry, as well two additional entries in the rear and one mid-ship. The rear of the SLS Q DH features a generous swim deck and redesigned playpen lounging area with a wrap-around stainless-steel guard rail for maximum safety and convenience; great space for allowing kids to have their own area. The backrest of the port side forward facing L-shaped lounger easily moves forward to create an oversized chaise lounge, easily seating two passengers. 
A standard ski pylon makes for convenience to perform watersports activities.  A four-step telescoping boarding ladder is located conveniently off the transom for easy access to and from the water on the SLS Q DH.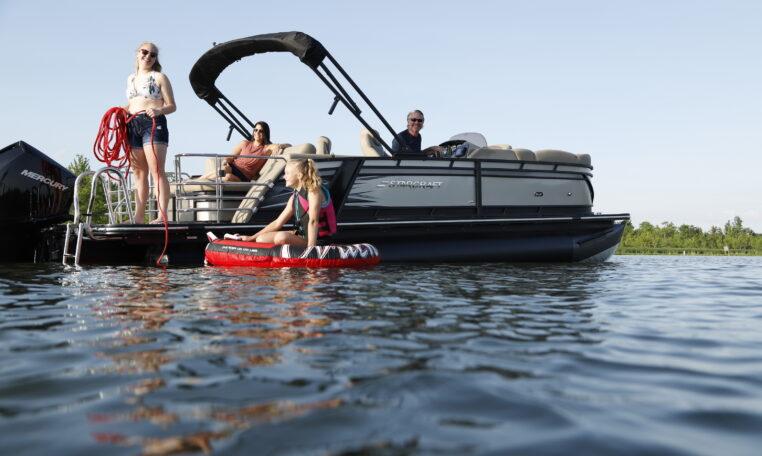 Seeing an upswing of luxury pontoons over the last two years, Starcraft really made a point in proving that the SLS series pontoons can deliver just as much aesthetic and design as other manufacturers in the market. If a luxury pontoon is calling your name as our next upgrade – the Starcraft SLS line up is an absolute must see. 

Specifications

LOA:   24'8"
Beam:     102"
Weight:    2,750 lbs
Log Length:    N/A'
Tube Diameter:  25"
Draft:     N/A
Fuel Capacity:    60 gal
Max Horsepower:   300 hp
Max Persons:   12

MSRP :   $110,000 CAD

For more information: www.starcraftmarine.com

2023 pontoon, best boat, best boat models, best boat trailer, best pontoon, best runabout, Best Used boat, boat accessories, boat parts, boat reviews, boat test, boat tests, boat touring, Boating, BOATING Buyer's Guide, boating guide, BOATING in-water Tests, boating lifestyle, Boating Lifestyle Magazine, BOATING rentals, BOATING rentals near me, BOATING traveller, boating vacation, buying a new boat, go boating, go boating Canada, how to choose a boat, marine accessories, Mercury, new Bennington, new boat, New Boating Products, new boats for 2023, New Pontoon, performance boats, Pontoon, pontoon test, Power Boating Canada, Starcraft, starcraft marine, starcraft pontoon, Starcraft Sls 3 Q Dh, Tender boat, top boat models, top boats, top cottage boat, top cruiser, top power boat, Tritoon, Yamaha 2023 pontoon, best boat, best boat models, best boat trailer, best pontoon, best runabout, Best Used boat, boat accessories, boat parts, boat reviews, boat test, boat tests, boat touring, Boating, BOATING Buyer's Guide, boating guide, BOATING in-water Tests, boating lifestyle, Boating Lifestyle Magazine, BOATING rentals, BOATING rentals near me, BOATING traveller, boating vacation, buying a new boat, go boating, go boating Canada, how to choose a boat, marine accessories, Mercury, new Bennington, new boat, New Boating Products, new boats for 2023, New Pontoon, performance boats, Pontoon, pontoon test, Power Boating Canada, Starcraft, starcraft marine, starcraft pontoon, Starcraft Sls 3 Q Dh, Tender boat, top boat models, top boats, top cottage boat, top cruiser, top power boat, Tritoon, Yamaha