In the springtime, just as certainly as flowers blossom in the meadow under a warming sun, a boater ponders the pending boating season, beginning to wonder what's new in marine power. With that notion in mind, here's a first glance at the bedazzling, shiny new objects you might see when prowling the docks in 2023.
By Timothy P. Banse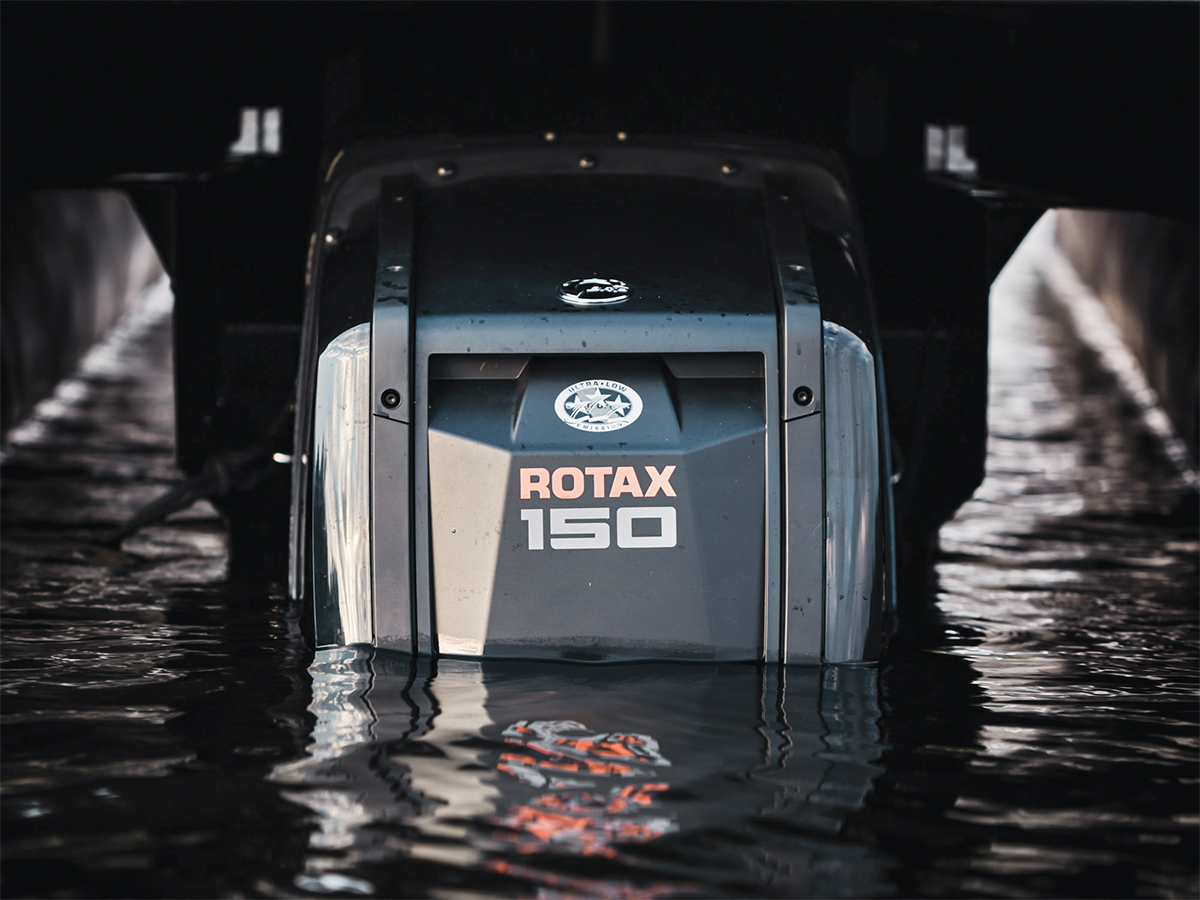 ROTAX
Pontoon boat enthusiasts will be rubbing their hands together in glee with the news of the 1630 ACE (Advanced Combustion Efficiency) This 1.9-litre three-cylinder, two-stroke powerhead shares 115 and 150 horsepower versions of the Rotax outboard. 
Given the BRP/Evinrude ETEC heritage, it should come as no big surprise to learn both new two-strokes draw fuel via an E-TEC direct fuel injection system that enters via the snorkel at the front top of the cowling. This low profile, horizontally mounted Rotax powerhead mounts on top of a conventional outboard lower unit, replete with a propeller. Level with, or lower than the gunwale, the low-profile motor allows extending the aft deck over the top of the outboard, uncluttering the transom and significantly reducing noise on deck. Secured with 15 bolts, the motor cover is watertight. Intake air flows through a tube routed into the boat transom. Injector oil is carried in a 3.5-gallon reservoir within the boat. Weighing just under 500 pounds, the motor mounts on a standard outboard transom and bolt hole pattern. This is a long shaft motor, 25-inch transom length.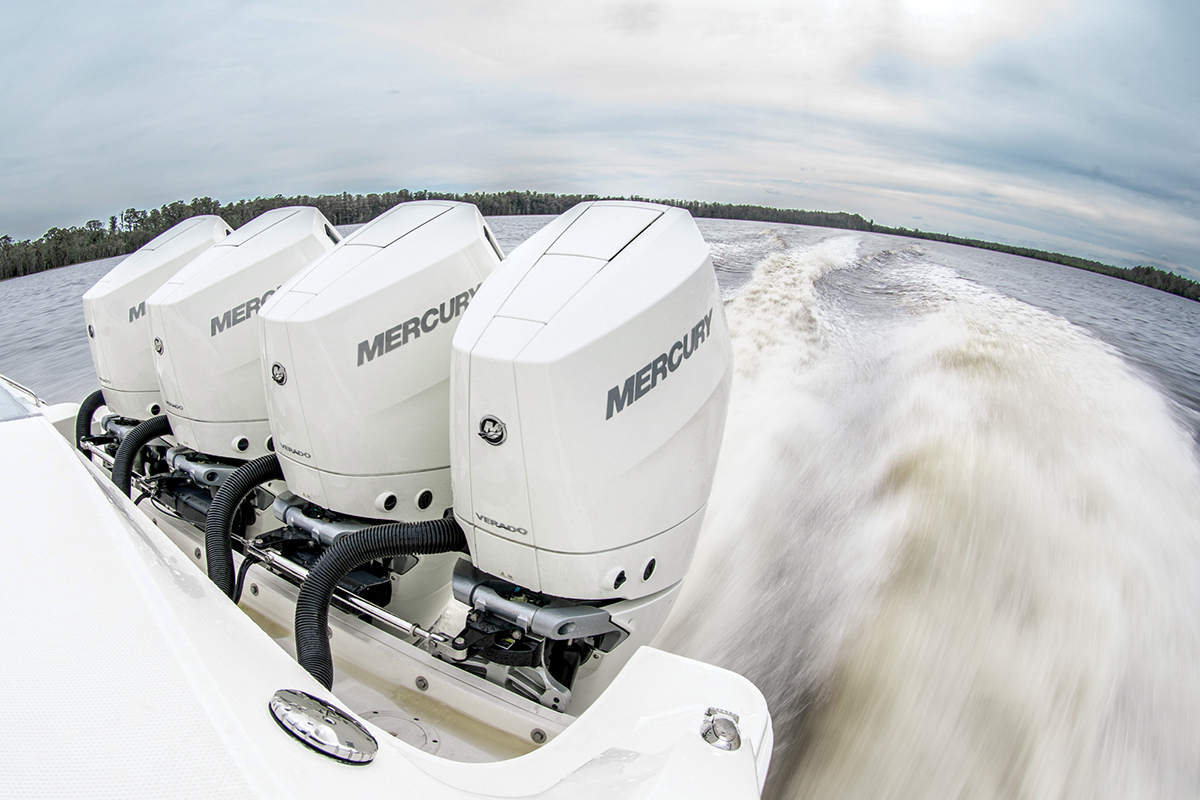 Mercury Marine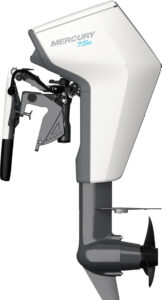 This model year, Mercury Marine's most significant news is the introduction of a V-10 Verado in both 350- and 400-horsepower versions. The duo neatly fills a gap between existing V-8 and V-12s. More particularly, these naturally aspirated V-10s replace supercharged V-6 Verados in the self-same horsepower range. During development, Mercury engineers rather wisely put the new beasts on a Keto diet, limiting their weight gain to a mere 27 pounds greater than the V-6s they replaced. Techy new features include an optional dual-mode 12/48-volt alternator flowing enough amperage to replace a GenSet.
And then there's Mercury Marine E-Power, namely the Avator 7.5e, a portable electric motor available with either a tiller or remote controls. Note: This the first in what is destined to become a series of Mercury Marine electric outboards. A quick-connect mounting system allows snapping the motor onto the transom bracket. Think easy on, easy off. Remote models pair with one of three available control options fitting a variety of small boat helms. All are powered by an interchangeable lithium-ion battery pack developed in partnership with battery expert Mastervolt.
More to the point, the Avator 7.5e outboard is powered by a transverse flux motor, a style renowned for high torque density. For clarity's sake, there is no flux capacitor that would allow time travel with Avator. Instead, the claim to fame for flux motors is how they generate instant torque at low rpm, allowing fitment with a large-diameter three-bladed prop that spins more slowly for heightened efficiency and overall performance. Want numbers? Avator acceleration runs 0-4 mph faster than competing designs.
Mercury Racing
Build for speed, the wise ones advise. Build for speed. Enter stage left we see Mercury Racing's 5.7L V10 400R. Revving to a lofty 6,600 rpm. Built for mind-numbing speed, this big engine delivers 400 horsepower on 87 octane pump gas, drawing its breath through a large diameter (92 mm) throttle body and tuned intake manifold. Decked out in its lightest iteration, she weighs 695 pounds. A Racing AMS midsection is standard.
Mercury Racing's new surface-piercing gearcase, the M8 Sterndrive, boasts particularly robust internal drive components spinning in an all-new lower gear case. The M8 measures two inches shorter in height, accommodating lower-to-the-sole engine mounting for a lower center of gravity. You already know how that pays dividends in handling and overall performance. M8, dry-sumped for maximum efficiency, is strong enough to flow 1650 horsepower in either left or right-hand rotation.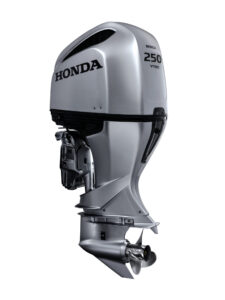 Honda Marine
Honda Marine is staying the course, with no new engines for 2023. A couple of years ago, late 2021, Honda redesigned its mid-range motors. At the same time the BF115 and BF150 were upgraded, and the BF135 outright replaced with the BF140. This new smarter product line interfaces with the HondaLink app for remote monitoring and ownership information. Available with either digital or mechanical controls and features optional tilt limit switches and push-button start control.
Yamaha Marine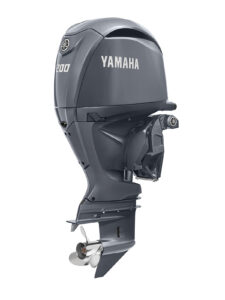 Designed to power Jovian center consoles chasing far horizons in search of fish, Yamaha Marine's latest generation V8 Offshore series now includes the 450 XTO, the company's highest horsepower motor to date. Not only does the beast boast more horsepower, it bumps charging power. The on-engine alternator generates an impressive 480 amps at idle, eliminating the need for an onboard GenSet. As a result, stabilizers, air conditioning, and sound systems can easily be powered via amperage generated per engine while in neutral.
Besides the big thundering torque monster, Yamaha also unveiled all-new F150 and F200 outboards. For 2023, Yamaha's four-cylinder 2.8 litre F200 and F150 DEC and mechanical outboards feature a new look and integrated steering available with a traditional gray cowling, they feature the Yamaha plug-and-play steering system first unveiled with the XTO 425 beast motor.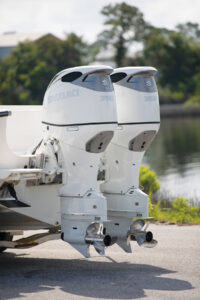 Suzuki Marine
Sometimes the big news in marine engines isn't limited to raw pistons, crankshafts, and raw bloody horsepower, but rather gear sets and lower unit castings. So, it is this year with Suzuki Marine's upgrade of its DF350A. Fitted with a new gearcase, Suzuki asserts the new DF350AMD and DF300BMD models boast enhanced durability, increased top-speed performance, and improved fuel efficiency. Both new models feature integrated steering systems. Spinning contra-rotating propellers offer precise handling around the docks and in tight spaces.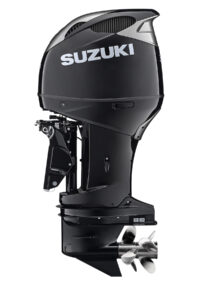 The new design gearcase delivers superior gear lubrication, maintaining gear oil at a lower operating temperature, which is one of the reasons for long term durability and reliability. The external profile, slimmed and reshaped, slices through water with less resistance, paying a big dividend in fuel efficiency and top-end performance. An added benefit of streamlining the casting is that it reduces the volume of gear oil required from 3.2L to 2.8L motors. A new oil passage makes it easier to change spent gear oil without having to haul the boat. As sure as the sea is salt, these new Flagship models boast Suzuki's dual fuel injectors, variable valve timing, a self-adjusting timing chain, offset driveshaft design, and Suzuki's Lean Burn Technology.
Yanmar Marine
Yanmar Marine, the venerable common rail diesel engine builder, has gone electric with its new E-Sail drive. Targeted at sailboats, its parentage hints at what is to come. At this point there are no details on the engine, let alone future powerboat engines. According to Yanmar corporate, the company-wide goal is to explore new technologies that reduce marine engine carbon footprint, namely low-carbon fuels, electrification and hybridization, to fundamentally transform its business by eliminating greenhouse gas emissions and harmful substances in all activities, manufacturing, and products by 2050.
Tohatsu
Tohatsu is showing off new mid-sized MFS25D and MFS30D four-strokes rated 25 and 30 horsepower, destined to land on the transoms of a wide variety of boat styles: inflatable, aluminum, and fiberglass. Boasting the lightest weight in its class, unique standard features include built-in freshwater flush; a no-mess oil filter drip pan beneath the engine oil filter; tool-free replaceable clear fuel filter with floating indicator ring that detects water in the fuel; thermostatically controlled cooling; a stainless-steel water pump housing liner for increased durability; high grade marine aluminum alloy castings for protection against corrosion.
While not exactly new, the following two marine engine entities warrant mention for reasons soon to be made clear. Know that outboard diesel motors have come and gone like rising and falling tides. For example, you may remember the Italian Carniti (Italy) and Yanmar outboards? These days we are newly countenanced with the Cox and Oxe diesel outboards.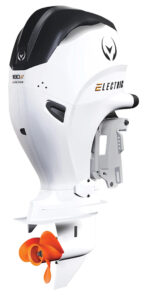 Vision Marine Technologies
Speaking of the brave new world of E-power, you must know about Vision Marine Technology's 180E,  an E-Powertrain rated 180 horsepower. As the world's most powerful electric outboard, it's an eminently appropriate propulsion system choice for everything from center consoles, catamarans, fishing boats, deck, to pontoon boats.
Founded upon a 650-volt electric motor, it draws a steady flow of electrons from a 60-kilowatt lithium battery bank replenished dockside overnight by a 220-volt charger. The high voltage 180-horsepower, 650-volt outboard boasts an estimated range of 70 nautical miles/3.5 hours at a cruising speed of 17 knots, depending on the size and weight of the boat it's pushing. The package includes throttle controls and a battery management system accessed via a touchscreen monitor. I like its simple as salt docking station: The typical marina has 220 volts, 30-amp shore power stanchion. A tantalizing notion, twin-engine applications are in research.
Cox Marine
In 2019 Cox introduced the largest diesel outboard ever produced the common-rail CXO300. Translation: Improved fuel economy and no bothersome diesel clickety-clack. The twin turbo V8 displaces 4.4 litres. Operating range is slow turning 3,800 to 4,000 rpm. Wired with an NMEA 2000 brain, the Cox 300 monitors engine data and sends it any modern display. The engine functions with off-the-shelf steering or joystick controls. Fuel economy is quite good. Simply put, this diesel outboard is a torque monster.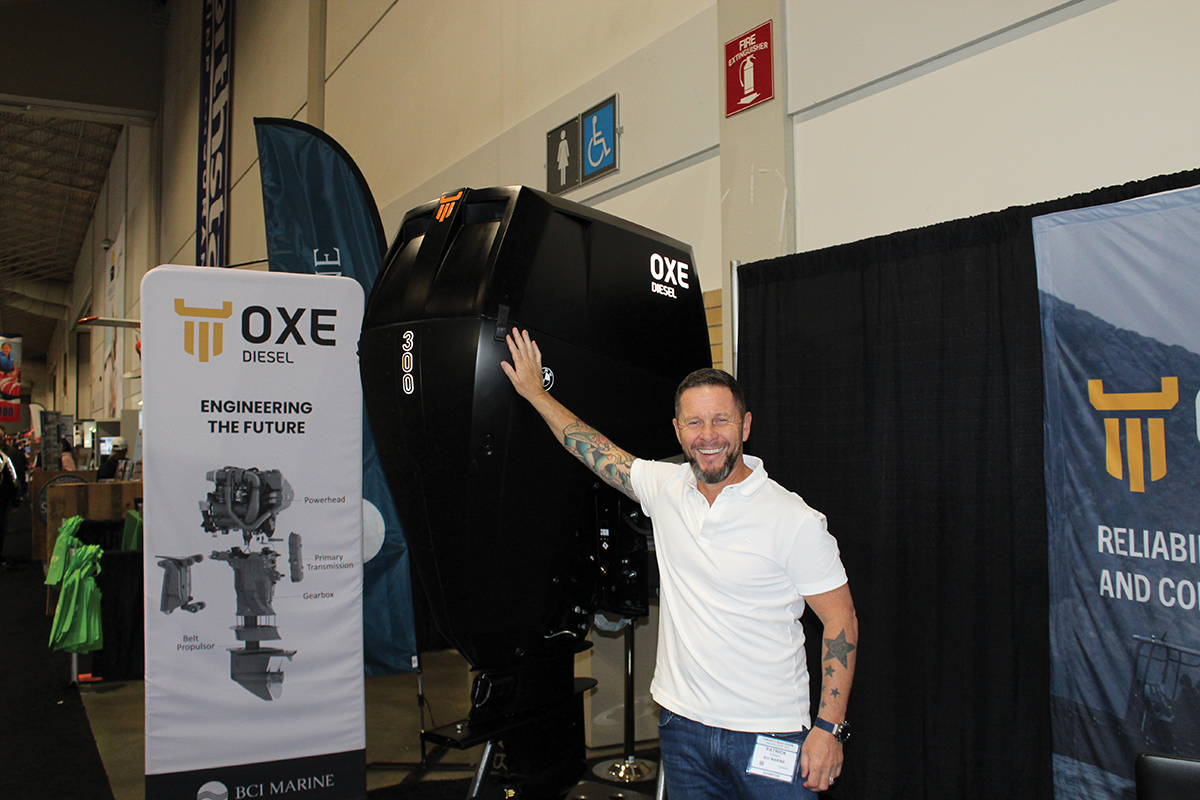 OXE
Sweden's OXE Marine builds diesel outboards for commercial fishing, law enforcement, rescue, military, and towing. There are five horsepower ratings. The 125 to 200 HP models feature inline four-cylinder, 2.0-litre turbocharged diesel engines, while the 300 HP model boasts an inline six-cylinder 3.0-litre turbocharged BMW. Unusual for an outboard, all feature closed-cooling systems, reducing corrosion issues.
Interesting to note, OXE outboards lack a lower unit gear set, having been replaced by a large gearbox situated directly beneath the crankcase. Constantly engaged forward and reverse gears transfer power to the prop shaft via a carbon-fiber pulley belt system via a hydraulic clutch. OXE outboards are exceptionally fuel efficient, burning 40 percent less diesel fuel than a comparable gasoline engine. Juxtaposing fuel savings against engine cost and the numbers tells us that at 500 operating hours, OXE will have paid for the difference in its lofty purchase price. Life expectancy projects to be in the 10,000-hour range.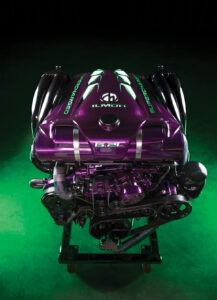 Ilmor Marine
Ilmor Marine  jumpstarted the sterndrive market for high-performance boats with the introduction of a new 630-horsepower engine at the Desert Storm Poker Run in April.
The new supercharged, 6.2-litre LT4 engine was introduced to the MasterCraft line about 18 months ago and is a partnership between Ilmor Marine and GM Marine.
"We knew that there was a need for this in the performance industry, so we developed it over the last 18 months," said Oliver Ray, Senior Manager of Business Development for Ilmor Marine. "One of the big things that we wanted to change in this industry is being able to bring something that's got 630 horsepower, 665-foot pounds of torque, with a three-year factory backed warranty. That is unheard of in the performance space, especially in the inboard application."
The new 630-HP model joins Ilmor Marine's 570-HP small-block engine as the two models in its high-performance series.
Taking the 630-HP engine for a tow boat and turning it into a high-performance machine required Ilmor to replace cooling systems, move the supercharged location and lean to CMI Exhaust to create an open exhaust. Ilmor includes custom colours in the pricing.
Ray said engineers redesigned the engine with serviceability in mind. The fuel pump has a cooler integrated into the pump and the oil filter and oil reservoir are mounted high on the engine.
While outboards continue to dominate the high-performance side, Ray feels there is still a market for stern drives. Ilmor Marine has more than 40,000 engines out in the field from the tow-boat market to high performance.
"Outboards are definitely popular but there's still the need to want and desire to have something cool, something different," Ray said.
For more information, please visit
www.ilmor.com/Marine/.
Volvo-Penta
Volvo Penta's roots date back to the 1900's when the first engine – the B1 – was built, but it was 1959 when Jim Wynne's Aquamatic sterndrive changed modern boating forever. The company has continued to innovate and produce new major products every decade since.
Spring of 2017 saw the company unveil the all-new D13 1000-HP diesel inboard. The 12.8L in-line six-cylinder engine is the most powerful in Volvo-Penta's Leisure engine lineup. The D13 combines fuel injection with twin-entry turbocharging to deliver a massive 1000-HP on demand while delivering a world-class power-to-weight ratio resulting in excellent comfort, reliability, and longer cruising range.
In May 2019, Volvo unveiled six new products (see PBC 34-3 issue) including a brand-new DPI Aquamatic sterndrive, and the Next Generation D4 and D6 engines, available from 150-480 HP, that went on to win a 2019 IBEX Innovation Award.
The Volvo-Penta Aquamatic gasoline sterndrive line powers 20-to-45-foot boats with 38 different engine-outdrive combinations, available in non- and catalyst versions, from the 4.3L V6 200-HP with DPS drive to the 6.2L V8 430-HP with CE/DPS drive.
The Volvo-Penta diesel sterndrive lineup features a total of 21 different engine and drive configurations from the 2.4L D3 140-HP with SX drive to the 5.5L D6 400-HP with DPH drive to service boats up to 45 feet.
For yachts from as little as 30 feet to up over 120 feet, Volvo's IPS inboard engine lineup now offers nine engines from 370-HP (5.5L – IPS500) to 1000hp (12.8L – IPS1350. Their diesel inboard shaft line offers 28 engine choices for powerboats from the D1 (0.5L – 13hp) to the new D13 (12.8L – 1000hp).
Volvo-Penta's entire marine leisure engine range is now compliant with the new European Union Recreational Craft Directive Stage 2 (RCD II) emissions regulations. To find the best setup for your boat try the 'engine configurator app on their website.
In July 2017, Volvo-Penta became a majority owner of Seven Marine and thus entered the outboard market for the second time in their history (the first was in 1973 when they acquired outboard production Monark-Crescent, sales slowed, and production ceased by the end of the 70's).
Volvo Penta has introduced new solutions to enhance the experience for boaters and watersport enthusiasts. They have unveiled the Twin Forward Drive and a compatible V8-400 horsepower engine, which offer superior maneuverability, fuel efficiency, acceleration, and performance. These innovations allow for bigger wakes, accommodate more passengers, and provide more fun for watersports lovers. The Twin Forward Drive and V8-400 HP engine package will be available in August 2023, and high interest is expected.
Volvo Penta has also made enhancements to their Watersports Control system, which is compatible with the Twin Forward Drive. The system features a simplified menu, improved user interface, expanded diagnostics, and various benefits such as creating user wake profiles for up to 20 riders and easy ballast control for customized wakes or surf waves. Tow Mode is also included, which automatically adjusts engine speed and compensates for load changes. The Watersports Control is available for both twin and single installations of the Volvo Penta Forward Drive.
Volvo Penta's focus on these new launches and enhancements reflects their commitment to making boating more intuitive, accessible, and customizable. The aim is to attract more people to the water and improve the overall boating experience for enthusiasts worldwide.
For more information visit www.volvopenta.com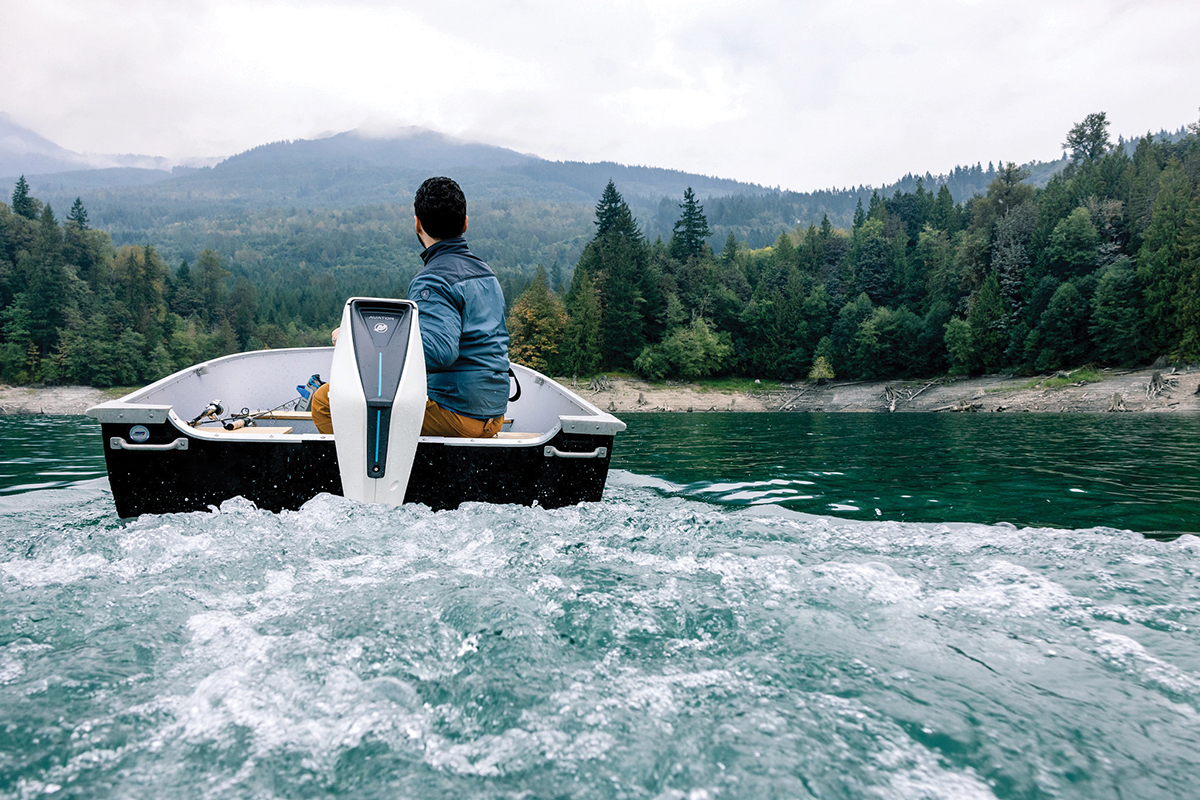 ELECTRIC POWER
Doubtlessly you have noticed the proliferation of E-Power cars and pickup trucks on the roads and huddled up for a breather at charging stations. No longer limited to terra firma highways, E-power has begun-to pull sea duty on all the world's pleasure boats. Here's a scorecard.
Torqueedo electric outboards range from one to 80 horsepower.
E-Motion offers a 180-HP equivalent electric outboard.
E-Propulsion's motors range up to 9.9 horsepower.
Mercury Marine Avator 7.5e electric outboard is on the water with companion 20e and 35e models waiting in the wings.
Brunswick's ASG division, a brother company to Mercury Marine is burning the midnight oil creating lithium-ion power cells that are lighter and boast longer run times.

 

Honda recently showed off a tantalizing prototype electric motor at the Dusseldorf boat show. Further, Honda has developed a battery-sharing platform based on a 1.3-kWh lithium-ion power-pack for use across its range.
Yamaha Marine has the Harmo Electric Drive.
This exciting growth of E-Power gives rise to the salient question: Given the fact that both electric and internal combustion boast inherent advantages and disadvantages, what will be the future of electric marine engines?

First off the evolution of E-Power witnessed on land isn't likely to be mirrored in the marine world, at least not in the near term. That's because the technologies are so wildly different. Case in point: Regenerative braking, or where a braking car spins a generator to charge its battery, is an obvious impossibility on a boat. More to the point, marine engines run at high rpm for extended periods, quickly sapping the juice out of the battery banks. On larger boats, traveling long distances might be a problem (sarcasm). Suffice it to say internal combustion will likely continue dominating the world of marine power. While the day of the electric marine engine may come eventually, so too are hydrogen and propane powered marine engines in contention.

Another consideration comes down to dollars and cents. Mercury Marine recently invested millions of dollars in the research and development of its V-10s and V-12 gasoline outboards. Brunswick bean counters expect a return on that substantial investment. Some marine industry experts opine that the electric outboard entrepreneurs are simply waiting to be bought by corporate entities. Maybe yes, maybe not. Time will tell.

Finally, if past is prologue, just as we witnessed with wind, solar, nuclear and coal on land, we're most likely to see a blend of technologies: gas, diesel and electric, propane and perhaps even hydrogen at sea.

BRP, BRP/Evinrude, CMI Exhaust, cox marine, CXO 300, diesel engine, E-power, E-Sail drive, Engines, evinrude, four stroke engine, honda marine, horsepower, Ilmor Marine, marine, marine engines, Mercury Avatar 7.5e, Mercury Marine, mercury racing, Mercury V-10 Verado, Monday BF250, Monday Marine, outboards, OXE diesel 300, OXE Marine, Rotax, Rotax outboard, Suzuki DF50AMD, suzuki marine, Tohatsu, Tohatsu MFS25D, Tohatsu MFS30D, Torqueedo, vision marine, Vision Marine 180E, Vision Marine Technologies, Volvo-Penta, Yamaha, Yamaha F200, Yamaha motor, Yanmar Marine BRP, BRP/Evinrude, CMI Exhaust, cox marine, CXO 300, diesel engine, E-power, E-Sail drive, Engines, evinrude, four stroke engine, honda marine, horsepower, Ilmor Marine, marine, marine engines, Mercury Avatar 7.5e, Mercury Marine, mercury racing, Mercury V-10 Verado, Monday BF250, Monday Marine, outboards, OXE diesel 300, OXE Marine, Rotax, Rotax outboard, Suzuki DF50AMD, suzuki marine, Tohatsu, Tohatsu MFS25D, Tohatsu MFS30D, Torqueedo, vision marine, Vision Marine 180E, Vision Marine Technologies, Volvo-Penta, Yamaha, Yamaha F200, Yamaha motor, Yanmar Marine