By: Captain Chris Kourtakis
I would never have thought that we would see a pontoon that you could actually wake surf behind.  When you think about the traditional pontoon, there is a small wake if any wake at all. The Avalon waketoon changed all that in 2020 when it was named the National Marine Manufacturers Association Innovation of the Year.  Since 2020, the Avalon Waketoon has literally and figuratively been making waves on the water.  
Powered with a Mercruiser 6.2 L V8 engine with dual props (Bravo Four Drive), combined with special pontoon design, hydraulic wake plates and ballast tanks, this pontoon provides you with a true pontoon ride when cruising and a wake board boat when you want to do a little surfing.  
The all-around comfort of this boat is second to none. I really like how Avalon has created two to three separate areas on the boat and offers something for everyone in the family.
The bow of the boat offers seating on either side, with plush high back seating.  The seating offers an angle for additional comfort when you want to lounge and relax while under way.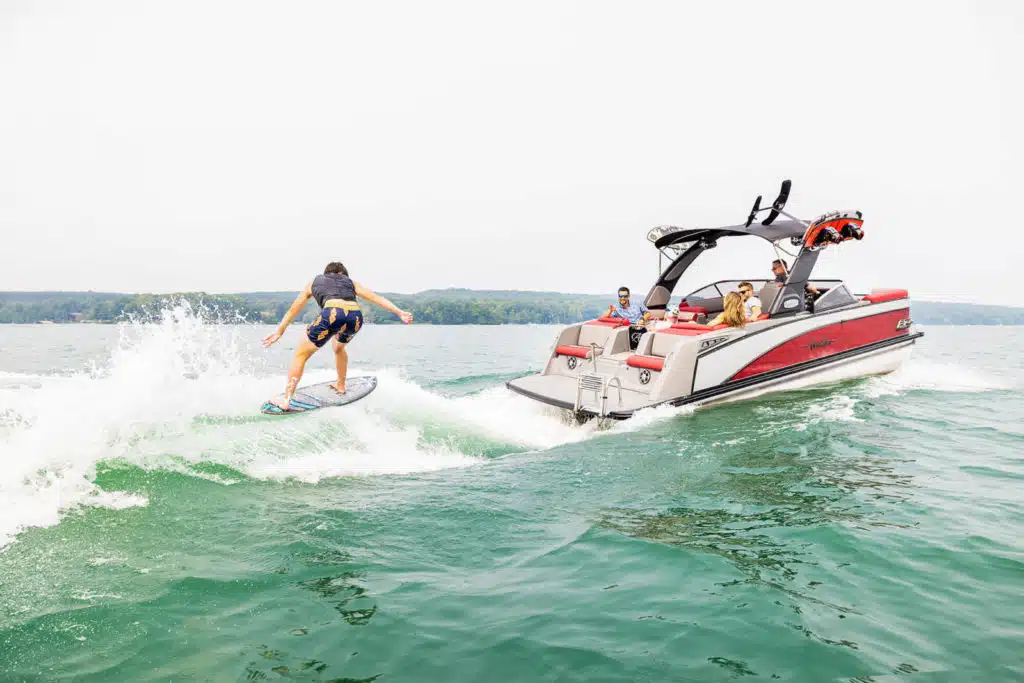 Walking through the stylish and sporty windshield that wraps around the helm and the port side lounger, this windshield not only looks good, but it is functional. The sleek angle and side wings add protection for the driver and the passengers to the rear of the boat.  The captain's chair is a high back swivel that provides the captain with a little added comfort.
The Level 10 III Viper Medallion Touch Screen Dash is perfectly designed. The touch screens allow for engine monitoring and controls for the wake surf systems. There is even an option for a wake camera on the back of the boat that will display on your touch screen.  This system even controls the stereo and basic functions on the boat.  
Just past the aft seating area is the massive swim platform with two additional jump seats to provide an area for your surfer to get ready or dry off when they are done for the day.  There is a ski pole mounted in the centre of the platform and a top mounted four-step stainless-steel swim ladder finished off the platform entirely.   
The Powder-coated Xtreme Sport Tower has optional RGB lit tower panels and tower speakers.  There is also room for the optional wake board racks if needed.  
This is the only triple toon wake surfing pontoon on the market today.  Everyone in the family will rush to the docks once they know that the 23'  Waketoon is their new family boat.  
Specifications

LOA: 24'
Beam: 8'6"
Dry Weight: 3,142 lbs
Log Length: N/A
Fuel Capacity: 58 gal
Max Persons: N/A
MSRP: $159,995 USD

For more information:  www.avalonpontoons.com

2023 pontoon, Avalon, best boat, best boat models, best boat trailer, best center console, best centre console, best performance boats, best pontoon, best pontoons, best runabout, Best Used boat, boat accessories, boat parts, boat reviews, boat test, boat tests, boat touring, Boating, BOATING Buyer's Guide, boating guide, BOATING in-water Tests, boating lifestyle, Boating Lifestyle Magazine, BOATING rentals, BOATING rentals near me, BOATING traveller, boating vacation, buying a new boat, go boating, go boating Canada, how to choose a boat, marine accessories, Mercury, new boat, New Boating Products, new boats for 2023, New Pontoon, party pontoon, performance boats, Pontoon, pontoon test, pontooning, Power Boating Canada, Tender boat, top boat models, top boats, top cottage boat, top cruiser, top power boat, Tritoon, Wakeboard, Wakesurf 2023 pontoon, Avalon, best boat, best boat models, best boat trailer, best center console, best centre console, best performance boats, best pontoon, best pontoons, best runabout, Best Used boat, boat accessories, boat parts, boat reviews, boat test, boat tests, boat touring, Boating, BOATING Buyer's Guide, boating guide, BOATING in-water Tests, boating lifestyle, Boating Lifestyle Magazine, BOATING rentals, BOATING rentals near me, BOATING traveller, boating vacation, buying a new boat, go boating, go boating Canada, how to choose a boat, marine accessories, Mercury, new boat, New Boating Products, new boats for 2023, New Pontoon, party pontoon, performance boats, Pontoon, pontoon test, pontooning, Power Boating Canada, Tender boat, top boat models, top boats, top cottage boat, top cruiser, top power boat, Tritoon, Wakeboard, Wakesurf