By: Captain Chris Kourtakis
All new for 2023, the Barletta Reserve is the flagship of their lineup. Not only is this their flagship, but the Reserve might be setting a whole new level of luxury for the entire pontoon market. The elegant styling features and high-end, high-quality materials including yacht style hardware throughout the entire boat set this pontoon apart from the rest.
The Reserve is available in two models, the 26 UC and the 26M. Both are built on similar platforms, but it is their layouts that separate the two boats from each other. Each model has unparalleled quality and attention to detail. From the stitching in the seats to the touch of the carpet on your feet. Royalty comes to mind when I think of who would own such a boat.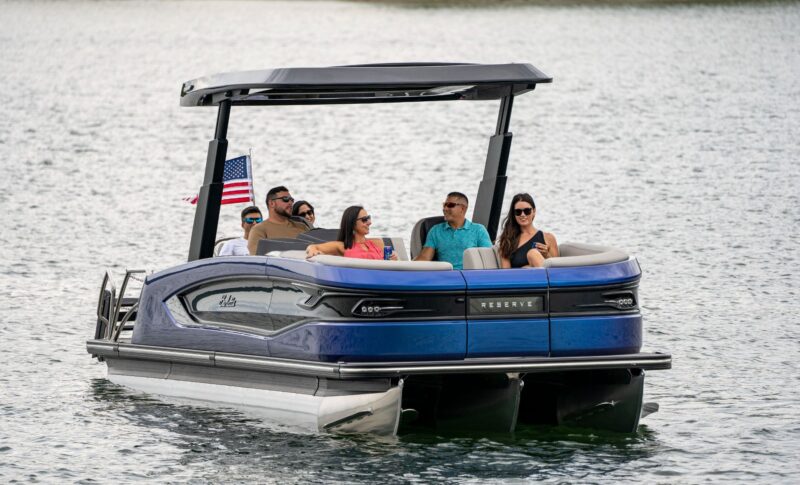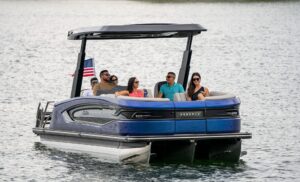 Technology and bolstered yacht design can be found throughout the boat. The Omni 360-View Camera System features four onboard cameras that are located in the bow, stern, port and starboard of the boat and provide clear views to assist when docking and with watersports. The fully immersed Harman-Kardon sound system has been upgraded to elevate your listening experience. 
The power hard top is something out of a James Bond movie. The top raises and lowers based on the height that you want and need. 
The rear seating area should be on a 40 something foot pocket cruiser. With a flip flop rumble seat design, you can have a giant sun pad or rear facing seating.  Large enough for two to three adults to lay out comfortably, I know where I would be if I were on the water with this beauty. If someone told me that a mega yacht was using a pontoon as their tender, I would only assume that it would be the 26UC. This pontoon is setting new standards for what defines luxury in the pontoon market. If you can't settle for anything less, don't!  The 26UC will set you apart from everyone else on the water.   
Specifications

Beam: 8'6''
Deck Length: 28'6''
Tube Length: 27'4''
Boat Weight: 5,300 lbs
Max HP: 450
Max Weight: 3,055 lbs
Fuel: 48 gallons

MSRP: $349,999 USD

For more information:  www.barlettapontoonboats.com

Barletta, barletta reserve 26uc, best boat, best boat models, best boat trailer, best center console, best centre console, best performance boats, best pontoon, best runabout, Best Used boat, boat accessories, boat parts, boat reviews, boat test, boat tests, boat touring, BOATING Buyer's Guide, boating guide, BOATING in-water Tests, boating lifestyle, Boating Lifestyle Magazine, BOATING rentals, BOATING rentals near me, BOATING traveller, boating vacation, buying a new boat, go boating, go boating Canada, how to choose a boat, marine accessories, new boat, New Boating Products, new boats for 2023, performance boats, Pontoon, pontoon test, Power Boating Canada, Tender boat, top boat models, top boats, top cottage boat, top cruiser, top power boat, Tritoon Barletta, barletta reserve 26uc, best boat, best boat models, best boat trailer, best center console, best centre console, best performance boats, best pontoon, best runabout, Best Used boat, boat accessories, boat parts, boat reviews, boat test, boat tests, boat touring, BOATING Buyer's Guide, boating guide, BOATING in-water Tests, boating lifestyle, Boating Lifestyle Magazine, BOATING rentals, BOATING rentals near me, BOATING traveller, boating vacation, buying a new boat, go boating, go boating Canada, how to choose a boat, marine accessories, new boat, New Boating Products, new boats for 2023, performance boats, Pontoon, pontoon test, Power Boating Canada, Tender boat, top boat models, top boats, top cottage boat, top cruiser, top power boat, Tritoon