By: Captain Chris Kourtakis
The current generation of pontoon boats are setting new heights and expectations for the Manitou brand and the way that we will view pontoons in the future. Combined with the BRP Rotax S outboard motor, the design, functionality and performance of this pontoon is something that you would expect to find in other segments of the marine market. 
Available in three floor plans, the navigator, switchback, and bench, there is a layout for everyone. The Explorer also comes in three distinct sizes, 22', 24' and 26'. The Explorer comes in two exterior colours; shark grey or great white. The four accent/interior colours are pearl ice, carbon red, carbon blue and carbon.   
The modern looking and aerodynamic LED docking lights are seamlessly integrated into the side rails and provide more than enough light when needed.   
The all new designed "Max Deck" is a swim platform like no other. The Max Deck adds an additional four feet to the back of the pontoon.  There is storage compartments built into the floor of the deck. The Max Deck is exclusively used with the Rotax S 115-150 HP outboard. The deck also has the linQ system from BRP that allows you to add storage and cooler options.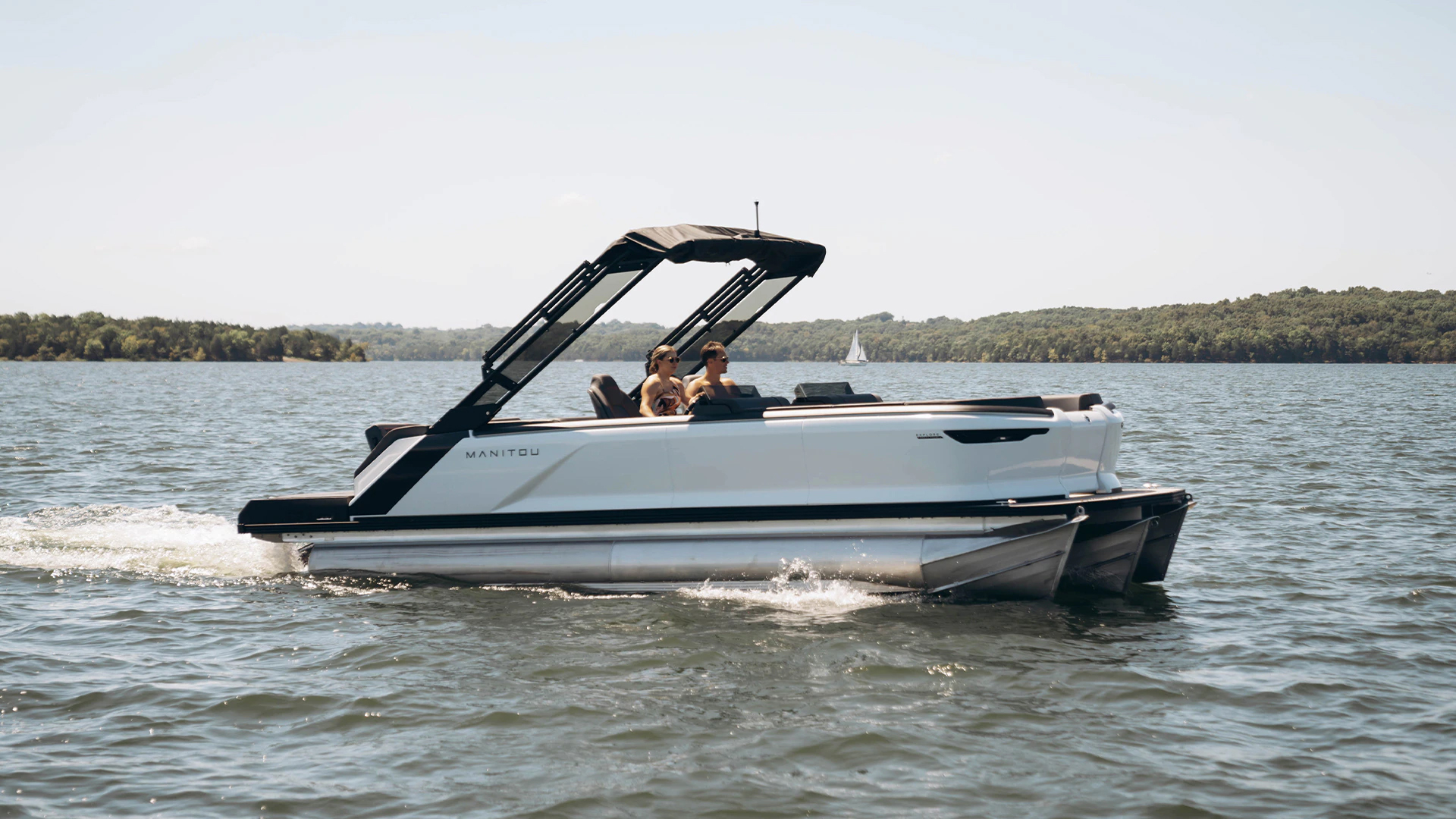 The furniture is innovative and flexible. The switch back seating to the aft of the boat allows you to sit either forward or reverse depending what activities you are doing. Just behind the helm seat is the three-in-one bench seating. The middle seat can be folded up into the wall to create two separate seating areas. The seat can also be folded out into a table to create a small dinette with face-to-face seating. The reverse arch designed sports bimini has been engineered to cover over 12 feet of the cockpit area. It can easily be used or stowed. You can also run up to 55 mph with the bimini deployed.  
At the helm, each corner of the dash has a specific purpose. There is a phone cubby with wireless charging to the top left. The Garmin digital dashboard is on the right. 
With revolutionary design and game changing advancements, the Explorer reinvents what a pontoon boat should be. This pontoon will turn heads and people are going to stop you at the dock to ask lots of questions about what it is and what it can do. The answer is simple, it can out pontoon many of the other brands today.     
Specifications

LOA: 24'4"
Beam: 8'5"
Weight: 3,532 lbs
Fuel Capacity: 43 gal
Max Horsepower:         150 HP
Max Persons: 11 persons

MSRP: $66,530 USD 

For more information:  www.manitoupontoonboats.com

2023 pontoon, best boat, best boat models, best boat trailer, best pontoon, best runabout, Best Used boat, boat accessories, boat buyers guide, boat parts, boat reviews, boat test, boat tests, boat touring, Boating, BOATING Buyer's Guide, boating guide, BOATING in-water Tests, boating lifestyle, Boating Lifestyle Magazine, BOATING rentals, BOATING rentals near me, BOATING traveller, boating vacation, BRP, buying a new boat, go boating, go boating Canada, how to choose a boat, Manitou, Manitou Explore 22 Max, manitou pontoons, marine accessories, Mercury, new Bennington, new boat, New Boating Products, new boats for 2023, New Pontoon, performance boats, Pontoon, pontoon test, Power Boating Canada, Tender boat, top boat models, top boats, top cottage boat, top cruiser, top power boat, Tritoon, Yamaha 2023 pontoon, best boat, best boat models, best boat trailer, best pontoon, best runabout, Best Used boat, boat accessories, boat buyers guide, boat parts, boat reviews, boat test, boat tests, boat touring, Boating, BOATING Buyer's Guide, boating guide, BOATING in-water Tests, boating lifestyle, Boating Lifestyle Magazine, BOATING rentals, BOATING rentals near me, BOATING traveller, boating vacation, BRP, buying a new boat, go boating, go boating Canada, how to choose a boat, Manitou, Manitou Explore 22 Max, manitou pontoons, marine accessories, Mercury, new Bennington, new boat, New Boating Products, new boats for 2023, New Pontoon, performance boats, Pontoon, pontoon test, Power Boating Canada, Tender boat, top boat models, top boats, top cottage boat, top cruiser, top power boat, Tritoon, Yamaha