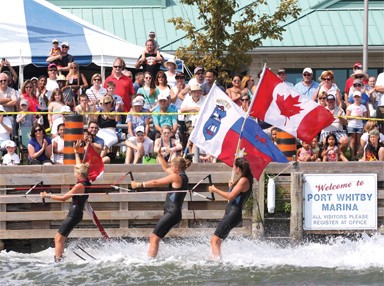 Located 23 nautical miles to the east of Toronto sits one of the finest natural harbors on Lake Ontario. Port Whitby Marina is a 420-slip, award-winning marina, owned and operated by the Town of Whitby, with year-round services available.
Port Whitby Marina is a full service facility that has been serving boaters since 1978, however Whitby Harbour has been used by commercial craft since the 1800's as a significant Port on Lake Ontario. In fact, wooden schooners once transported local grain to markets and returned laden with building materials used to build many of the buildings that remain around the port to this day! A dry dock for ship repairs also operated for many years in Whitby Harbor, but was recently decommissioned. Now the harbor is primarily used by recreational boaters who enjoy an entrance and turning basin wide and deep enough for ships, making it a boating paradise for small craft!
When visiting the marina, boaters are first met by a two hundred foot long service wall, which allows easy docking access when coming in off the lake. Included on the service area are gas and diesel fueling, waste pump-out, a mast crane, a 50-ton travel lift and more! The marina monitors VHF 68 and will assign slips over the radio if preferred. There are no reservations required other than for the Harbour Day event taking place annually on the last Saturday of July.
Recently there have been significant renovations made to the marina, one of the most important being the construction of a new clubhouse in 2004. The clubhouse features a spacious lobby area complete with vending and coffee services, and a multi use room that is used for boater events and can be booked out to the general public year round. Unlike many other marinas, Port Whitby Marina offers three-piece shower units, which make you feel right at home in a private, secure and clean washroom.  The marina continues to renovate, with the piers being replaced on a gradual phased basis.  The clubhouse and new steel tube floating piers are second to none on Lake Ontario!
Port Whitby Marina is knownas a visitor f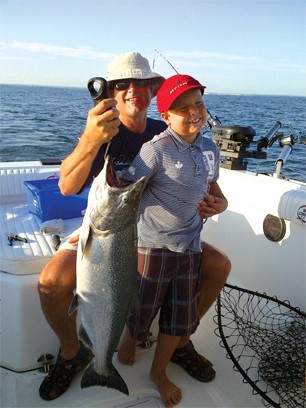 riendly marina. Guests can sign out bikes or kayaks at no cost to enjoy the waterfront trail or to go for a paddle in the protected waters of the harbor area. The marina also offers free daily newspapers, free use propane barbecues and free WIFI.  Walk-to amenities in the area include two sit down restaurants, groceries, pharmacy, liquor store, fast food outlets, marine store, playgrounds, beaches and more. A short cab ride from Port Whitby sits historic downtown Whitby, where a number of great little pubs and restaurants await. In addition, nearby Ajax, is the home of the Ajax Downs Race Track and slots facility, where one can perhaps make their fortune either by betting on world class Quarter horse races, or trying their hand at the many slot machines beckoning!
Families are also important to Port Whitby, with the marina or closely adjacent parks offering many family related events throughout the boating season.  Major summer events include Canada Day, Rotary Rib fest, Whitby Harbour Day, and Heritage Day. Highlights of these events include Live Entertainment, Waterski Shows, Dragon Boat Races, Nautical Parade of Lights, International Rib Concessions, and fantastic Fireworks Displays. More info on these and other great Town of Whitby events can be found visiting http://www.whitby.ca or http://www.whitbyribfest.com
Port Whitby Marina is also proud to be recognized as an Eco-Friendly Award Winner. They have been a member of Boating Ontario's Clean Marine Environmental Audit Program since 2003, and have consistently scored among the top 5 per cent of marinas in Ontario. In 2009 the marina achieved the highest rating of Five Green Leaf Anchors and in 2012 they were the recipients of the Robert Eaton Environmental Award of Excellence in Environmental Practices within the marine industry.
Experienced cruisers regularly comment that Port Whitby Marina is the 'best' marina they have encountered in all of the Great Lakes. This marina is great and getting better as they strive to improve on the facility and services offered to boaters each and every year! 
Port Whitby Marina is located at 301 Watson St. W. in Whitby, Ontario.