For 15 years, Gibbs Sports Amphibians has been leading the world in the development of High Speed Amphibian (HSA) Technology, with their Quadski, a machine that is easily mistaken for an all-terrain vehicle, but built to go places an A.T.V. won't!
Introduced to the market in 2012 by Gibbs, an Auburn Hills, Michigan privately held company that is devoted solely to the development of vehicles that can travel on land and water, the Quadski is the first sports amphibian vehicle capable of being driven at high speeds, whether on wheels, or as a watercraft.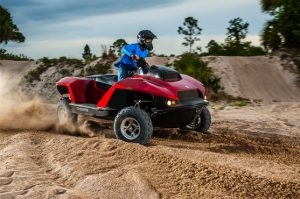 For many years, several companies worldwide have tried and failed to produce a vehicle that is capable of traveling just as efficiently on water as on land, and before the introduction of the Quadski, no commercially available amphibian had been able to exceed 10mph on water. However Gibbs through their award-winning engineering patented technology has made it possible now to create a vehicle that is adaptable to both surfaces, and provide unique on-water performance, as a lightweight hull of fiberglass composite provides a stable planning surface and lateral grip for responsive handling on water. The hull is designed to be aerodynamic on land and hydrodynamic on the water. This allows the Quadski to break free of the plane in water, rather than plowing through water like its many 'amphibian' predecessors. Additionally, the patented Gibbs jet drives are lighter and more compact than traditional marine industry water jets and provide high levels of thrust and maneuverability on water, and propel the Quadski to 'planing' speed in seconds.
The Quadski comes equipped with a 175-horsepower 1.3-litre 4-cylinder BMW engine and is backed by a 6-speed transmission and is quite capable of reaching 45mph on both land and water and can transition between them in a matter of seconds. In fact, at the flip of a button, the Quadski's wheels deploy when approaching land, and retract after entering the water.
Quadski provides unmatched freedom on water and land, and rapid in transition, sets a new standard in flexibility, freedom and fun for personal watercraft. It comes with HSA technology behind it of more than $200-millon and two million man-hours invested by Gibbs. But better still, the Quadski is now available in Canada!