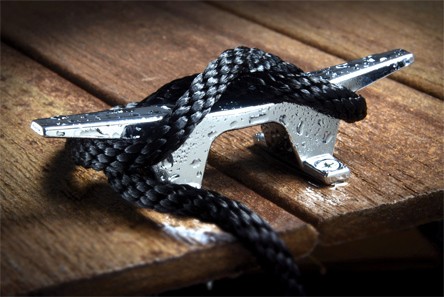 Leading the product design and development efforts for Big Game International's Shoreline Marine brand in Fort Myers, Florida is Mr. Read Samples. Over the past six years Shoreline Marine has become the fastest growing boating acces-sory brand in North America, garnering sig-nificant new market share from the highly popular do-it yourself (DIY) market.
Recently Power Boating Canada's Lifestyle Specialist, Larry Simpson had the opportunity to interview Read, and they discussed the growing do-it-yourself market, and the effect it is having on the marine industry.
Power Boating Canada: Where did it all begin for do-it-yourself products within the boating industry?
Read Samples: It all originated with Maurice Sporting Goods, , who was a signifi-cant distributor in the marine business, and this allowed us (Shoreline Marine) to get a 'true pace' of the business and get an over-all understanding of the boating industry. Seven years ago, we decided that we want-
ed to launch our own brand in the marine industry. So Big Game International, who is the manufacturing arm of Maurice Sporting Goods, determined that there was a need for a brand that was focused on the consumer being able to 'do-it- yourself'! So from the very inception of the Shoreline brand, the DIY consumer was always in mind. For products, we wanted to cover all of the basics, from the 10-foot to the 25 to 28-foot, typically trailera-ble boats, but also, not excluding the boater who keeps his boat in a marina. Actually, our typical customer has proven to be the person with the small boat, who likes to do work on it themselves, whether they are buying a new boat, or 'fixing up' a used one!
PBC: So the Shoreline brand was born, what steps were taken to ensure customer engagement?
RS: When we made the decision to launch the Shoreline DIY brand, we wanted to produce a 'package' that was pleasing. We worked together, and some of the thought behind the product packaging was that it needed to reflect the idea of 'putting yourself out on the water'! The tag line went some-thing like 'We want you to spend more time out on the water, and less time working on your boat so we will make it easier for you to work on your boat!' We also made sure that the packaging came complete with thor-ough instructions on how to utilize the prod-uct. We then went one step further with the launch of the Captain Weekend video series, which was created as a form of customer engagement, providing 'how-to' videos, including some short 'snip-its' that helped to hold the consumer's attention, while concur-rently, making them feel at a certain comfort level when buying the product! This was the catalyst to building the brand! We knew that we had to have excellent pricing, but more importantly, we wanted to engage the 'do-it-yourself boater and provide them with an assortment of products designed to fix anything that can break on a boat or perhaps supply a replacement upgraded lighting product if need be!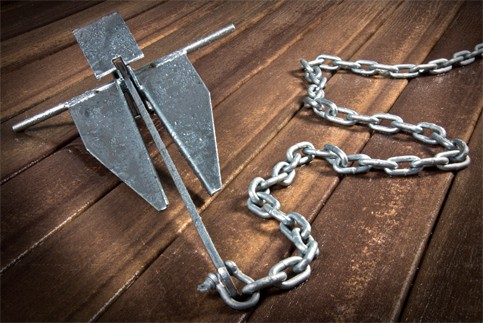 PBC: You seem to have a very good pro-gram in place with the Canadian Tire stores across the country?
RS: We received a great opportunity with Canadian Tire, as they saw the benefit of do-it-yourself products and the Shoreline brand, and we put a program together that reflected this passion. This program has turned into a great marriage for both Shoreline and Canadian Tire, as together we share the same passion for the do-it-your-self market and we can work together in a unique way when introducing new product opportunities. Every year we release maybe a dozen or so new Shoreline products, and in the Spring the consumer can travel to their local Canadian Tire store and see some innovative new products that weren't on the shelf last year.
PBC: What can you see the future holding for the Shoreline brand?
RS: We are going to continue meeting the challenges of the boating industry and the retail public. We are 'boater's' ourselves and are constantly coming up with innovative new products or improvements to existing items. Also we are constantly testing and improving our products especially on their ease of installation, which is very important to the end user. Finally, we always look for better opportunities to 'show' the product in the packaging, so that the consumer knows exactly what they're getting when they make that purchase!
PBC: Is there a new innovative product our readers should be on the lookout for in the future?
RS: We are currently in the developmental process of a new line of navigational LED lights that are an improvement on the exist-ing lighting programs. We are working to make them sleeker, lower profile, and more modern, while concurrently making LED's more portable. They are being developed to stand up to the marine life!
PBC: What steps did your com-pany take to recognize that there was a need for a DIY product line? Was it a case of polling the boating consumer or the storeowner?
RS: We actually had a team in place that was instrumental for putting the Shoreline assortment of products together. I men-tioned earlier that we are boaters too, and we have quite a bit of experience in the marine industry, so we (the team), pretty much had a lot of good 'history', which was very important I think! We certainly looked at all of North America to make decisions on our product assortments and we made sure that our 'team' was well versed- some were consumers, one a certified marine mechan-ic, a quality control person with a military background was part of the team, there was an experienced merchant, etc., and com-bined we ALL had years of boating and 'do it yourself' experience!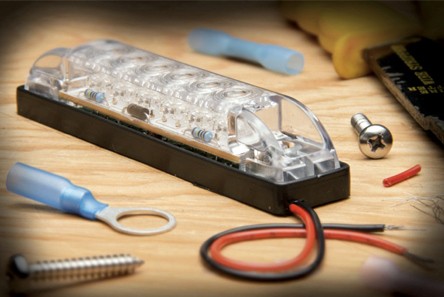 PBC: The 'do-it-yourself' market has seen a few trends over the past few years, LED lighting, paddle sports are exploding, and now there is kayak fishing! Are there any new innovative products that you can see on the horizon that are going to burst on to the DIY scene?
RS: What we are noticing is that past trends like paddle sports are continuing to flourish, and in turn, help to engage new buyers. They are creating new opportuni-ties, like fishing on stand up boards, avid overnight camping, in-wilderness paddling, and paddling clubs, all of which pretty well migrated from Canada and are now moving into the United States. With the future of LED lighting, I can see the opposite taking place with a migration north to Canada. The LED trend actually started in the South Florida area with the 'sport' fish boats and as I like to refer to them as the 'go fast' boats. LED has now moved into new boats, as the manufacturer's are using almost 90 per cent
LED lighting now. It's become very 'trendy' to be adding or replacing your traditional lights with LED's, as they have proven effi-cient, and are longer lasting. LED's are also brighter, and now more of them are battery operated, with say a battery pack and this is where we see the future of LED lighting, that is opening up opportunities for smaller boats including paddle boats, kayaks, 'tiinies' and canoes. We are also working on some ideas for the future to enhance paddling – more graphics, different ways to personalize your kayak or paddling craft, graphics on paddles or on the actual kayak, just to name a few!
PBC: Finally, what about quality control? I would assume that your company would have a very stringent program in place?
RS: We have a dedicated team in place during the manufacturing process that does quality control for us, and stringent test-ing is done in-house, and independently as well. There are quite a few regulations that cover the products that we manufacturer, and we have to follow those regulations, as well as factory inspections and consumer testing laboratories. There is a lot of test-ing that goes into every product before it makes it to the store shelf. Quality control is taken very seriously at Shoreline, so the consumer can rest easy!

Alberta BOATING, BC BOATING, Boating, boating adventures, BOATING destinations, BOATING facilities, boating in Canada, BOATING in New Brunswick, Boating in Nova Scotia, Boating in PEI, Boating in Quebec, BOATING in Saskatchewan, boating lifestyle, BOATING marinas, boating ontario, Docks, Manitoba BOATING, Marinas, Maritime boating destinations, ontario boating, power boating, Power Boating destinations, where to go boating Alberta BOATING, BC BOATING, Boating, boating adventures, BOATING destinations, BOATING facilities, boating in Canada, BOATING in New Brunswick, Boating in Nova Scotia, Boating in PEI, Boating in Quebec, BOATING in Saskatchewan, boating lifestyle, BOATING marinas, boating ontario, Docks, Manitoba BOATING, Marinas, Maritime boating destinations, ontario boating, power boating, Power Boating destinations, where to go boating