A spacious fish boat providing incredible performance and stability.
By Captain Christopher Kourtakis
As a bigger guy it is hard to find a sturdy fishing boat that can accommodate myself and a few fishing buddies.  When I stepped foot onto the Starcraft Delta 188 DC Pro, I knew that I would not need to look much further. This boat fishes bigger than she is while providing performance and stability on the water.
There are a couple of things that standout on this vessel that you normally don't see on a boat this size.  The first is the large casting platform to the aft of the boat. Integrated into the large platform is a 24-gallon integrated live well, dry storage and folding jump seats to either side of the platform.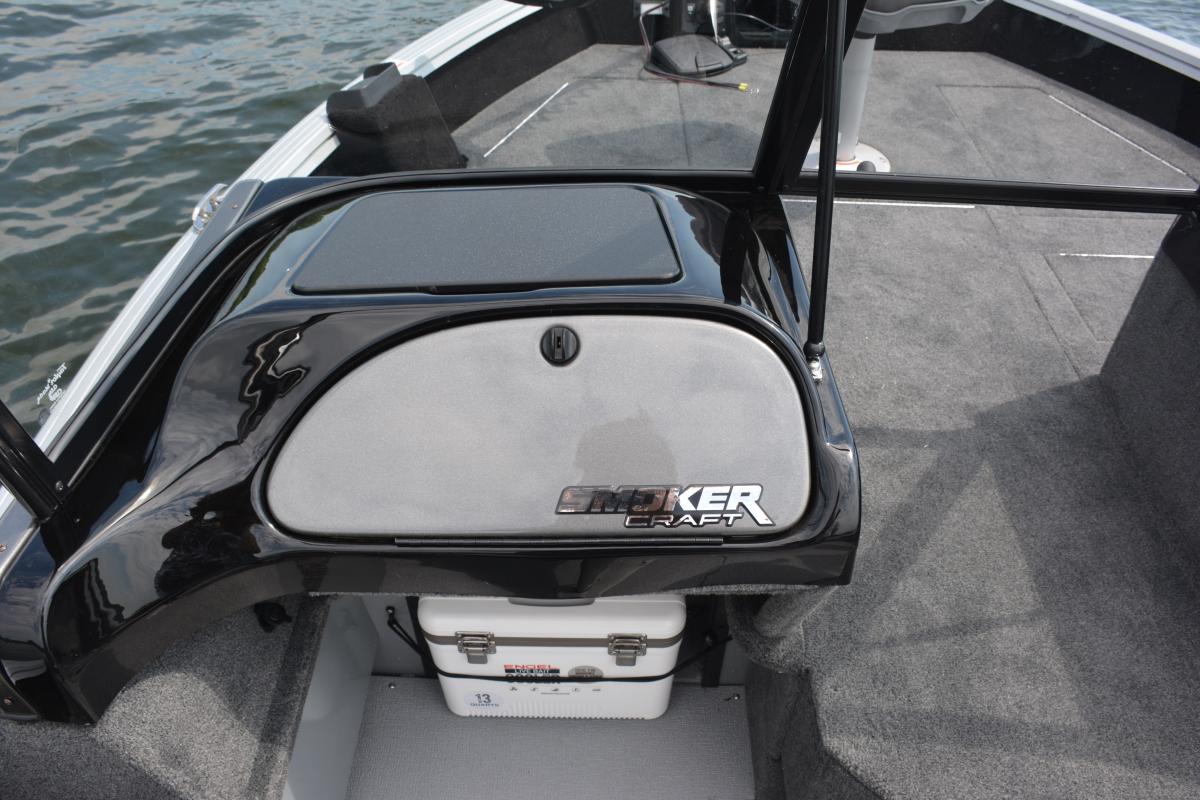 The second thing that stands out is the plush bow casting platform that is large enough for two people to fish from the casting area.  The floors are carpeted floor and a second live well and dry storage are incorporated into the floor.  Want to add a trolling motor? No worries as there is plenty of room on the bow for the motor and foot petal.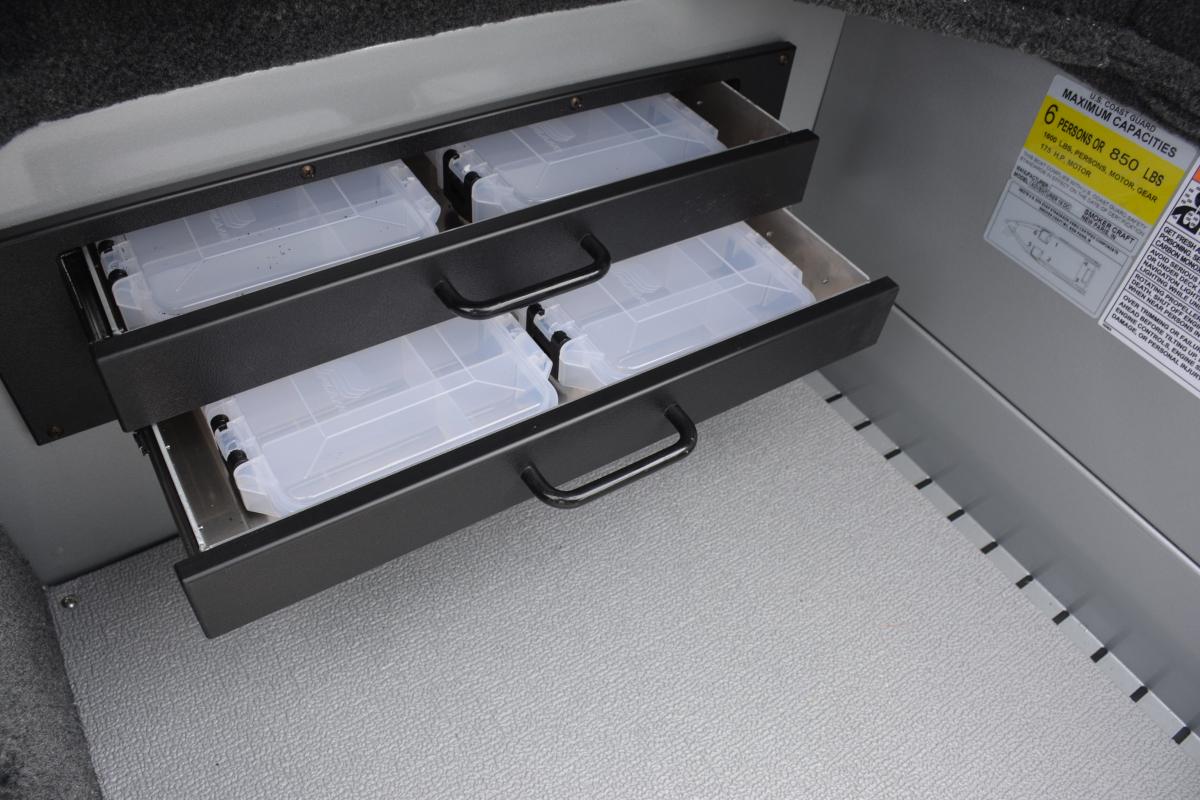 If you are a serious fisherman looking to take your game to the next level, the amenities on this beauty are second to none and with her size, there are plenty of them. The one accessory that stands out is the excursion on the gunnels to mount additional rod holders and other accessories. 
You can quickly and conveniently add accessories while you are trolling or casting with the integrated track system.  Fishing for walleye and using bottom bouncers, the track is perfect and extends into the bow area as well.  A lot of other boats don't normally extend their track systems past the windshield.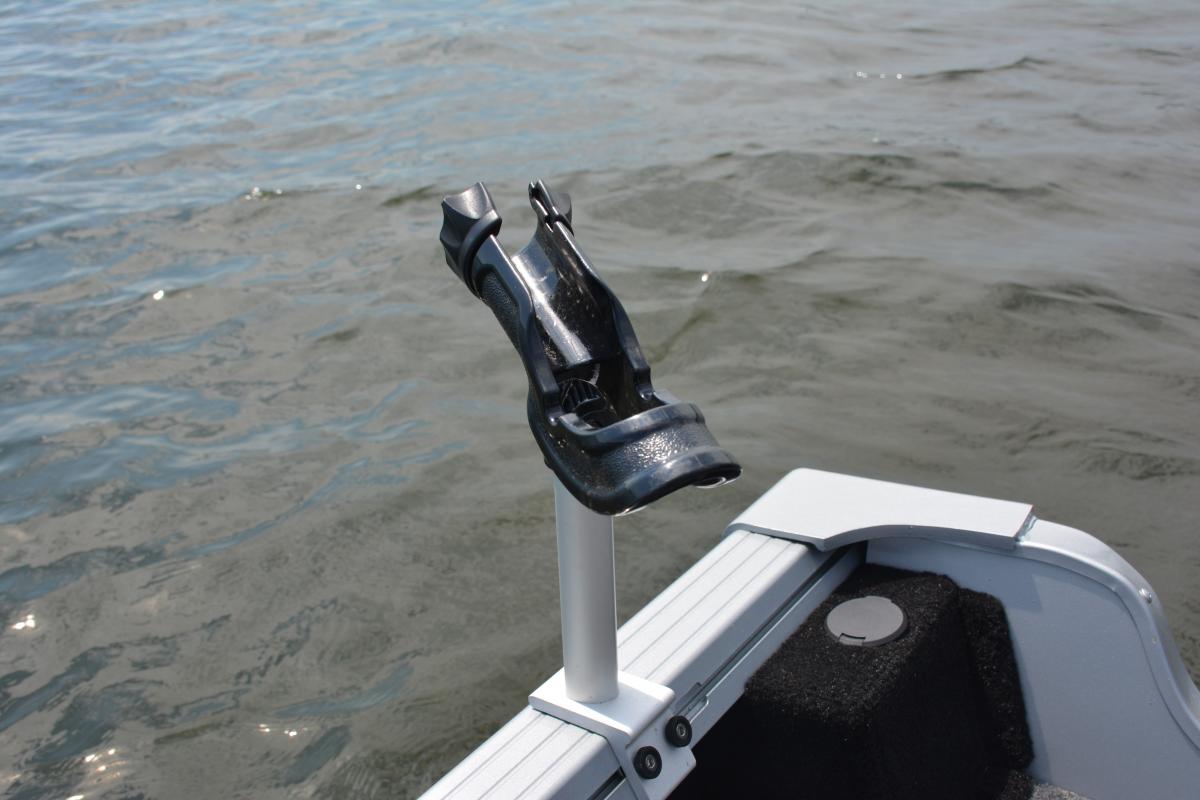 With a bigger boat, you will expect bigger storage areas and Starcraft did not disappoint.  The port side storage is lockable and large enough to store planer boards. The starboard side has cubby holes to store bulky items such as life jackets or jackets that you have quick access to, but also store out of the way. The two drawers underneath the driver's side console are designed specifically for Plano tackle boxes. 
They provide quick access without having to lay on the floor.  There is easy access to the twelve-reel locking rod locker by just lifting the center step going forward to the casting platform.  This storage is big enough to hold your large trolling reels and your smaller casting rods.  The location and design are flawless and allows for quick exchanges on the water.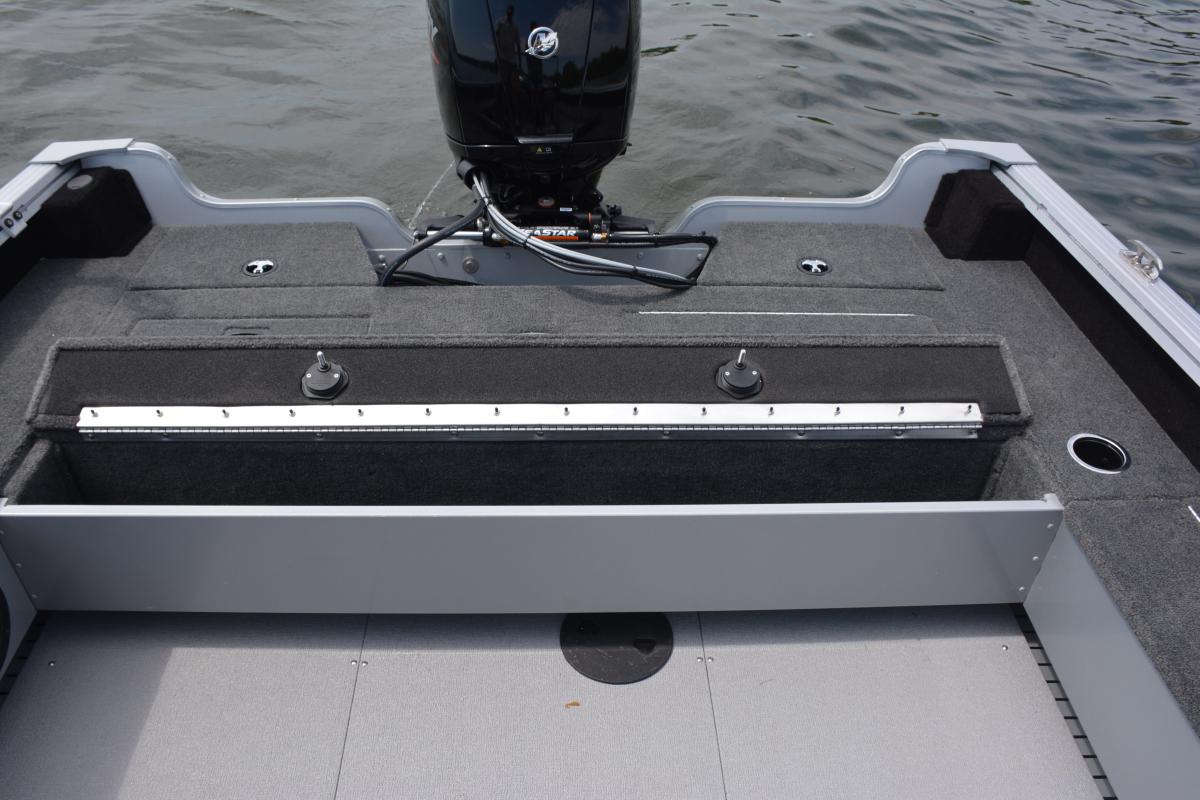 As a DC, the dual consoles are loaded with amenities.  On the port side console there is a glove box and grab bar, underneath there is an Engel boat cooler that you can plug in to keep your bait fresh.  If you are not using bait, add ice and you have the perfect cooler. 
The driver's side console has a tilt steering wheel so that getting behind the wheel is effortless, gauges and room for GPS, fish finder or both.  Lighted toggle switches and push breakers right underneath provide easy access if you pop a fuse.  Rounding out the dash is a USB, 12v plug on an open storage area perfect for a cell phone or other.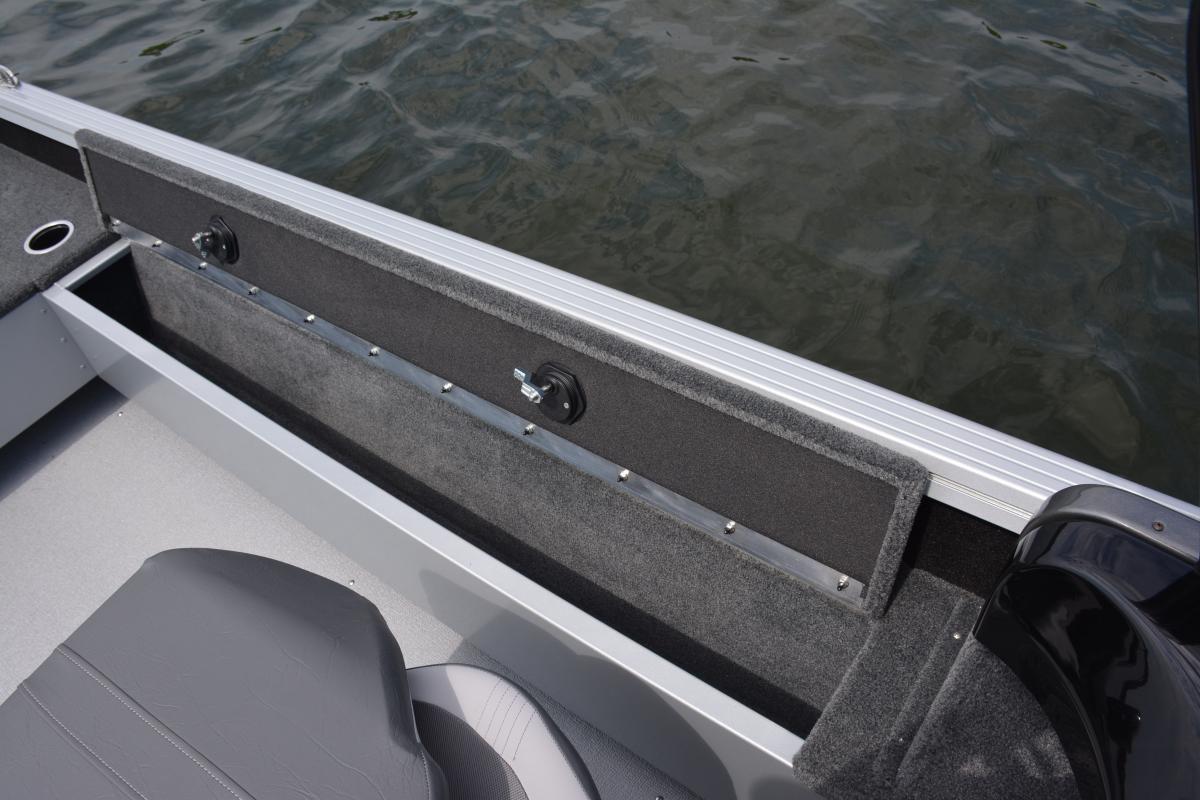 One of the best features on this boat is the cockpit floor drainage system.  The floor is going to get wet and messy, that's just a given.  The vinyl floor doesn't allow for snagging and doesn't show dirt.  She cleans up super easy due to the slitted floor drainage that goes into the bilge to keep the boat dry.  The full length drains down both sides of the cockpit.
Equipped with a VPS Hull design (Vertex performance strake) she is fast and steady and provides a great ride.  There is a 15" V pad at the back of the boat is a nontraditional V hull design.  This adds more lift while directing clean water to the prop, thus reducing ventilation and slip.
The four lifting strakes and reverse chimes help the boat dig in during the turns and no more sliding feeling that you get from aluminum boats crossing other boat wakes or making open water turns.
The design allows for more power using less HP, more lift using less hp, and a top end is more fuel economic. With a Yamaha Vmax 150 SHO time to plane is a mere 3.5 seconds.  Top end speed is just shy of 50 mph with a full tank of fuel and 2 larger gentlemen in the boat.
If you can find a dealer that has one in stock, make sure you get over there asap and check her out.  Climb through her and I will guarantee the next stop for this boat will be your driveway.  
Specifications
Max Horsepower: 175 hp
Beam:96 in
Dry Weight: 1603 lbs
Max Persons: 6 / 850 lbs
Max Capacity: 1600 lbs
Fuel Capacity: 38 gal
Length: 18'8"
MSRP: Approx. $31,274 US

For more information: www.starcraftmarine.com

best boat, Best boat buying website, best boat marina website, best boat models, best boat trailer, best boat travel website, best place to rent a boat, best power boat, Best Used, Better boating, boat accessories, boat angler, boat boondocking, boat buyers guide, boat camper, boat camping, boat dealers, boat DIY, boat Fishing, boat Fixer, boat guide, boat Home, boat information, boat insurance, boat lifestyle, boat Lifestyle Magazine, Boat Maintenance, boat marinas, boat marinas in Alberta, boat marinas in BC, boat marinas in Canada, boat marinas in Manitoba, boat marinas in Saskatchewan, boat marinas in the USA, boat marinas near me, boat parts, boat products, boat rentals, boat rentals near me, boat repair, boat review, boat reviews, boat road test, boat sharing, boat sites near me, boat supplies, boat Tech, boat test, boat tips, boat touring, boat trade, boat Travel, boat traveler, boat traveling, boat travelling, boat vacation, boat vacation cost, boat websites Canada, Boating, boating Canada, Boating Canada's Boat Lifestyle Magazine, boating lifestyle, Boating Lifestyle Magazine, boating website, Canadian marina websites, expert boat information, find a boat dealer, fish boat, fishing, Fishing Boat, fishing trip, go boating, go boating Canada, how much does a boat cost, how much does marina cost, how to choose a boat, how to drive a boat, marina accessories, marina products, marina supplies, motor boat, NEW boat model, new boat products, new boats, new boats for 2022, power boating magazine, Starcraft, top boat models, top boat website, top boats, top power boats, used boat reviews best boat, Best boat buying website, best boat marina website, best boat models, best boat trailer, best boat travel website, best place to rent a boat, best power boat, Best Used, Better boating, boat accessories, boat angler, boat boondocking, boat buyers guide, boat camper, boat camping, boat dealers, boat DIY, boat Fishing, boat Fixer, boat guide, boat Home, boat information, boat insurance, boat lifestyle, boat Lifestyle Magazine, Boat Maintenance, boat marinas, boat marinas in Alberta, boat marinas in BC, boat marinas in Canada, boat marinas in Manitoba, boat marinas in Saskatchewan, boat marinas in the USA, boat marinas near me, boat parts, boat products, boat rentals, boat rentals near me, boat repair, boat review, boat reviews, boat road test, boat sharing, boat sites near me, boat supplies, boat Tech, boat test, boat tips, boat touring, boat trade, boat Travel, boat traveler, boat traveling, boat travelling, boat vacation, boat vacation cost, boat websites Canada, Boating, boating Canada, Boating Canada's Boat Lifestyle Magazine, boating lifestyle, Boating Lifestyle Magazine, boating website, Canadian marina websites, expert boat information, find a boat dealer, fish boat, fishing, Fishing Boat, fishing trip, go boating, go boating Canada, how much does a boat cost, how much does marina cost, how to choose a boat, how to drive a boat, marina accessories, marina products, marina supplies, motor boat, NEW boat model, new boat products, new boats, new boats for 2022, power boating magazine, Starcraft, top boat models, top boat website, top boats, top power boats, used boat reviews