For most fishing enthusiasts, fishing can be done via a small utility fishing boat, a pontoon, kayak, canoe, or even from shore.
By Patrick Campeau
A couple of years ago, BRP presented a new challenge to its engineering team: to conceive a Sea-Doo dedicated to fishing.
At the end of 2018, we were presented with the revolutionary fishing watercraft: the FishPro Sport 170. After trying it out several times, I used the following qualifiers to describe this amazing ride; versatility, maneuverability, accessibility, simplicity and very well thought out. On top of being equipped with a powerful 170-horsepower Rotax 1630 engine, the FishPro Sport features a trolling mode with varying speeds that can be tailored to different species, based on their aggressively level and seasonal migration patterns.
In addition to being very stable, providing confidence to those new to fishing, the FishPro Sport features an extended platform that offers numerous possibilities for fishing standing up. Its boarding ladder is extremely useful for getting back on board after a swim.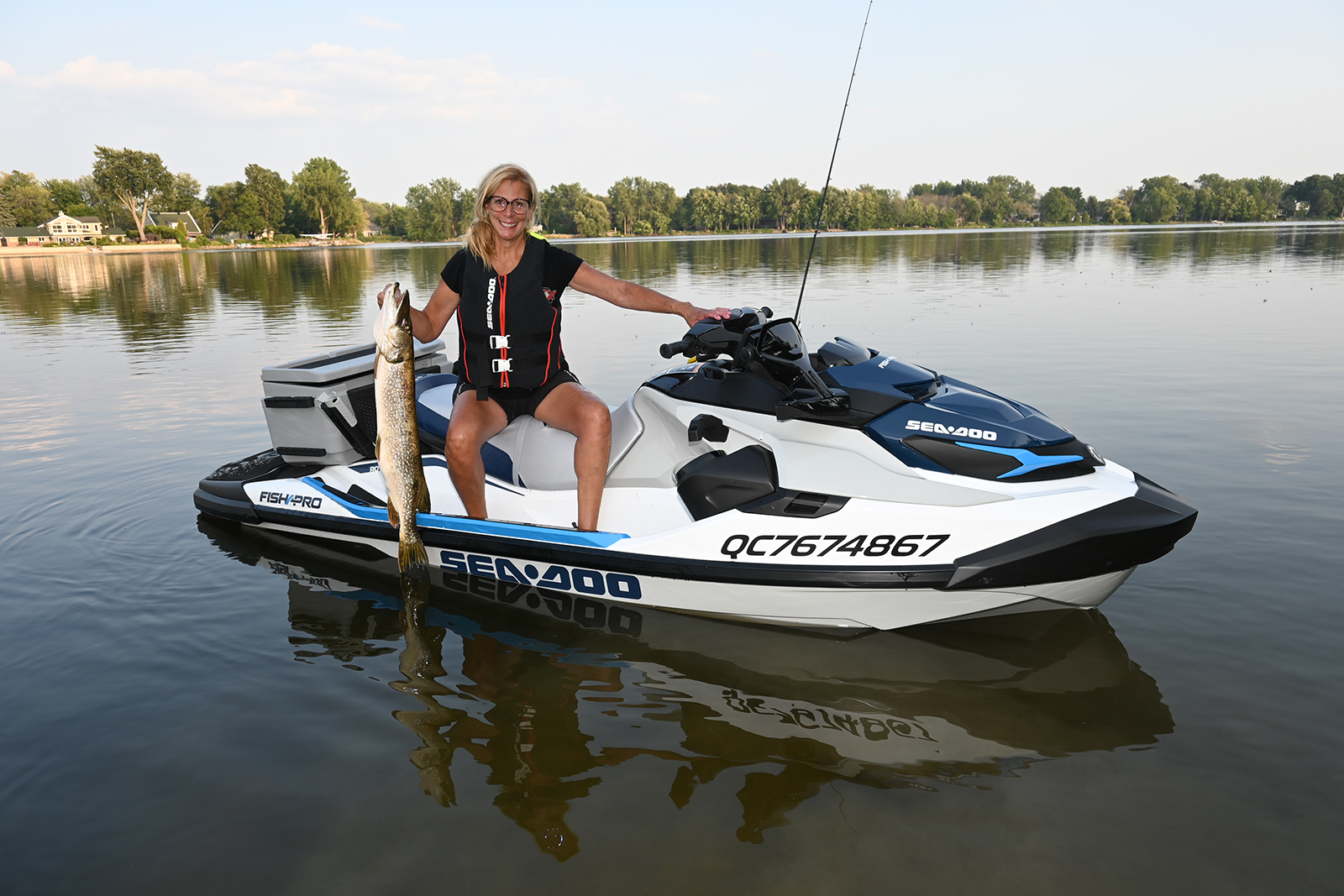 The huge front storage compartment allows you to store everything you'll need when heading out on an adventure. You can attach accessories of all kinds thanks to the ingenious LinQ system, like rod holders, a 51 litre cooler, an extra gas can, etc. A Garmin sonar/GPS system is also included.
When travelling between fishing sites, opting for ECO mode for a smooth ride is quite pleasant, or for those looking for a speedier experience, Sport mode offers faster rides with incredible acceleration. The 70-litre gas tank ensures ample autonomy.
In 2021, they equipped the engines with a novel intelligent debris-free pump system (iDF) that allows riders to unclog the water intake system of the watercraft without leaving their seat. It permits fishing in shallow areas, where fish hide, without worrying about accumulating all sorts of grass or weeds.
It's Impressive
For Sea-Doo, 2022 looks incredibly promising. They recorded an increase of 800% in pre-orders compared to last year, on top of being the number one watercraft brand 20 years running in North America.
These vehicles are what dreams are made of and are incredibly popular to new and experienced riders; 52% of Sea-Doo owners are new to watercraft sports.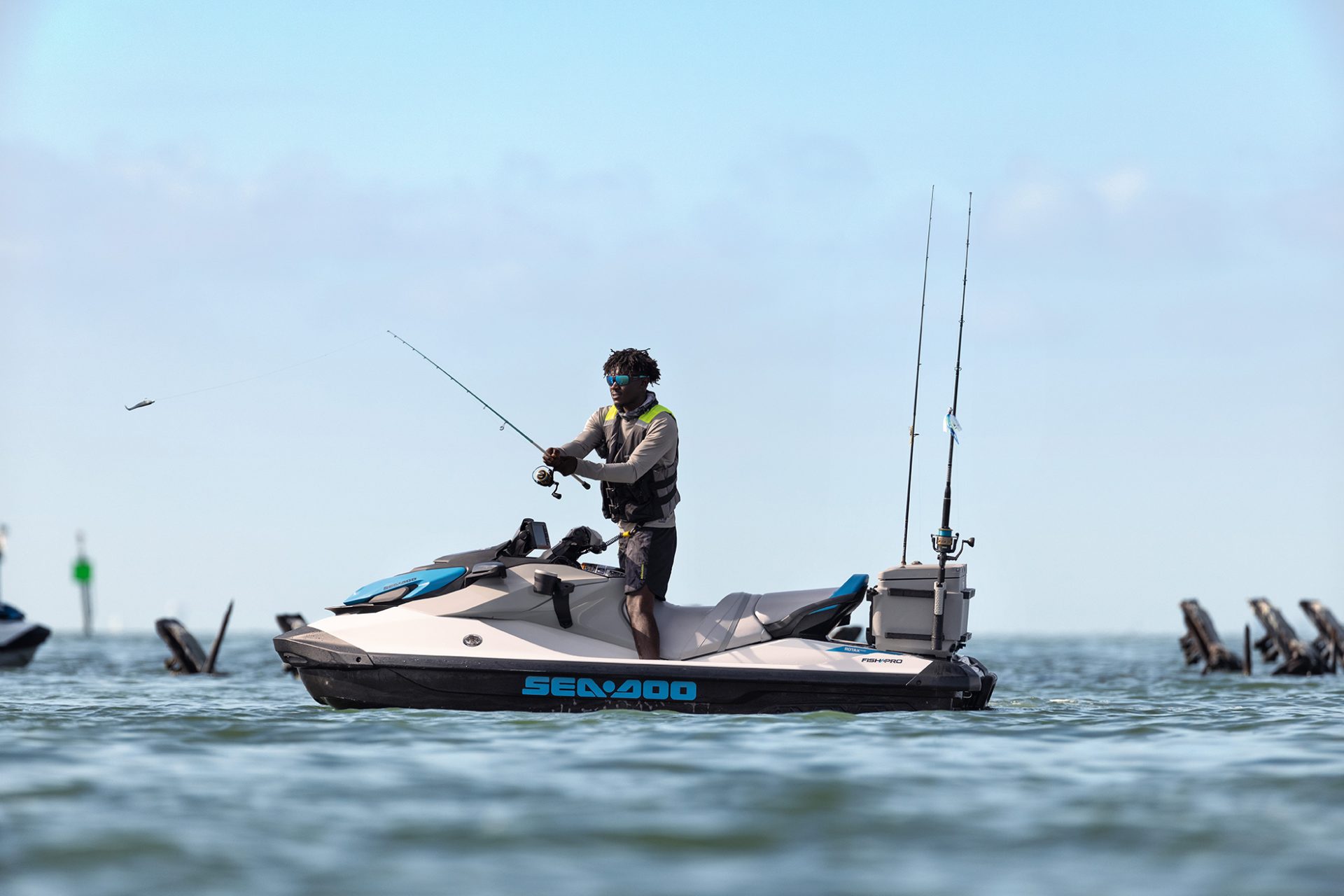 The FishPro Scout 130
The FishPro Scout meets the needs of casual rod handlers with an active lifestyle; it's an ideal mix for affordable fishing and family leisure.
The FishPro Scout has a base price of $18,244 with transportation and preparation charges included. It features a powerful 130-horsepower Rotax 1630 ACE engine that powers good acceleration while still offering incredible fuel economy. It is equipped with a 51 litre cooler, a 6-inch Garmin fish finder and GPS that includes a code to download a regional navigation map for free, three rod holders, the debris-free pump system (iDF) and a trolling mode. It transforms almost instantly, as needed, for family outings.
With its GTI hull in Polytec Gen II, coming in at 355 kilograms, this marine vehicle (of 331.8 cm in length by 125 cm in width and 117 cm in height) will fit up to three people.
Its 60-litre gas tank gives it ample autonomy. A total storage area of 203.8 litres will allow you to store everything you need, from equipment to accessories to water sports products.
When it comes to the dashboard, the digital display of 11.4 cm will indicate your speed, RPM, a clock, VTS (variable trim system), vehicle hour display and fuel autonomy. Drivers can choose from Sport or ECO mode, trolling mode, or speed regulator.
The FishPro Trophy 170

Sea-Doo developed this fishing-friendly machine with advice from the pros. It's sure to appeal to personal watercraft fans, and especially to fishing fanatics.

Starting at $22,199, fishing enthusiasts can ride this powerful ride endowed with a 170-horsepower Rotax 1630 ACE engine that offers thrilling acceleration and remarkable top speeds.

As far as major developments, the modular swivel seat provides more flexibility to fish comfortably for a longer period, from a higher position. It can be installed or stored quickly. Thanks to a quick-connect hose, the LinQ fishing cooler transforms into a livewell in seconds. Its built-in pump continually feeds fresh water into the cooler to keep your catch and baits alive all day.

The new anchoring system allows quick access, and easy and secure storage. The advanced battery system includes two batteries and a 650-watt generator to prolong the life of all electronic accessories. As for sonar and GPS, a 7 inch Garmin touchscreen offers a high-end navigational system including a token for a free regional map and a fishfinder that uses CHIRP technology to produce high-definition images.

Its 20-cm-wide colour LCD display (with optional audio) offers Bluetooth and Smartphone integration so you can access music, weather, navigation and more. You'll also get all the same base readings as with the Scout, as well as speed statistics (with optional audio) and vehicle hours.

Its ST3 fiberglass hull weighs 407 kilograms. The FishPro Trophy measures 373 cm in length, 125 cm in width and 115 cm in height, not including the modular swivel seat. It can fit up to three people. Storage capacity totals 149.9 litres.

To get around, the 70-litre gas tank will allow you the chance to go even farther in your quest for the fish of your dreams.

On top of Sport, ECO, trolling mode, or speed regulator, you'll discover a host of features including the intelligent brake and reverse system (iBR), VTS (variable trim control), a boarding ladder, RF D.E.S.S. key, two sets of LinQ attachment points, wide-angle mirrors, footwell carpets, five rod holders, a USB port, tilt steering, a ski tow eye, an integrated washdown system, and much more. 

It truly is the most advanced sport fishing watercraft out there. 

2022, 2022 Sea-doo, best boat, Best boat buying website, best boat marina website, best boat travel website, best place to rent a boat, boat, boat accessories, boat angler, boat boondocking, boat buyers guide, boat camper, boat camping, boat dealers, boat DIY, boat Fishing, boat Fixer, boat Home, boat information, boat insurance, Boat Maintenance, boat marinas, boat marinas in Alberta, boat marinas in BC, boat marinas in Canada, boat marinas in Manitoba, boat marinas in Saskatchewan, boat marinas in the USA, boat marinas near me, boat news, boat products, boat rentals, boat repair, boat road test, boat sharing, boat sites near me, boat supplies, boat Tech, boat tips, boat touring, boat trade, boat Travel, boat traveling, boat travelling, boat vacation, boat vacation cost, boat websites Canada, boater, Boating, boating Canada, Boating Canada's Boat Lifestyle Magazine, Boating Lifestyle Magazine, boating website, BRP, Canadian marina websites, expert boat information, find a boat dealer, Fish, fishing, Fishing Boat, fishing gear, fishing machine machine, FishPro, FishPro Scout, FishPro Sport, FishPro Sport 170, FishPro Trophy, how much does a boat cost, how much does marina cost, how to choose a boat, how to drive a boat, jetski, jetskiing, marina products, marina supplies, motor boat, New, News, personal watercraft, power boating magazine, PWC, Sea-Doo, seadoo, SeaDoo FishPro, The FishPro Scout 130, The FishPro Trophy 170, top boat website, used boat reviews 2022, 2022 Sea-doo, best boat, Best boat buying website, best boat marina website, best boat travel website, best place to rent a boat, boat, boat accessories, boat angler, boat boondocking, boat buyers guide, boat camper, boat camping, boat dealers, boat DIY, boat Fishing, boat Fixer, boat Home, boat information, boat insurance, Boat Maintenance, boat marinas, boat marinas in Alberta, boat marinas in BC, boat marinas in Canada, boat marinas in Manitoba, boat marinas in Saskatchewan, boat marinas in the USA, boat marinas near me, boat news, boat products, boat rentals, boat repair, boat road test, boat sharing, boat sites near me, boat supplies, boat Tech, boat tips, boat touring, boat trade, boat Travel, boat traveling, boat travelling, boat vacation, boat vacation cost, boat websites Canada, boater, Boating, boating Canada, Boating Canada's Boat Lifestyle Magazine, Boating Lifestyle Magazine, boating website, BRP, Canadian marina websites, expert boat information, find a boat dealer, Fish, fishing, Fishing Boat, fishing gear, fishing machine machine, FishPro, FishPro Scout, FishPro Sport, FishPro Sport 170, FishPro Trophy, how much does a boat cost, how much does marina cost, how to choose a boat, how to drive a boat, jetski, jetskiing, marina products, marina supplies, motor boat, New, News, personal watercraft, power boating magazine, PWC, Sea-Doo, seadoo, SeaDoo FishPro, The FishPro Scout 130, The FishPro Trophy 170, top boat website, used boat reviews