Boating – one of Canada's most popular pastimes – has been growing and growing over the past several years, and the world of pontoons and deck boats have a lot to do with all these new boaters. What makes them so enjoyable and accessible so quickly is that they are a great outing on the water, extremely inexpensive, and will entertain the entire family with loads of space and amenities at your disposal, all at an affordable price. We take a look at 18 NEW 2021 pontoon and deck boat models that will serve as a great escape for your family and friends.
PONTOONS AND DECK BOATS FROM $20K TO MORE THAN $170K
---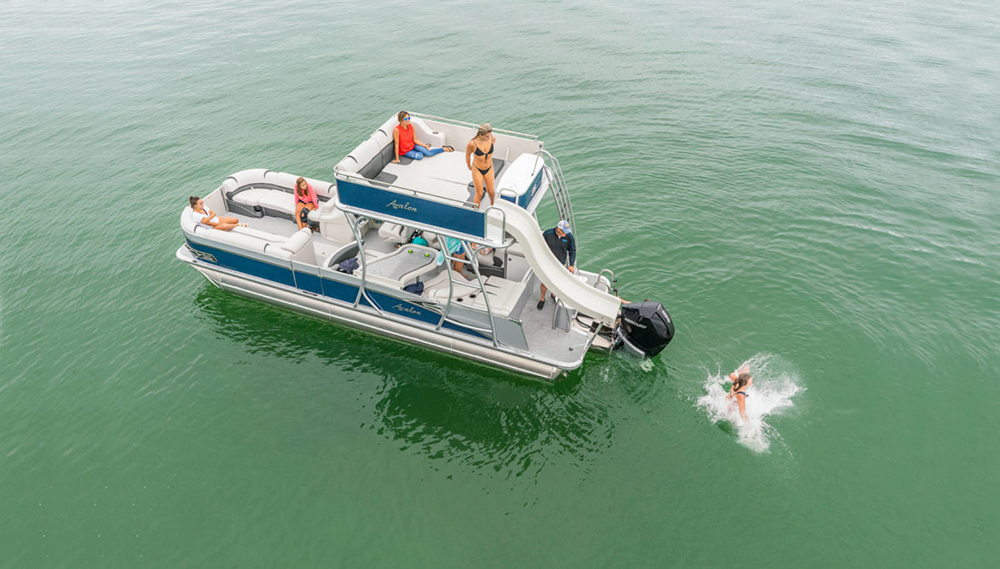 Avalon

Catalina Platinum Funship – 27-foot model

www.avalonpontoons.com
By Tim Banse

As a class of watercraft, the word "funship" refers to a pontoon boat that features a secondary, upper deck fitted with a slide for fun seekers to playfully slide into the water. Or, to leisurely soak in the sunshine on the top deck. This brings us to Avalon's Catalina, a veritable sea-going water park for the way it smashes and throws water at blistering speed.

Then at anchor, its second deck features, you guessed it, a water slide for family fun. Thoughtful amenities include towel storage, generous built-in storage compartments for a change of clothes, as well as a privacy-changing station complete with a curtain.

Besides accommodating a water slide, the queen-sized upper deck also serves as a lounge, a comfortable place for enjoying cold beverages while watching the sun slip beneath the horizon. Below, the main deck's plush seating is a good gathering place for shared meals, board games and conversation.

How fast you fly, depends on how much money you want to spend on horsepower and at the fuel dock. Hint: Outboard options range from a diminutive 9.9- to a thundering 250-horsepower big block. Funship is founded upon three 27-inch diameter sponsons.

Fitted with an aluminum wave shield translates into a comfortable, dry, and stable ride.  High-performance lifting fins raise the boat up to speed quickly. You should know triple pontoons are most times referred to as tritoons.

As with any boat, it is the careful selection of packages and options that refine character. In this case the laundry list is well-populated: Saltwater package, either rail or pedestal grill, coolers, underwater lights, a live well, wine rack, flooring. Given the boat's fun-in-the-sun personality, the diving board is truly a must-have option. Naturally, there is a ski tow bar for water skis.

Catalina Platinum Funship is available in both 25' and 27' models.

LOA: 28'6"
Beam: 8'5"
Transom Height: 25"
Approximate Weight: 4200-lbs
Deadrise: N/A
Maximum HP: 250-hp
Fuel Capacity: 58-gallons
Passenger Capacity: 17-per./2,3700 lbs.

Approx Price: $68,336
MSRP $57,402 Internet Price
---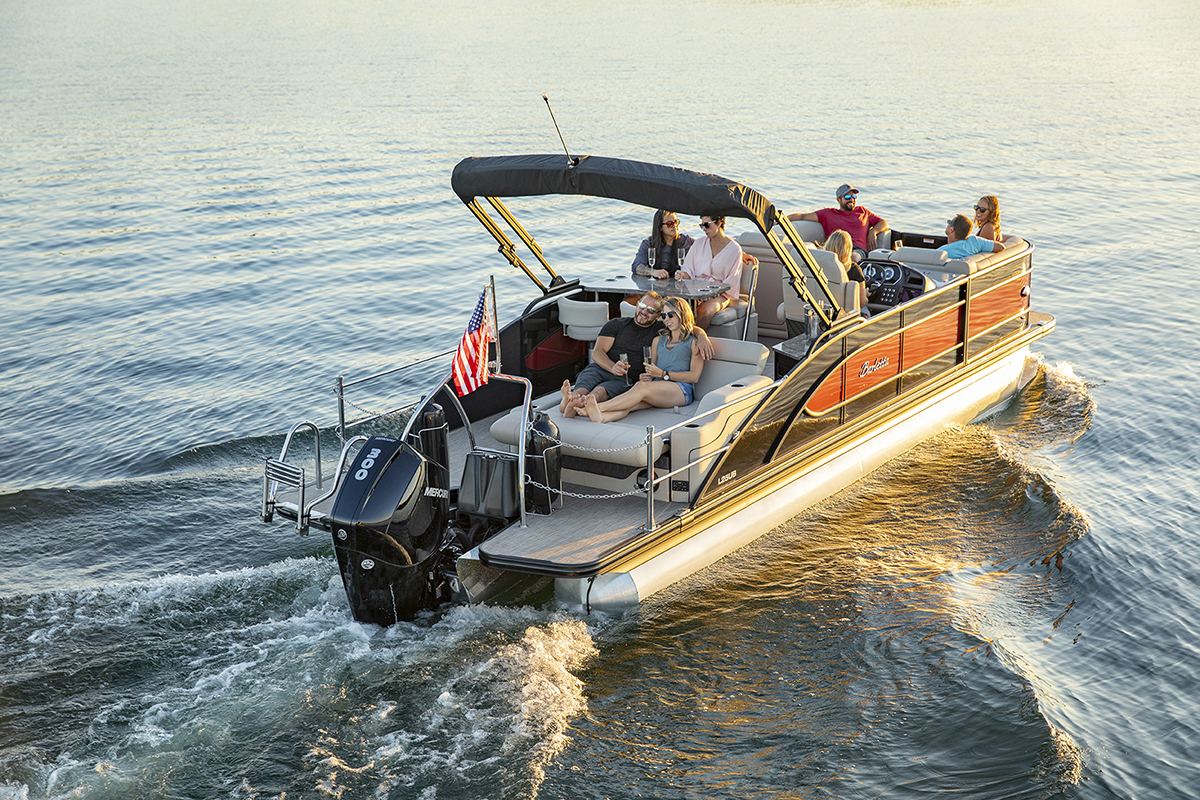 Barletta
Corsa 25 UE
www.barlettapontoonboats.com
By Capt. Chris Kourtakis 
Buying a boat for many people is a life altering experience.  They truly do not understand the lifestyle and changes that are going to come, and Barletta pontoons are very similar. 
They may not have the rich tradition like many of the other builders, but they have created, designed, and launched industry altering models, quality, and performance that other builders strive to create.  Every model that Barletta designs is a home run for their customers.  There is nothing that Barletta has not thought of when it comes to their boats.    
The all new sporty, sexy Corsa is very similar to the flagship L-Class and has maintained much of the same DNA, with more standard options that you would want, comfort, quality and designed for the ultimate customer experience.  The Ultra Entertainer floorplan in the Corsa lineup is the largest of the three available layouts and does not disappoint.
Designed for those of us who love to entertain while on the water, the two chaise loungers forward of the helm are welcoming, while the multi-function bar top is truly a one-of-a-kind design and layout.  With two bar stools to the aft and a flip flop seat forward, the entertainment possibilities are endless. 
Another key feature that I really like is the large sun pad to the aft that flip flops as well to provide both forward and back seating options depending on your needs.  This boat is spacious, plush, and unquestionably creates a space that everyone will enjoy.
The fiberglass helm is sporty and well laid out.  With room to mount a GPS unit to the right, the push button switches that illuminate to either side of the tilt leather wrapped wheel and two multi-function gauges integrated at the perfect eye level. Surely, you can see why this design was award winning. 
The stylish, sporty, and sleek exterior has lines that you would expect on a muscle-car.  No matter where you call home or where you boat, you will turn heads and you will be the leader of the lake.
Tube Length: 25'
Deck Length: 27'
Beam: 8'6''
Max HP: 450
Fuel Capacity: 48
Dry Weight:  4045
Person Capacity : 13
MSRP Approx: $110,000 U.S.
---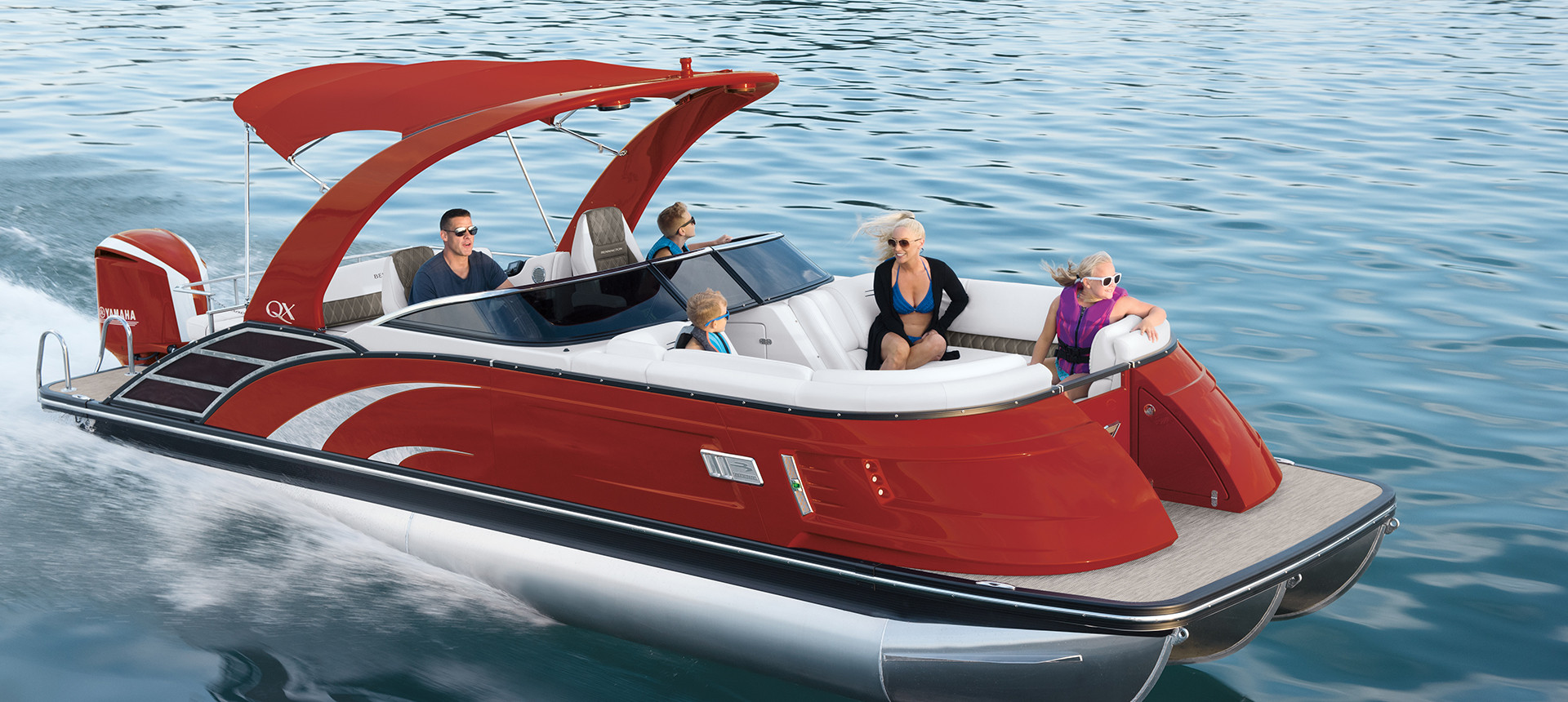 Bennington
QX
www.benningtonmarine.com
By Capt. Chris Kourtakis 
In 1997, a small group of industry veterans set out to design and develop a premier luxury pontoon manufacturer.  They have done just that and more.  Their attention to detail has redefined industry standards and set the bar higher for all other boat and pontoon manufacturers out there.
The QX model is no exception, as this lineup is full of industry leading innovations and designs.  Whether it is the unique shapes with its curved bow and finishes such as the sleek blemish-free composite glass skin that stands out from the rest sitting at the marina. Nothing is an afterthought on this model lineup.
Available with either single or twin-engine rigging, the QX is going to throw you back in your seats.  Sizes ranging from 23' to 30' and beams up to 10' wide, there is a model for every occasion on the water.
With what seems like endless furniture layout options, floor plans and interior and exterior colors, the only limit may be your imagination.  The customization on this model can truly allow you to stand out from others, express yourself and make a statement at the dock or on the water.
One thing I really like about this model is that Bennington has designed a well thought out stern seating options. Choose from the swing back layout that offers both forward and aft seating on a large sun pad or the twin lounge seats with center walk through that extends the boats entertaining area all the way to the motor and then some. 
The other thing I really like about the helm.  For the first time I did not feel like I was sitting behind the wheel of a pontoon.  The dash layout is like that of a performance boat and the wrap around windshield provides protection on the cooler nights.  The dual bucket seats are plush and provide both you and your co pilot superior comfort while on the water.
Another unique feature on this boat is the power folding radar arch with ski tow, speakers and bimini top incorporated into the sleek design.
The QX is not for everyone, but if it is for you, you will not be disappointed. 
LOA: 31' 3"
Beam: 10'
Tube diameter:  32"
Weight: 5,423 lbs without engines
Max HP: 900 HP
Fuel capacity: 83 gallons
Passenger: 17
MSRP: Approx $126,500 U.S.
---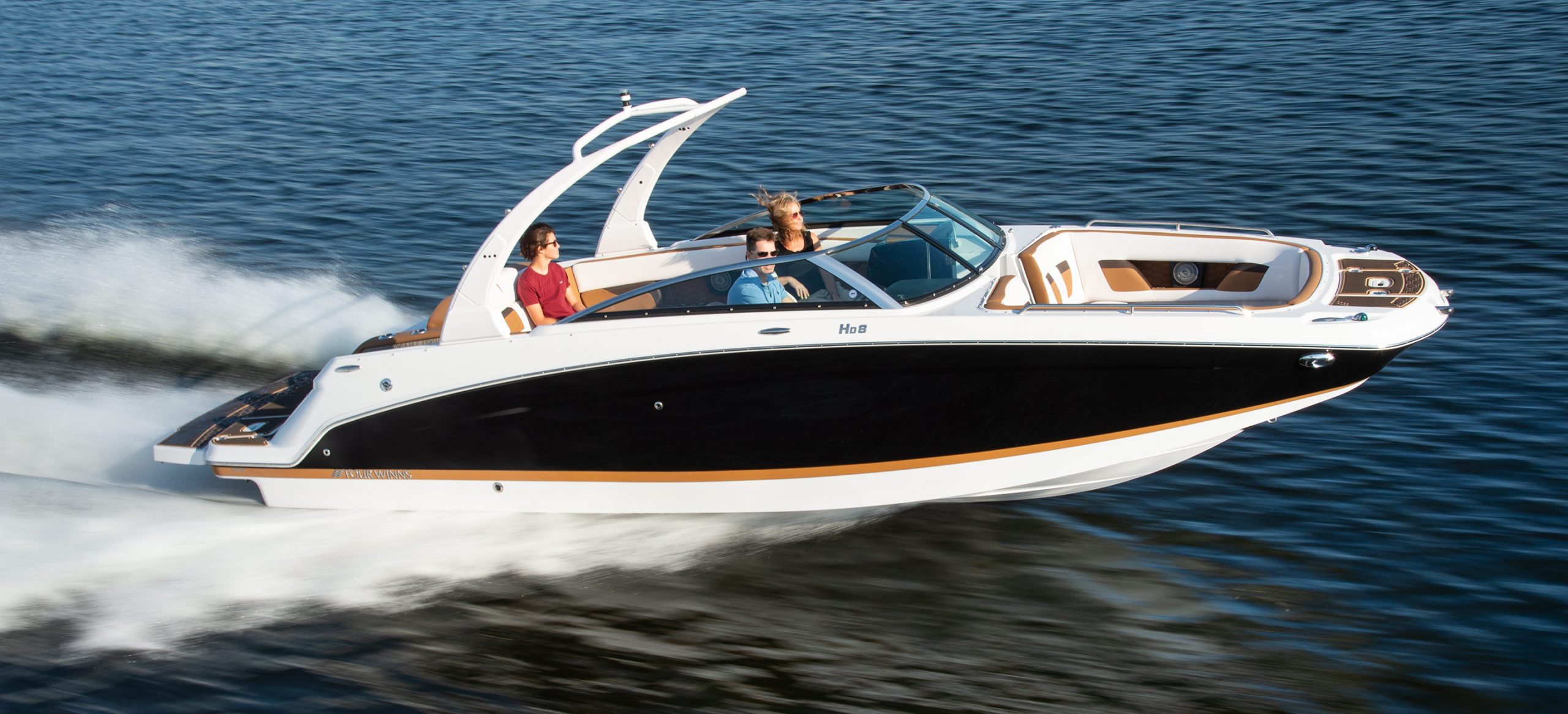 Four Winns
HD8 RS
www.fourwinns.com
By Tim Banse
In basic terms, the Four Winns HD8 RS is a family-friendly, luxury deck boat populated with multiple ice coolers, an enclosed head, cockpit table, and made pretty by its broad palette of color schemes. That said, it is pretty much a bare boat and requires a complement of options to breathe life into its soul.
Tow sports enthusiasts will be pleased to learn of the wakeboard towers which ought to be paired with the extended swim platform, and the alternative wakeboard racks can be mounted on a tower.
With a boat this size, there's room for an electric porcelain toilet and pump out, or a plain porta pottie if one prefers the simple life. Team these with the available stern and bow showers. As for canvas, under a scorching sun, the Bimini top will make cruising comfortable and Sunbrella bow, and cockpit covers keep the boat clean during the week.
At the helm, the GPS chart plotter/depth sounders is a must. Engine options include a collection of MerCruiser and Volvo Penta V6 and V8 small blocks and big block stern drive packages with either single or dual propeller drive legs. MerCruiser Bravo Three and Volvo Penta Duoprop, mount two propellers on a single axis, for crisper acceleration, and higher top speed as well as truer tracking.
Four Winns offers a tantalizing choice between Mercury's Vesselview Mobile and Volvo's Easy Connect. These apps display vital engine data on a cellphone via an onboard Bluetooth® interface: Namely, speed, rpm, fuel, temperatures, voltage. They also monitor fuel consumption and store diagnostic fault codes for emailing to a service technician should an engine malfunction. Trim tabs with LED readouts tame the ride on waters.
A particular worthy option would be the matching tandem-axle trailer with brakes, along with the rugged tow package, swing-away tongue, and spare tire. Finally, the transferable warranty term runs for three-years.
LOA: 26' 6"
Beam: 8' 5"
Transom Height: n/a
Approximate Weight:5,350-lbs
Deadrise:  20 °
Maximum Horsepower: 380-hp
Fuel Capacity: 70-gallons
Passenger Capacity: 12 Persons
Approx price: $100,000
---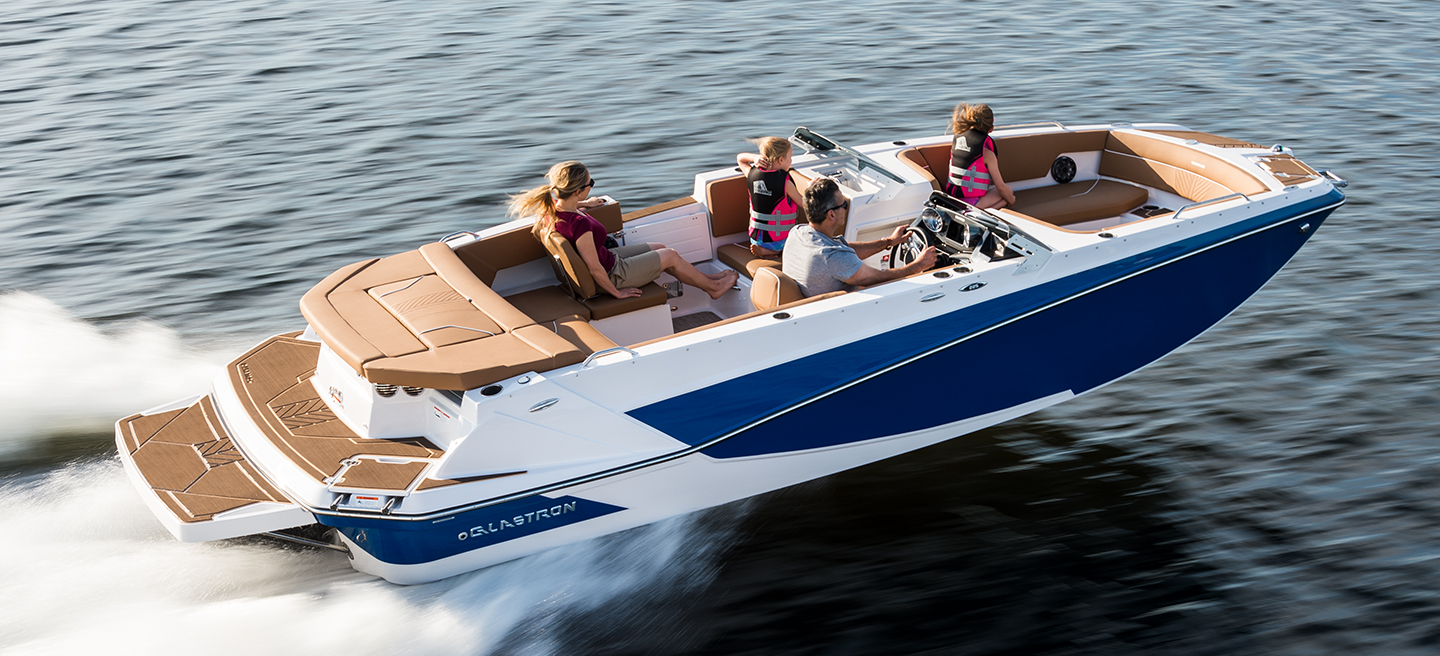 Glastron
GTD 225
www.glastron.com
By Tim Banse
As simple as the sea, Glastron boats enjoy a sterling reputation for quality of build, styling, and ergonomics. Thanks to its many and varied options, a bare boat GTD can be fitted out for fishing, skiing, wake boarding, sunbathing or a combination of all these things.
The Bimini top includes a changing room for transitioning from shirt and shorts to swim wear and back again. Naturally, there is a porta pottie (with privacy curtain) option. For water sports, add a tow tower, or a tower-mounted board rack. But no matter how else the deck boat is outfitted; the swim platform is truly a must-have option.
For fishing add the trolling motor, aerated bait well, casting platform, fishing seat and rod storage that doubles as a ski locker. Music lovers will appreciate the premium sound system. The table is a welcome addition for board games and drink holding.
One particularly noteworthy option is the choice between Mercury Vesselview Mobile and Volvo Easy Connect, apps that display on a cellphone vital engine data via an onboard Bluetooth® interface (speed, rpm, fuel, temperatures, voltage). These apps also monitor fuel consumption and store diagnostic fault codes for emailing to your dealer should an engine malfunction.
Glastron deck boats are available in three lengths: GTD 205, GTD 225 and GTD 245. The bigger the boat, the more people can come aboard and the faster the ride. Also contributing to top speed and acceleration are the myriad of power packages: V6 and V8 blocks as well as either MerCruiser or Volvo-Penta, in either single or dual propeller stern drives. At the top of the line, both MerCruiser Bravo Three and Volvo Penta Duoprop, mounting two propellers on a single axis, bring crisper acceleration, and higher top speed as well as truer tracking.
The transferable warranty term runs for three-years. The GTD purchase price includes a custom trailer which can be excluded if you already own one.
LOA: 22'4"
Beam: 8' 6"
Approximate Weight: 4250 lbs
Maximum Horsepower: 300-hp
Dead rise: 17"
Fuel Capacity: 52-gallons
Passenger Capacity: 13-persons
Approx Price: $70,000
---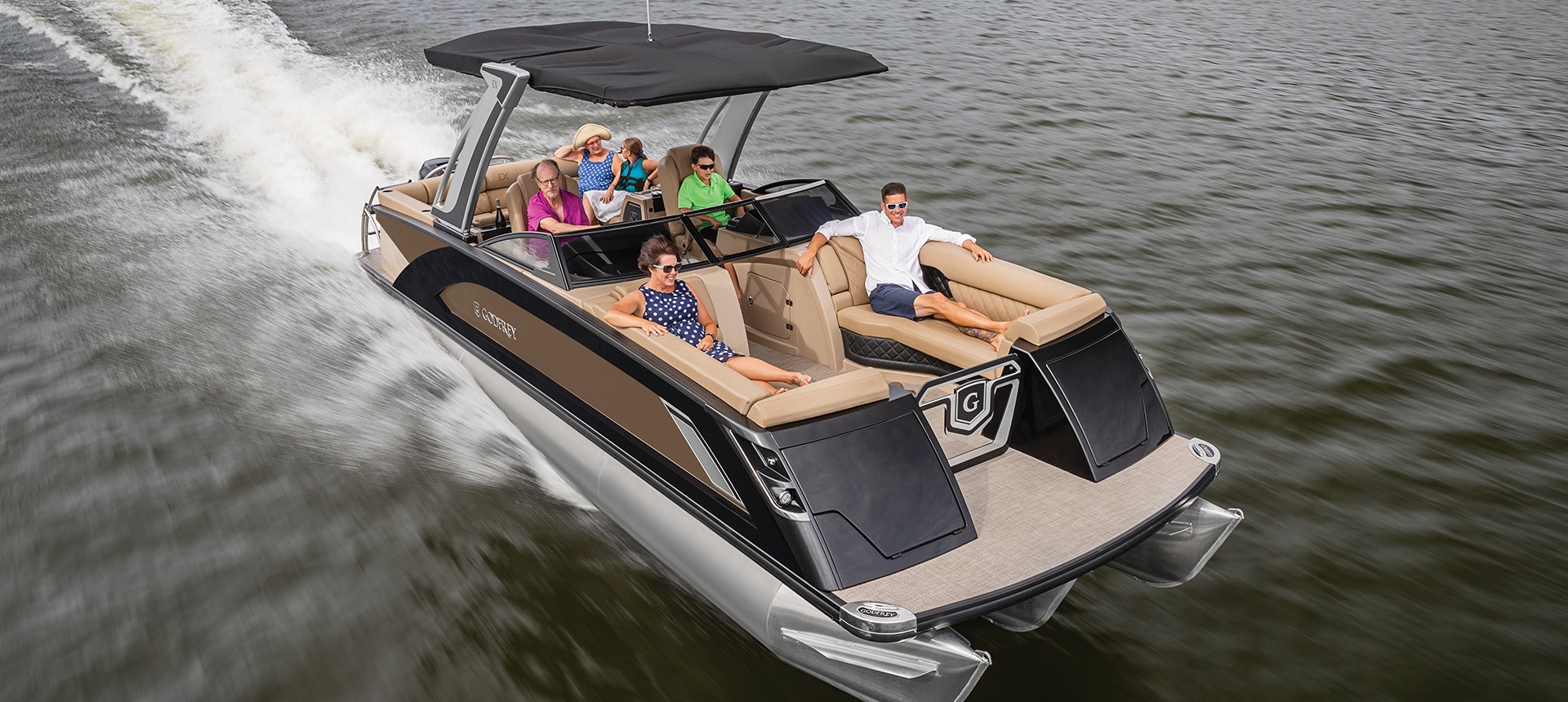 Godfrey
LX 2850 ULW
www.godfreypontoonboats.com
By Capt. Chris Kourtakis 
For over 60 years, Godfrey Marine has been a household name in the marine industry.  Whether it is the San Pan, Sweetwater, Aqua Patio or the newer LX, their models are on every buyer's list to look at when choosing a pontoon for the family.
The LX is more than a pontoon, it is a way of life.  It is an escape from the busy world that we live in.  It is a place where the family spends the weekends together and off their electronic devices.  From the moment you walk down the dock you will experience a heightened level of luxury as the fit and finish is like no other model on the water today. The soft touch of the rich textured marine vinyl is comforting and inviting.
The helm design is what you would expect in a new vehicle.  The optional Twin 7" Garmin touch screens are at your fingertips with fully customizable buttons. 
The leather wrapped tilt steering wheel, east to access and labeled switches and wrap around windshield make this a fun boat to drive. The luxurious high back captain's chair with recline is something that you would expect to see in a German luxury SUV.     
The standard Hydraulic powered arch with overhead RGB & white lighting makes it easy if you must go under a bridge, store her in a boat house or on a hoist.  The Standard iMPACT + Package (29" center tube) creates a smooth ride while giving you top end performance.  The Godfrey Extreme Sound with standard RGB lighting creates the perfect ambiance while on the water. 
The seating layout is spacious and welcoming. Whether you choose the two front loungers or the back U-shaped seating with loungers, there is comfort to be had by all.  The swim platform is accessible on the starboard side of the aft seating and has a built-in stainless-steel swim ladder and ski tow.
There is no question that the LX was elegantly sculpted and designed from years of experience and tradition from Godfrey Marine.  Godfrey Marine has again made their mark on the industry with the LX series and has shown all of us why they are considered one the best quality boats on the market today. 
Beam (ft,in):  8' 6"
Deck Length: 25' 6"
Fuel Capacity (gal): 61
Max HP: 425
Overall Length (ft,in): 28' 2"
Passengers: 16
Pontoon Diameter (in): 27
Wet Weight (lb): 5,406
Approx Price See dealer.
---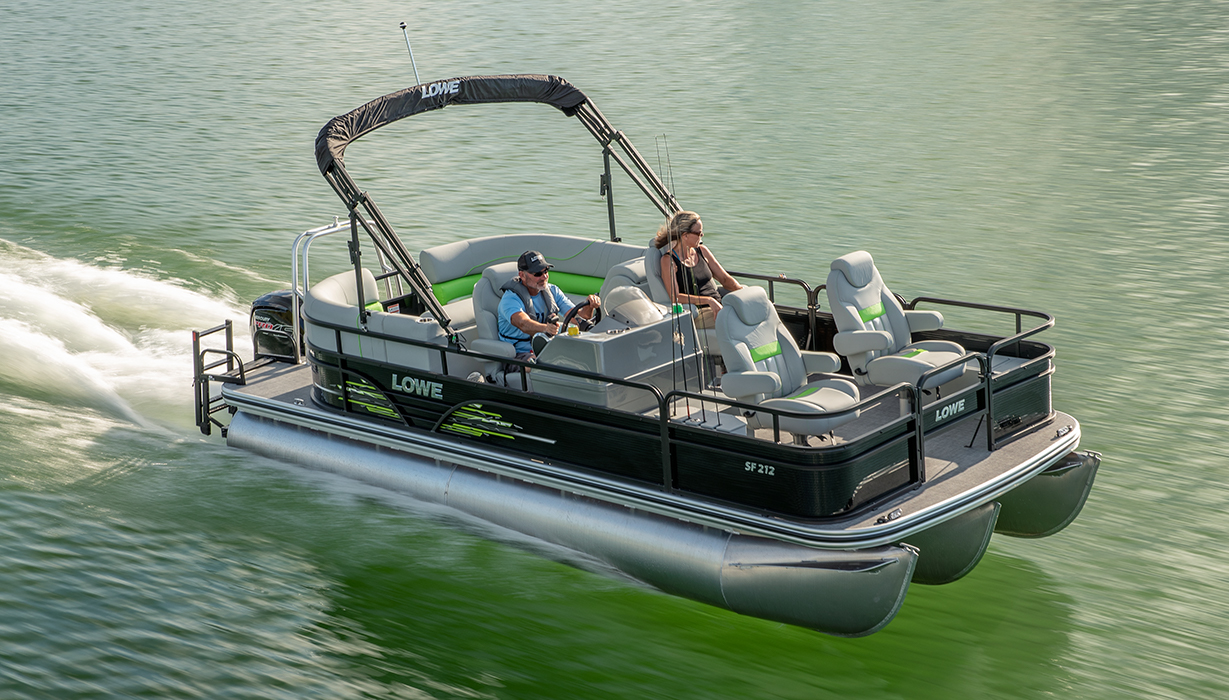 Lowe
SF212 WT
www.loweboats.com
By Tim Banse
New for 2021, Lowe's SF212 WT boasts comfortable seating with an interesting twist. Its walk-through floor plan is reversed. Typically, angler-themed pontoon boats position fishing seats at the stern with lounge seats at the bow. Lowe turned the tables with this one. So, when towing a skier, passenger weight buries the propeller deeper in undisturbed water, converting more horsepower into forward motion.
At the bow, a trolling motor mounts on the rail, near the walk-thru gate, and a deep-cycle battery resides in a port-side compartment. Fishing tackle and rods find a home in a starboard side compartment. Behind the pedestal fishing chairs is the aerated bait well. Several factory installed MotorGuide trolling motor and Lowrance® fishfinder options are available.
Aft, opposite facing, dual walk-thru couches boast a copious amount storage beneath their seats with additional storage below the console. For meals, or for a game of cards, is the dinette table (storable) boasting a premium wood grain finish.
or surefooted entry into the lake, there is a stern entry, heavy duty 4-step boarding ladder. Overhead, the heavy-duty 9' Bimini top features quick disconnect. The sound system is a respectable Jensen JMS3 stereo with an AM/FM tuner, waterproof LCD display, LED backlit buttons and 50-watt Jensen speakers. True to the times, the tuner is Bluetooth compatible.
Brunswick Corporation owns Lowe and Mercury Marine, so, it should come as no big surprise to learn engine options include Mercury four-strokes. Common pairings with this boat are 9.9- and 60-hp engines, this due to their economical price and modest speed under way. Install a skiing tow bar and you will want at least 90-horsepower. Fast flyers can rig up to a 150-horse outboard.
Construction details include 25"-diameter, multi-chambered sponsons and pressure-treated, wood floors backed by a Limited Lifetime Warranty.
LOA: 21' 4"
Beam: 8' 6"
Approximate Weight: 19,29 lbs
Maximum Horsepower: 150-hp
Fuel Capacity: 24-gallons
Passenger Capacity:3-persons
MSRP: Approx $20,495
---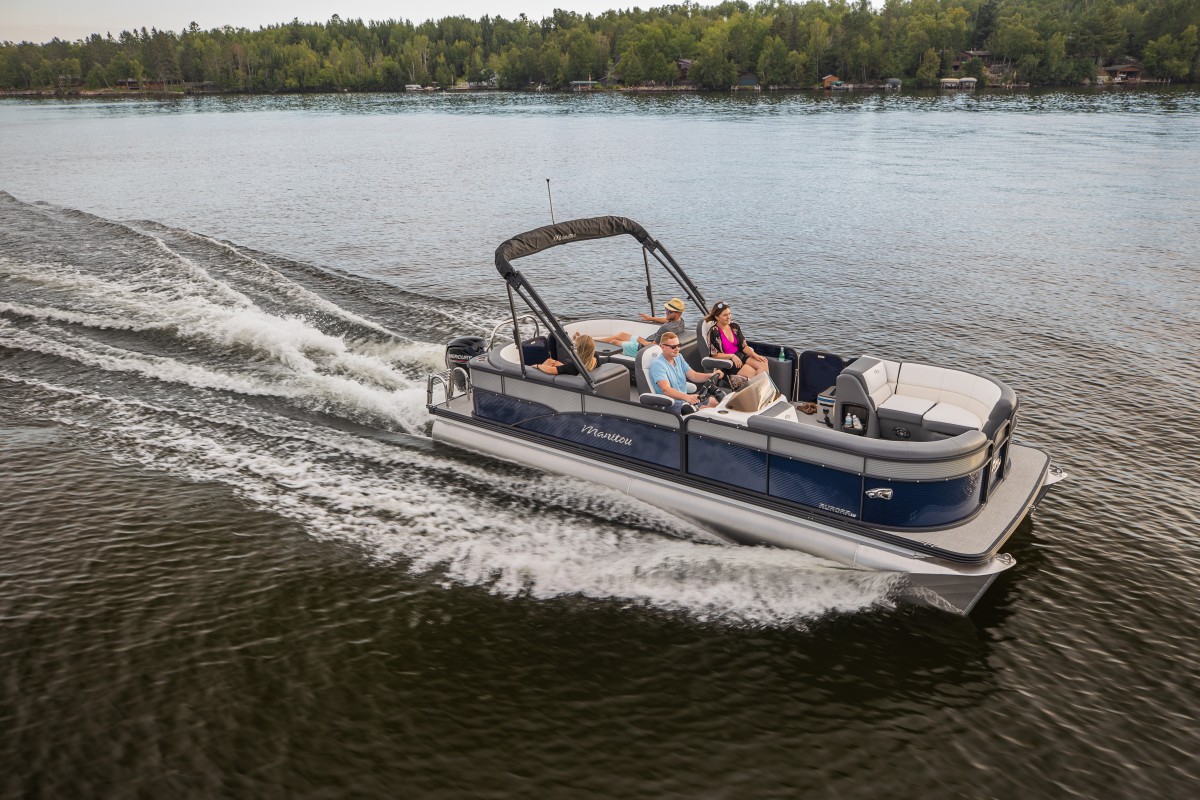 Manitou
Aurora LE
www.manitoupontoonboats.com
By Eric Vienneau
Discover a luxurious pontoon experience with Manitou's Aurora LE model. High-class boating at its finest, this pontoon features Manitou's superior high-quality design the company is known for. Founded in 1986, Manitou strived to create a pontoon that is durable and accessible, when it comes to operation and price, making every day on the water a great one.
The Aurora LE can be equipped with an exclusive Manitou V-Toon technology, giving you a larger center toon that is lower than the other toons. The result is amazing handling capabilities, and a smoother ride.
The seating is completely re-designed and upgraded. With high quality vinyl and upgraded foam beneath. Comfort will never be an issue out on the water. The open-concept interior lets the driver enjoy the fun. With aft and bow seating, and a passenger seat, all which feature the upgraded foam, you will have a hard time picking your favourite spot to soak up the sun.
Almost everything in the Aurora LE is upgraded. The cup holders have been quadrupled compared to previous models, giving you endless choices to have your beverage at perfect arms reach.  At the helm, there is an upgraded sporty steering wheel, a 7-inch Garmin digital display, all your standard gauges, and a high-quality fusion stereo.
The limited package includes sleek silver Luna woven flooring, a convenient dinette table, LED lighting throughout, LED navigation lighting, a mid-back chair for extra support, and nice two-tone graphics turning heads turn on the water.
For power, the Aurora LE is equipped with Mercury 115 pro XS. However, the re-designed VP Hull can handle up to 200 horsepower if you want, which makes this pontoon very affordable with tons of power.
What is unique about the Aurora LE, is that Manitou designed this pontoon to combine all the most popular and functional and attractive features so that you don't have to wade through layers and layers of choices which becomes too much to handle, especially for new boaters.
Available in lengths from 18 to 25 feet, the Aurora LE is perfect for your getaway adventures with friends and family.
LOA: 26' 4"/25' 2"
Weight: 1,670 lbs
Beam: 8.5'
Fuel Capacity: 43 gals
Capacity: 8
Max HP: 200 HP
MSRP: Approx $18,062 U.S.
---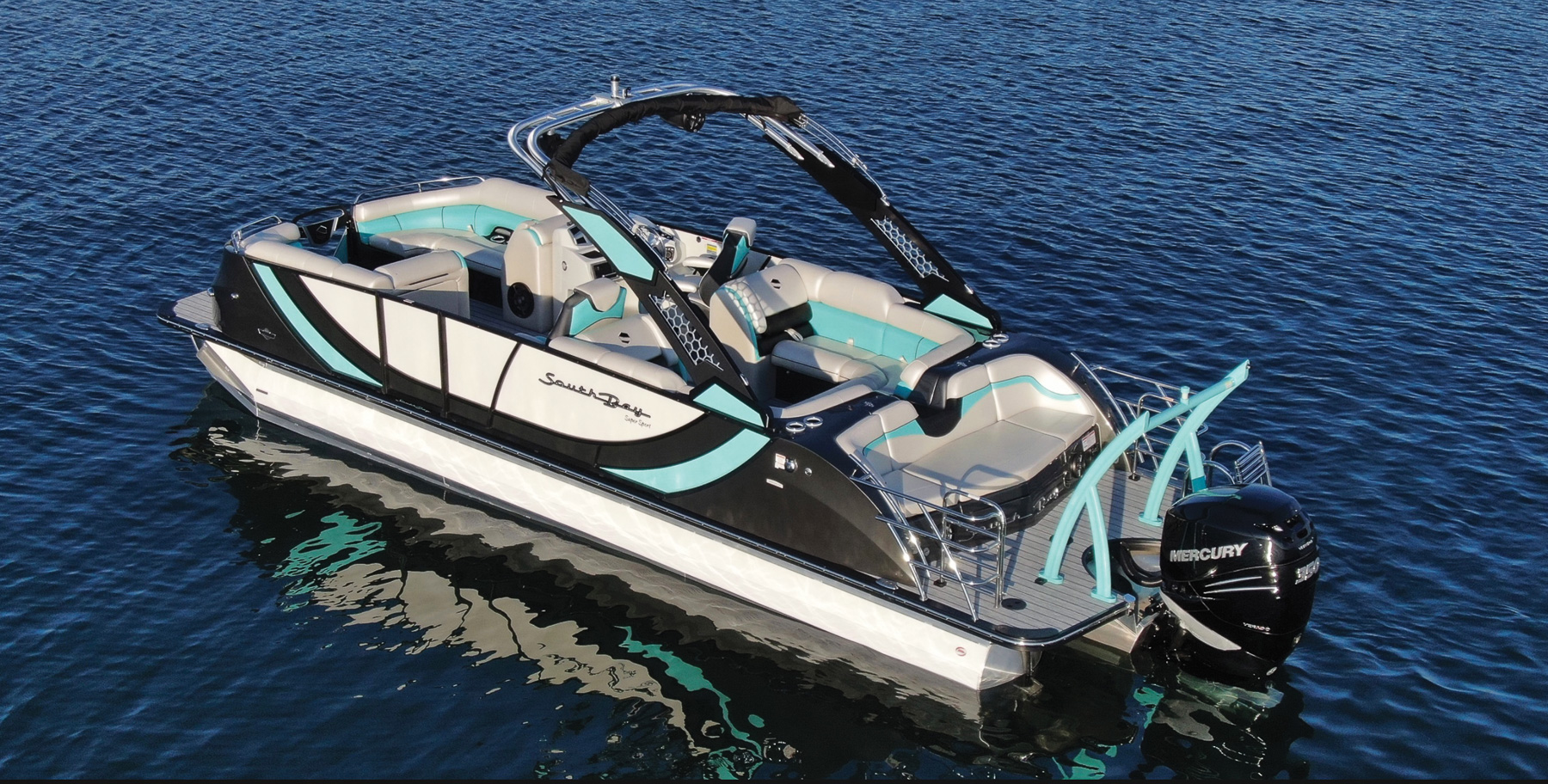 South Bay

Cove 25 Sport

www.southbaypontoon.com
By Capt. Bill Jennings

If you can't find a pontoon you like at South Bay Cove, you probably should be looking for an inflatable boat.  Parent company, Forest River, is the largest recreational vehicle manufacturer in the world. They operate over 100 plants.  This capability allows SBC to offer customers a huge choice of floor plans. For example, the South Bay Cove 500 series alone, offers 50 different floor plans. 

Since most boaters like to look at a builder's premium boats, I chose to report on the "South Bay Cove, 25 Sport, CR9, DC, 3.0+".  That may not be a very catchy name, but this pontoon is a knock out. It is one of 12 floor plans offered in the South Bay 'Sport' series. 

South Bay toons are built to the highest solid construction standards.  Decks are composite and all assembly uses bolts, not screws.  The cross member construction is superb. Such strength allowed South Bay to set a world record top speed for pontoons of 115 mph, by simply adding a couple of extra 300 hp outboards.

Tubes are pressurized and the splash fins as well as the continuous bow frame rail are reinforced. This sport series boat starts with all the right stuff and then adds a list of high end items to please the most fanatical of boaters. 

This South Bay Sport offers the type of amenities we see in large V-bottom boats. This 25 footer is a tri-toon with outboard horsepower ratings of between 450 and 900. There are lifting strakes on the logs and there is a full center tube. Twin batteries include a switch and charger. A stainless rub-rail is inserted for side protection and a reinforced bumper added to the bow. Rails are reinforced with stainless steel braces. The deck has an aluminum underskin, and pop-up cleats. 

Sitting in the high back helm chair, you view a full instrumentation panel, with a 12.3" Digital touch screen GPS and depth sounder. SeaStar hydraulic steering is moved with a stainless steel wheel. An extended stern platform includes a wash-down, tow bar and stainless boarding ladder. A privacy curtain allows for clothing changes or even a porta-potty.

The swept arch is not just for looks. It houses a fold out Bimini top and lights. For easy mooring in restricted spaces, this arch conveniently folds down with the touch of a button.

Overall Length:  28'
Deck Length: 27' 7"
Beam: 8' 6"
Weight:   3031 lbs.
HP Rating: 450 to 900 HP
Persons Rating: 15
Tube diameter: 25"

Series begins at approx.: $35,000 and can run up to $230k. U.S.
---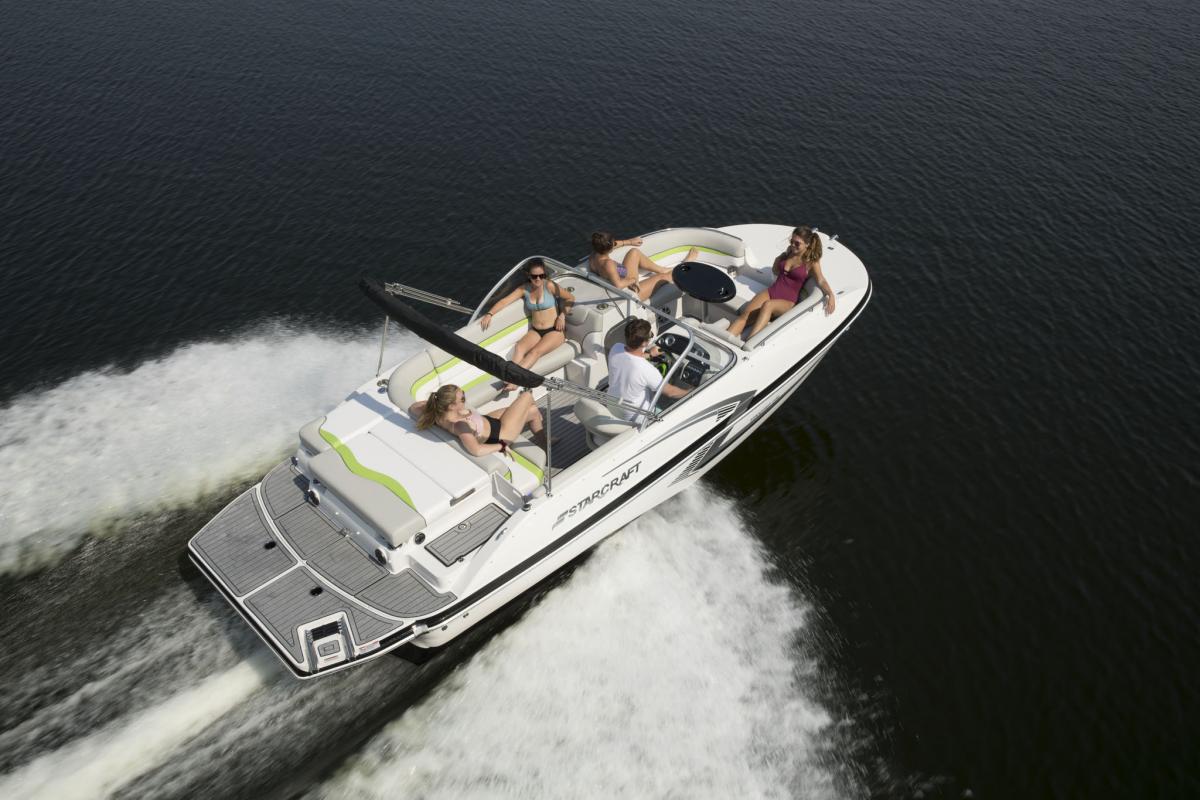 Starcraft
220 i/o
www.starcraftmarine.com
By Capt. Chris Kourtakis
Watersports ready? Check!  New level of excitement? Check! Looking for something sporty with the features of a pontoon, but with a traditional boat hull?  Look no further than the 220 I/O from Starcraft featuring innovative cutaway design and longer running surfaces for quick to plane times.  This spacious layout with oversized swim platform makes for the picture-perfect day on the water.
The large swim platform area is ideal for setting up your wake board.  The rear facing bench makes adjusting the bindings effortless.  Fold down the backrest and you create a large sun pad to soak up the rays. Access is easy through the starboard side door and integrated steps that also provide additional storage.    
The L-shaped cockpit seating area on the port side of the vessel is designed with comfort in mind while the helm seat with flip up bolster is perfect for the captain. The wrap around windshield provides protection as needed while underway.
The helm layout is functional and practical with tilt steering wheel, analog gauges and lighted rocker switches on either side of the steering wheel. Starcraft did a really nice job of designing the throttle at a comfortable height and angle for the driver.  The port side console provides additional storage for cell phones and other small, but important items.        
The bow seating area is accessible through the walk-through windshield.  The seating area wraps around the entire front area while providing easy access to the bow locker where the additional ladder and anchor are stored. The removable table is a great touch to create a great place to have a quick bite to eat.   
The attention to detail, the craftsmanship and rich boat building history are what makes Starcraft the leaders in deck boat building. The 220 I/O was designed specifically with family fun in mind. It is always a pleasure to review Starcraft's latest product because they always amaze me with their boat building skills, the amenities that they provide and the overall fit and finish quality that each person in the manufacturing process takes pride in perfecting.  When each individual boat leaves the plant doors, the entire team makes sure that everything is perfect on each boat that they touch.     
Max Horsepower: 250 hp
Beam :102" in
Dry Weight: 2715 lbs
Max Persons: 12
Fuel Capacity: 45 gal
Length: 20'6"
Deadrise at Transom: 13 deg
MSRP: Approx $49,727 U.S. w/ 4.5 L 200
---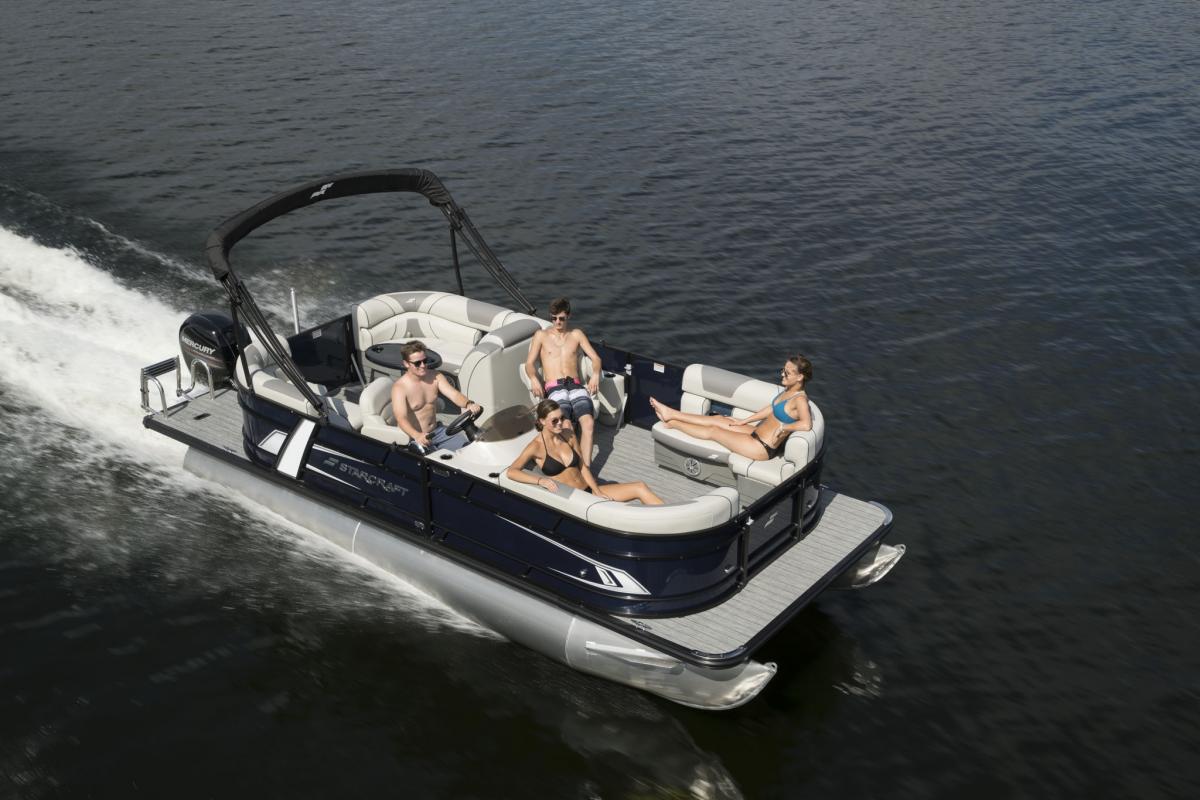 Starcraft
EXS 3 Q
www.starcraftmarine.com
By Capt. Chris Kourtakis
Starcraft's EXS series puts tri-toon performance on every pontoon's buyer whether they are looking for a great entry level pontoon or have owned several boats in the past.  The EXS is loaded with premium standard amenities that will provide countless hours on the water of fun and relaxation.    
All Starcraft's EXS models come with their exclusive HMX PR20/25 Performance Package including lifting strakes, a Performance Shield, hydraulic steering, and a ski pylon, all as standard equipment. Sleek, black anodized rails and black side trim, docking lights, a low-profile sport console complete with a Gussi Italia® Verona tilt steering wheel and low-back Captain's chairs give EXS a bold look to match its exhilarating performance.
The EXS 3 Q is all new for 2021 and is a great looking boat with the black rails and black trim that come standard.  The black bimini top and frame add to the sporty look.
One feature that I really like on this boat is the flip flop rear seat to the port side.  Flipped back, it creates a nice L-shaped lounge.  Flipped forward, you expose the expansive back sun pad lounge area and the expansive swim deck and swim platform area.  On the swim platform you will find the standard ski pylon and permanently mounted four step stainless steel boarding ladder.  This design is functional and stylish.
There is a ton of storage on this boat as well.  There is the in-floor storage for your water toys.  There is the large storage box across from the sun pad that is perfect for ski lines and life jackets. The rotomolded seat bases under each seat provide dry storage for all your gear and an easy to clean surface if needed.  Cup holders adorn every nook on the boat to ensure everyone has a place for their favorite beverage.
The versatility of the layout design on the all new EXS 3 Q is practical, functional and offers something for everyone. Throw in the rich heritage of Starcraft Marine and their unbeatable warranty, and you can see why this model and series is the perfect boat for first time buyers, or the seasoned pontoon owner. 
Third Tube Max Horsepower: 250 hp
Beam: 102 in
Dry Weight: 2550 lbs
Max Persons:  12
Fuel Capacity: 60 gal
Length:  23'8"
Tube Diameter:  25
MSRP: Approx $41,499 U.S.
---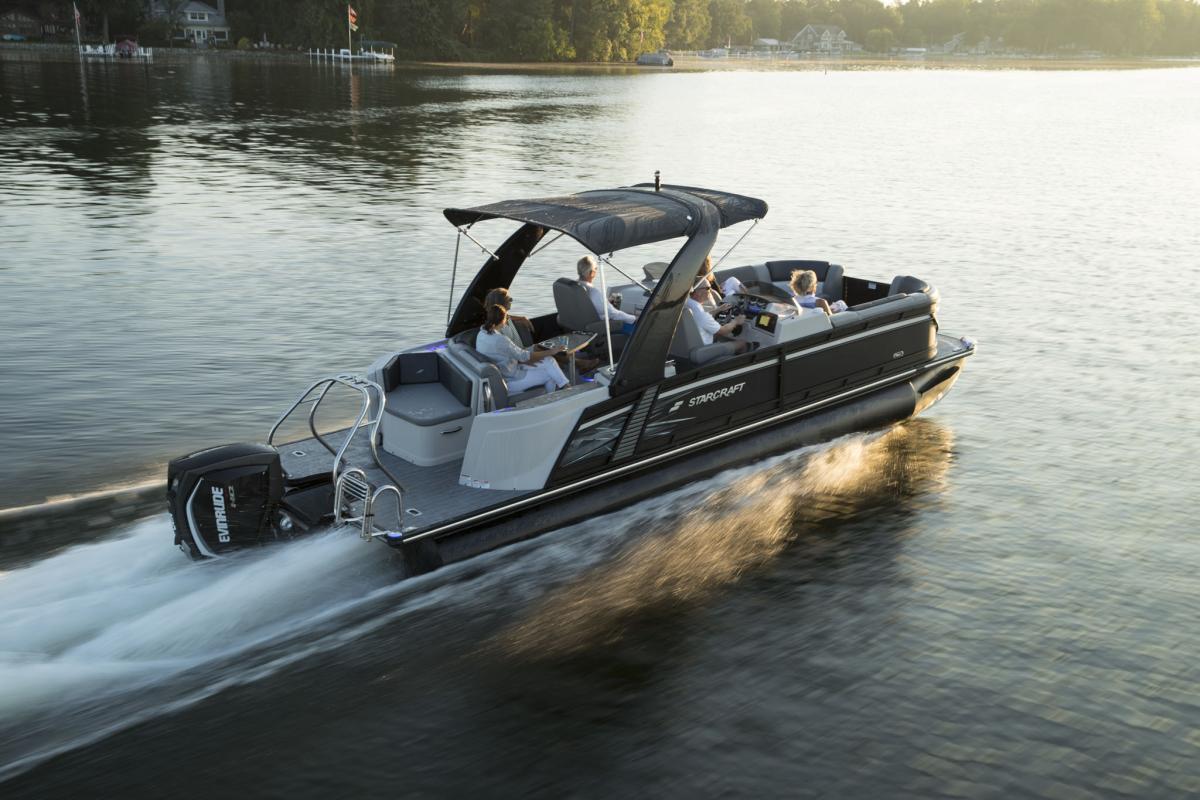 Starcraft MX 23 R
www.starcraftmarine.com
By Capt. Chris Kourtakis
Starcraft's MX series takes traditional pontoon styling and ups the ante.  With black anodized rails, 12 different and amazing layouts including a bar and dual loungers combined with the optional HMX performance strakes creates the perfect package for any pontoon owner.
The MX 23 R is flashy, luxurious, and very classy.  With two forward loungers and two rear loungers, there is plenty of room for the whole family and all your friends.  The midship dual captain's chairs that reclines add comfort for both the captain and the first mate. The large swim platform on the back is open and easy to access through the middle rear gate.
The impressive helm is laid out perfectly with the optional Simrad multi-function display to the right.  The chrome bezzled analog gauges are immediately in front of the wheel and perfectly displayed so that you do not have to take your eyes off the water for very long.  The lighted rocket switches to the port side of the stilt steering wheel or angled for effortless visibility and are high on the dash for effortless access, and the stereo remote to the port side completes the helm.
The in-floor storage and rotomolded seat bases provide ample storage for all your gear and then some.  The standard bimini can be easily deployed when you need a break from the hot sunshine as well.
The optional lighted cup holders, underdeck lighting and under water lights are great added touches that enhance this already great looking toon.  One cool option that you will want to get is the chilled helm chair cupholder. The optional power canopy is a nice touch, if you want to deploy the bimini with the flick of a switch.
Over the years of reviewing Starcraft boats and all their models, they never cease to amaze me with the quality and craftsmanship in their boats and how they build their boats.  The MX 23 R is no exception and is the perfect example of how Starcarft designs their boats for the customers and provides the best possible boat for the best possible price.    
Beam: 102"
Dry Weight: 2100 lbs
Max Persons: 13/1775 lbs
Fuel Capacity: 30 gals
Length: 24' 10"
MSRP: Approx $51,999 U.S.
---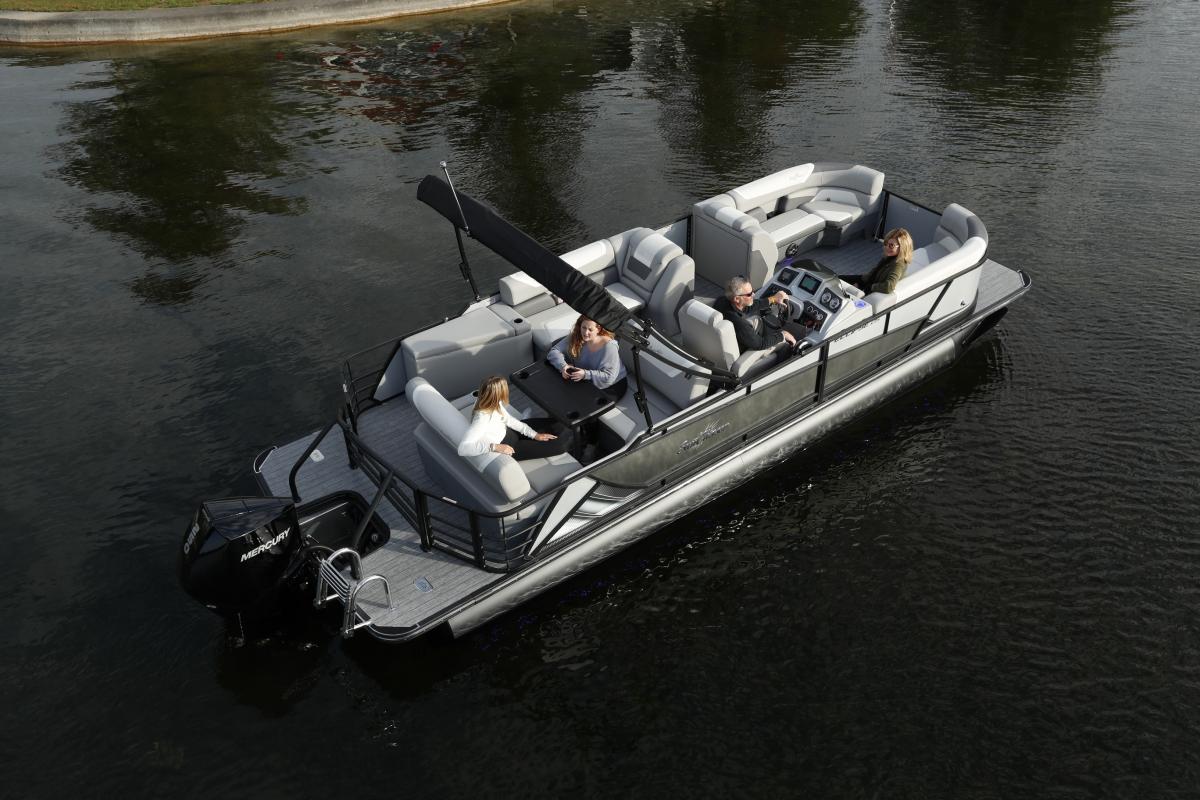 Sunchaser Eclipse 8525 SSB
www.sunchaserboats.com
By Capt. Chris Kourtakis
Sunchaser's Eclipse series is a refreshing blend of stylish luxury.  With its plush interior, X-treme Performance strakes and third tube technology, the Eclipse series is in a class of its own.
One great feature that you will not see on other boats is the very cool layout to the stern of the boat.  The face-to-face seating offers a great place for conversation or to enjoy appetizers on the removable table.  The aft seat is a flip flop and can face either bow or stern. The forward seat folds down to create a large two-person sun pad.
To the port side of the boat is a large lounger that really brings the entire seating arrangement together quiet well, along with the bow layout with two loungers, one on either side of the boat.
All the seats have rotocast molding seat bases so you will never have to worry about wood rotting and are low maintenance and easy to keep clean. The channels all the way around each of the storage area ensure that water drains easily just in case it gets wet. 
The helm is functional and laid out so that everything is within view and within reach.  The optional Simrad multi-function display is centered to provide you with all the information you need at your fingertips.  The lighted rocker switches are immediately to the port side of the tilt steering wheel.  Analog gauges are to the right of the display and the stereo remote is to the left. 
The removable windshield provides adequate protection while underway.  The oversized captain chair provides you with option to recline or fold down arm rests on either side of the chair so that you can kick back and relax in style and comfort. The executive helm is also raised 3+ inches off the deck to give the captain an increased view all the way around.     
The rear 1 ¼" anodized rails on the boat are open and provide east access to the starboard side four step swim latter and to the swim platform. The rails are stylish and very well integrated into the rest of the surrounding fence. The ski tow bar is also integrated into the design to create a sporty and stylish look.   
This flagship model from Sunchaser does it all. Whether you are looking to entertain, watersports or just cruise the lake, there is something for everyone on the 8525. 
Third Tube Max Horsepower: 300 hp
Beam: 102 in
Dry Weight: 3445 lb
Max Persons:  15
Fuel Capacity: 60 gal
Length:  27'8"
Tube Diameter: 25
MSRP: Approx $46,399 U.S.
---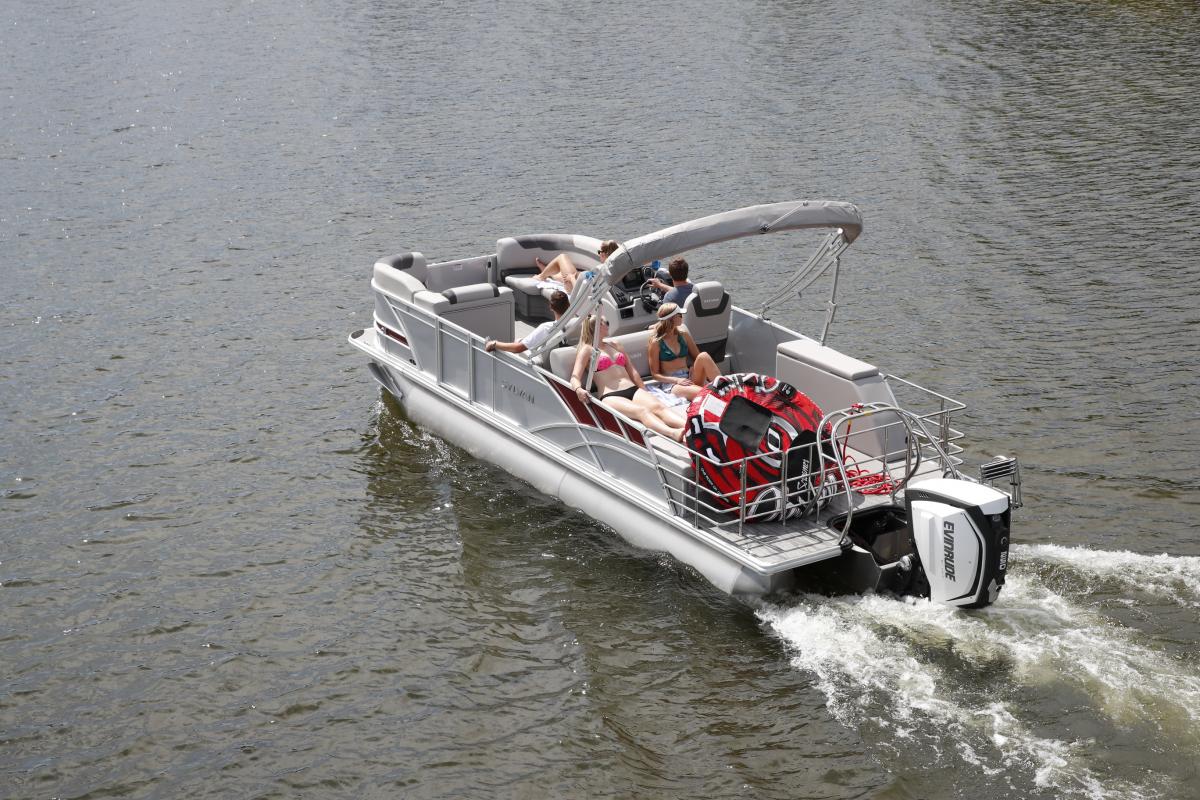 Sylvan L-3 DLZ Bar
www.sylvanmarine.com
By Capt. Chris Kourtakis
Head turning! Innovative Floor plans! Envious!  These are all words that come to mind when I review any of the many Sylvan pontoon models. However, the L-3 DLZ Bar model and layout almost makes you speechless when you see all the features, luxury and quality craftsmanship designed into this model. 
With so many different seating configurations and the NMMA's innovation award winner for unique layout and design you cannot go wrong with this model.  Whether it is the flip the bar down for a comfortable dual rear-facing lounge or flip up and enjoy a perfect entertaining area with four bar stools this model has something for everyone and the perfect seat for each one onboard. In less than 60 seconds, you can remove all the bar stools and convert the bar area into a massive sun pad to the aft of the boat. 
The L-shaped seating immediately port of the helm is perfect for four to five of your guests to relax around the removable table. One very cool feature is the back rests are raised to provide additional comfort and luxury for your crew. The bow seating configuration makes you feel right at home and has higher than normal backrests that provides a wonderful combination and seating option for all those on board.       
One thing that really impressed me about this boat is the abundant amount of cup holders that can be found around the entire boat.  This may seem stupid, but until you are on the water and cannot find a place to put your drink, you cannot understand.  There are at least two cup holders within reach of every seat on the boat. 
I also absolutely love how Sylvan has blended in all the stainless steel into the boat.  Especially the back rails that surround the swim platform.  It provides an open-air feeling, with comfort and security when on the platform. The 4 step ladder blends in effortlessly on the starboard side with the robust ski tow bar that looks like a tow bar that can pull pretty much anything and everything.
Sylvan has left nothing for the imagination and provides you with everything that you would need for a great day on the water.  
Third Tube Max Horsepower: 300 hp
Max Persons: 12
Beam: 8' 5"
Dry Weight: 2100 lbs
Fuel Capacity: 38 gal
Length: 23'10"
Tube Diameter: 25 in
MSRP: Approx $34,199 U.S.
---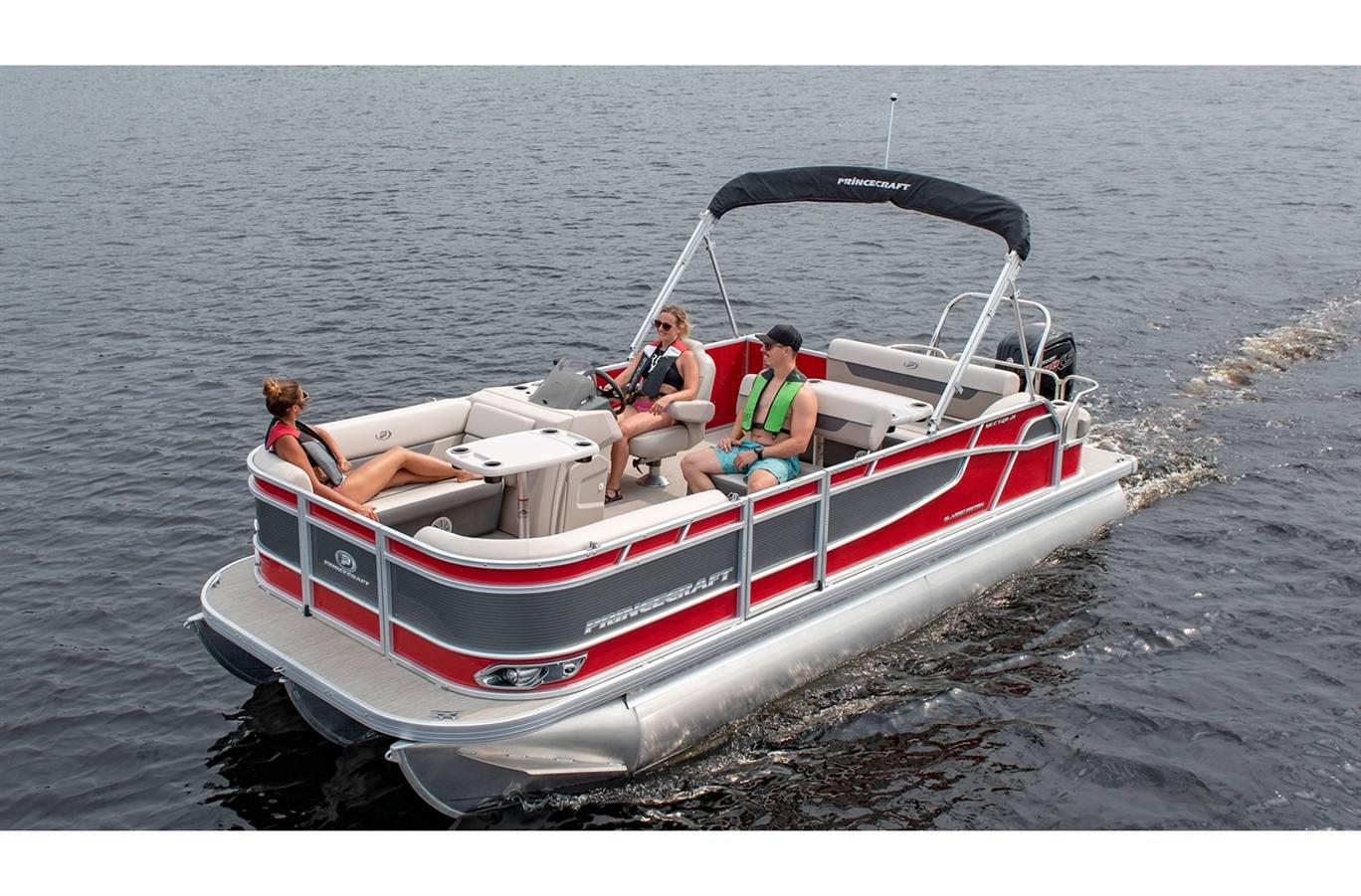 Princecraft Vectra 21 RL
www.princecraft.com
By Eric Vienneau
Affordability meets high quality with Princecraft's Vectra 21 RL pontoon. When most people buy a boat, they want simplicity and functionality, and this pontoon does just that, with a lot of space to accommodate up to 10 people, room for water sports, and plenty of storage, you will discover a classic boat meant for a fun day on the water.
Plush and heavy weight upholstery line the boat, with Roto-Cast bases and backs. The captain chair is standard swivel, as well as the passenger chair. The chaise lounge is spacious with plenty of cup holders. The rear lounge is the focus with passenger captain seat, sundeck with 2-positions adjustable backrest perfect for sunbathing, a large table for entertaining, and storage under all of it.
The Vectra 21 RL pontoon comes in classic configuration, speed configuration, or sport configuration. For each configuration, there are Mercury outboard engine options ranging from 40 HP to 115 HP for classic configuration, 90 HP to 115 HP for speed configuration, and 90 HP to 150 HP for sport configuration.
At the helm, the stylish and modern rotomolded console with acrylic top and molded dash panel with black inserts and lighted switches make for the perfect station for you to take control, with 160-watt Jensen Stereos, standard fuel, speed, and trim gauges, all coming together behind the sporty steering wheel, the Vectra 21 RL is high-quality at a good price.
The Vectra 21 RL is made of marine grade aluminum alloy, allowing it to get up and go easily. With 2 ½ heavy-duty extruded z-aluminum cross channels, extruded aluminum full length pontoon keels and skirting, and inside, pressure-treaded wood deck covered with marine grade carpet, stainless steel bow eyes, and beautiful upholstery, this pontoon is affordable while remaining ideal for any boater.
Length: 6.6 m (21'6")
Beam: 2.6m (8'5")
Approximate weight: 792 kg (1747 lbs)
Engine: Mercury 40HP- Mercury 150 HP
MSRP: Approx $29,928 CAD
---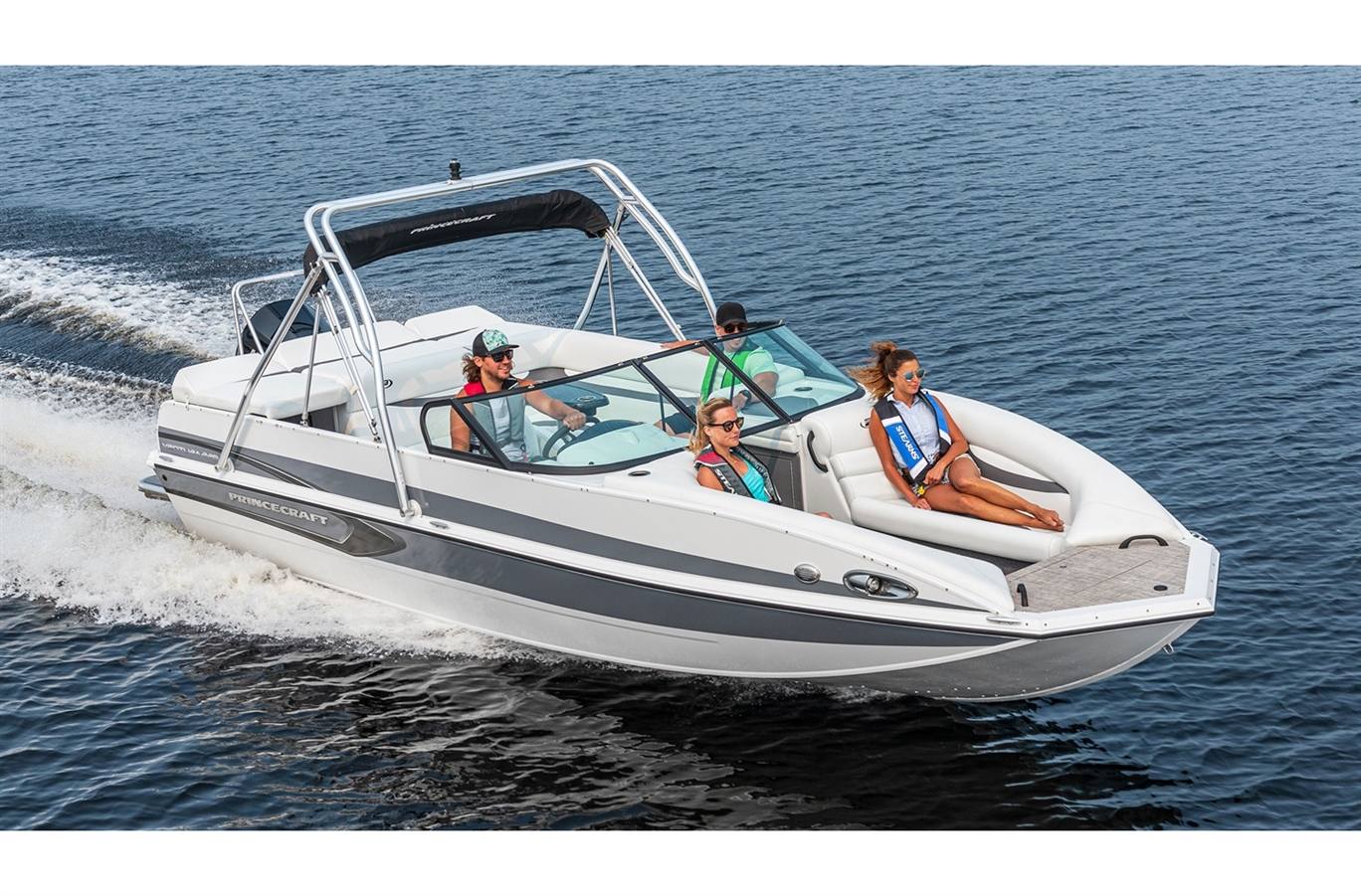 Princecraft
Ventura 220 WS
www.princecraft.com
By Eric Vienneau
Princecraft comes with a lighter, and more spacious deck boat that follows their aluminum tradition of 60 years. The Ventura 220 WS (WS stands for wind shield) can be powered with less power because of its light aluminum build and has a sleek and simple design for optimal use of space, and ample storage which comes together to become the perfect boat for weekend boating excursions.
The Ventura 220 WS can be powered by a Mercury outboard engine ranging from 150 to 200 HP. With a bottom aluminum thickness of 2.8 mm (.110") and a side of 2.5 mm (.100"), this deck boat flies on little power, with time to plane at around 2.5 seconds and a top speed of around 47 mph.
The windshield in the boat's name is curved tempered glass with a walkthrough door in the center. It protects the helm which comes with all the standard features including digital throttle and shift systems (DTS), tachometer, voltmeter, speedometer, trim, and a fuel gauge. The captain will sit back on a Roto-Cast bucket seat with slide and swivel, remaining firmly in the presence of everyone else on board.
This deck boat is covered in comfort, with plush and heavy weight upholstery furnishings. The chaise lounge and bow lounge seats are extremely spacious to fit up to 12 people. The rear padded sundeck next to and "L" seating area with a table makes it easy for entertaining, and complimenting all of this, the Ventura 220 WS is fitted with high-quality 200-watt AM/FM Bluetooth Kicker Stereos with integrated USB plug and auxiliary input in console.
For storage, there is room for your boating accessories under all lounges, and under passenger console. A port console includes an ice chest for entertaining, there is anchor storage into the bow platform, and in the floor, you will find room for a cooler, ski, and rod storage.
Take a ride in the Ventura 220 WS deck boat and you will find a smooth and light experience with its high performance deep-Vee reverse chine hull design, built upon a long history of Prince Craft aluminum boats built for cruising with family and friends.
Beam : 2.5 m (97")
Transom Height: 0.64 m (31")
Approximate Weight: 956 kg (2108 lb.)
Deadrise  13 degrees
Max HP: 150 – 200HP
Fuel Capacity: 174 L (46 U.S. gal)
Passenger Capacity : 12
MSRP: Approx $65,658 CAD
---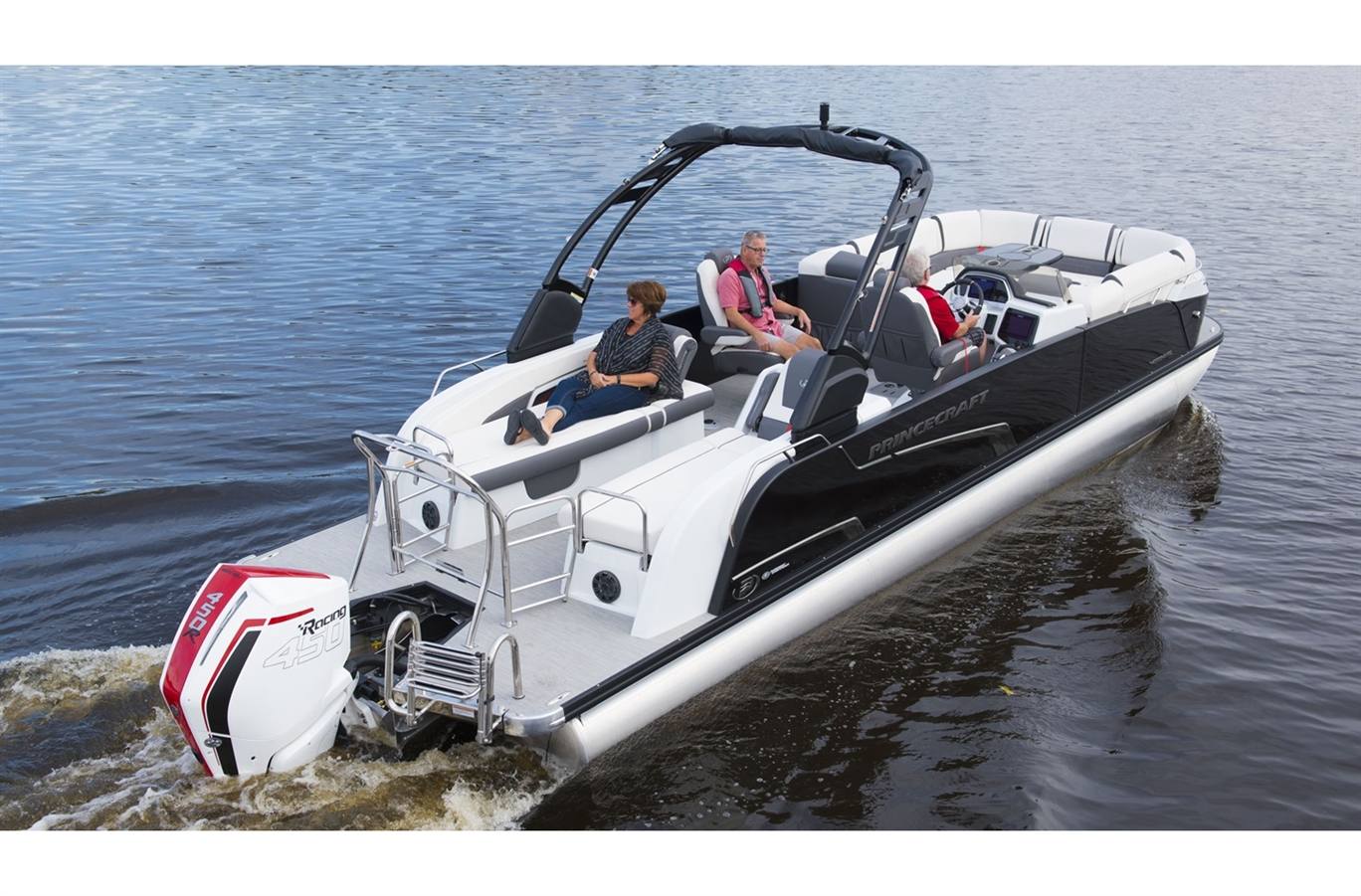 Princecraft
Vogue 27 XT
www.princecraft.com
By Eric Vienneau
Prince Craft is always trying something new. This year, the Vogue 27 XT pontoon boasts a brand-new stern area, making this a truly special pontoon. The stern is spacious with huge loungers on both sides. The loungers are also adjustable for different positions and have plenty of storage underneath.
The special part of the stern area is the open back with a stainless-steel guard rail. This is for safety but can also open, leading you to the "fun zone" for easy access from the back to the water when you are lounging by a beach or anchored on the water.
The 12'-11" pontoon has comfort and convenience built into its aluminum hull. The furnishing is ultra-plush and heavy weight, with Roto-Cast furniture bases and backs for extra support. The captain's chair reclines, swivels, and slides, as well as the passenger's.
In front of the captain, the automotive style raised helm has a sport tilt steering mechanism, 200-watt AM/FM/Bluetooth KMC45 Kicker Stereos with 6 waterproof speakers (6 ½"), and a wireless smartphone charger integrated into the console. For the instrumentation, the SIMRAD Go7 multifunction touch screen with VesselView link is perfect for any driver.
When it comes to power, Mercury and Prince Craft are a match made in heaven. You can rig your pontoon with an engine from 150 HP to 450 HP with standard Performance Configurations for some serious speed.
Loads of storage allows room for the sunbather, the fisher, and the water skier.  Under all the seats you will find ample storage, as well as storage in the floor. The tow bar at the stern is meant for water skiing, as well as the optional wakeboard tower with a tow point at the top. It can be lowered or raised, giving you 25 inches of clearance.
There or even more cool features that make the Vogue 27 XT even sleeker, including a 12V refrigerator, black folding pedestal mount removable table with cup holders, trash storage integrated into the back of the chaise lounge, and navigation lights which resemble a sporty car.
Pick from beautiful colours such as metallic black, metallic blue, titanium, and ruby red, and get out on the water for all-day fun in the Vogue 27 XT.
Length: 8.5 m (27'11")
Beam: 2.6 m (8'6")
Approximate weight: 1631 kg (3595 lbs)
Engine: Mercury 150 HP – Mercury 450 HP
MSRP: Approx $94,234 CAD
---

Veranda

V One

www.verandamarine.com
By Capt. Bill Jennings

If you are going to look at a manufacturer that describes itself as a luxury pontoon manufacturer, you might as well report on their top offering. And Veranda certainly manufactures some very special offerings. For 2021, it is all new "V One".  This beauty demonstrates the major departure that has taken place from years ago when pontoons were thought of as an affordable means of boating. Veranda recognize that a well-built pontoon has many of the advantages of a catamaran hull. To maximize this potential in a pontoon, they start with an all-aluminum interlocking deck system, then add a fiberglass exterior styling with custom paint. Pushing up the value and usage of the V One, they add a plethora of custom features that will please the most exotic of watercraft buyers. 

To obtain a clear performance and handling advantage, Veranda has chosen to build every model they make, in the triple pontoon configuration.  The deck is comprised of 2×6 aluminum planks that are welded to the framework. No surprise that they provide a lifetime deck warranty.

A power arch tower with integrated Bimini is standard on the V One and the upholstery is of highest quality. Doors are custom and the helm is digital. Thanks to a super strong transom and a maximum horsepower rating of 425, the V One will be leaving most other boats in its wake with an approximate speed of. And just when you cannot think of any more practical items to add to their feature list, Veranda throws in underwater and underdeck mood lighting. Now that is unique!

I can truthfully say that Veranda pontoons manufacture some of the newest and most innovative designs on the market today.  If you want a pontoon that will turn heads, a 'V One' by Veranda will certainly do the job.  

Overall Length: 27' 1"
Deck Length: 25'
Beam: 8' 6"
Weight:  3,500 lbs.
Tubes:  3 with diameter 27".
Tube Gauge:  0.125
Persons: 15
Fuel:  55 gal.

MSRP: Approx $170,000 U.S.

best boat, Best boat buying website, best boat marina website, best boat models, best boat trailer, best boat travel website, best place to rent a boat, best power boat, Best Used, boat accessories, boat angler, boat boondocking, boat buyers guide, boat camper, boat camping, boat dealers, boat DIY, boat Fishing, boat Fixer, boat guide, boat Home, boat information, boat insurance, boat lifestyle, boat Lifestyle Magazine, Boat Maintenance, boat marinas, boat marinas in Alberta, boat marinas in BC, boat marinas in Canada, boat marinas in Manitoba, boat marinas in Saskatchewan, boat marinas in the USA, boat marinas near me, boat parts, boat products, boat rentals, boat rentals near me, boat repair, boat reviews, boat road test, boat sharing, boat sites near me, boat supplies, boat Tech, boat tips, boat touring, boat trade, boat Travel, boat traveler, boat traveling, boat travelling, boat vacation, boat vacation cost, boat websites Canada, boating Canada, Boating Canada's Boat Lifestyle Magazine, Boating Lifestyle Magazine, boating website, Canadian marina websites, expert boat information, find a boat dealer, go boating, go boating Canada, how much does a boat cost, how much does marina cost, how to choose a boat, how to drive a boat, marina accessories, marina products, marina supplies, motor boat, new boat products, new boats for 2022, power boating magazine, top boat models, top boat website, top boats, top power boats, used boat reviews best boat, Best boat buying website, best boat marina website, best boat models, best boat trailer, best boat travel website, best place to rent a boat, best power boat, Best Used, boat accessories, boat angler, boat boondocking, boat buyers guide, boat camper, boat camping, boat dealers, boat DIY, boat Fishing, boat Fixer, boat guide, boat Home, boat information, boat insurance, boat lifestyle, boat Lifestyle Magazine, Boat Maintenance, boat marinas, boat marinas in Alberta, boat marinas in BC, boat marinas in Canada, boat marinas in Manitoba, boat marinas in Saskatchewan, boat marinas in the USA, boat marinas near me, boat parts, boat products, boat rentals, boat rentals near me, boat repair, boat reviews, boat road test, boat sharing, boat sites near me, boat supplies, boat Tech, boat tips, boat touring, boat trade, boat Travel, boat traveler, boat traveling, boat travelling, boat vacation, boat vacation cost, boat websites Canada, boating Canada, Boating Canada's Boat Lifestyle Magazine, Boating Lifestyle Magazine, boating website, Canadian marina websites, expert boat information, find a boat dealer, go boating, go boating Canada, how much does a boat cost, how much does marina cost, how to choose a boat, how to drive a boat, marina accessories, marina products, marina supplies, motor boat, new boat products, new boats for 2022, power boating magazine, top boat models, top boat website, top boats, top power boats, used boat reviews