A "Home Away From Home" for Lake Simcoe boaters!
Power Boating Canada had the pleasure of visiting the new Krates Marina in Keswick, Ontario, to take a look at the exciting new developments since the property was purchased by Benn Spiegel and Dwight Powell. Re-opened in April, 2015, the new management team has made significant improvements to the services and facilities available at this location, and they are taking great care to preserve the many positive factors that made this 85-year old boating centre a popular destination and home port for generations of family boaters, while enhancing many aspects of the facilities to bring the site to a new level of excellence. It is, in every sense of the concept, a "lifestyle marina".
Krates Keswick is located less than an hour north of the greater Toronto area, and benefits from the newly opened Highway 404 extension that takes you to within five minutes drive to the marina.
The marina encompasses 30 acres of land and water facilities that include all of the features a boating family could ask for – a well-planned array of slips that can accommodate vessels up to 100 feet, with two private boat launch ramps, a 50-ton travel lift, a 40-ton self-propelled yard trailer, and a gasoline and diesel fuel dock. Many of the slips are fully serviced with 30 and 50 amp electrical hookups, cable TV and related amenities. The site offers winter storage for 650 boats.
While the previous management offered access to the site for the general public, the new Krates is a private site, with live and video security and card access to the docks and secure areas. Marina member's facilities include two clubhouses that are available for private functions, two beautifully landscaped heated swimming pools, a playground, beach, and a full range of conveniences. Transient boaters are welcome to visit the site, with special incentive rates for visitors.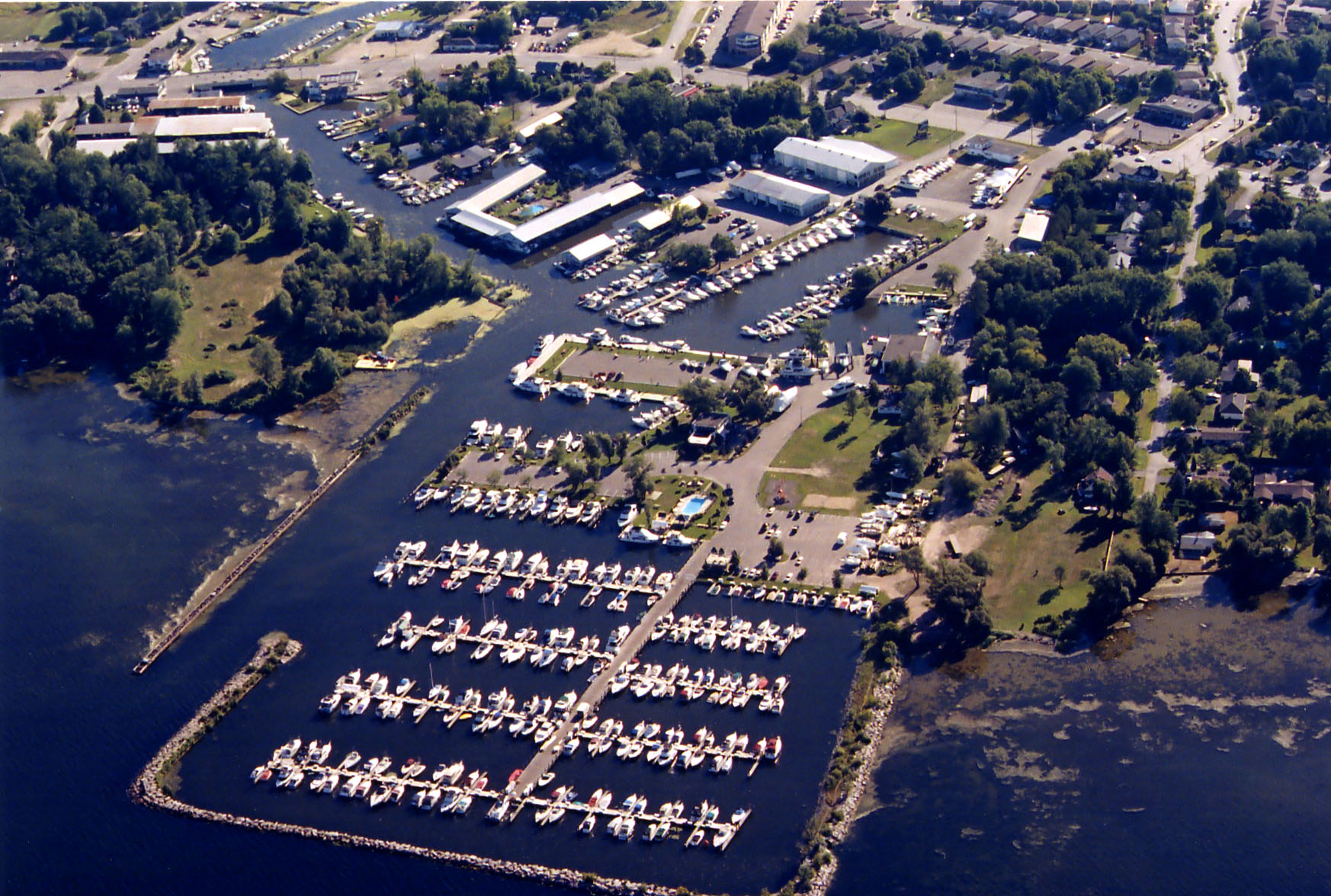 Marina General Manager Rob Walters brings a wealth of experience to the new Krates Marina – he moved north after several years as Harbour Master at Toronto's Outer Harbour Marina, one of the busiest facilities in the province, where he managed more than 1000 slips. Rob's wife Michelle has taken on the role as the Krates Harbour Master, and the couple are looking forward to welcoming members to a resort setting that will be your "home away from home" on Lake Simcoe.
Krates service staff are certified for Volvo and Mercury repairs, and there are fiberglass, metal, and canvas repair techs on staff to take care of all of your maintenance requirements. The former sales showroom has been converted into a year-round service department with close to 40,000 square feet to handle big boat service and repairs. Many of the expert tech staff from the previous team have signed on as full-time Krates employees.
New boat sales at this location are handled by The Pride Marine Group, which operates Pride of Keswick from a dedicated showroom and dock area.
More to come!
While the new developments and upgrades to the location have brought amazing enhancements in just a few months, the management team has plans to make the Krates experience even more enjoyable for the member families and their guests. Plans for 2016 include the addition of a fleet of rental boats and a boat club, and the owners are open to suggestions from members on a wide variety of projects.
The new management team has created an incentive program whereby marina members can schedule service work through the winter months on a "don't pay until Spring" schedule.

All in all, the transformation of this famous marina location has brought a very positive approach following a somewhat turbulent transition. The new management is focused on the marina facilities – as Skipper Benn Spiegel says, "we were mortgage holders with a long-term investment and we have no intention of changing course – we have a long-term commitment to operating one of the largest resort marinas in the area."

Krates is full service Marina with 550 slips, located at 290 The Queensway S, in Keswick, Ontario, at the south end of Lake Simcoe. Boaters navigating to the marina by water will find it at the following GPS coordinates:  N 44° 13' 55" / W 79° 28' 45".
This is an excellent location on the Trent-Severn Waterway, with easy water access to many regional attractions including the Casino in Orillia.

For more information please visit the website at www.kratesmarina.com

Alberta BOATING, BC BOATING, Boating, boating adventures, BOATING destinations, BOATING facilities, boating in Canada, BOATING in New Brunswick, Boating in Nova Scotia, Boating in PEI, Boating in Quebec, BOATING in Saskatchewan, boating lifestyle, BOATING marinas, boating ontario, Docks, keswick, krates marina, Manitoba BOATING, marina, Marinas, Maritime boating destinations, ontario, ontario boating, power boating, Power Boating destinations, where to go boating Alberta BOATING, BC BOATING, Boating, boating adventures, BOATING destinations, BOATING facilities, boating in Canada, BOATING in New Brunswick, Boating in Nova Scotia, Boating in PEI, Boating in Quebec, BOATING in Saskatchewan, boating lifestyle, BOATING marinas, boating ontario, Docks, keswick, krates marina, Manitoba BOATING, marina, Marinas, Maritime boating destinations, ontario, ontario boating, power boating, Power Boating destinations, where to go boating