The water sports industry is considered to be one of the fastest growing lifestyle sectors in summer family fun, and if Dave Charbonneau has his way, as distributor for the Markham-based company Swordfish Water Sport, they intend to take more than a little 'nibble' out of this developing market very shortly. Dave is President of the GTA Company Kroeger, Inc., who will be 'peppering' the Canadian water sports inflatables business with a steady diet of tailor-made Swordfish inflatable products this year. Products with names like Big Bounce2, Torpedo or Speedy, just to name a few, promise to be dotting the beaches and lakes across the country this year exponentially.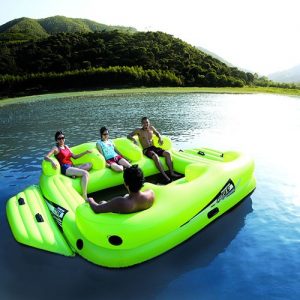 As visitors to this past January's Toronto International Boat Show can likely attest to, Dave was noticed quite often greeting water sports enthusiasts at the Swordfish booth, an area that was bursting with a wide array of unique and colourful towable and inflatable products. Actually, this has pretty much been Dave's life over the past few months, as the necessity to engage with potential customers and develop a network of dealers for the soon to be popular Swordfish brand, means travelling, and lots of it from boat show to boat show across Canada!
Dave states that the market for family fun, is growing at a tremendous clip, and with this growth, comes the need for continual improvements in product quality. He says the latter has been a top priority for Swordfish, as their catalogue of 'fun' products is a combination of 'safe' designs, innovative technology and bold and 'lively' patterns! "Swordfish, in their short history, has been committed to the safety of water sports," he says, "and states that while this commitment is underlined through the quality of their products, they are constantly 'striving' for excellence while at the same time, not replacing the 'fun' aspect for their customers. "Customer enthusiasm and whether they are having fun, are the catalysts that propel the water sports industry," he said.
With the slogan 'Be Bold In The Water', the company Swordfish intends to provide hours of above water 'fun', unlike their marine namesake, normally found at depths between 180 and 580 metres, and considered by many 'anglers' to be 'pound for pound' the 'strongest' fish in the sea!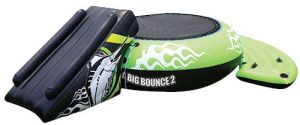 And 'tough' like their namesake, both the Swordfish Towable and Inflatable Series, are made of a 'strong' top quality nylon and are available in three vibrant colours, Lime Green, Electric Pink and Cyber Blue, with the latter two offered in bulk order only. Dave adds too that both his Kroeger Company as distributor, and Swordfish Water Sport, are committed to providing the highest quality products and back them with some of the best service in the industry, and this will be achieved by continuing to maintain a constant vision of growth and development towards water sports excellence!
"Swordfish is all about providing 'extreme' fun for the entire family," says Dave and states that through time Swordfish will hopefully become the 'go to' brand for summer enjoyment in the water!
Promising to 'Be Bold In The Water', Swordfish offers water sports enthusiasts a catalogued grouping of the safest, most innovative products available in the growth intent water sports inflatable industry while concurrently offering 'fun' for all ages this summer, and for many summers to follow. It is interesting to note that the magnificent Swordfish is often referred to as one of the fastest 'swimming' fish in the world, however perhaps the 'jury remains out' whether this 'swiftness' or even the competitions, will ever be quick enough to beat Dave Charbonneau and Swordfish Water Sport to market this summer!
For more information on Swordfish Water Sport go to http://www.swordfish-sport.com