As we boarded the plane to escape the record breaking low temperatures here in Toronto little did we know what a paradise awaited us…. that is Barbados and the glorious Saint Peter's Bay Resort located on the north west coast of this breathtaking island.
Upon touch down in Bridgetown we "snowbirds" anxiously waited for the doors to open…armed with our Ray Bans, sunhats and enthusiasm we proceeded to descend the staircase onto the tarmac where we were greeted with a brilliant welcoming sun, a warm, sensual breeze and a brilliant broad Bajan smile! "Welcome to Barbados" exalted our greeter/driver, our tour guide and our instantaneous new friend! This was our introduction to what turned out to be one of the most enjoyable times we have ever spent
away from home.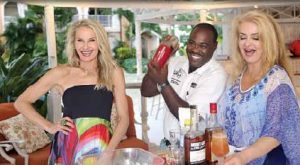 The next seven days was to be heaven on earth with wonderful, warm people, glorious accommodations, and loads of exciting activities, historical visits, and fab shopping all packed in between bouts of massages, great food and rum punch!
What makes Barbados so special? First and foremost, the people. There are no friendlier or more sincere people to be found anywhere than the Bajans here in Barbados. Always
quick to smile, offer a hand, or share a story or local expression, you at once feel welcome and relaxed.
And then, there's Barbados, the island. Barbados, the most easterly of the Caribbean chain of islands is 21 miles long and 14 miles wide. What makes Barbados so unique compared to many other islands is its incredible diverse landscape.
From the wild and untamed east coast (a little known fact, it was here that the daytime television soap 'The Bold and the Beautiful' was shot), to the rugged north side where the Atlantic clashes with the Caribbean, to the south with its relaxed beaches and night life, and then finally to the west coast known as the Platinum Coast, Barbados offers visitors a myriad of 'Lifestyles' to explore and enjoy!
From beaches to vistas to enjoying a many a rum punch to yes, swimming with the turtles! Not dolphins, but turtles!
Saint Peter's Bay located on the north west coast of the island which boasts beautiful beaches, is referred to as the "Barbados Riviera" and is known for its rich history and
genuine charm, will be our home away from home, more so, Saint Peter's Bay Resort and Luxury Residences. It is truly a paradise resort! The entire property, fifty-seven beachfront homes, are all surrounded by glorious lush gardens,
steps away from a beautiful lagoon style pool and just a few more steps away from the beach and the brilliant turquoise Caribbean.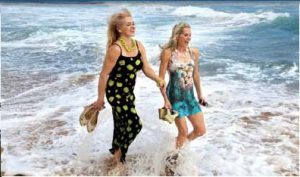 Saint Peter's Bay offers a "private club" experience to its guests, in an elegant, topnotch and relaxed environment. A "Bajan brand" if you will…nicknamed as the place for
'flip-flop millionaires', no pretensions here, where you can do as much or as little as you wish, take in the sun, the sea, the spa or the gym! Oh and yes, have a leisurely swim with
the turtles!
Barbados is home to many a Hawksbill and Leatherback turtles that are quite ready to share the sea! Although turtles until recently were considered an endangered
species, thanks to the efforts of groups such as 'The Barbados Sea Turtle Project', these wondrous mammals are back on track, and Saint Peter's Bay Resort is very proud of their
commitment to the preservation of the turtles.
Here at the Saint Peter's property, the green turtles actually lay their eggs on the beach, which is a sight to behold, sometimes hundreds at once. In addition, Saint Peter's Bay Resort guests are invited to join a guide
and watch as the baby turtles take their first steps, and eventually make their way to the sea. Certainly this is an incredible experience for children and adults alike.
Heading out to sea, our Captain assures us again that swimming with the turtles will prove to be a 'thrill of a lifetime', as the Hawksbill turtles are not shy, as we will soon
find out when we are rubbing shoulders with these amazing creatures. What is also amazing is that the turtle's evolutionary roots trace back more than 100 million years, and not too
many species can make that declaration! In a word, swimming with the turtles was exhilarating, and an experience that should not be missed during your stay at Saint Peters Bay
Resort in Barbados!
Our Barbados adventure also included a visit to the oldest rum distillery 'on earth' as we are told! We enjoy a tasting of the lat-est Black Label rum, a handcrafted blend
matured not once, but twice, the second time in deeply charred Bourbon oak barrels. The delectable Black Label has been quenching the thirst of many since 1703. Oh how sweet
it was-bold spice with a splash of oaky vanilla on the palate!