Less than one hour's drive up the 400 — or a 90-minute GO train ride — Friday Harbour is a new development like no other. Not simply a resort, more than a residential development, Friday Harbour is an all-seasons getaway that will set a new standard for vacation living in Ontario.
"Friday Harbour is a place that residents can come to just relax and enjoy," says Earl Rumm, president of Geranium Corporation and partner at Friday Harbour.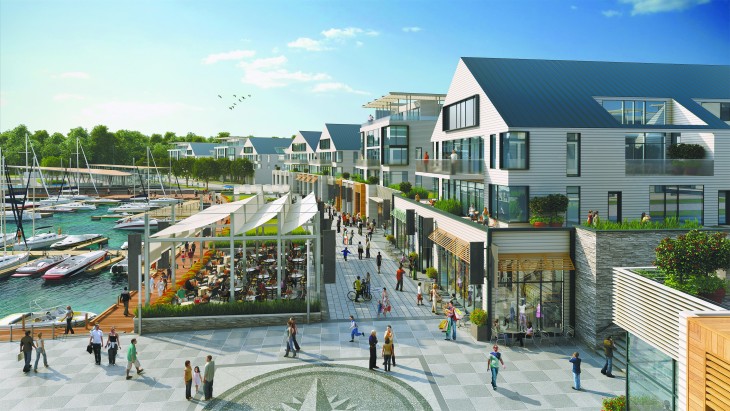 Proximity to the city is just one of its advantages. "We've been planning for 13 years. And for the last three years, we've been preparing a golf course, an inland marina on Lake Simcoe and a nature site," explains Rumm. "It's all about creating a place for people to enjoy 12 months a year."
For residents of Friday Harbour Resort, the appeal is a chance to head north and enjoy the peace and serenity of a relaxing getaway without the hassle of a long drive or taking care of a high- maintenance cottage property. "It truly is a place you can come and leave your stress and worry behind."
At the heart of Friday Harbour will be the Marina Village. "We're just about to build the village boardwalk — 12 buildings that will house over 550 residential units," Rumm says. "The boardwalk will have over 50,000 sq. ft. of specialized shops and great restaurants." The condo units are all elevated on a giant platform; owners will reside above the boardwalk and the village shops andrestaurants.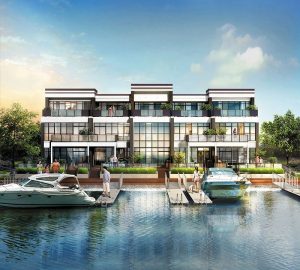 To the south of the village is the inland marina, one kilometre long at its widest point, which can hold up to 1,000 boats. The marina is approximately 40 acres and includes two private islands with approximately 300 townhomes, each with its own private boat slip.
For residents, there's no end of things to do: There's a double deck riverboat for parties, weddings and events, and boats for rent. The Lake Club, a 35,000-sq.-ft. recreational centre right on the harbour, will be a popular entertainment spot and a place to meet others, with such amenities as badminton, games rooms, meeting rooms, movies and more.
In the winter, Friday Harbour residents can enjoy such cold-weather pursuits as ice fishing, ice hockey, skating, snowmobiling and cross- country skiing. In summertime, the list includes boat regattas, concerts, markets, car shows, golf tournaments and more. There will also be "camps" for like-minded residents looking to learn something new. "There will be lots of action and activities throughout the year."
And for those who just want to unwind, the waterfront, the nature preserve, seven kilometres of hiking trails and the two swimming pools offer plenty of opportunities to kick back and relax. Friday Harbour even has shuttles and electric golf carts to get people around, in and out of the resort. "When you're here, we take care of you."
It's the kind of lifestyle that appeals to many, Rumm has discovered. "Our residents include people of all age groups who love the city lifestyle and also enjoy escaping to Friday Harbour. They get everything they would in Toronto, but can also enjoy that cottage country feel in summer and a chalet experience in winter."
There's another group of people who are also choosing the Friday Harbour lifestyle. "Those who may already own a cottage or second home in Ontario but who are ready to make the move to eliminate travel distance and dealing with upkeep. Their families aren't rushing up north as much, and Friday Harbour is more appealing because it's so close." Friday Harbour units in phase one are already sold out, and phase two is quickly selling. "We're creating a place that people can come to relax and enjoy their own slice of heaven."