In this segment, we'll look at women involved in the world of powerboating. Anyone who dedicates their time, passion, and knowledge to the sport is a welcomed candidate for this series.
This week will summarize "Doller Power", an article by Dina Paolella in our US publication, Poker Runs America Magazine.
Mindi Doller made a decision Christmas 1980. She decided to start anew and to leave her life in East Longmeadow, Massachusetts for brighter horizons. On Washington's I-95, Mindi flipped a coin to determine whether she'd call Florida or Arizona her new home. Tails came up, meaning the Sunshine State's Fort Lauderdale was her destination.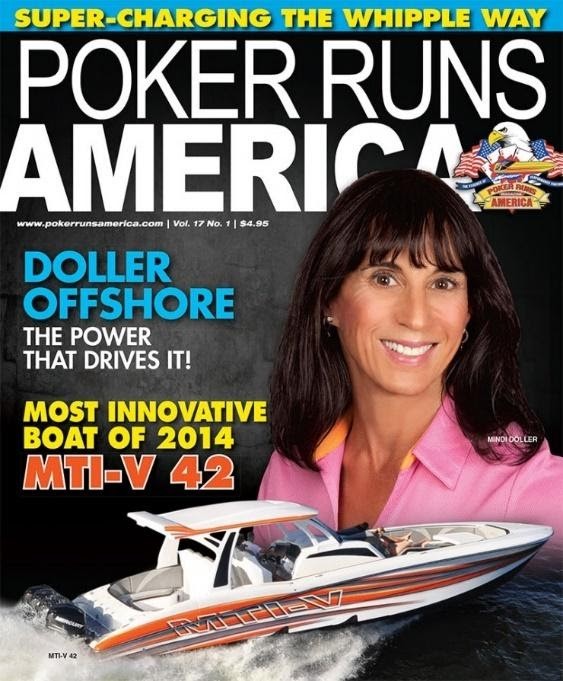 This courageous odyssey would lead to a new calling for Doller, one which has earned her respect and praise from the boating world. Since the passing of husband Ron W. Doller 21 years ago, she has run Doller Offshore Marine and built her business into a top-notch marine parts, rigging, and new and used boat sales dealer. An international client list is the punctuation mark atop such an impressive resume. The question, however, remains: how exactly did Doller get there?
Hard work, passionate knowledge, and a winning personality. Doller supported herself through two jobs to pay for her American College of Sports Medicine Clinical Certification Program. She parlayed this achievement into a job with Williams Island Resort. She would later meet Ron at a restaurant called Bimini Boatyard Bar & Grill; through Ron's presence in the high-performance boating industry, Doller became hooked on power boating. Their second meeting involved a high-horsepower trip in a 38' Top Gun – they were married by early 1995.
After Ron's tragic passing, Doller faced the challenge of running a business not in her field.
"Industry people sat around waiting for me to fall on my face," Doller said. "Many were discrediting Doller Offshore Marine."
With the help of General Manager Mac Morris and other dedicated employees, Doller kept going. She learned administrative and marketing skills, picked up technical expertise, and found creative ways to reinvent the company. After losing top-tier partners with which Ron had done business, Doller branched out into cruiser territory, launched an online shopping website, and devoted greater attention to brokering boats.
In 2014, and at the time of article's original publication, Doller Offshore Marine had reached 15,000 square feet as a premier Mercury/MerCruiser dealer in Hollywood, Florida. As a certified sales and service centre for Konrad Marine, Ilmor Marine, Livorsi Marine, Latham Marine, Custom Marine Incorporated (CMI), and Sunsation Powerboats, the business had thrived under the guidance of Doller's steady hand.
Years later, what has changed with Doller Offshore Marine? We look forward to presenting new stories, republishing classic segments, and revisiting former figures in this ongoing series.
Boating, Dealer, Florida, powerboating, Women in Power