This potato-based crab and vegetable soup is the perfect late-winter or early spring dish for lunch or appetizer for dinner that's sure to warm you and your crew up.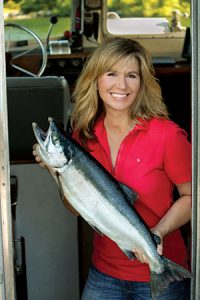 Serves 4
Ingredients

 
4 slices quality-thick cut bacon, chopped
1 cup onion, diced
1½ cups Yukon gold potatoes, peeled, diced
1 tablespoon jalapeño, seeded, diced
1 tablespoon garlic, minced
2 cups tomatoes, chopped
½ teaspoon sea salt
¼ teaspoon ground black pepper
¼ teaspoon red pepper flakes
1 teaspoon dried thyme
4 cups organic chicken broth
4 cupsfresh baby spinach, chopped
1 (14-ounce) can coconut milk
2 cups lump crabmeat (if using king or snow, cut into bite-size pieces)
2 tablespoons lime juice, plus more to taste
½ cup green onions, chopped
Directions
In a soup pot; fry the bacon until crisp.  Using a slotted spoon, transfer to paper towels to drain. Pour off all but 1 tablespoon drippings.
Stir in the onion, potatoes, jalapeño and garlic.  Add the tomatoes and seasonings and cook over medium heat, stirring often, until the onions are soft.
Stir in the chicken broth and bring to a slow boil.  Cover and simmer 10 minutes or until the potatoes are nearly tender.  Gently stir in the spinach, coconut milk, crabmeat, lime juice and reserved bacon.  Ladle into warmed soup bowls and garnish with the green onions.
best boat, Best boat buying website, best boat marina website, best boat travel website, best place to rent a boat, boat accessories, boat angler, boat boondocking, boat buyers guide, boat camper, boat camping, boat dealers, boat DIY, boat Fishing, boat Fixer, boat Home, boat information, boat insurance, Boat Maintenance, boat marinas, boat marinas in Alberta, boat marinas in BC, boat marinas in Canada, boat marinas in Manitoba, boat marinas in Saskatchewan, boat marinas in the USA, boat marinas near me, boat products, boat rentals, boat repair, boat road test, boat sharing, boat sites near me, boat supplies, boat Tech, boat tips, boat touring, boat trade, boat Travel, boat traveling, boat travelling, boat vacation, boat vacation cost, boat websites Canada, boating Canada, Boating Canada's Boat Lifestyle Magazine, Boating Lifestyle Magazine, boating recipes, boating website, Canadian marina websites, crab recipes, expert boat information, find a boat dealer, how much does a boat cost, how much does marina cost, how to choose a boat, how to drive a boat, marina products, marina supplies, motor boat, power boating magazine, top boat website, used boat reviews