Marine Cadet Graduates qualify for a variety of high paying jobs.
By Steve Sansford
When I tell people I went to college, they're not surprised. But when I tell them I studied Marine Navigation Technology, that's a different story. Most people don't know you can go to college right here in Ontario and learn, hands-on, how to drive a ship. In fact, the Centre for Marine Training and Research is one of only a handful of institutions in all of Canada that offers a Transport Canada approved marine cadet training program.
It's a three-year intensive study program, with a combined 12-month co-op program, where cadets gain theoretical knowledge and practical skills, along with real-world experience and sea time serving onboard various ships from tugs to cargo vessels to cruise liners.
The marine training center is part of the larger Georgian College campus in the City of Owen Sound on the southern shore of Georgian Bay. The purpose-built facility offers state-of-the-art training facilities, including bridge and engine room simulators. The marine instructors are industry veterans, holding their own Transport Canada licenses, with years of sea time and some are graduates from the same program they now teach.
The program is demanding and provides plenty of challenges, but the career prospects for graduates are impressive with many grads securing high-paying jobs on one of the many freighters plying the Great Lakes. Other cadets find positions with ocean-going vessels of all sorts, and a few even end up manning the bridge of passenger ferries and cruise liners. Still, others take the valuable life lessons learned and apply their skills in their chosen fields.
Fire Fighting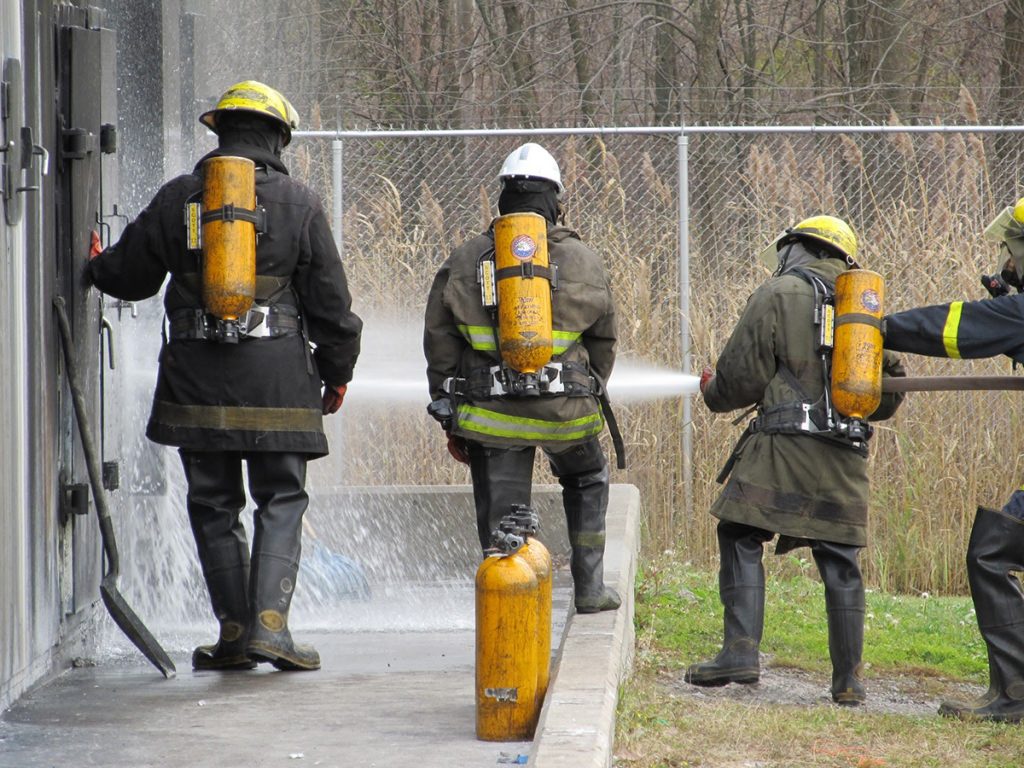 Fire-fighting training is one of the most intense elements of the cadet training program. A fire at sea is a tremendous danger to the vessel and its crew. There is no calling 911, and no local fire department will show up, so it's up to the crew to know how to fight fires, which take on new dangers in the tight, steel confines of a large ship. Training is very thorough and graduating cadets are well-prepared to face ship-board emergencies.
Scenery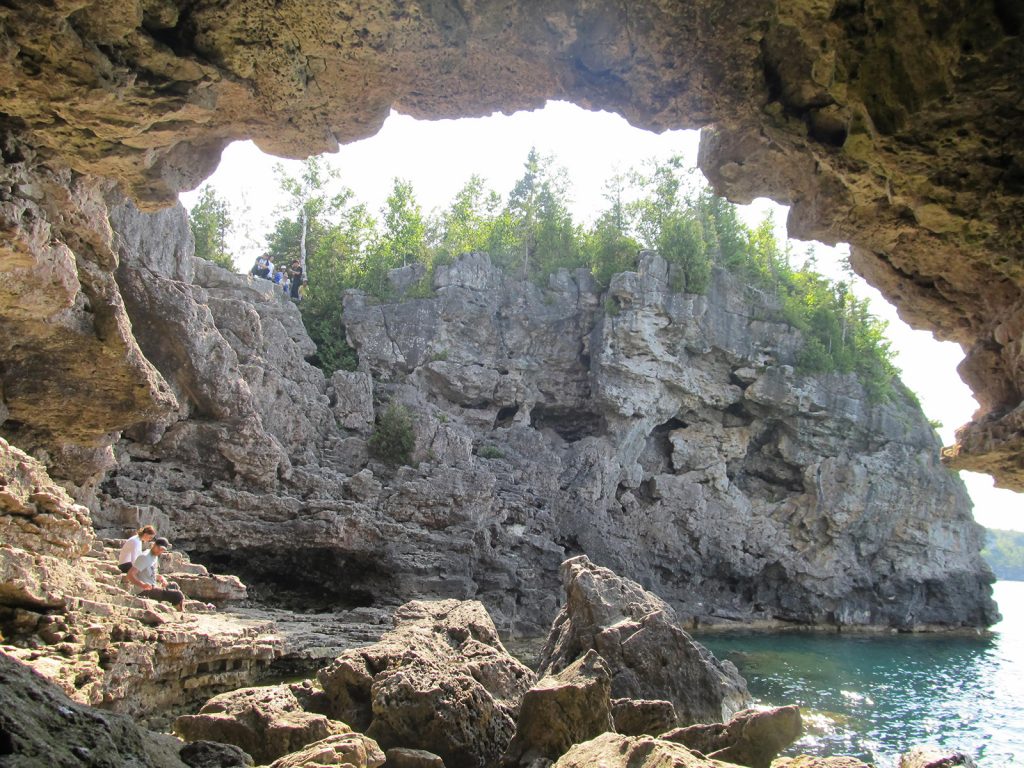 The co-op portion of the program allows cadets to travel to all corners of the continent, and sometimes the globe. My placement aboard the M/S Chee-Chemaun kept me close to home, but I did spend months exploring the amazing natural beauty of the Bruce Penninsula, including the Grotto, Fathom Five National Park, Bruce National Park, trails, beaches, and campgrounds. Other cadet's traveled farther, from the fjords of Norway to the Panama Canal and even the Northwest Passage.
Ship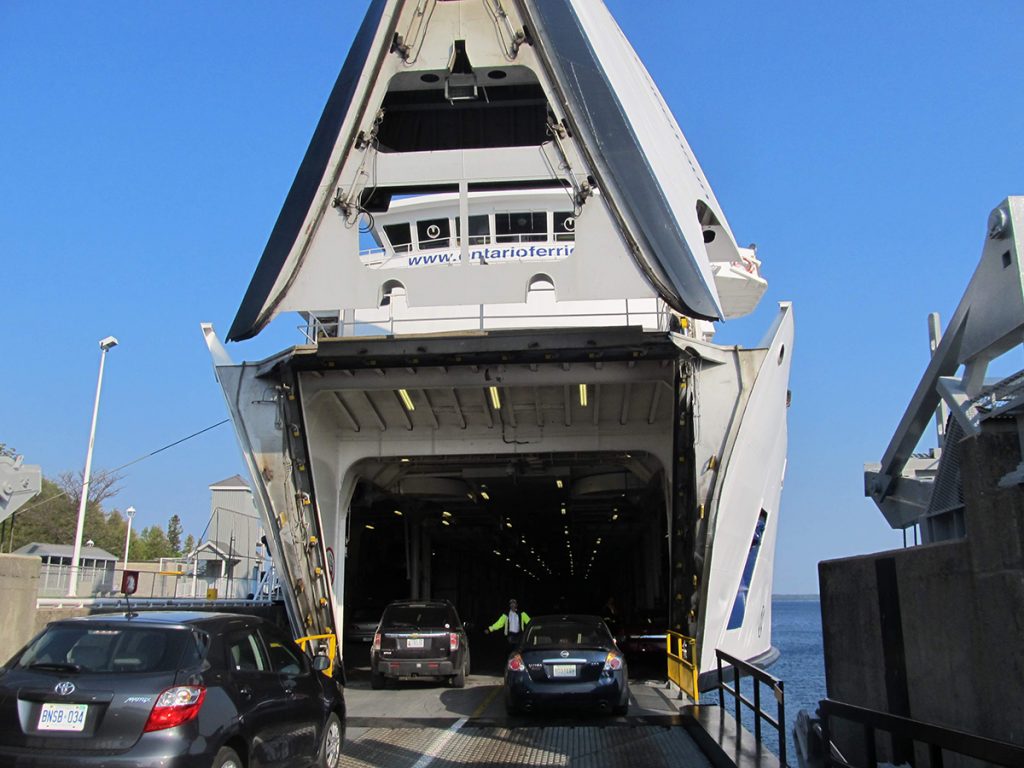 Most cadets serve their required 365-days of sea time on board a cargo vessel of some sort, but my aspirations were to work on passenger's vessels. I was fortunate to land a cadet berth on one of the few large passenger vessels that operate within the province. The M/S Che-Cheemaun is a 365-foot car ferry operating a route between Tobermory and South Baymouth. It's an icon for travel and exploration in Ontario and provided an amazing experience for a cadet. The ferry company (like most Great Lakes shipping companies) maintains a close relationship with the college and is very much vested in the training and development of new officers.
Algoway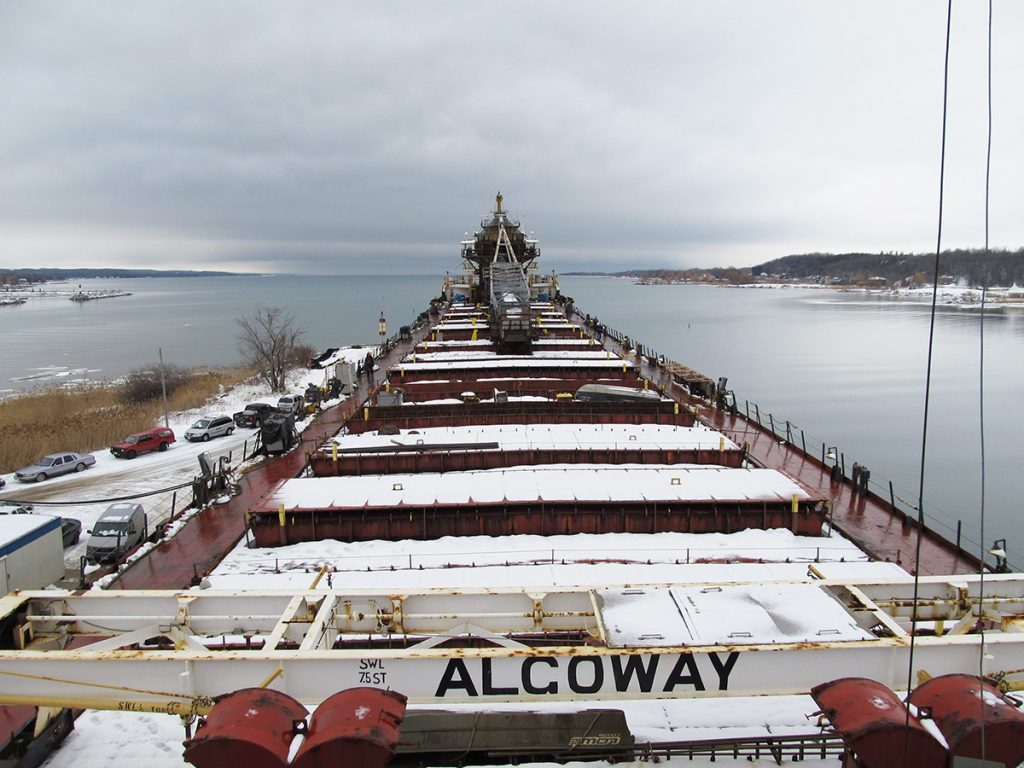 Plenty of unplanned opportunities presented themselves over the course of the program. During the winter semester of the first year, the Algoway spent the season in the Owen Sound harbor and our class was treated to a full tour. This was the first time on board a large cargo ship for most of us and provided a small taste of what our lives we're going to look like in a few short years. The Algoway is a self-unloading bulk freighter. Many cadets would go on to serve their co-ops and their careers on board vessels just like this one. 

For More Information:

Colin MacNeil Program Co-ordinator 705-728-1968, ext. 2071 Colin.MacNeil@GeorgianCollege.ca

https://www.georgiancollege.ca/academics/full-time-programs/marine-technology-navigation-mnav/

best boat, Best boat buying website, best boat marina website, best boat travel website, best place to rent a boat, boat accessories, boat angler, boat boondocking, boat buyers guide, boat camper, boat camping, boat dealers, boat DIY, boat Fishing, boat Fixer, boat Home, boat information, boat insurance, Boat Maintenance, boat marinas, boat marinas in Alberta, boat marinas in BC, boat marinas in Canada, boat marinas in Manitoba, boat marinas in Saskatchewan, boat marinas in the USA, boat marinas near me, boat products, boat rentals, boat repair, boat road test, boat sharing, boat sites near me, boat supplies, boat Tech, boat tips, boat touring, boat trade, boat Travel, boat traveling, boat travelling, boat vacation, boat vacation cost, boat websites Canada, boating Canada, Boating Canada's Boat Lifestyle Magazine, Boating Lifestyle Magazine, boating website, Canadian marina websites, career in boating, expert boat information, find a boat dealer, how much does a boat cost, how much does marina cost, how to choose a boat, how to drive a boat, marina products, marina supplies, motor boat, power boating magazine, top boat website, used boat reviews best boat, Best boat buying website, best boat marina website, best boat travel website, best place to rent a boat, boat accessories, boat angler, boat boondocking, boat buyers guide, boat camper, boat camping, boat dealers, boat DIY, boat Fishing, boat Fixer, boat Home, boat information, boat insurance, Boat Maintenance, boat marinas, boat marinas in Alberta, boat marinas in BC, boat marinas in Canada, boat marinas in Manitoba, boat marinas in Saskatchewan, boat marinas in the USA, boat marinas near me, boat products, boat rentals, boat repair, boat road test, boat sharing, boat sites near me, boat supplies, boat Tech, boat tips, boat touring, boat trade, boat Travel, boat traveling, boat travelling, boat vacation, boat vacation cost, boat websites Canada, boating Canada, Boating Canada's Boat Lifestyle Magazine, Boating Lifestyle Magazine, boating website, Canadian marina websites, career in boating, expert boat information, find a boat dealer, how much does a boat cost, how much does marina cost, how to choose a boat, how to drive a boat, marina products, marina supplies, motor boat, power boating magazine, top boat website, used boat reviews