The all-new V33 is the first of the new V-line by SCHAEFER YACHTS. This innovative Centre console should quickly rise in popularity as a great cottage sport boat, fishing boat and family boat. Offering the comfort and features of luxury yachts, but with the easy hose-down and minimal maintenance today's busy lifestyles appreciate.
Center consoles are known for big water capability and safety, plus fishing and watersports features make this the go-to-do anything boating a great solution for boaters looking to check all the boxes.
Schaefer's modern European styling has the comfort and flexibility to do anything, whether on fresh or saltwater.
The new Schaefer V33 is a contemporary and sporty walk- around, aligned with the most modern technologies for the Great Lakes Market. With a wide variety of inboard or outboard engine selections, the Schaefer V33 favours external areas with its open bow and ample space in the aft.
The surprisingly spacious cabin and luxurious finishes makes this a comfortable weekend boat with plenty of space for two people yet easily entertain 10 to 12 people during the day.
Elegant finishes are available for this new model, taking materials and designs from the larger Schaefer custom yachts that range up to 83'. Schaefer Yachts in Brazil has one of the most advanced manufacturing processes in the Americas.
Using a state of the art 5 axis CNC machine for accuracy, the hulls are vacuum infused fiberglass with PVC foam cored hull, deck and superstructure. Schaefer's vertically integrated assembly, with in house woodworking, tooling and textile production, makes them self-sufficient and able maintain quality and timely deliveries.
BOW TO STERN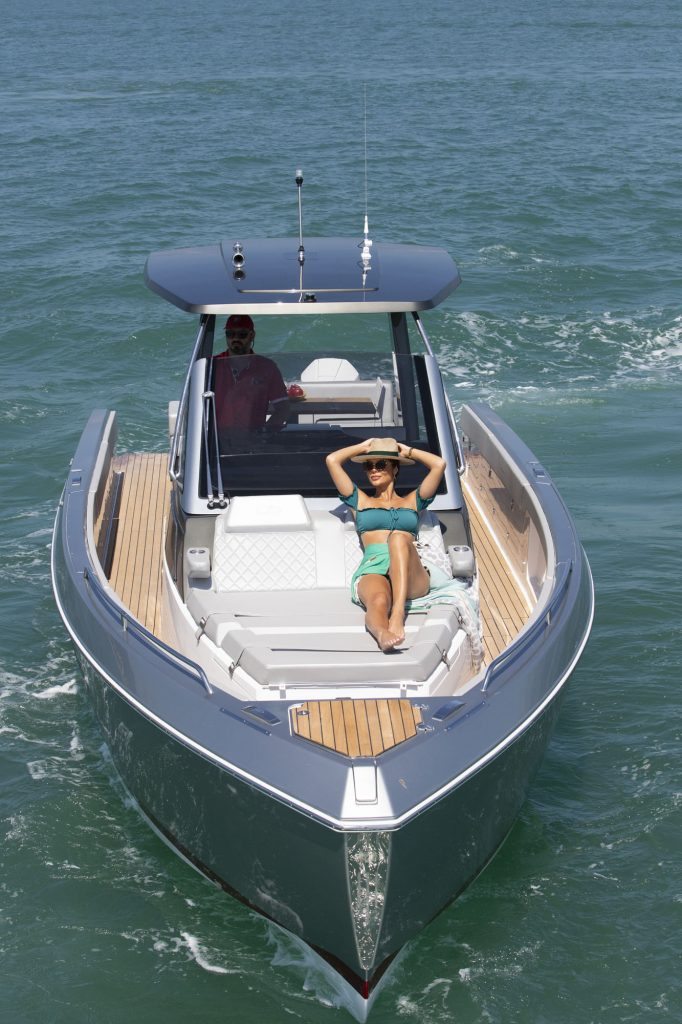 Schaefer provides a modern design combining the latest manufacturing technology with all structural parts made by vacuum infusion guaranteeing a fast and solid ride even under harsh conditions.
The single level deck with high gunwales and the smart layout of the cabin below offers an unseen use of space with unparalleled comfort. Down below, via the port side sliding door, you'll find a stand-up head and a doublewide berth for a couple to overnight in a space larger than a typical cuddy cabin. Four different designer finishes are available with internal upholstery in leatherette.
The head is luxuriously finished and designed with electric head, shower, storage and stainless faucet / sink.
Boat owners who place a priority on quality and refinement will appreciate the elegant accents and upholstery, and the entire crew will love the conveniences, which start up front with the dedicated anchor locker equipped with a retractable disappearing catapult design windlass with foot controls and helm remote.
A fully electric teak anchor hatch & stainless windlass ensures a smooth and effortless anchorage. Remote controlled windlass with catapult SS anchor and 164′ chain and swivel.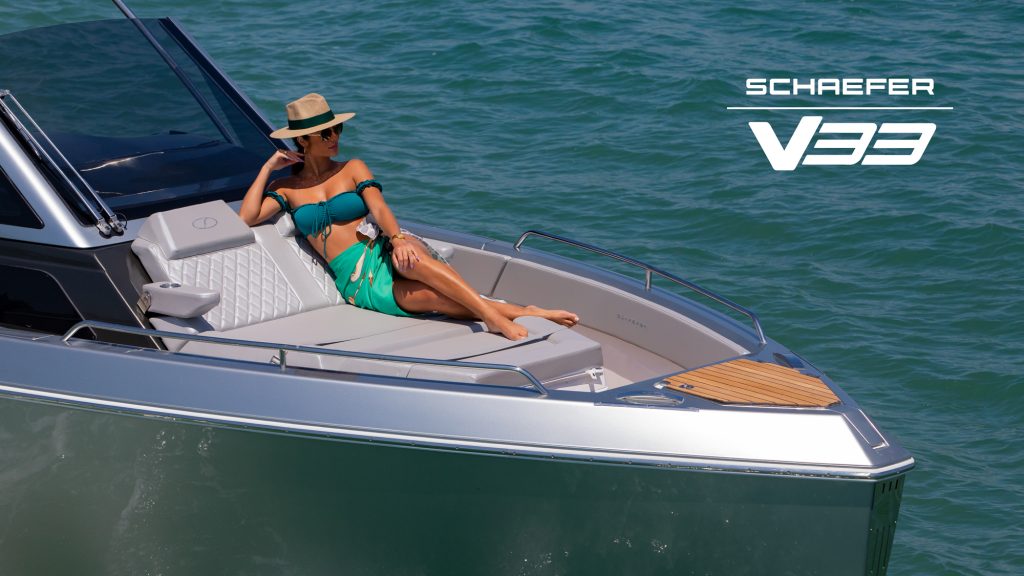 The bow boasts a spacious V-Shaped lounge area with space for 2 sun worshippers. Equipped with an elegant diamond-patterned stitching on the backrests and a raised
pillow embossed with the Schaefer Logo for added comfort. Cupholders built into the armrests allow you to relax and enjoy the views of the ocean without the worry of spilling your drinks!
The frontmost portion of the lounge seat lifts to uncover a spacious storage area for extra supplies, ropes, or anything you need out of the way. The walk-around deck is equipped with 2 stainless steel rub rails on either side of the bow, as well as 6 retractable stainless-steel cleats, a unique feature not seen on vessels of this size and category.
HELM AREA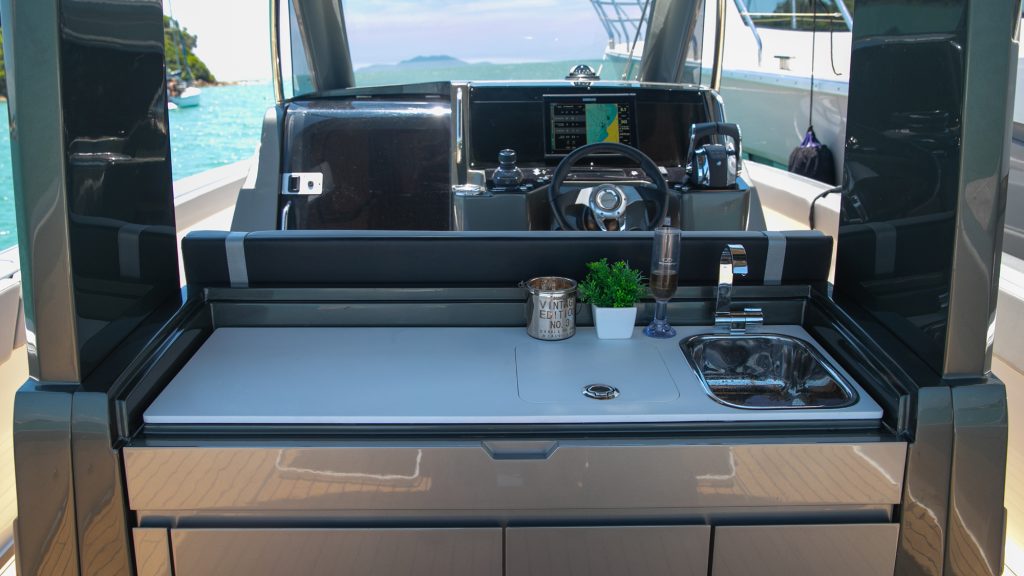 The Yacht Solutions dealership orders most boats with the Volvo Penta fully integrated system of EVC, Joystick control and Volvo Garmin Glass Cockpit. This state of the art powertrain system combined with navigation and entertainment systems have many user friendly technology features readily available.
The visibility is a full 360 degrees from the Dual Helm Seating, The notable fiberglass T-Top in white or colour combined with the 3/4 windshield are both stylish and functional.
ELECTRONICS
Choose from a wide selection of single or multiple 9 – 16" MFD, plotters, radios, radar from Simrad, Raymarine and Garmin. The clean beautiful look of the Volvo Glass now being used in many super yachts integrate all systems including entertainment.
COCKPIT
The outdoor galley or gourmet station lies directly behind the helm seating, and offers a sink, cooktop, fridge and undercounter storage. There are four seating configurations to choose from to accommodate your lifestyle complimented with fiberglass or teak tables.
ENGINES
The V33 can be powered by your choice of Mercury outboards up to the 300hp Verado. Volvo Penta I/O in single or twin configuration in either gas or diesel up to 760 hp total. Joystick control is available with both the inboard or outboard engines.
The Joystick offers fingertip control of throttle, shift and steering, allowing you to dock and maneuver precisely, safely and with confidence. Move sideways, diagonally or spin the boat on its own axis with total control in wind or current.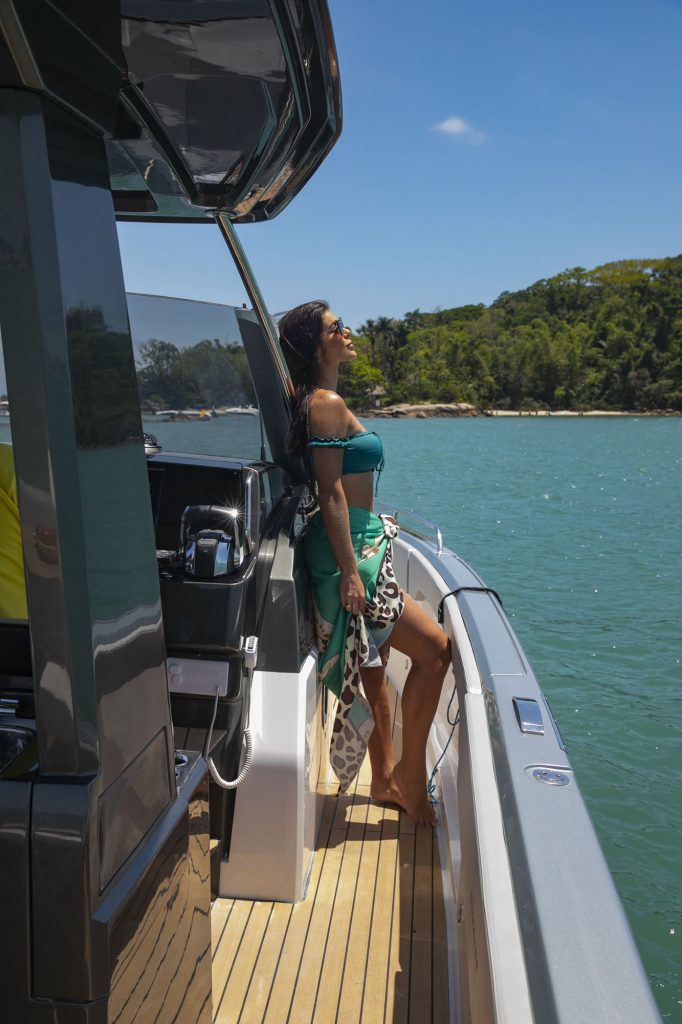 OPTIONS
With an empty weight of under 10,500 lbs, a tandem axle trailer with brakes is available as an option.
Loads of standard features on this boat however, there are many options available including electric trim tabs, Fusion sound system upgrades with BT and marine speaker combinations, generator, shore power connection, battery charger, 12 Volt and 110 V outlets, teak decking, fishing rod holders, tow hook and more.
Check with your Schaefer yacht dealer YACHT Solutions for more pricing and information. Pricing starts at $299,000 CAD including a 100% 12 month trade up program. Order your boat today to arrive for this summer and get a loaner to use on the meantime.
Enjoy life on the water with your family, fish with friends, play watersports or simply take an off-the-grid weekend on this amazing new Schaefer Yachts model. The all-new Schaefer V33 is for anything on the water. We vote this the best all around Great Lakes and Cottage Boat.
Although it is so versatile and incorporates enough design elegance to serve as a super yacht tender. Schedule a tour on the all-new SCHAEFER V33 and be amazed!
https://theyachtsolution.com/schaefer-v33/        (416) 907-9046
---
 Specifications

Length – LOA 10.79M or 35.4' Beam – 3.36M or 11.02'

Deadrise angle – 18

Dry Weight – 4,700kg or 10,362 lbs Draft – .74M or 2.42'

Fuel capacity – 570 L Water capacity – 100 L

Holding tank capacity – 65 L Deadrise at Transom

Retail – From $299,000 CAD

300 HP, Adventure, best boat, Best boat buying website, best boat models, best boat trailer, best BOATING Power Boating website, best BOATING travel website, best center console, best centre console, best performance boats, best place to rent a boat, best pontoon, best runabout, Best Used boat, boat, boat accessories, boat dealers, boat parts, boat rentals, boat review, boat reviews, boat sharing, boat test, boat tests, boat touring, Boat Trailer, Boating, BOATING - Fishing, boating accessories, BOATING angler, BOATING boondocking, BOATING Buyer's Guide, BOATING Digital Edition, BOATING DIY, BOATING Fixes, boating guide, BOATING in-water Tests, BOATING information, BOATING insurance, boating life, boating lifestyle, Boating Lifestyle Magazine, boating magazine, boating maintenance, BOATING marinas, BOATING Marinas in Alberta, BOATING Marinas in BC, BOATING marinas in Canada, BOATING marinas in Manitoba, BOATING marinas in Saskatchewan, BOATING marinas in the USA, BOATING Marinas near me, BOATING on water test, boating products, BOATING rentals, BOATING rentals near me, BOATING repair, BOATING sites near me, BOATING supplies, BOATING Tech, boating tips, BOATING Touring, BOATING trade, BOATING travel, BOATING traveling, BOATING traveller, BOATING travelling, boating vacation, BOATING vacation cost, boating website, BOATING websites Canada, Bow Rider, Canadian BOATING websites, center console, comfortable, European, expert BOATING information, family boat, find a boat dealer, Fish, fish boats, fishboat buyers guide, fishing, Fishing Boat, Fishing rod, Fusion Soun System, galley, Garmin, go boating, go boating Canada, gourmet station, horse power, how much does a boat cost, how much does Power Boating cost, how to choose a boat, how to drive a boat, joystick control, luxury, marine accessories, marine speaker, Mercury, New Boating Products, new boats for 2023, Online BOATING Magazine, outdoor galley, performance boats, personal watercraft, Pontoon buyers guide, power boat, power boating, Power Boating Canada, Power Boating Canada's BOATING Lifestyle Magazine, Power Boating products, Power Boating supplies, powerboating, PWC, PWC Buyers Guide, Schaeffer, sporty, Tender boat, top boat models, top BOATING website, top boats, top cottage boat, top cruiser, top power boat, used boat reviews, Verado, Volvo-Penta, Watersports, Yacht, Yacht Solutions 300 HP, Adventure, best boat, Best boat buying website, best boat models, best boat trailer, best BOATING Power Boating website, best BOATING travel website, best center console, best centre console, best performance boats, best place to rent a boat, best pontoon, best runabout, Best Used boat, boat, boat accessories, boat dealers, boat parts, boat rentals, boat review, boat reviews, boat sharing, boat test, boat tests, boat touring, Boat Trailer, Boating, BOATING - Fishing, boating accessories, BOATING angler, BOATING boondocking, BOATING Buyer's Guide, BOATING Digital Edition, BOATING DIY, BOATING Fixes, boating guide, BOATING in-water Tests, BOATING information, BOATING insurance, boating life, boating lifestyle, Boating Lifestyle Magazine, boating magazine, boating maintenance, BOATING marinas, BOATING Marinas in Alberta, BOATING Marinas in BC, BOATING marinas in Canada, BOATING marinas in Manitoba, BOATING marinas in Saskatchewan, BOATING marinas in the USA, BOATING Marinas near me, BOATING on water test, boating products, BOATING rentals, BOATING rentals near me, BOATING repair, BOATING sites near me, BOATING supplies, BOATING Tech, boating tips, BOATING Touring, BOATING trade, BOATING travel, BOATING traveling, BOATING traveller, BOATING travelling, boating vacation, BOATING vacation cost, boating website, BOATING websites Canada, Bow Rider, Canadian BOATING websites, center console, comfortable, European, expert BOATING information, family boat, find a boat dealer, Fish, fish boats, fishboat buyers guide, fishing, Fishing Boat, Fishing rod, Fusion Soun System, galley, Garmin, go boating, go boating Canada, gourmet station, horse power, how much does a boat cost, how much does Power Boating cost, how to choose a boat, how to drive a boat, joystick control, luxury, marine accessories, marine speaker, Mercury, New Boating Products, new boats for 2023, Online BOATING Magazine, outdoor galley, performance boats, personal watercraft, Pontoon buyers guide, power boat, power boating, Power Boating Canada, Power Boating Canada's BOATING Lifestyle Magazine, Power Boating products, Power Boating supplies, powerboating, PWC, PWC Buyers Guide, Schaeffer, sporty, Tender boat, top boat models, top BOATING website, top boats, top cottage boat, top cruiser, top power boat, used boat reviews, Verado, Volvo-Penta, Watersports, Yacht, Yacht Solutions