By Eric Vienneau
Boating season is just around the corner, and although winter has just begun releasing its grasp on us, so now is a good time to start preparing for the summer waves.
We've been talking about all kinds of exciting things coming in boating for 2021, which is a rarity during COVID. However, one thing COVID has re-enforced in everyone is a sense of safety, and what better way to start boating safer than buying the right shoes.
Not only will these shoes in the list below offer safety and comfort, but they are fashion sensible. Great for that on-the-water photo op, or for the long days of entertaining and maintaining on your boat.
Clark's Women's Jocolin Vista Boat Shoe

Designed for the warm weather months ahead, Clarks' Jocolin Vista was made with comfort in mind, and style.
These shoes are made for any situation as they are lightweight, breathable, and quick drying. Most importantly, they have a classic design that will turn heads.
Perforated textile upper ensures exceptional breathability, and the OrthoLite footbed along with the Cloudstepper technology are amazing features which make every step feel like you're stepping on a cloud.
For more information: https://www.amazon.com/dp/B01IAWL2VA/?tag=marine1-20
Adidas Outdoor Women's Boat Shoe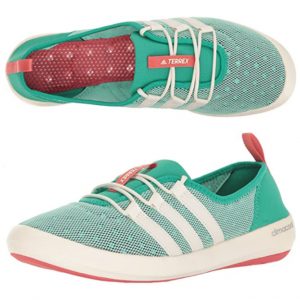 These shoes are highly suitable for water activities. Find yourself kayaking, canoeing, or even taking a rest on the beach, the ample drainage system will keep you dry and allow breathability.
With a sleek and modern look, the Adidas Outdoor Women's Boat She is versatile. They have the look and feel of a pair of sneakers, and with such a well-known brand as Adidas, you can expect great features.
Climacool is made from perforated neoprene mesh which allows the great drainage system, and the stretchable heel insert makes for the perfect fit and the TAXION outsole provides much-needed grip.
For more information: https://www.amazon.com/dp/B01HNM3UKO/?tag=marine1-20
Sperry Women's Angelfish Varsity Boat Shoe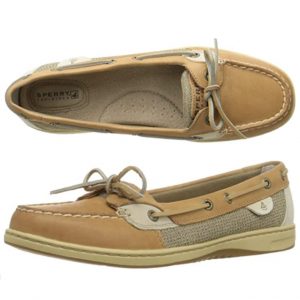 Of course, Sperry would show up at some point. This is a light shoe designed for the luxury of a being on a yacht, while also maintaining comfort and functionality.
With premium suede, nubuck, and tumbled leather, these shoes are extremely well-made, and as a result, are durable. They are stain and water resistant with memory a memory foam footbed.
As for the boat's deck, the non-marking rubber outsoles will keep everything clean while still maintaining incredible wet/dry traction. With plenty of colours to choose from, and a classic Sperry design, these shoes will fit the yacht lifestyle perfectly.
For more information: https://www.amazon.com/dp/B0058Z0ADE/?tag=marine1-20
Columbia PFG Women's Delray Slip Boat Shoe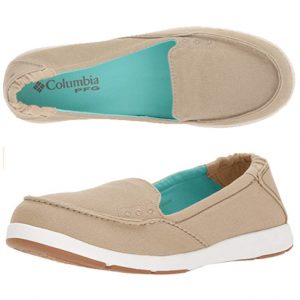 A 70-year-old company brings you a well-designed shoe for any occasion. The Columbia PFG Women's Delray Slip Boat Shoe does exactly what it says in its name. They are comfortable and lightweight with a lower durometer EVA for improved comfort and shock absorption.
Sporty and simple, perfect for keeping warm and dry on the water while looking stylish at the same time. It features synthetic textile upper and open mesh, as well as exclusive Techlite midsole for superior cushioning and high energy return.
For more information: https://www.amazon.com/dp/B073RNMVMH/?tag=marine1-20
Lxso Unisex Lightweight Aqua Shoes
These amazing fishing shoes have an intense and fun design. Their main function is fishing; however, you can use them in all kinds of water activities such as surfing, wakeboarding, parasailing, kayaking, or relaxing on the beach.
Non-slip and made from polyester, these shoes have a tough rubber sole, so your feet are safe from sharp rocks and pebbles. They are lightweight and comfortable with convenient draining holes so water doesn't linger around when you leave the water.
For more information: https://www.amazon.ca
Again, boating season is almost here, so grab a new pair of shoes to replace the ones that were worn out by last season, because this season will be just as fun!
accessories, Adidas, Aqua shoe, boat, boat accessories, boat gear, boat shoes, Boating, boating life, Clarks, columbia, durable, fish biat, fish shoe, fishing, fishing shoe, list, Lxso, non-slip, outdoor shoes, power boating, shoe, Shoes, Sperry, surfing, top 10 list, Varsity boat shoe, wakeboarding, Women, women's boat shoes, Women's Shoes, Yacht, yacht shoe, yachting lifestyle, yachting shoe