Canadian-owned and operated since 1999, Radioworld was founded through the amalgamation of Norham Radio, Atlantic Ham Radio, and Texpro Distributing to better serve the amateur radio community.
Since then, the store has grown to 5,000 sq. ft., the largest store of its kind in Canada, now billed as the 'go-to' shop for specialty hobby electronics for outdoor enthusiasts.
Located at 4335 Steeles Ave. W., Toronto, Radioword is divided into three areas—the back-office team is dedicated to the online experience and online sales. Here, Radioworld has staff dedicated to the toll-free service line (1-866-666-8600) and an online chat box if a customer needs support to deal with product malfunctions and technical issues. The service operates during store hours Monday to Friday, 9:30 a.m. to 5 p.m. If a problem arises on the weekend or after hours, the chatbot will send an email to the store to follow up during working hours.
Customers can get the same expert advice when purchasing products online through its chat box. Online orders can be picked up at the store for no extra cost or shipped through Canada Post Expedited Parcel or Purolator Ground for the cost of shipping and with no guaranteed delivery time.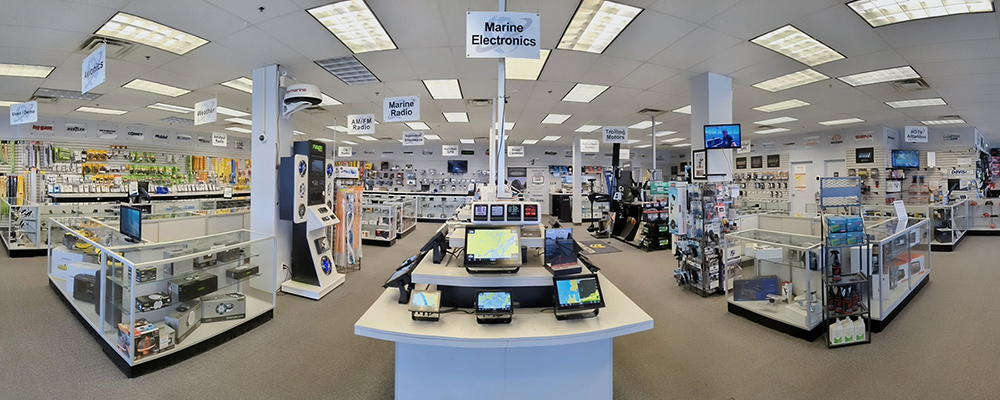 As an authorized dealer, Radioworld provides warranty support for the products it sells. Depending on the product malfunction and if it happens during the manufacturer's warranty period (and the manufacturer allows), Radioworld will do an over-the-counter exchange; being hobbyists themselves, they know that an extended amount of time without a product can be frustrating, considering Canada's short seasons.
The showroom, where customers and staff can interact face to face, keeps the team in tune with the hobbyist community and their needs. The store has a marine selection of 30 types of boating, fishing electronics, and marine radio products in 48 brands, ranging from $35 to $5,000. There is also a warehouse for product storage. 
The Radioworld staff are experts in using chart plotters, radars, and autopilots and have insight into navigating local waterways. Each staff member has a hobby that translates into expert knowledge. One employee has a 35ft Carver  that he enjoys on Georgian Bay every weekend.. Another staff member participates in bass fishing tournaments.
Radioworld saw a dramatic spike in its marine category sales since the start of the pandemic, with a majority of sales in pleasure boating and  fishing products. Over the past two years, the store saw an increase in sales in all categories because its products focused on people being outdoors, with a notable spike in people purchasing metal detectors.
Metal detector sales account for one-third of Radioworld's business, with the balance split evenly between radios and marine  electronics. One customer goes to their local park after every weekend to find change. Another customer went up north and found a gold nugget. Many of the metal detecting customers are hobbyists who are looking for historical  items. 
Radioworld also sells metal detectors for underwater recovery, mainly to commercial organizations and law enforcement. When we visited the store, York Regional Police were on-site, buying underwater metal detectors to find guns that were thrown into a pond.
While many of the products sold at Radioworld are used during the warmer months, in December and January, its marine business shifts to ice fishing. Generally, the ice fishing season takes place in January and February. Then it is finished. January, the boat shows begin, and Radioworld is back into sales for the upcoming season.
Underwater drones are Radioworld's newest product line, and the company sells a few units a month, mainly to scuba divers and commercial marinas. With a drone, commercial marinas can avoid sending a diver into the water, and some of the drones have 600 ft of cable, so they can inspect under the hull of a boat or inspect docks or whatever the concern may be. After the drone has completed its assignment, the video can be reviewed, and the necessary tasks can be undertaken by divers.
Recently, Radioworld has started promoting underwater drones to anglers. Customers can spend $4000 to $5000 on a fish finder for their boats. These drones are less expensive, ranging from $1,500 for entry-level units, and  up to $3,500 for the higher-end, commercial quality. The drone has one major advantage – it lets the operator see the fish species – something a fish finder cannot do! 
---
SIMRAD NSX UNITS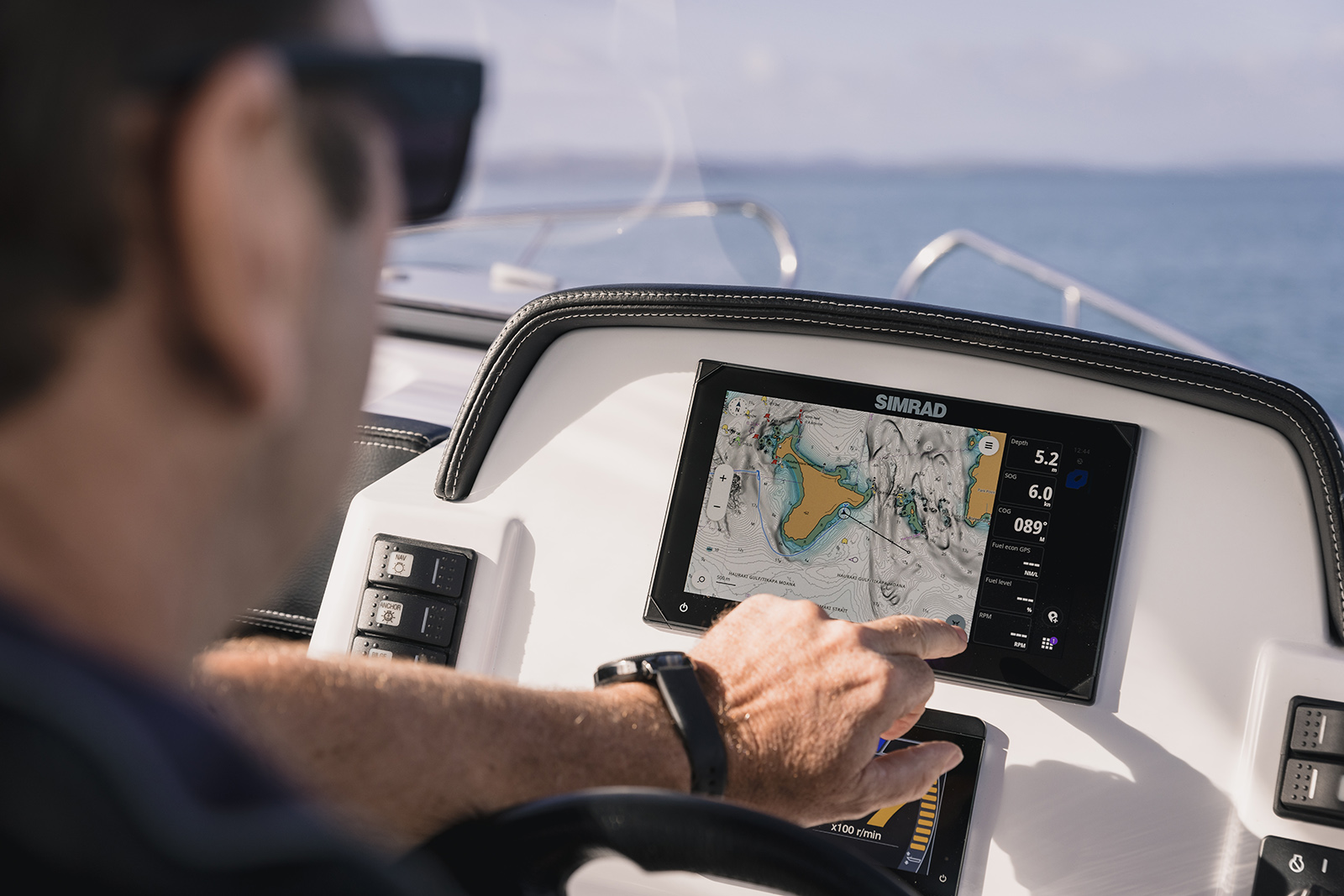 Crystal clear, high-definition views – NSX pairs a clean and straightforward interface with high-definition visuals to deliver a new experience featuring powerful navigation capability with C-MAP support. Get views of chart detail, structure, and bottom contours with the vibrant SolarMAX IPS touchscreen – viewable from any angle, in direct sunlight, and through polarized lenses. The NSX features integrated Sonar, full Radar, and Autopilot systems compatibility, smart drag-and-drop screen customization, fully editable instruments bar, and enhanced day and night modes.

The Setup Wizard helps with step-by-step instructions to get you up and running quickly, while the Simrad App offers a whole host of added extras. These include hassle-free software updates, on and off-the-water trip planning, a streamlined chart display that looks the same across all platforms, plus easy transfer of all data, including routes and waypoints.

best BOATING cleaning supplies, best BOATING jack, best BOATING stabilizer, best new BOATING products, boat cleaners, boat electronics, Boat GPS, boat polish, boating accessories, BOATING chairs, boating checklist, BOATING cleaning supplies, BOATING D-I-Y, BOATING décor, BOATING DIY, boating electronics, boating equipment, BOATING furniture, boating gear, BOATING Lifestyle Products, BOATING Power Boating products, boating products, BOATING supplies, BOATING water softener, campground tips, campground water purifier, Canadian-owned, Depth finder, electronic repair, fiberglass care, Fiberglass repair, Fibreglass repair, Fish Finder, fishfinder, full radar, Gear Gallery, Gear Guide, gps, How to clean a boat, how to level a trailer, how to set up an BOATING, how to stabilize an BOATING, Marine diesel, Marine gasoline, must-have Power Boating gear, New Boating Products, new electronics, Ontario store, Power Boating equipment, Power Boating gear, Power Boating hacks, Radio World, simrad, sonar, trolling motor, underwater drone, underwater recovery, water softener best BOATING cleaning supplies, best BOATING jack, best BOATING stabilizer, best new BOATING products, boat cleaners, boat electronics, Boat GPS, boat polish, boating accessories, BOATING chairs, boating checklist, BOATING cleaning supplies, BOATING D-I-Y, BOATING décor, BOATING DIY, boating electronics, boating equipment, BOATING furniture, boating gear, BOATING Lifestyle Products, BOATING Power Boating products, boating products, BOATING supplies, BOATING water softener, campground tips, campground water purifier, Canadian-owned, Depth finder, electronic repair, fiberglass care, Fiberglass repair, Fibreglass repair, Fish Finder, fishfinder, full radar, Gear Gallery, Gear Guide, gps, How to clean a boat, how to level a trailer, how to set up an BOATING, how to stabilize an BOATING, Marine diesel, Marine gasoline, must-have Power Boating gear, New Boating Products, new electronics, Ontario store, Power Boating equipment, Power Boating gear, Power Boating hacks, Radio World, simrad, sonar, trolling motor, underwater drone, underwater recovery, water softener