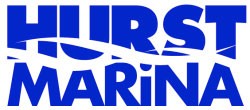 Just 15 kilometres south of Ottawa you'll find the charming village of Manotick. In Ojibway, Manotick means for 'Island in the River". It is here where you will find the best of rural and urban and the past blending nicely with present-day. Manotick's previous history includes the popular tourist attraction, Watson's Mill, one of the few remaining operating gristmills in Ontario – that comes complete with its own tragic history and resident ghost!
Contemporary Manotick is well represented by Hurst Marina, that has for almost 30 years welcomed boaters to the shores of the Rideau River with a compendium of amenities that include a fully stocked Pro Shop complete with the largest selection in eastern Ontario of wake boards, water skis and wake surfers from popular brands such as Ronix, Liquid Force, O'Brien and Hyperlite, a wakeboard school (Ride the Wake school and day camps), and a full selection of Mercury, Indmar and Cummins Marine, parts and many boating and dock accessories.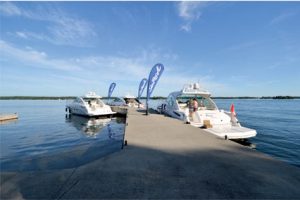 Additionally, Hurst Marina boasts 150 completely refurbished full service docks for boats up to 60 feet and a twelve thousand square foot heated showroom, making it one of the largest in the country! In fact it is the latter amenity that allows Hurst Marina to sell boats a large number of boats all year long. Besides having the large indoor facility, they also shrink wrap several of the boats outside and backs them up to dry land docks, that allows for easy accessibility by prospective buyers, no matter what the temperature.
Owned by the Hurst Family since 1986, the marina has garnered the coveted Brunswick Master Dealer status, which is a very distinct honor recognizing their outstanding dedication towards delivering a superior boating experience for theircustomers. They are proud dealers for Sea Ray, Meridian Yachts, Malibu and Axis tow boats. Hurst Marina is commonly known for their upscale resort-like facilities and boaters' entertainment areas but above that, Hurst has over 100 new boats in stock from 18 to 55 feet and a large, diverse selection of pre-owned inventory, many which are Hurst Certified, verified and warranted for your piece of mind.
The company's mission statement has been to achieve a goal that ensures that their customers experience total satisfaction with Hurst's products and services, while 'Delivering the Boating Dream' by constantly setting and achieving superior standards. Added to this, is Hurst Marina's total appreciation for the 'boating lifestyle' and with it, the fact that it is an event that when possible, should be enjoyed by family! Besides making their Pro Shop an attraction for people of all ages, the Marina itself boasts a large swimming pool and hot tub, and paddle surfboard rentals.
Additionally, boaters enjoy an exclusive clubhouse with complete kitchen amenities as well as outdoor barbecue facilities to ensure that when you stay at Hurst Marina, you have all of the comforts of home.Other additional 'comfort of home' services include laundry facilities, free high speed wireless internet, and showers. If you are looking for a good meal, the popular English pub, the 'Swan on the Rideau' (or Black Swan as known by many locals) is just a few steps away and has proven over the years to be a regular stop by visitors to Hurst Marina be it for a tasty lunch, or perhaps a savory Roast Beef and Yorkshire Pudding dinner!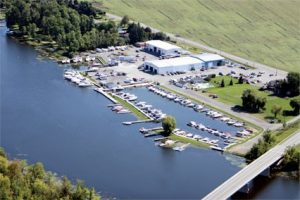 In addition, Hurst Marina, as a further proponent of promoting the 'boating lifestyle' to boaters of all ages, have developed several events that they host throughout the year as a way of 'reaching out' to their patrons, beginning with their Season Opening Barbecue on May 17th. On the evenings of June 10th and 11th, they are hosting the 'Ladies Take The Helm', a course for women only where participants are taught first hand experience on handling a boat! The Hurst event calendar also features several dock parties and customer events throughout the boating season, including the introductory 'Rockin On The Rideau!', which is being held the afternoon of June 29th at Rideau Ferry. Prostate Cancer is the big winner, as the event supports the charity 'Ride for Dad', and this year promises to attract many boats that will listen to the band Ambush!

Hurst Marina prides themselves on offering their customers a blend of professionalism, the finest products available, affordable pricing and superior customer service across Ontario and Quebec. Their goal is to create an environment where the customer has 'fun' and enjoys the 'boating lifestyle' experience, while being the one source for all their boating needs. Buying a boat at Hurst Marina is the start of a great relationship!

Hurst Marina is located at 2726 River Road (at Roger Stevens Drive) in Manotick, Ontario. For more information contact them directly at 613-692-1234 or their web site http://www.hurstmarina.com

GPS coordinates 45.16295, -75.62911

Alberta BOATING, BC BOATING, Boating, boating adventures, BOATING destinations, BOATING facilities, boating in Canada, BOATING in New Brunswick, Boating in Nova Scotia, Boating in PEI, Boating in Quebec, BOATING in Saskatchewan, boating lifestyle, BOATING marinas, boating ontario, Docks, Manitoba BOATING, Marinas, Maritime boating destinations, ontario boating, power boating, Power Boating destinations, where to go boating Alberta BOATING, BC BOATING, Boating, boating adventures, BOATING destinations, BOATING facilities, boating in Canada, BOATING in New Brunswick, Boating in Nova Scotia, Boating in PEI, Boating in Quebec, BOATING in Saskatchewan, boating lifestyle, BOATING marinas, boating ontario, Docks, Manitoba BOATING, Marinas, Maritime boating destinations, ontario boating, power boating, Power Boating destinations, where to go boating