How you can own a piece of paradise in one of Costa Rica's most sought after and undervalued gated communities. The newest project within the community of Los Delfines are freestanding, one thousand square foot Villas, each with individual pools and an open-concept, contemporary design.
Nestled along the Nicoya Peninsula's southern tip, Los Delfines is bordered by lush mountains and the calm waters of Whale Bay. The Villas are surrounded by an immaculately maintained golf course full of natural wildlife and in the heart of a region best known for it's natural beauty; an easy fit when imagining an ideal lifestyle in paradise.
Unique from any other part of Costa Rica, the Nicoya Peninsula is famous for its combination of sunny beaches, tropical warmth, and verdant mountains. They say that 'a picture is worth a thousand words', well the Villas in Los Delfines provide an ideal canvas with a tropical backdrop in true 'Rembrandt' fashion. With very few resorts, no high-rise buildings, plus a rural feel, the Nicoya Peninsula is 'the place' for the person truly looking for a 'lifestyle retreat'!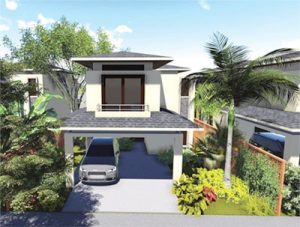 The Los Delfines community and surrounding towns offer something for everyone's 'lifestyle' passions: exciting nightlife, gourmet cuisine, excellent shopping and outdoor activities all in close proximity. The onsite golf course is challenging and beautiful, you can rival a friend to a game of tennis, or take a peaceful stroll along the beach. In addition, nature lovers will find solace by sharing their neighborhood with scarlet macaws, howler monkeys, lizards, butterflies, and deer. Or, if you are just feeling lazy, you can enjoy a gourmet meal and a cocktail served poolside at the clubhouse.
The community of Los Delfines has a little bit of something for everyone's taste. Love the beach? Love the tropical weather? Without compromising on the comforts of home you're used to, these Villas will appease even those with the most discerning of tastes. The area also has very reliable and accessible internet and cell phone service, allowing you to escape the cold winters and continue to earn a paycheck!
A backyard paradise awaits with all the comforts of home; the Los Delfines community in Costa Rica allows you to live the 'ideal lifestyle' combining 'natural beauty' and 'modern living' where fun and relaxation will, and should be, the only appointments on your agenda.
For more information on the Villa project in the community of Los Delfines, go to http://www.losdelfinesdreams.com. I'm confident you'll be happy you did!