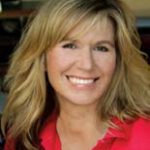 Nothing beats the clock like stir fry cooking. If you plan on serving this dish with rice, start the rice first. While it's cooking, cut up the vegetables and make the stir fry.
(Serves 4)
Honey-Garlic Shrimp
INGREDIENTS
¼ cup low-sodium soy sauce
2 tablespoons honey
2  garlic cloves, minced
tablespoon  peanut or olive oil
cups carrot, julienned
2 cups  zucchini, julienned
1 pound "uncooked" medium shrimp, peeled, leaving tails intact
DIRECTIONS
In a small bowl, stir together soy sauce, honey and garlic.
In a wok or large skillet, heat oil over medium-high heat until hot. Add carrots and zucchini. Cook 2 minutes, stirring constantly or until vegetables are slightly tender; remove vegetables from wok. Add shrimp.
Cook and stir 2 minutes or until shrimp just begin to turn pink. Return vegetables to wok, stir in soy sauce mixture. Cook, stirring occasionally, 2 minutes or until shrimp turn pink and liquid has thickened slightly. Serve with hot cooked jasmine rice, if desired.
---
Recipe excerpt from My Tiny Alaskan Oven,  by La Donna Gundersen
Copyright 2014 by Ole and LaDonna Gundersen
www.ladonnarose.com


Alberta BOATING, BC BOATING, Boating, boating adventures, BOATING destinations, BOATING facilities, boating in Canada, BOATING in New Brunswick, Boating in Nova Scotia, Boating in PEI, Boating in Quebec, BOATING in Saskatchewan, boating lifestyle, BOATING marinas, boating ontario, Docks, Manitoba BOATING, Marinas, Maritime boating destinations, ontario boating, power boating, Power Boating destinations, where to go boating Alberta BOATING, BC BOATING, Boating, boating adventures, BOATING destinations, BOATING facilities, boating in Canada, BOATING in New Brunswick, Boating in Nova Scotia, Boating in PEI, Boating in Quebec, BOATING in Saskatchewan, boating lifestyle, BOATING marinas, boating ontario, Docks, Manitoba BOATING, Marinas, Maritime boating destinations, ontario boating, power boating, Power Boating destinations, where to go boating