Take an already successful hotel in a beautiful location and add a new vision along with a $10 million dollar renovation, and the result is the all new Delta Kingston Waterfront Hotel.
Owned by the Springer family since the early 1990's, this Kingston landmark and favourite gathering spot for generations now got a facelift recently simply because it was time. "Radisson was a great brand," said Rik Vanderlinde, Director of Sales & Marketing, Diamond Hotels Management Inc. (the management company that runs the Delta Kingston), "but it was time to take the hotel to a new level. Delta is a Canadian Brand and their other locations in other communities in Toronto and Montreal fit well with our vision of an upscale 4-star hotel here in Kingston."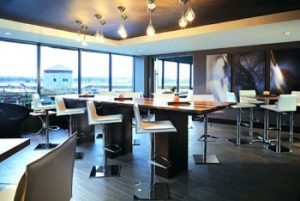 "We are excited to bring Delta's 4-star upscale hotel experience to one of the best locations in Kingston," said Ken Greene, President and CEO, Delta Hotels and Resorts. "The property's prime waterfront and downtown location is what sets it apart from the competition, and the renovation has repositioned the hotel as a product leader in the local marketplace. We are thrilled to offer our guests one of the most modern, innovative and thoughtfully designed hotels in the city."
The extensive renovation took eight months to fully complete including all 126 rooms being totally redone. The Delta Kingston is situated out on a pier, so all 126 room have a stunning waterfront view. "It's one of the attractions," said Vanderlinde, "the biggest choice is whether you want the sunrise or the sunset view." The hotel now features the all-new 'Delta ModeRoom™ guest rooms and suites that feature a smart desk, with a sleek, modern design for the modern traveller who's technically connected. Bathroom amenities include his and hers robes, big terrycloth towels, small tiny things that make the huge difference to a guests' stay.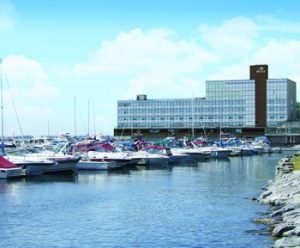 The renovation also included adding an all-new fitness room overlooking the harbour, the 6th floor pool being upgraded and opening up the entire lobby area so that the lobby and the restaurant shared the waterfront view.
Speaking of the restaurant – Aquaterra by Clark has been a Kingston institution for over a decade. Chef Clark Day is extremely well known owing three of his own successful restaurants before and joining the hotel and converting it into a destination restaurant with a very large following of both local and regular patrons. Chef de Cuisine Brent McAllister's culinary creations have been recognized by the VQA awards of excellence and recommended in the popular culinary guide "Where to Eat in Canada". Aquaterra has become 'the' place to dine in Kingston for all your most celebrated family events.  Aquaterra features two private dining areas for groups up to 20 people, a main dining area for families and smaller groups, and a lounge area for the business traveller. The beautiful bar area seats 20 people itself, then there's the front deck and all of this is open to the hotel lobby for those spectacular waterfront views.
Greg Bell, General Manager of the new Delta Kingston, told us about the amenities packages. "We have Romance packages for any reason you may wish to get away. We offer many seasonal packages with our local Tourism Partners, for example Fort Henry, Thousand Island Boat Cruises, Tour Trolley, and the smaller museums and boutique shops that area ll within walking distance of the hotel." Of course, an Aquaterra dinner package can be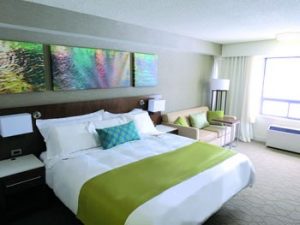 added to any package or hotel stay.
For boaters, while the hotel doesn't have any slips of its own, the nearby marina is owned by the city of Kingston, and offers lakeside slips to transient boaters, while the harbour side slips are available for longer term stays.
For more information visit http://www.aquaterrabyclark.com or http://www.deltahotels.com

Alberta BOATING, BC BOATING, Boating, boating adventures, BOATING destinations, BOATING facilities, boating in Canada, BOATING in New Brunswick, Boating in Nova Scotia, Boating in PEI, Boating in Quebec, BOATING in Saskatchewan, boating lifestyle, BOATING marinas, boating ontario, Docks, Manitoba BOATING, Marinas, Maritime boating destinations, ontario boating, power boating, Power Boating destinations, where to go boating Alberta BOATING, BC BOATING, Boating, boating adventures, BOATING destinations, BOATING facilities, boating in Canada, BOATING in New Brunswick, Boating in Nova Scotia, Boating in PEI, Boating in Quebec, BOATING in Saskatchewan, boating lifestyle, BOATING marinas, boating ontario, Docks, Manitoba BOATING, Marinas, Maritime boating destinations, ontario boating, power boating, Power Boating destinations, where to go boating