A sleek new look from bow to stern with a complete redesign of the 18 to 22 foot models.
By Timmy McNamee
Power Boating Canada was invited to test out the brand-new Bennington Pontoons alongside other media companies from around the globe.
Conquering the art and class of the pontoon industry, Bennington pontoons has announced a complete re-design of their SV and S models, which makes it an industry highlight amongst its class for Model Year 2024.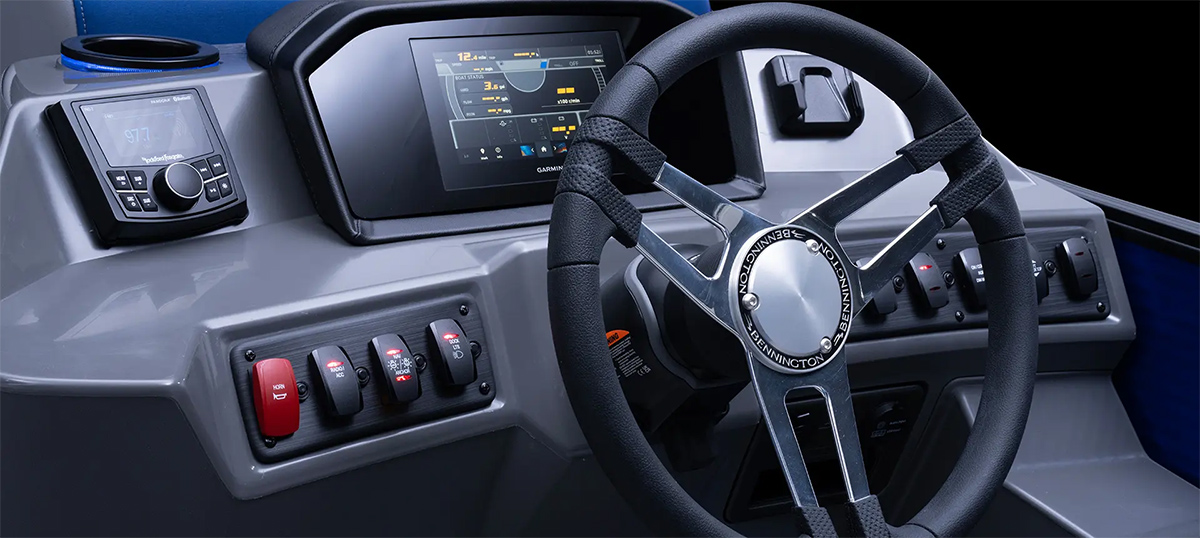 Always offering unwavering design and package options aiming to please above and beyond, consumers now have a premium option when looking for a pontoon that does not compromise luxury for its price point. If the popular SV and S models weren't a hot commodity before, Bennington's intro line of luxury just got a whole lot hotter. From bow to stern, the SV and S model line-up delivers a sleek overall look and feel, more colour and design options providing customers with premium luxury throughout their pontoon.
On an aesthetic image, the design of the SV and S models prove to be an apples-to-apples comparison of any competitions Mid-Level Series. The exterior of the SV and S prove to be audacious in their statement being boldly, a step beyond any other entry-level pontoon on the market. The immediate exterior impression is a sleek, vigorous style with a signature bow sweep giving added flare to the SV and S series. The S series is available in a broad range of colours, and new for 2024, Bennington added four new bold colours for it exterior options, Luminous Blue Matte, Luminous Blue Metallic, Anthracite and Orange Flare. While the SV series keeps options simple for its consumer, the SV is available in the most popular colours: Anthracite, Luminous Blue and Rossa Red with a Metallic Carbon interior, complete with premium full height panels.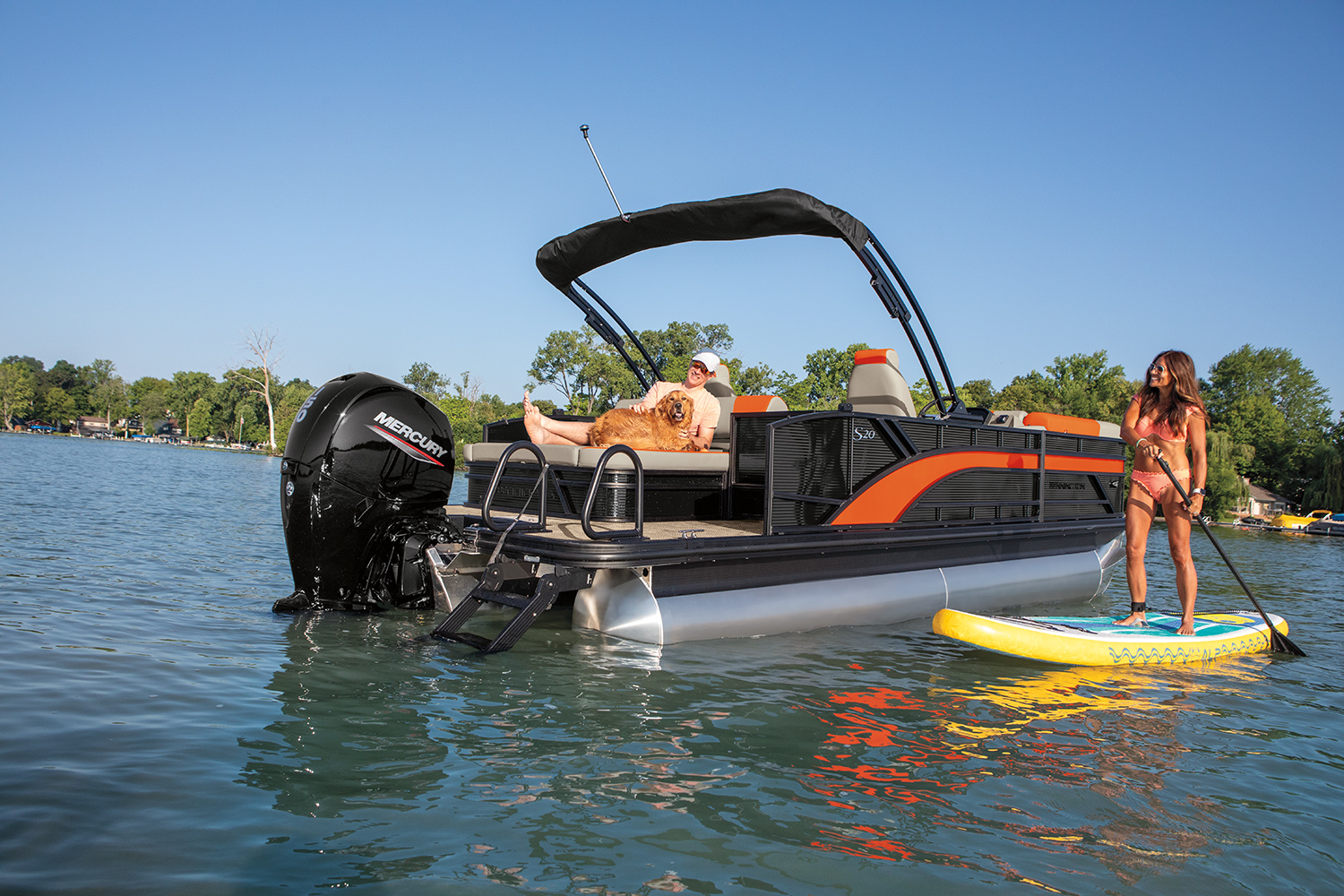 The interior of the SV and S models in beautifully appointed with a rejuvenated bold accent and a Premium Soft Touch and Symtex® vinyl. A unique and edgy interior stitch pattern exclusive to Bennington, really gives the look and feel of the interior to that of exotic vehicles. Consumers will love the versatility in the swing back bench seat, which is available on the 2024 SV and S, and allows for passengers to sit facing forward or aft for their convenience. This was made possible by moving the fuel fill from the rail to a centre fuel fill on the back allowing for even more space in interior ergonomics. Accessible storage, cupholders and various options are available for customization specific to the buyer.
The helm was introduced an entire redesign for 2024, which compliments the modernized overall interior of the boat. With a Symtex® and Soft Touch overseeing the gauges, while the throttle was moved from the top of the helm to the binnacle, which allows easier access and easier control whilst maneuvering. The captain's chair is placed a an additional 8" away from the helm for greater allowance in leg room for those with longer legs or wanting to stretch out. A convenient cell phone holder was introduced to the helm for visibility and convenience for Navionics and music, coupled with a protected pocket with option Qi charger to keep phones out of the elements. A beautiful stainless steering wheel ties in the well-equipped helm area, alongside a locking glove box.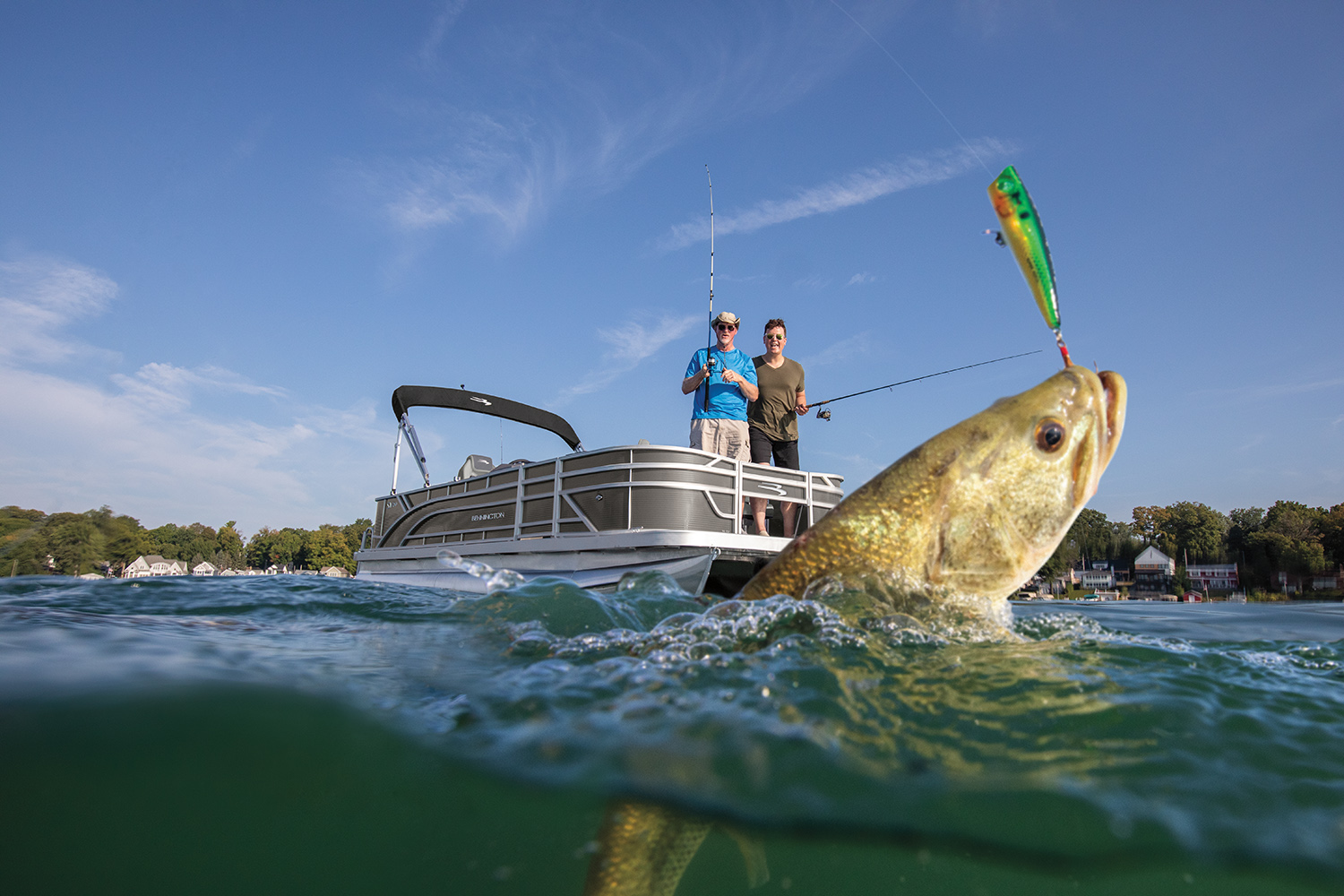 The remainder of the 2024 Bennington models also were upscaled with state-of-the-art upgrades and added touches. Ingenious heating and cooling seat technology for the ultimate comfort, which is of course – the first within the Pontoon class. With the foundation of exotic style, Bennington offers two gorgeous interior colour choices for select models; Rossa Red Simtex® and the Phantom black Soft Touch vinyl with Permacool technology to keep seats cool even in direct sunlight.
The Bennington SV and S pontoon boats are renowned for their exceptional engine performance and maneuverability. Equipped typically standard with a 115 HP, both the SV and S models allowed for impressive acceleration and smooth cruising speeds. Their innovative design, including lifting strakes and advanced hull technology, enhances maneuverability, making them easy to handle and responsive in a variety of water conditions. Whether you're looking for a leisurely cruise, with a touch of Bennington Luxury, the SV and S pontoon boats deliver an enjoyable and agile boating experience for all skill levels of boaters.
The possibilities are endless with Bennington Model Year 2024, with Bennington once again conquering their promise to deliver, going above and pleasantly beyond consumer and dealer expectations. 
Specifications
LOA: 18'-22'

Beam: 8'-8'6"

Weight:   1,896-3,472 lbs

Fuel Capacity: 29 gal

Max HP: 250 HP

Max Persons:  11-15

 

Starting price:  $30,364 USD (188SL w/60 HP)
For more information: www.benningtonmarine.com

2024 Bennington pontoon, Benningston pontoon, Benningston S, Benningston SV, Bennington S Series, best boat, best boat models, best boat trailer, best pontoon, Best Used boat, boat accessories, boat parts, boat reviews, boat tests, boat touring, BOATING Buyer's Guide, boating guide, BOATING in-water Tests, boating lifestyle, Boating Lifestyle Magazine, BOATING rentals, BOATING rentals near me, BOATING traveller, boating vacation, go boating, go boating Canada, how to choose a boat, marine accessories, Model Year 2024, New Boating Products, Power Boating Canada, top boat models, top boats, top cottage boat, top power boat 2024 Bennington pontoon, Benningston pontoon, Benningston S, Benningston SV, Bennington S Series, best boat, best boat models, best boat trailer, best pontoon, Best Used boat, boat accessories, boat parts, boat reviews, boat tests, boat touring, BOATING Buyer's Guide, boating guide, BOATING in-water Tests, boating lifestyle, Boating Lifestyle Magazine, BOATING rentals, BOATING rentals near me, BOATING traveller, boating vacation, go boating, go boating Canada, how to choose a boat, marine accessories, Model Year 2024, New Boating Products, Power Boating Canada, top boat models, top boats, top cottage boat, top power boat