Elegance, performance, and comfort.
Written by Timmy McNamee
Fresh off the hop at the Fort Lauderdale Boat Show the all-new Antares 12 showcased a sleek and modern design synonymous with the Beneteau brand. Its smooth lines and contemporary styling gave it a timeless and sophisticated appearance while docked on display at Bahia Mar. This nearly 43-foot luxury yacht is designed and built by the renowned Groupe Beneteau, known for their commitment to quality and craftsmanship, encompassing luxurious style and presentation. The Antares 12 is a part of Beneteau's Antares line, which is celebrated for its exceptional cruising capabilities, making it a versatile choice for both long distance voyages and weekend getaways. The Antares 12 hull design was crafted with precision, ensuring stability and handling in various water conditions. The overall design is a harmonious blend of form and function, making it a jaw-dropping, head-turning vessel at the shows.
One of the standout features of the Antares 12 is its spacious and ergonomic cockpit. Whether you're enjoying a leisurely cruise with family or hosting a gathering of friends, the cockpit offers ample seating and a dining area. The layout ensures that everyone on board can relax in comfort while taking in the scenic views. With multiple functions to any given seatback, convertible rear rests can be arranged to sit facing forward, aft, or even cater to seating to the dining table. The helm station is ergonomically designed, providing the captain with an array of options and functions to suit preferred controls for ultimate versatility.
Below deck, the interior of the Antares 12 is both luxurious and practical. The use of high-quality materials and attention to detail are evident throughout the cabin, adding an inviting and relaxing aesthetic. The head is bathed in natural light as a compliment from large windows, creating a bright and inviting atmosphere not just below, but all throughout. The well-appointed galley offers all the necessary amenities for preparing meals, making extended journeys on the water enjoyable. The Antares 12 can comfortably accommodate up to six guests in its three cabins. Its berth is a haven of relaxation with a spacious double bed and even an ensuite bathroom. The two guest cabins are equally comfortable, making this yacht suitable to host many aboard overnight. The layout ensures that privacy and comfort are priorities.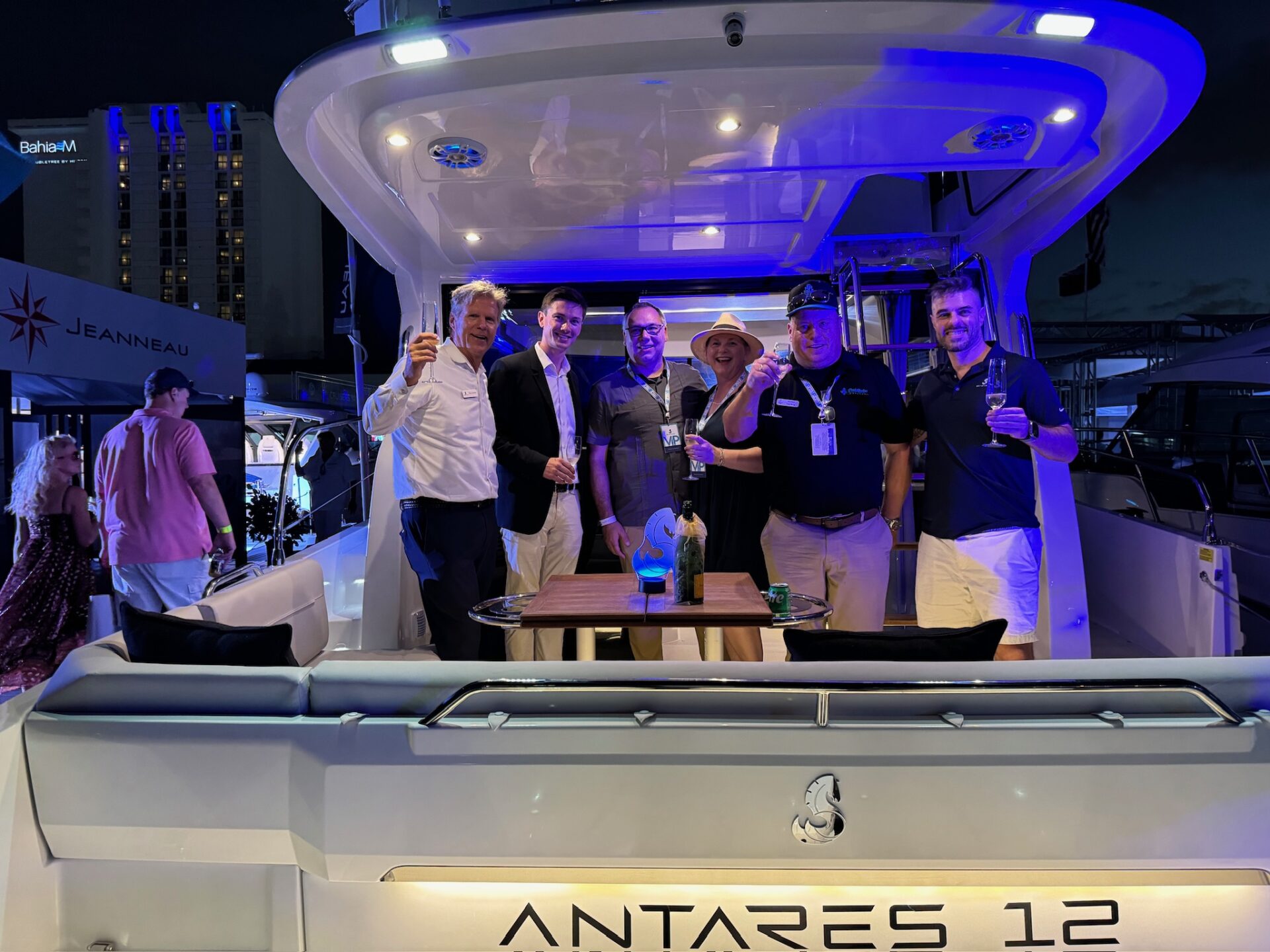 The Antares 12 is available with a range of engine options, all of which provide excellent power and fuel efficiency. Whether you're looking for a leisurely cruise or want to pick up the pace, the Antares 12 can deliver the performance you desire. The well-designed hull and advanced propulsion systems ensure a smooth and stable ride, especially handling effortlessly in rough waters. This yacht also boasts a range of modern technology and features that enhance the overall experience. From advanced navigation systems to cutting-edge entertainment options, the Antares 12 is equipped with everything you need for a comfortable and enjoyable space to call home on the water. Safety features are not overlooked either, with top-of-the-line equipment and systems in place to ensure the well-being of all on board.

The Antares 12 yacht by Beneteau is a remarkable vessel that offers a perfect balance of style, performance, and comfort. Whether you're an experienced sailor or new to yachting, the Antares 12 provides an exceptional platform for exploring all waters and seas. Its elegant design, spacious interior, and impressive performance makes it a top choice for those seeking a luxurious and versatile yacht. With the Antares 12, you're not just investing in a boat; you're embarking on a journey of luxury and adventure.

advanced propulsion systems, Antares 12, Aquatic journeys., Bahia Mar, Beneteau, boat enthusiasts, Boat Show, Boating, Boating Enthusiasts, Canada, Coastal Cruising, coastal elegance, coastal indulgence, Comfort, controls, convertible rear rests, cruising capabilities, dining area, elegance, elegant maritime living, engine options, entertainment options, ergonomic cockpit, experienced sailor, Fort Lauderdale, Fuel Efficiency, galley, Groupe Beneteau, head, helm station, high-end marine experiences, high-end yachting, high-performance boating, high-quality materials, hull design, interior design, long distance voyages, luxurious escapades, luxurious lifestyle, luxurious marine expeditions, luxurious sea journeys, luxury sea travel, luxury yacht, marine adventures, marine craftsmanship, marine engineering, marine innovation., marine sophistication, maritime adventure, maritime aficionados, maritime comfort, maritime elegance, maritime excellence, maritime finesse, maritime indulgence, maritime leisure, maritime luxury, maritime opulence, modern technology, natural light, nautical elegance, nautical opulence, nautical perfection, nautical sophistication, navigation systems, new yachting, oceanic elegance, oceanic luxury, oceanic retreats, oceanic sophistication, oceanic voyages, onboard relaxation, opulent leisure, opulent living, performance, pleasure cruising, power, powerboating, Premium Boating, premium cruising, premium maritime experience, premium maritime lifestyle, premium sea adventures., premium yachting, safety features, sea adventures, Sea Exploration, sea travel, sea voyages, sea-bound indulgence, sea-bound luxury, seating, sophisticated design, sophisticated sea travel, stability, style, Timmy Mcnamee, waterborne escapades, watercraft excellence, weekend getaways, yacht craftsmanship, yacht enthusiasts, yacht lifestyle, yacht perfection, yachting elegance, yachting excellence, yachting perfection advanced propulsion systems, Antares 12, Aquatic journeys., Bahia Mar, Beneteau, boat enthusiasts, Boat Show, Boating, Boating Enthusiasts, Canada, Coastal Cruising, coastal elegance, coastal indulgence, Comfort, controls, convertible rear rests, cruising capabilities, dining area, elegance, elegant maritime living, engine options, entertainment options, ergonomic cockpit, experienced sailor, Fort Lauderdale, Fuel Efficiency, galley, Groupe Beneteau, head, helm station, high-end marine experiences, high-end yachting, high-performance boating, high-quality materials, hull design, interior design, long distance voyages, luxurious escapades, luxurious lifestyle, luxurious marine expeditions, luxurious sea journeys, luxury sea travel, luxury yacht, marine adventures, marine craftsmanship, marine engineering, marine innovation., marine sophistication, maritime adventure, maritime aficionados, maritime comfort, maritime elegance, maritime excellence, maritime finesse, maritime indulgence, maritime leisure, maritime luxury, maritime opulence, modern technology, natural light, nautical elegance, nautical opulence, nautical perfection, nautical sophistication, navigation systems, new yachting, oceanic elegance, oceanic luxury, oceanic retreats, oceanic sophistication, oceanic voyages, onboard relaxation, opulent leisure, opulent living, performance, pleasure cruising, power, powerboating, Premium Boating, premium cruising, premium maritime experience, premium maritime lifestyle, premium sea adventures., premium yachting, safety features, sea adventures, Sea Exploration, sea travel, sea voyages, sea-bound indulgence, sea-bound luxury, seating, sophisticated design, sophisticated sea travel, stability, style, Timmy Mcnamee, waterborne escapades, watercraft excellence, weekend getaways, yacht craftsmanship, yacht enthusiasts, yacht lifestyle, yacht perfection, yachting elegance, yachting excellence, yachting perfection