Affordable fun on the water with Mercury's 300 HP.
By Jarrett Matthews
The Starcraft SVX IO 230 is proof that you don't need to break the bank to enjoy a day out on the water in style and comfort. With a combination of impressive features, a solid warranty, and a price tag that won't leave your wallet empty, the SVX IO 230 stands out as an excellent choice for boating enthusiasts.
The SVX IO 230 boasts a robust construction, featuring a 24 oz. woven roving fiberglass hull with a 6-inch overlap. This durable build is backed by a lifetime hull warranty, providing you with peace of mind for years to come. The reverse chine hull design enhances stability and maneuverability, ensuring a smooth and controlled ride even in less than perfect conditions. Additionally, the stainless-steel rub rail not only adds a touch of elegance but also provides extra protection.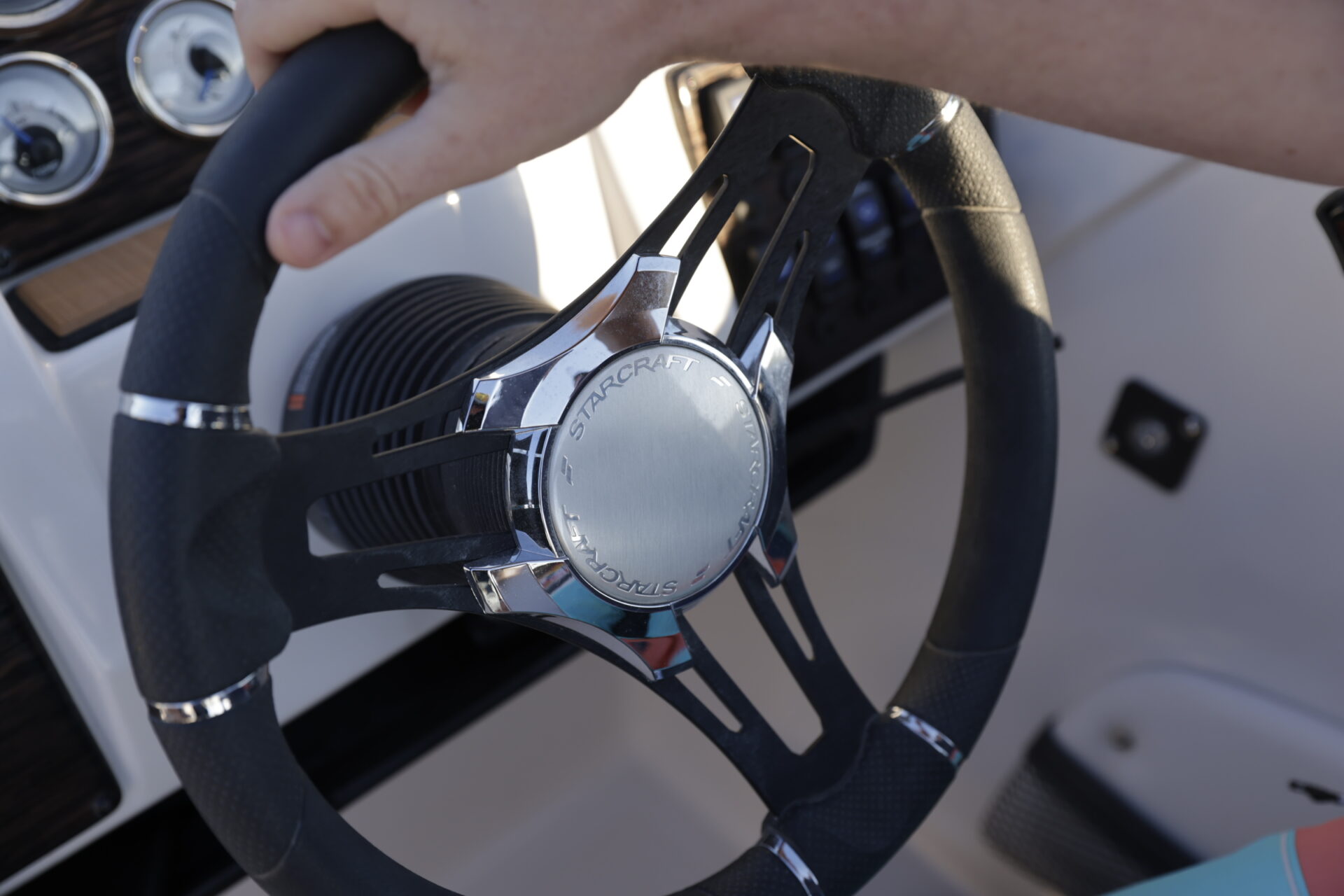 The interior of the SVX IO 230 is designed with both functionality and comfort in mind. The marine-grade UV-stable upholstery vinyl ensures that the boat's interior stays looking sharp, even when exposed to the elements. Seating is plush and well-thought-out, with premium helm seats that include flip-up bolsters for added versatility. With a capacity for up to 14 passengers and a maximum capacity of 1950 lbs, there's plenty of room for family and friends.
Storage is essential on any boat, and the SVX IO 230 doesn't disappoint. It offers in-floor storage, providing a convenient spot to stow away your gear, ensuring a clutter-free deck. For those who enjoy fishing, the optional fishing package includes two fish seats and a live-well.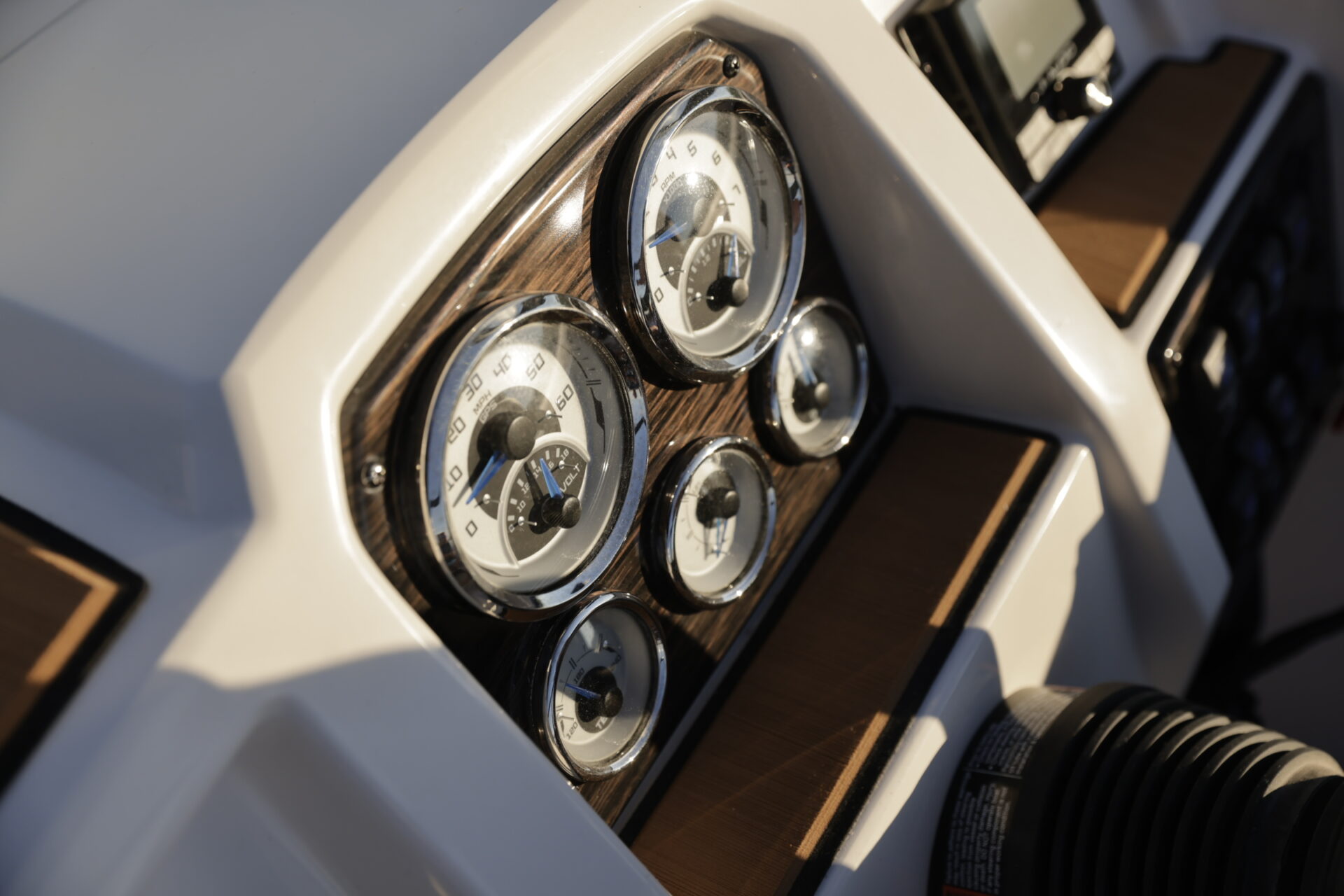 The SVX IO 230 is also equipped with features that enhance your boating entertainment experience. An AM/FM stereo with Bluetooth connectivity allows you to enjoy your favourite tunes while on the water. Courtesy lights ensure safe movement around the boat during low-light conditions. The bimini top provides sun protection, and a drop-down curtain with a porta-potti adds convenience for longer outings.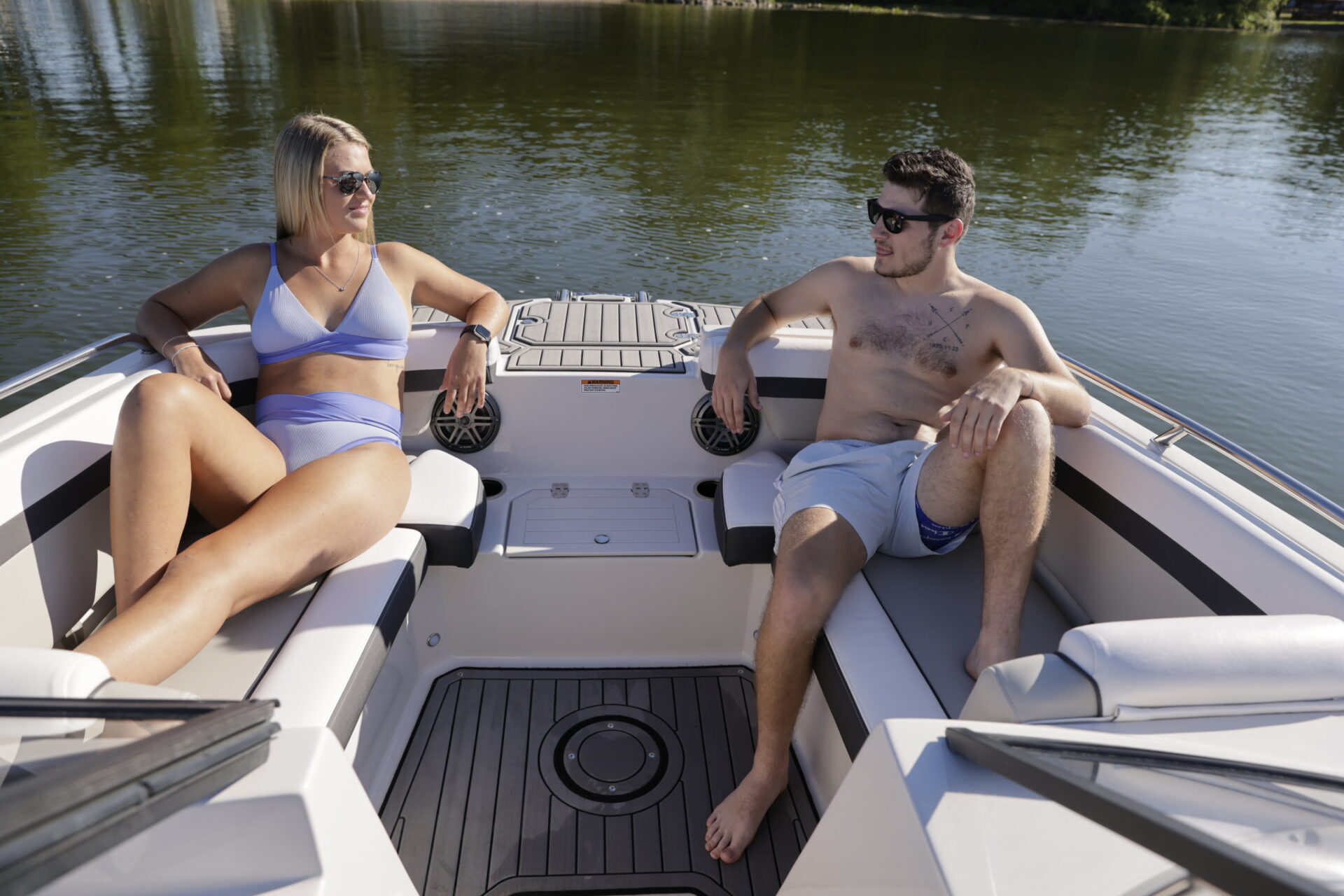 For water sports enthusiasts, the boat includes a ski tow eye and a removable ski pylon, making it easy to enjoy activities like water skiing and wakeboarding. The wake tower adds an extra dimension to your water sports experience, allowing you to take your skills to the next level.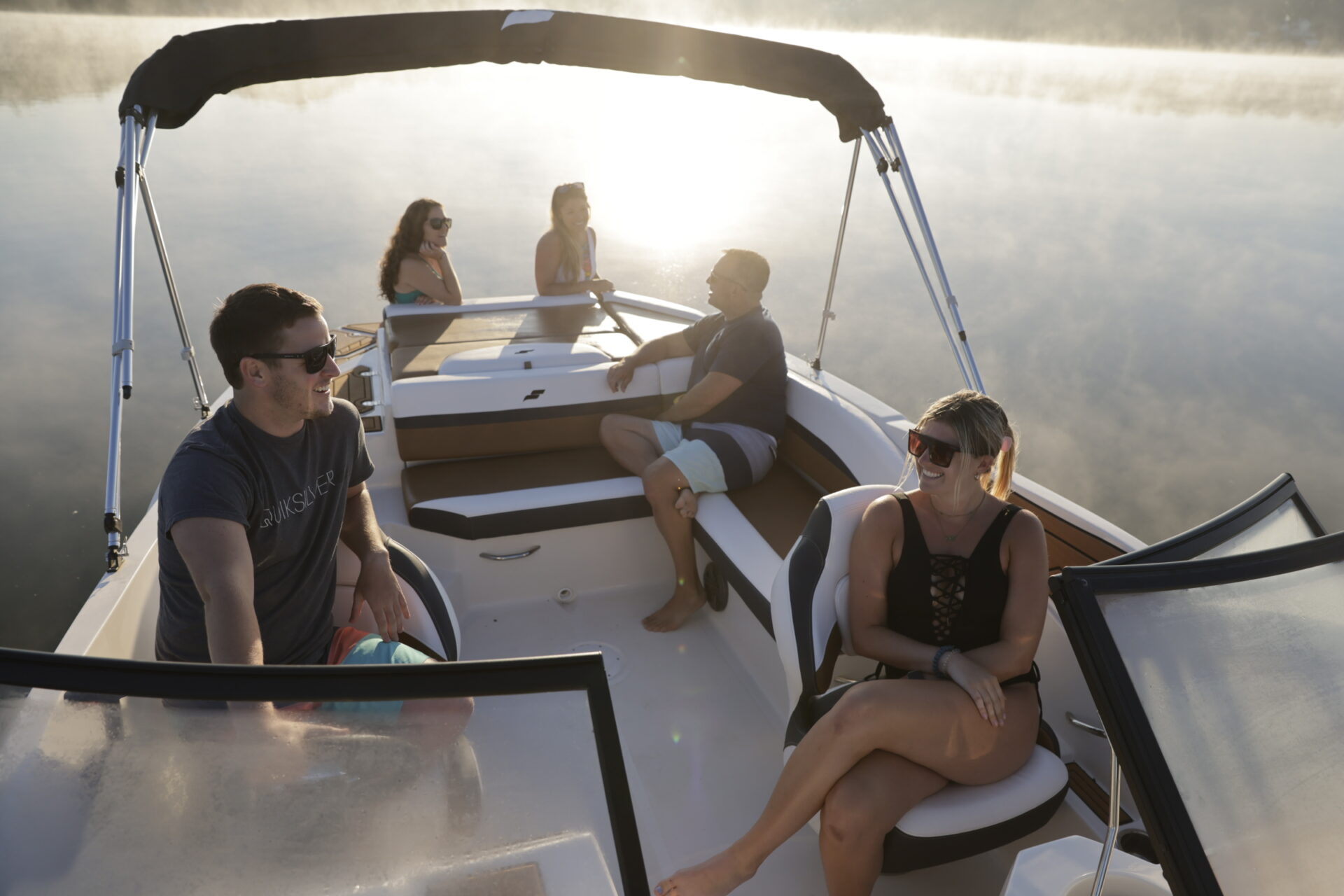 The SVX IO 230 is designed for performance and versatility. With a maximum of 300 HP and a 44-gallon fuel tank, you'll have the power and range to explore the waters to your heart's content. The boat's 14-degree deadrise at the transom ensures a smooth and stable ride, even in choppy conditions. The transom width of 93 inches provides stability and space for water activities, and the bow platform with a boarding ladder makes it easy to take a refreshing dip.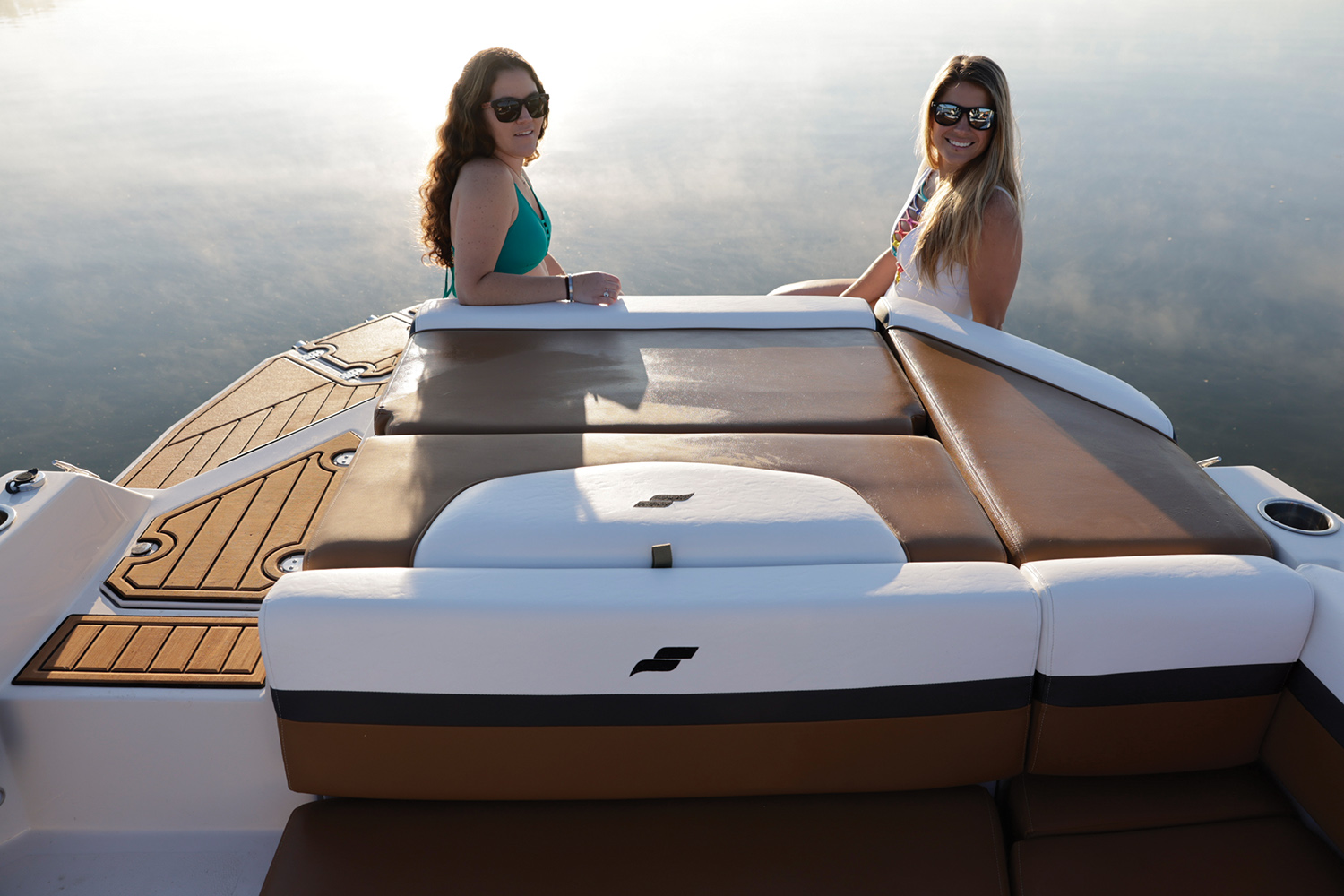 Starcraft's commitment to quality is evident in their industry-leading warranty program. The SVX IO 230 comes with a limited lifetime warranty on the hull and structure, and a six-year warranty on all components, flooring, and upholstery. What sets this warranty apart is its transferability to a second owner, ensuring that your investment retains its value.
Whether you're looking for a versatile vessel for water sports, a comfortable cruiser for family outings, or a platform for fishing adventures, this boat has you covered. With its robust construction, thoughtful design, and industry-leading warranty, the SVX IO 230 is a compelling choice for those seeking fun on the water without a hefty price tag. So, hop aboard, enjoy the open water, and create memories that will last a lifetime with the Starcraft SVX IO 230. 
Specifications
Length: 23' 4"

Beam: 102 inches

Deadrise at Transom: 14 deg

Dry Weight: 3685 lbs

Max Persons: 14/1875 lbs

Interior Depth: 37"

Transom Width: 93"

Max Capacity: 1950 lbs

Max HP: 300 HP

Fuel Capacity: 44 gal

MSRP: $50,133 USD
For more information: www.starcraftmarine.com

2024 Starcraft, 2024 Starcraft SVX IO 230, best boat, best boat models, best boat trailer, best runabout, Best Used boat, boat accessories, boat parts, boat reviews, boat tests, boat touring, BOATING Buyer's Guide, boating guide, BOATING in-water Tests, boating lifestyle, Boating Lifestyle Magazine, BOATING rentals, BOATING rentals near me, BOATING traveller, boating vacation, go boating, go boating Canada, how to choose a boat, marine accessories, New Boating Products, Power Boating Canada, Starcraft, starcraft marine, Starcraft SVX IO 230, SVX IO 230, top boat models, top boats, top cottage boat, top power boat 2024 Starcraft, 2024 Starcraft SVX IO 230, best boat, best boat models, best boat trailer, best runabout, Best Used boat, boat accessories, boat parts, boat reviews, boat tests, boat touring, BOATING Buyer's Guide, boating guide, BOATING in-water Tests, boating lifestyle, Boating Lifestyle Magazine, BOATING rentals, BOATING rentals near me, BOATING traveller, boating vacation, go boating, go boating Canada, how to choose a boat, marine accessories, New Boating Products, Power Boating Canada, Starcraft, starcraft marine, Starcraft SVX IO 230, SVX IO 230, top boat models, top boats, top cottage boat, top power boat