A sporty Pontoon.
By Walt Jennings
When I first received an assignment to review the new Sea Doo Switch I asked, "what is it?" and was I surprised when I saw that it was a pontoon boat. Sea Doo's new Switch is not only a major deviation from their traditional line of mono hull personal watercrafts, but it is truly one of the boating industry's most innovative and revolutionary pontoons on the market today. 
Available in 3 different lengths starting with a 13-footer, up to a 21 ft foot model, this new line of Sea Doo Switches are not your typical pontoon boat.
The smallest Switch, called the "Compact" is 13 feet long and 7 feet 8 inches wide, and can carry up to 5 passengers, while larger models can carry up to 9 passengers.
All of the Switch models are powered by Sea Doo's proven Rotax jet propulsion engine, and the 13 ft Compact model can reach a top speed of 45 kmph with its standard 100 hp engine. A larger 170 hp Rotax engine is an available option in the Compact.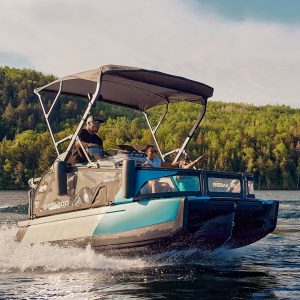 With PWC-like handle-bar steering and a tri pontoon hull manufactured of a hard Polytec material (a glass fiber reinforced polypropylene material) like their personal watercraft's, all of the new Sea Doo Switch's react to steering changes much like a traditional mono hull Sea Doo. Slowing and breaking is also much like a traditional Sea Doo personal watercraft as the Switch uses Sea Doo's iBR intelligent braking and reverse feature that also makes docking the Switch much easier. 
While using the handle-bar steering, the operator has the option of using the throttles cruise control function which is handy on long runs, as well as trimming the jet drive down while coming up on plane. Water sports such as pulling a skier of wake boarders is simple on the 13 ft Compact.
The seating areas on all of the Switches are modular, allowing for simple changes of seating configurations, and while a folding Bimini top is standard on larger switch models, it is optional for the 13 ft Compact model.
The MSRP basic price of $21,961 includes a black powder coated single axle trailer.
Specifications:

LOA: 13 ft
Beam: 7 ft 8 in
Hull Weight: 1,738 lbs
Log Length: N/A
Tube Diameter: N/A
Draft: 13.6 in
Fuel Capacity: 29 gal
Max Horsepower: 170 hp
Max Persons: 5

MSRP: $22,499 CAD

For more information: www.sea-doo.com

Adventure, best boat, best boat models, best boat trailer, best center console, best centre console, best performance boats, best pontoon, best runabout, Best Used boat, boat, boat accessories, boat life, boat parts, boat reviews, boat tests, boat touring, boater, Boating, boating adventures, BOATING Buyer's Guide, boating daily, boating fun, boating guide, BOATING in-water Tests, boating life, boating lifestyle, Boating Lifestyle Magazine, BOATING rentals, BOATING rentals near me, boating season, BOATING traveller, boating vacation, boating with family, boating with friends, Boats, boats available in Canada, buying a boat, buying a new boat, discover boating, experience, go boating, go boating Canada, how to choose a boat, lets go boating, luxury, luxury boat, luxury boating, luxury boats, marine, marine accessories, marine life, maritime, nautical, new boat, New Boating Products, new boats for 2023, ocean, on the water, performance boats, Pontoon, Power Boating Canada, Power Boating Canada Magazine, power boating for dummies, Power boats brands, powerboat, powerboating, powerboats, runabout, safe boating, safety, sea, seadoo, seadoo switch, speedboating, speedboats, Tender boat, top boat models, top boats, top cottage boat, top cruiser, top power boat, travel, us power boating, Watercraft, watercrafts, what is power boating, what power boats Adventure, best boat, best boat models, best boat trailer, best center console, best centre console, best performance boats, best pontoon, best runabout, Best Used boat, boat, boat accessories, boat life, boat parts, boat reviews, boat tests, boat touring, boater, Boating, boating adventures, BOATING Buyer's Guide, boating daily, boating fun, boating guide, BOATING in-water Tests, boating life, boating lifestyle, Boating Lifestyle Magazine, BOATING rentals, BOATING rentals near me, boating season, BOATING traveller, boating vacation, boating with family, boating with friends, Boats, boats available in Canada, buying a boat, buying a new boat, discover boating, experience, go boating, go boating Canada, how to choose a boat, lets go boating, luxury, luxury boat, luxury boating, luxury boats, marine, marine accessories, marine life, maritime, nautical, new boat, New Boating Products, new boats for 2023, ocean, on the water, performance boats, Pontoon, Power Boating Canada, Power Boating Canada Magazine, power boating for dummies, Power boats brands, powerboat, powerboating, powerboats, runabout, safe boating, safety, sea, seadoo, seadoo switch, speedboating, speedboats, Tender boat, top boat models, top boats, top cottage boat, top cruiser, top power boat, travel, us power boating, Watercraft, watercrafts, what is power boating, what power boats