Celebrating their 35th anniversary this year as North America's leading log home manufacturer, award winning 1867 Confederation Log & Timber Homes have combined quality, unique designs and floor plans, and engineered innovations to help thousands around the world turn their dreams of log home living, into a reality!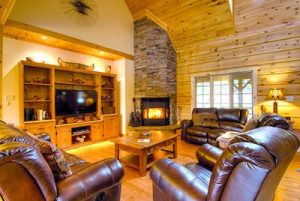 Owner Rick Kinsman, who has been there since day one, and has watched the family business grow to a household name and a recognized brand within the Canadian log and timber homes industry, heads the company, ably assisted by his wife Bev and sons, Andy and Rich. An engineer by trade, Rick notes that it was this background that allowed him to be more 'hands on' and enable him to precisely design, cut and build Confederation's first three homes, back in 1980. He is especially proud of the company's longevity (35 years) which in his eyes, is a milestone in any business this day and age and he attributes the company's long standing reputation of providing quality homes at the price quoted, for this triple decade plus five year status!
It is probably safe to say that over the thirty-five years of designing, cutting and assembling homes for Confederation, Rick has witnessed many artistic and world-class designs, but does he remember the first one?
"Actually, I do", he cites. " it was a small building here in Bobcaygeon that we pretty much used as a trial to see how the building and fitting process worked. Once we were satisfied, we built our first commercial cabin in Fenelon Falls." Interestingly, Rick's 'prints' were on this initial project, from start to finish as not only did he draw up the plans for the shop, and load up the truck, but he also was pressed into service to make the drive to Fenelon Falls, for at the time, he was the only one with a drivers license! And after arriving at the final destination, Rick ended up staying, putting on his 'builder's cap' and helped as he says, 'put some logs up'!
And after 35 years, has their business changed? "It has", he says, " our industry has pretty much demanded us to constantly 'stay ahead of the curve' in product advancements, quality and design. We are always looking to improve, especially in the ways the logs fit. Also in the shop, where before you had to measure everything by hand, it is now all computerized. Interestingly, one significant change has been in delivery! We used to hand balm the logs off the truck, where now we have a truck with a crane on it, which makes things a little easier!"
The company only uses Ontario Northeastern White Pine trees for their projects, and Rick noted that the province has a very good reputation of supplying high quality 'White Pine'. '"You can find White Pine in other regions", he says, " but we have found Ontario to provide the best!" In addition, the company has 'bought into' Ontario's highly respected reforestation program, where Confederation plants more 'White Pines' then what they use during the year. This responsible and environmentally friendly attitude will virtually ensure a long and successful future for the company, but more importantly, the timber industry.
Is there one Confederation project that Rick has fond memories of, notwithstanding the obvious of the very first one 35 years ago?
"Probably one that sticks out initially, was a large project we developed for a ski-resort community in Japan," he says.
"I believe it was 20 to 25 buildings which were a combination of triplexes and duplexes, so they were obviously pretty good size buildings. We shipped the materials over to Japan and used their builders, but had some of our own people work alongside theirs at the very beginning of the project, more so to show them how to fit the logs together." And how did the Japanese ski resort people find out about an Ontario company an 'ocean away'? "The Internet is a wonderful thing!" says Rick referring to 1867 Confederation Log & Timber Frame's active web site.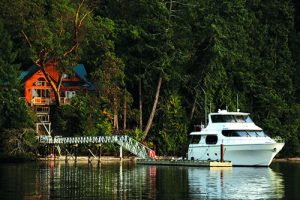 Another project, a little closer to home with a unique 'story', is a 'stilted' Confederation cottage built on Galiano Island, a picturesque piece of land that lies between Vancouver Island and British Columbia's Lower Mainland, considered by many to be an 'island paradise'. Not only does Galiano Island come equipped with diverse wildlife, migrating birds, multiple artists' studios and galleries, a marina, 9-hole golf course, but also off its shores, orca whales, seals, otters, sea lions and many other varieties of sea life reside. The 'utopian lifestyle' Galiano Island offered was just too much to resist for one former Ontario resident, who contracted Confederation to build the cottage ironically out of 'Ontario' White Cedar! "He always liked the lighter, brighter colours of Ontario wood", adds Rick, who noted that even though B.C. is also a province known for their timber, including White Cedar, they are better known for their Red Cedar variety.

Including Japan, over the years Confederation has shipped custom structures to Spain, Germany, and France, and is currently, at the time of writing, in talks with a potential dealership in Africa. "It's exciting," says Rick. 'Every home has it's own story to tell, and special characteristic, that makes it memorable". Actually, to clarify, when Confederation 'ships' to these countries, it is the materials that are delivered, to be assembled on arrival by local crews, with a Confederation Master Craftsman (usually Rick), onsite. Again, much like the Japanese resort project, Rick credits the Internet for the interest abroad, and the fact that the company now has dealers in 33 states in the US.

And what makes them different from the competition? "We always like to bill ourselves as Canada's leader," says Rick, " as we have continuously since day one, pioneered new ideas, designs and techniques, and even now we are working on some new products. We are always keeping our ear to the ground and our eyes open to see what our customers want. We are always striving to do things better!"

Recently, the company 'pioneered' the idea of running a series of educational seminars at their Bobcaygeon office for prospective Confederation customers.

"They (the seminars) are a great way to get plenty of building information and preliminary and secondary questions answered as well. We offer a complete presentation where we go over foundations, contractors, designs, budgets, finishing and a question and answer session, then we go through a full tour of our head office, including the design center, our production facility where you will see how our homes are built step by step, and an example of our 3D tour. We also take people through our production facility, where we show them the process of how our homes are built, and how we do more operations per log than any other manufacturer. Finally, we end up at our model home, where you see an example of the finished product. The seminars are a great place for people to start, as not only do we provide answers to their major questions but they will leave knowing whether a log home will fit into their budget and lifestyle!"

The company has seven seminars planned for 2014, and these dates are available on the Confederation web site http://www.confederationloghomes.com. A small fee is charged for the day's events, which in turn is donated to a local charity, the Bobcaygeon Food Bank. 

Alberta BOATING, BC BOATING, Boating, boating adventures, BOATING destinations, BOATING facilities, boating in Canada, BOATING in New Brunswick, Boating in Nova Scotia, Boating in PEI, Boating in Quebec, BOATING in Saskatchewan, boating lifestyle, BOATING marinas, boating ontario, Docks, Manitoba BOATING, Marinas, Maritime boating destinations, ontario boating, power boating, Power Boating destinations, where to go boating Alberta BOATING, BC BOATING, Boating, boating adventures, BOATING destinations, BOATING facilities, boating in Canada, BOATING in New Brunswick, Boating in Nova Scotia, Boating in PEI, Boating in Quebec, BOATING in Saskatchewan, boating lifestyle, BOATING marinas, boating ontario, Docks, Manitoba BOATING, Marinas, Maritime boating destinations, ontario boating, power boating, Power Boating destinations, where to go boating