Sylvan impresses time and time again, this time with a unique layout and expert styling.
By Capt. Christopher Kourtakis
Head turning! Innovative Floor plans! Envious!  These are all words that come to mind when I review any one of the many Sylvan pontoon models. However, the L-3 DLZ Bar model and layout almost makes you speechless when you see all the features, luxury and quality craftsmanship designed into this model. 
With so many different seating configurations and the NMMA's innovation award winner for unique layout and design you can't go wrong with this model.  Whether it is the flip the bar down for a comfortable dual rear-facing lounge or flip up and enjoy a perfect entertaining area with four bar stools this model has something for everyone.
It is also the perfect boat for seating each and everyone on board. In less than 60 seconds, you can remove all the bar stools and convert the bar area into a massive sun pad to the aft of the boat.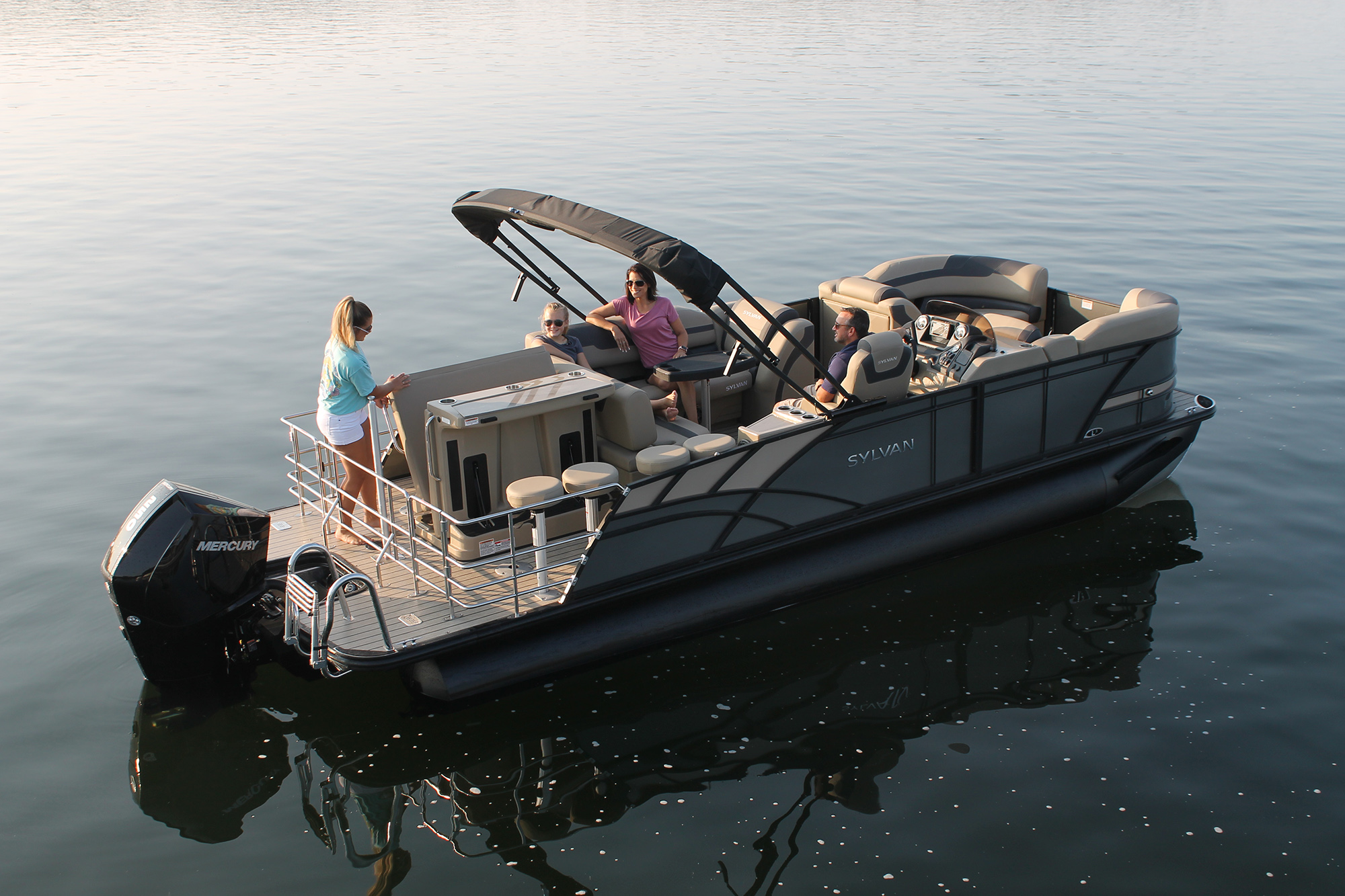 The L-shaped seating directly port of the helm is ideal for four to five of your guests to relax around the removable table. One very cool feature are the back rests.
They are raised to provide additional comfort and luxury for your crew. The bow seating configuration makes you feel right at home and has higher than normal backrests that provides a wonderful combination and seating option for all those on board.
The helm matches the pontoon's luxury and high-end styling. Everything you will need is in easy reach, with a sleek smoked windscreen, chrome analog gauges, vinyl wrapped steering wheel with adjustability, your Kicker sound system at your fingertips, and all the toggle switches laid out perfectly.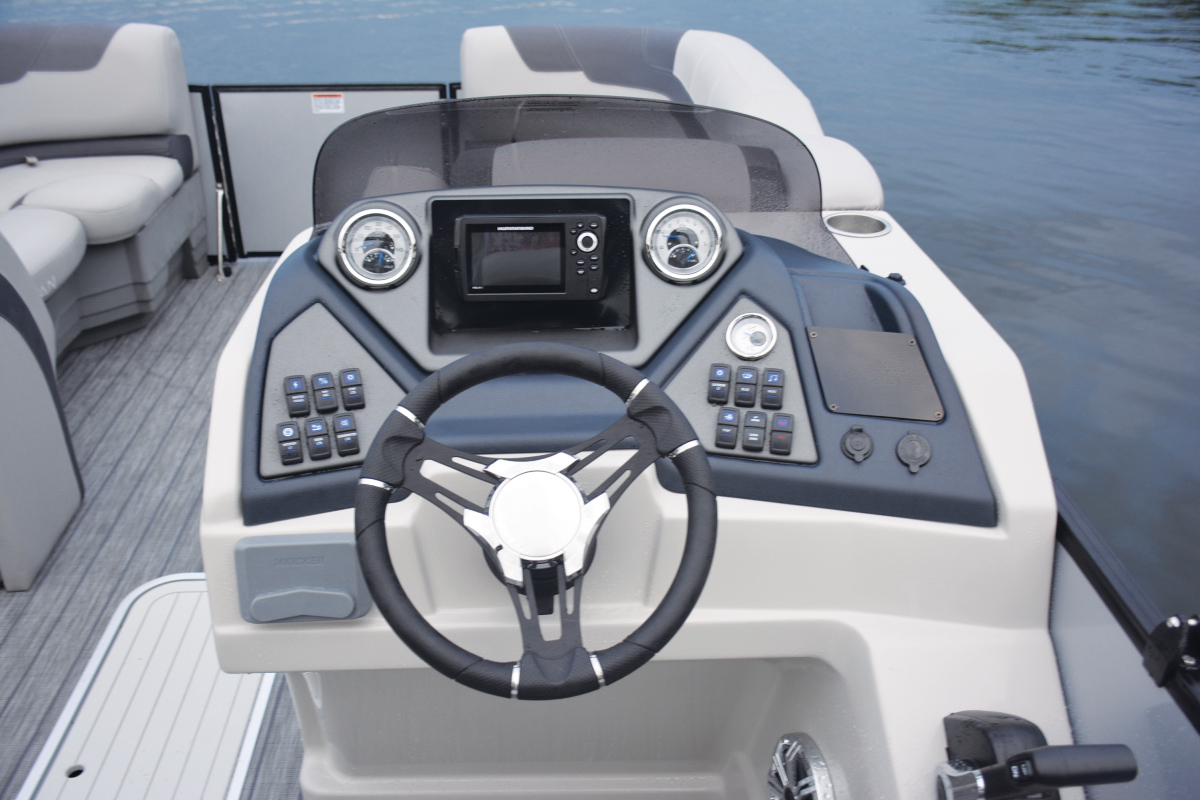 One thing that really impressed me about this boat is the abundant amount of cup holders that can be found throughout the entire boat.  This may seem stupid, but until you are on the water and cannot find a place to put your drink, you can't understand.  There are at least two cup holders within reach of every seat on the boat. 
I also absolutely love how Sylvan has blended in all the stainless steel into the boat.  Especially the back rails that surround the swim platform.  It provides an open-air feeling, while still maintaining comfort and security when on the platform.
The four step ladder blends in effortlessly on the starboard side with the robust ski tow bar that looks like a tow bar that can pull pretty much anything and everything.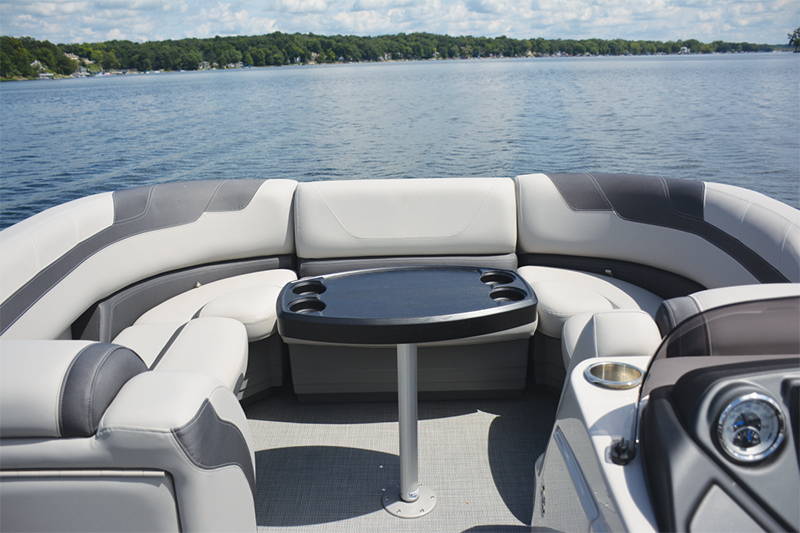 To tie it all together, option of vinyl, Sea Weave, or Teak Weave flooring enhances the comfort built into this boat. Sylvan has left nothing for the imagination and provides you with everything that you would need for a great day on the water.    
Specifications
Third Tube Max Horsepower: 300 hp
Max Persons: 12
Beam: 8' 5"
Dry Weight: 2100 lbs
Fuel Capacity: 38 gal
Length: 23'10"
Tube Diameter: 25 in
MSRP Approx.: $34,199 US

2021 boat model, 2021 pontoon, best boat, best boat models, best boat trailer, best power boat, Best Used, boat accessories, boat buyers guide, boat guide, boat lifestyle, boat Lifestyle Magazine, boat parts, boat rentals, boat rentals near me, boat reviews, boat touring, boat traveler, boat vacation, Boating, boating Canada, boating lifestyle, buying a boat, buying a new boat, buying a pontoon, go boating, go boating Canada, how to choose a boat, marina accessories, new boat, new boat products, new boats for 2022, New Pontoon, new pontoons, Pontoon, top boat models, top boats, top power boats 2021 boat model, 2021 pontoon, best boat, best boat models, best boat trailer, best power boat, Best Used, boat accessories, boat buyers guide, boat guide, boat lifestyle, boat Lifestyle Magazine, boat parts, boat rentals, boat rentals near me, boat reviews, boat touring, boat traveler, boat vacation, Boating, boating Canada, boating lifestyle, buying a boat, buying a new boat, buying a pontoon, go boating, go boating Canada, how to choose a boat, marina accessories, new boat, new boat products, new boats for 2022, New Pontoon, new pontoons, Pontoon, top boat models, top boats, top power boats