Yamaha's 255 XD is incredibly versatile and is adored by water-sports enthusiasts.
Written by Timmy McNamee
Let's talk about jet power! With twin 1.8L SVHO, the Yamaha 255XD kicks out a whopping 500 HP with its supercharged engines. The power, performance, and ultimate versatility of the Yamaha 255XD makes this jet boat model one of the most well-rounded in the industry.
The primary focus of the 255XD brings you to the helm. With Yamaha's gorgeous 12.3" Connext touchscreen, users find simplicity in achieving all functions of Maps, Speed Control, and Surf System settings.
Yamaha iDrive allows for effortless docking and maneuverability with a paddle system located behind the steering column. Press the right paddle for forward momentum, and the left for reverse, all while keeping the directional steering.
Arguably the most versatile and enhanced JetDrive surf system, Wakebooster allows for triple ballast tanks to be filled at the touch of the button as well as the capability to fine tune and adjust your waves and wakes all through the Connext touch screen.
Exclusive to Yamaha, the transom stadium seating area proves to be one of the biggest selling points for Yamaha. The modernized facing lounge seats with sliding seat backs allow for additional leg room whilst lounging facing aft.
A walk-through transom completes the rear of the 255XD allowing for easy access to and from the cockpit. Dual functional features are a signature of Yamaha boats, and a pleasant surprise throughout the boat. A one-of-a-kind entertainment centre includes a flip up table as an extension of the starboard passenger's seat and includes storage space underneath for added convenience. Convert the rear lounge seat back into bench seating for optional room for plenty of passengers.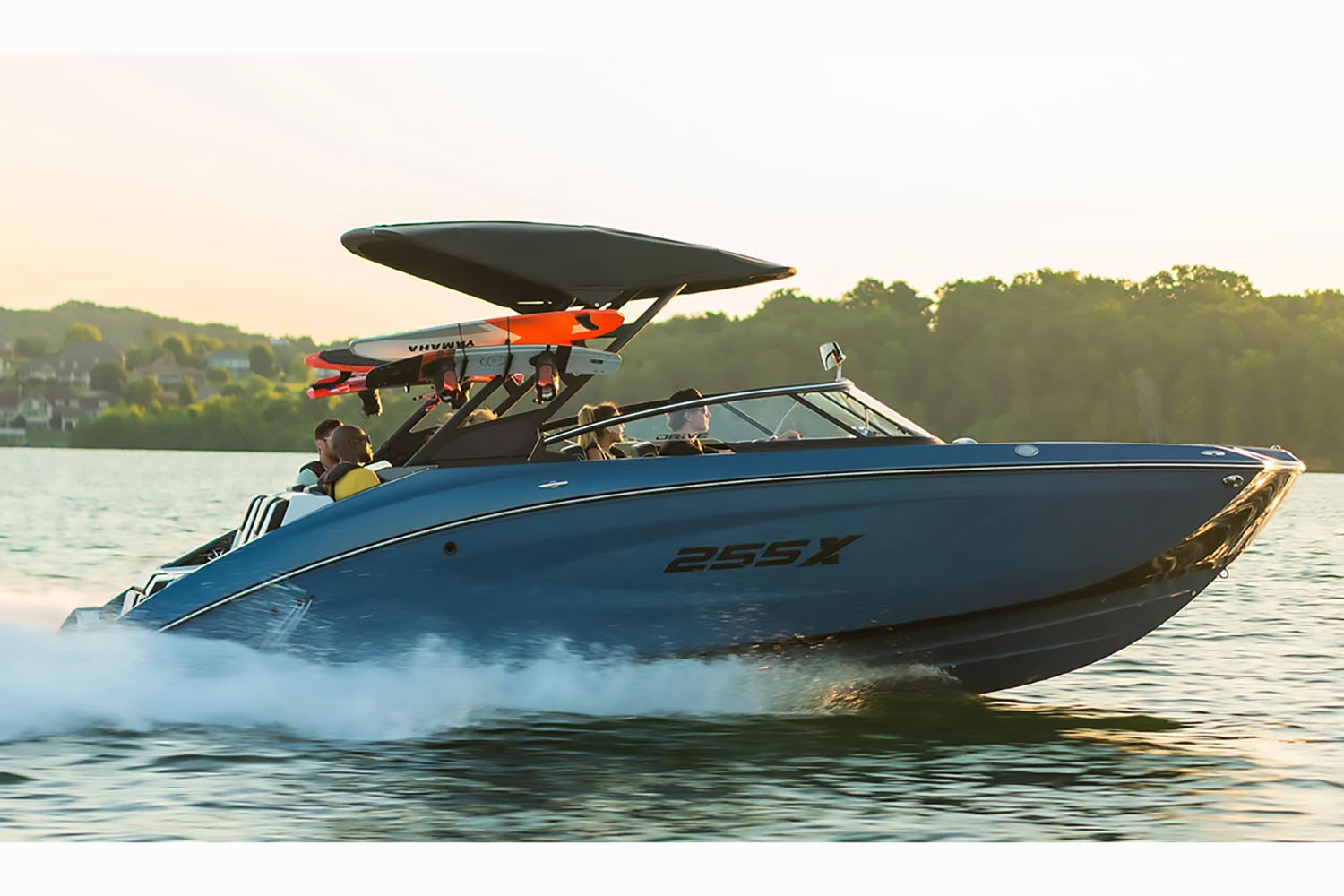 The bow area includes ergonomics for leg room and plenty of bodies, with a standard bow filler cushion adds to the versatility to the Yamaha 255XD, transforming into an extra-large sun pad.

To the consumer looking for convenience in shallow depths, while having a boat that can do it all, the Yamaha 255XD will not disappoint. With ultimate functionality and killer surf waves, water-sports on the water just got a whole lot easier and better!

Specs:

LOA: 24'6

BEAM: 102"

CAPACITY: 12 Persons

ENGINE: Twin 1.8L SVHO

INTEGRATED BALLAST SYSTEM: 1,600 lbs

DRY WEIGHT: 4,740 lbs

MSRP: $123,000 CAD

For more information on this model, please visit www.YamahaBoats.com.

2023 wakesurf boats, 255 XD, best wakeboats, connext, jetdrive, new boats, new wake surf, wakeboat, Wakesurf, water sports, Yamaha 2023 wakesurf boats, 255 XD, best wakeboats, connext, jetdrive, new boats, new wake surf, wakeboat, Wakesurf, water sports, Yamaha