If you haven't heard of Jenny Keisu and the Eelex 8000 yacht yet, hold on to your hat, because she is driving the future of smart boating at X Shore, a Swedish boat company founded by Konrad Bergström.
Written by Gordon Cruise. 
The Eelex 8000 has been gaining popularity due to its innovative design and eco-friendly features. One of the most notable features of the Eelex 8000 is its electric propulsion system. In terms of performance, the Eelex 8000 is no slouch. It has impressive torque: zero to boat plane in 3.2 seconds, and top speed in just over eight seconds. With a top speed of 30 knots and a cruising range of up to 100 nautical miles, this boat can easily keep up with other vessels on the water.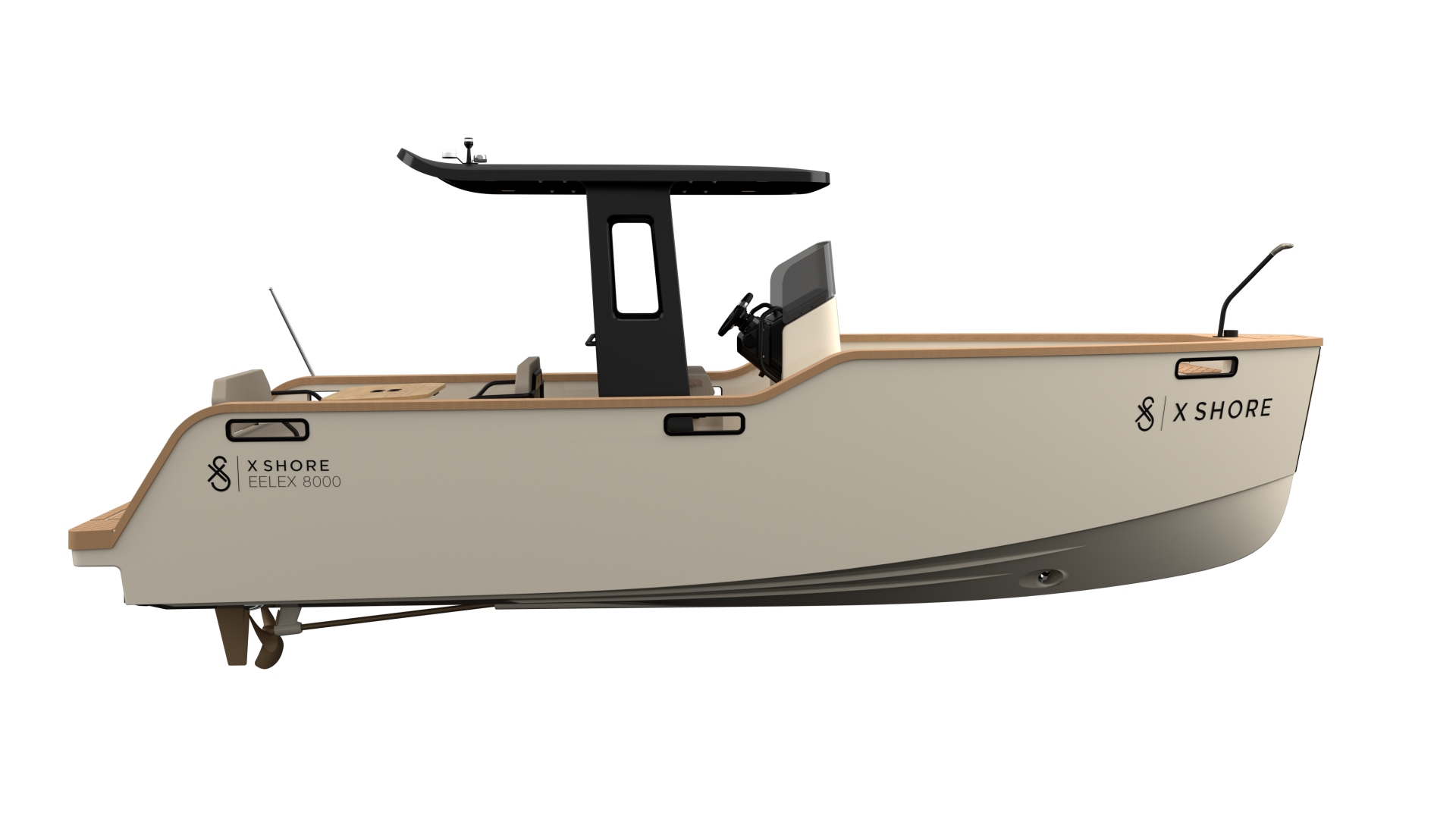 Another impressive feature of the Eelex 8000 is its design. With its sharp angles and sleek curves, this boat is a true work of art. The exterior is made from lightweight and durable carbon fiber, while the interior is filled with high-end materials and finishes. The attention to detail is evident throughout the boat, from the plush seating to the intuitive control panel. Up to ten guests can spend a comfortable day on the water.

The Eelex 8000 comes with a five-blade propeller, which reduces vibration while under way. The hard chine hull with two running strakes and the plumb bow design help the boat slice through waves rather than running into them, thus reducing pitch to a minimum.

One of the standout features of the Eelex 8000 is its advanced navigation system that includes a range of high-tech sensors and displays. The boat comes with a forward-looking sonar system that can detect obstacles in the water ahead and provide real-time feedback to the operator. The sonar system is integrated with a high-resolution display that provides a clear view of the surrounding environment.

The display can also be used to control various systems on the boat, including the lighting, audio, and climate control. This includes a high-water alarm that can detect if water levels in the bilge are rising, as well as a carbon monoxide detector that can detect dangerous levels of CO in the cabin. It comes with a fire suppression system as well, and for the ultimate in safety features, there is the X Shore captain's watch that can be used as a remote key to unlock the boat. It also works as a "person overboard" detector and will stop the boat if the wearer falls overboard.

Modular furniture and equipment is mounted on deck rails, providing numerous configuration possibilities, with 10 or more layouts adapted to every need—from fishing to socializing. The Eelex also uses highly durable cork because it is a more sustainable and comfortable option to teak on places such as deck and steps. The full carbon fibre roof structure means reduced weight, and has premium speakers from Bowers and Wilkins mounted for a superior music experience. A tow hook is mounted high to maximize your watersports fun.

The boat comes equipped with ample storage space, including a large locker in the bow that can be used to store gear and equipment. There is also a built-in cooler and a sink with a freshwater system, making it easy to keep drinks and snacks on hand while out on the water.

There are two 12-volt house batteries. Once the batteries get down to 10 percent of their charge, the Eelex 8000 automatically switches to "range extender" mode, providing you with a range of approximately 10 miles to return to port. Fast charge takes an hour or two, while the slow charge takes from 4 to 10 hours. Juice Booster 2 is X Shore's mobile charging station with a power output of up to 22 kW. It supplies charging in the smallest and safest mobile format and is suitable for use in negative 25 degrees celcius to forty five degree weather. It can plug into almost any power outlet with its adapters.

With its sleek and stylish appearance, available in three earth-inspired colours that blend in with nature, the Eelex 8000 offers a unique boating experience that is both luxurious and environmentally responsible. It looks like X Shore has hit the mark with this 100 percent electric craft!

For more information about this model, please visit https://xshore.com/us/eelex-8000/.

SPECS:

Length: 8 m/26.2 ft

Width: 2.6 m/8.5 ft

Depth: 0.8 m/2.6 ft

Weight: 2,600 kg/5,730 lb

Acceleration: 0–20knots in 4.2 Seconds

Electrical Motor: 170 kW

Top Speed: 30+ Knots

Cruising speed: 20 Knots

Battery Capacity: 126 kWh

Range: 100 NM at lower speeds

Charging: 1h 10 min fast charging

8000, Boats, eco friendly, Eelex, electric, green boats, new boats, new electric boats, Sweden, XShore 8000, Boats, eco friendly, Eelex, electric, green boats, new boats, new electric boats, Sweden, XShore