Reputation for Quality.
By: Tim Banse
Veranda's V One Series, available in a single size (a 25′ deck), boasts sculpted lines guaranteed to take your breath away. The fiberglass body painted Pearl White with Black Metallic Accent complements geometrically patterned upholstery. More than a pretty face, she's got serious bones. An all-aluminum, all-welded, interlocking floor attaches to a heavy-duty 3/16″ transom.
Without plywood, her deck cannot rot or mold. The extruded aluminum plank's hollow chambers reduce weight and aerate the deck, cooling the surface on a hot summer day. Suffice it to say, the unibody's solid foundation eliminates flex and noise.
With any pontoon boat, seating, carpeting, and perimeter fencing make a big difference in customer satisfaction. In that regard, Veranda boasts a solid reputation for quality. An Equinox Power Arch Tower is standard, replete with Tow Point and Integrated Bimini. Anyone contemplating trailering to the launch ramp would do well to consider the optional folding tower that reduces air draft. Further on the topic of towing, a noteworthy factory option is the heavy-duty trailer aluminum frame riding on a tandem axle.
A tritoon versus a pontoon is a wise choice on less than calm waters. V One 25's three large 27″ diameter pontoons cut through the choppy water more efficiently, lending a smoother and more pleasant ride. Add a powerful engine to the equation, and the comfort level raises higher. The increased horsepower package adds thicker tube walls, full-length lifting strakes, an integrated Wave Shield, side keels, a VLP performance motor pod, as well as an HD transom, and hydraulic steering.
This myriad of features combines to increase lift, enhance handling, reduce water resistance, and bump top speed and fuel efficiency. Storage space is abundant, beneath bench seats, in front of the console. The center toon's below deck storage is good for skies and other bulky items.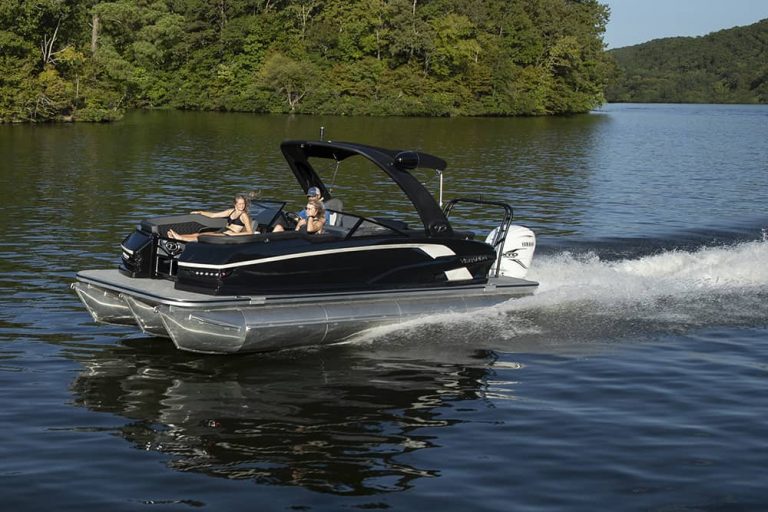 Specifications:
LOA                             27'1

Beam                           8'6″

Hull weight                  4,200 lb

Log length                   N/A

Tube Diameter            3/ 27″

Draft                            N/A

Fuel capacity               155 gal

Max horsepower        425 hp

Max persons               14

MSRP                           $215,804 CAD

Adventure, best boat, best boat models, best boat trailer, best power boat, boat, boat accessories, boat buyers guide, boat guide, boat life, boat lifestyle, boat Lifestyle Magazine, boat parts, boat rentals, boat rentals near me, boat reviews, boat touring, boat traveler, boat vacation, boater, Boating, boating adventures, boating Canada, boating daily, boating fun, boating life, boating season, boating with family, boating with friends, Boats, discover boating, experience, go boating, go boating Canada, how to choose a boat, lets go boating, luxury, luxury boat, luxury boating, luxury boats, marina accessories, marine, marine life, maritime, nautical, new boat products, new boats for 2022, ocean, on the water, Pontoon, pontoons, powerboat, powerboating, powerboats, safe boating, safety, sea, speedboating, speedboats, top boat models, top boats, top power boats, travel, Tritoon, v one 25 tritoon, veranda, veranda pontoon, Watercraft, watercrafts Adventure, best boat, best boat models, best boat trailer, best power boat, boat, boat accessories, boat buyers guide, boat guide, boat life, boat lifestyle, boat Lifestyle Magazine, boat parts, boat rentals, boat rentals near me, boat reviews, boat touring, boat traveler, boat vacation, boater, Boating, boating adventures, boating Canada, boating daily, boating fun, boating life, boating season, boating with family, boating with friends, Boats, discover boating, experience, go boating, go boating Canada, how to choose a boat, lets go boating, luxury, luxury boat, luxury boating, luxury boats, marina accessories, marine, marine life, maritime, nautical, new boat products, new boats for 2022, ocean, on the water, Pontoon, pontoons, powerboat, powerboating, powerboats, safe boating, safety, sea, speedboating, speedboats, top boat models, top boats, top power boats, travel, Tritoon, v one 25 tritoon, veranda, veranda pontoon, Watercraft, watercrafts