Vision Marine Technologies new electric outboard – E Motion 180E
By Walt Jennings
Powering a boat with an electric motor is nothing new, but if you want to get someplace fast and silent in an outboard boat, there are no electric options. Until now.
While kayaks and canoes can move through the water silently, larger boats can only do so with oars, sails, a trolling motor or a small electric outboard such as the Torqeedo or ePropulsion. There are many boats available today with quiet inboard electric power. Some of these include the Duffy, which is a 10 kmph boat, as well as the Hinckley Dasher which is very expensive, and a variety of electric inboard boats such as those manufactured by Vision Marine Technologies.
This all changed at the recent IBEX Show in Tampa, Florida, when Vision Marine Technologies introduced the world's first big, powerful outboard motor to the world, and they call it "E Motion 180E."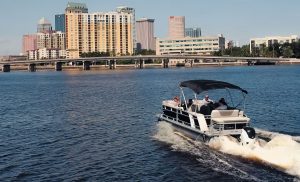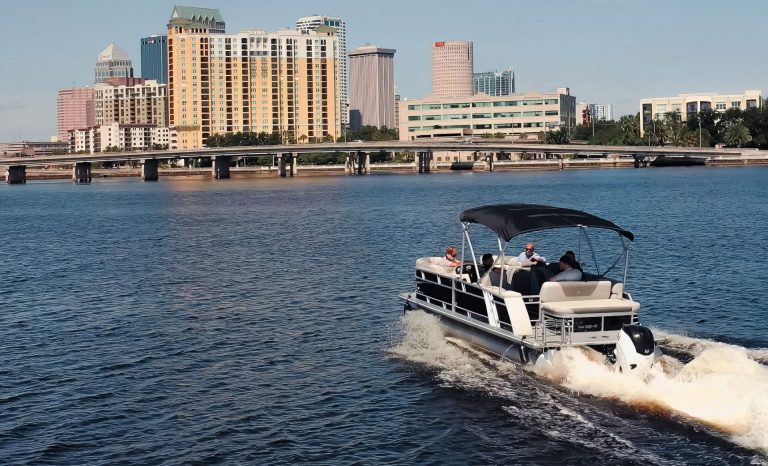 How big is big? Think 180 hp (or 130KW continuous or 160KW peak if you are an electrical engineer), and this electric outboard motor is in an approximate size, shape, and form as every other outboard manufacturer's 175-200 hp gas outboard. From a distance you cannot tell the difference from this electric outboard and their gasser brothers until you see the cooling water tell-tail and realize the only sound you are hearing is the cooling water as it exits the engine hitting the surrounding water.
Vision Marine Technologies, formerly known as the Canadian Electric Boat Company, was founded in the mid-1990's and subsequently purchased in 2013 by Alexander Mongeon and Patrick Bobby. Now as the CEO, Mongeon and Bobby as the COO of Vision Marine Technologies, they continue to build Bruce, Fantail, Quietude, and Volt boats, all of which are electric powered boats from 16 to 22 ft in length.
Under Mongeon and Bobby's "vision," the E Motion outboard team has designed and built a large electric outboard motor and I was fortunate enough to bum a ride on a 22 ft Starcraft Pontoon boat powered by this big electric outboard along the waterways in Tampa, Florida. This new 180 hp electric outboard weighs in at a svelte 300 pounds which is about 100lbs lighter than a similar power gas outboard. It pushed the 22 ft pontoon at an average speed of 32 kmph on plane, with a top speed of 50kmh substantially more than that, leaving no noise, smoke, or oil sheen on the water.
At rest with the motor on, there was absolutely no engine sound, but while in gear and at idle speed, you could tell the electric motor was spinning with a sound that was barely noticeable. When up on plane quickly at 32 kmph there was a noticeable whine coming from the motor that Xavier Montagne Vision Marine Technologies Chief Technology Officer said was "a frequency Hertz issue." Montagne went on to say "this is a beta motor and we are working on tuning the motors frequency to lower its noise" – a noise that I found to be more of a hum than a whine, as it was not loud or offensive – just different like electric cars.
Need torque to pull a water skier? Electric is faster and has as much if not more torque than one of the older smoking two-stroke gas outboards engines. As a comparison of electric propulsion vs gas, taking a look at the Chevrolet Corvette vs Tesla speed tests shows that it takes a Corvette 3.4 seconds to go from 0-97 kmph, while the Tesla is 1.9 seconds in the same 0-97 kmph test. The Corvette takes 11.5 seconds and goes 193 kmph in the quarter mile, while the Tesla is 9.19 seconds and 185 kmph at the same distance
With Vision Marine Technologies 26 years of experience in manufacturing electric inboard boats, they have learned a thing or two about battery technology and with their four electric inboard boats currently in production, they use a variety of lithium ion batteries from several suppliers with batteries designed to fit in a variety of locations in their boats.
Some of the batteries Vision Technologies uses in their boats are as small – as a group size 31 used in their smallest boat – the 16 ft Quietude model, while the initial battery used in their test pontoon boat (the 22 ft Starcraft) powered by their new 180 hp outboard was quite large at 600 amp hours (60 KWH)  and 400 volts, weighing 837 lbs and measuring 44″ x 31″ wide and 14″ in depth (1111mm x 795mm x 351mm).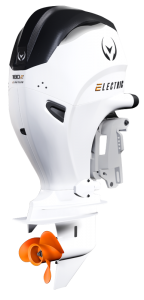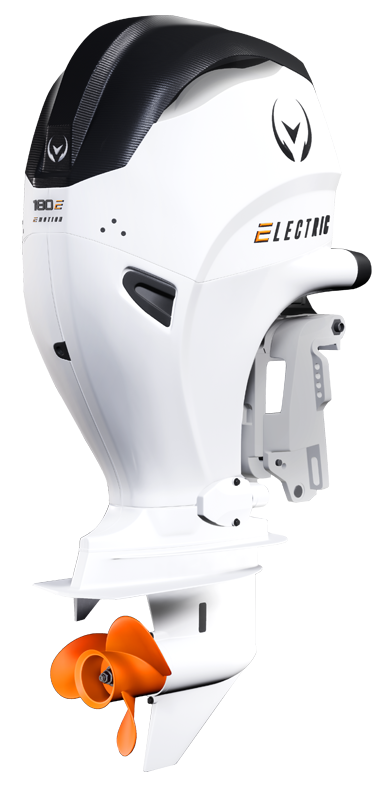 It's worthy to note that the weight of the battery powering the E Motion 180E will vary depending on which hull the motor will be installed on as the batteries are designed to fit the hull in approximately the same location as existing gas tanks. Vision warranties their batteries for 3000 cycles or 30 years, with the only downside being the same as with all battery powered motors, and that is range, as current battery technology allows this new outboard to go an average of 50 miles, or 6 to 8 hrs of normal use.
Charging the onboard battery is accomplished with a 220v/6kw onboard charger that will recharge the outboards battery in approximately 6 hours, while adding a second (optional) charger cuts the charging time in half. Batteries that are used in constant amperage draw conditions get hot – hot to the point that they need to be cooled, and the large battery needed to power Visions 180 hp E Motion outboard is no exception. Thus they have designed a cooling system similar to the systems used in heavy duty work boats, with cooling tubes under the boat that circulates a light weight oil around the batteries cells.
While the E-Motion 180e uses a major manufacturers lower unit, that will soon change as this electric motor needs no reverse gear like traditional gas outboards. When placing this electric outboard shifter in reverse, the electric motor reverses polarity, thus reversing the prop at the same time, so production models of the outboard will have a slimmer lower unit, increasing the efficiency of the motor. Flushing the engine after use in Saltwater is not necessary with this electric outboard as it is internally cooled, and requires little to no maintenance.
Eric Boyer, Vision Marine Technologies VP told me that they anticipate building 5000 180 hp electric outboards in 2022/2023 and do not have any other size outboards on the drawing board at this time due to anticipated demand with their E-Motion180e motor.
What does it cost? The complete E-Motion 180E outboard package including the motor, battery, controller chip, onboard charger, and all the throttle and steering (Seastar hydraulic) is estimated to run around $5,000 more than a comparable gas outboard. Boyer said that the increase in initial cost is soon forgotten in the long run with no visits to the gas pump.
The company is the only publicly held electric outboard boat engine company, having gone public in November 2020, with the Nasdaq symbol VMAR. For more information you can visit Vision Technologies website at http://v-mti.com.
Adventure, all new, boat, boat life, boater, Boating, boating adventures, boating daily, boating fun, boating life, boating season, boating with family, boating with friends, Boats, discover boating, E Motion 180E, electric, Electric engine, Electric outboard, Engine, Engines, experience, lets go boating, luxury, luxury boat, luxury boating, luxury boats, marine, marine life, maritime, Motor, nautical, new electrics, News, ocean, on the water, outboards, powerboat, powerboating, powerboats, safe boating, safety, sea, speedboating, speedboats, travel, vision marine, vision marine tech, Watercraft, watercrafts