It's just one of those universal truths. Throw a party at your house and more often than not, everyone winds up in the kitchen – usually clustered around an island or breakfast bar, talking, eating, drinking and having a great time. You may have set out snacks and drinks in other rooms of the house, but the casual intimacy of the kitchen is what always draws the crowd.
Wouldn't it Be Great to Have that on a Boat?
That's precisely what the engineers thought When they created the all-new SunChaser Eclipse 8525 Entertainer. Pontoon boats are already the perfect platform for entertaining guests, so why not add a kitchen-like breakfast bar to one and turn it into the ultimate party machine? The result is nothing short of spectacular – with seating for 14 and its well-appointed mid-ships entertainment unit, the Entertainer might just be the most capable pontoon on the water.
Stretching 25 feet, 10 inches in length and riding on a full 102-inch beam, the Sunchaser Eclipse 8525 offers plenty of seating with traditional twin wrap-around lounge seats up front in the bow. With their forward-facing seat backs, these plush seats are the ideal spot to stretch out and soak up the sun. Or, tuck in your legs and you can seat a small group here. Either way, you'll appreciate SunChaser's top-shelf upholstery work, with supportive yet plush cushioning under a buttery soft marine vinyl skin that that feels far more like leather than any kind of synthetic. SunChaser got the size and angle of the seat cushions just right, giving the big Entertainer a level of luxurious comfort that's more in keeping with boats that cost much, much more. Bravo!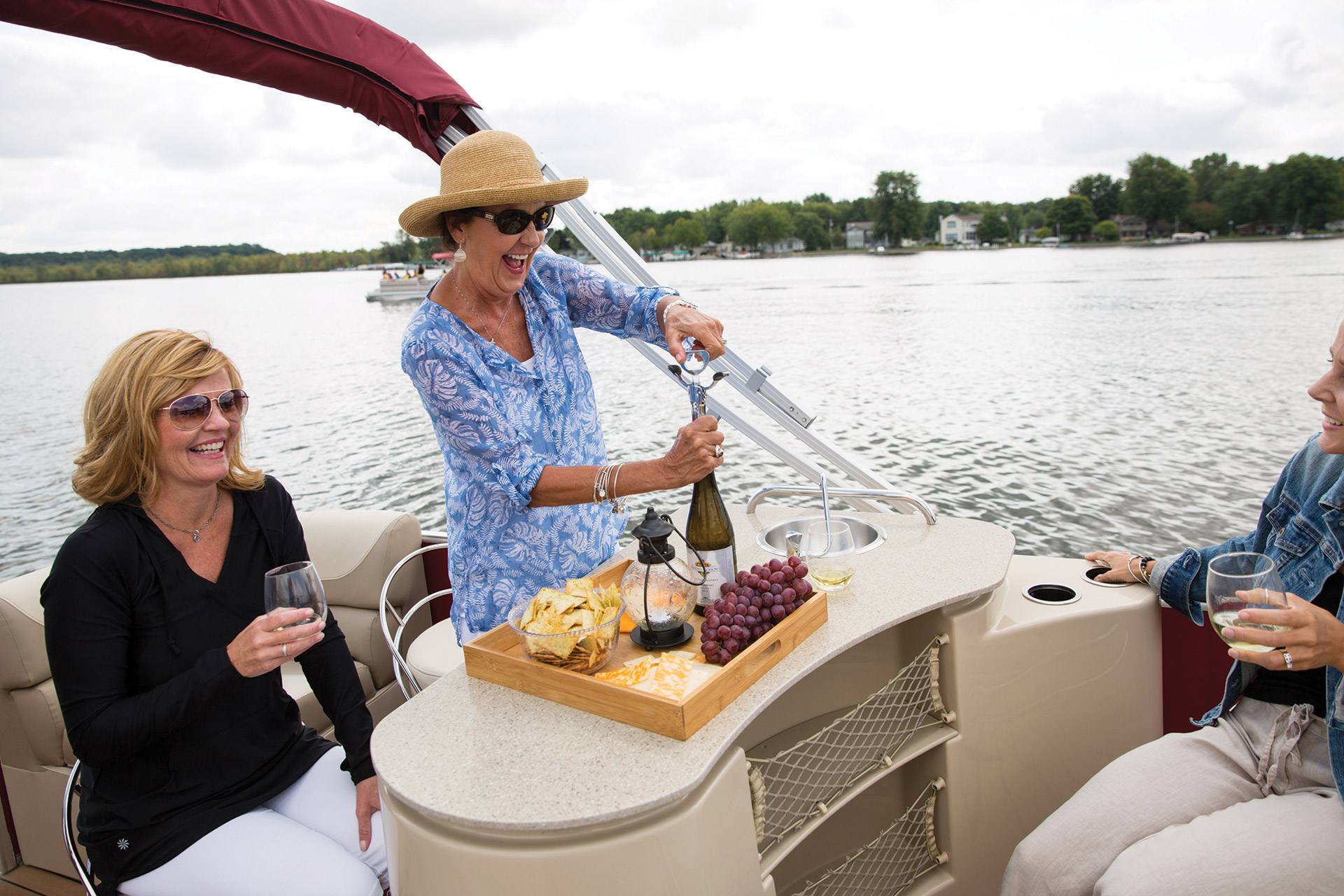 In the floor between the front lounge seats is an aluminum receptacle that accepts a removable pedestal-mount fiberglass table, with two integrated cup holders. Having the table here is a great option – it provides a convenient spot for a cold beverage when soaking up the sun, and provides a comfy lunch spot for four. If you should opt for a third pontoon tube on your Entertainer, you'll also find a large door here that provides access to a substantial in-floor storage locker.
The SunChaser Eclipse 8525 is Built to Entertain
Because this boat was made for good times afloat, the base cabinets of the forward lounge seats neatly conceal a pair of stereo speakers, while still offering cavernous storage space for PFDs, bags and other gear. The aft end of the portside bow lounger features a large door which opens to reveal a pop-up change room, allowing guests a private spot where they can trade wet swimwear for dry clothes. An optional Porta-Potti can be added to this space, to provide your guests with even greater comfort.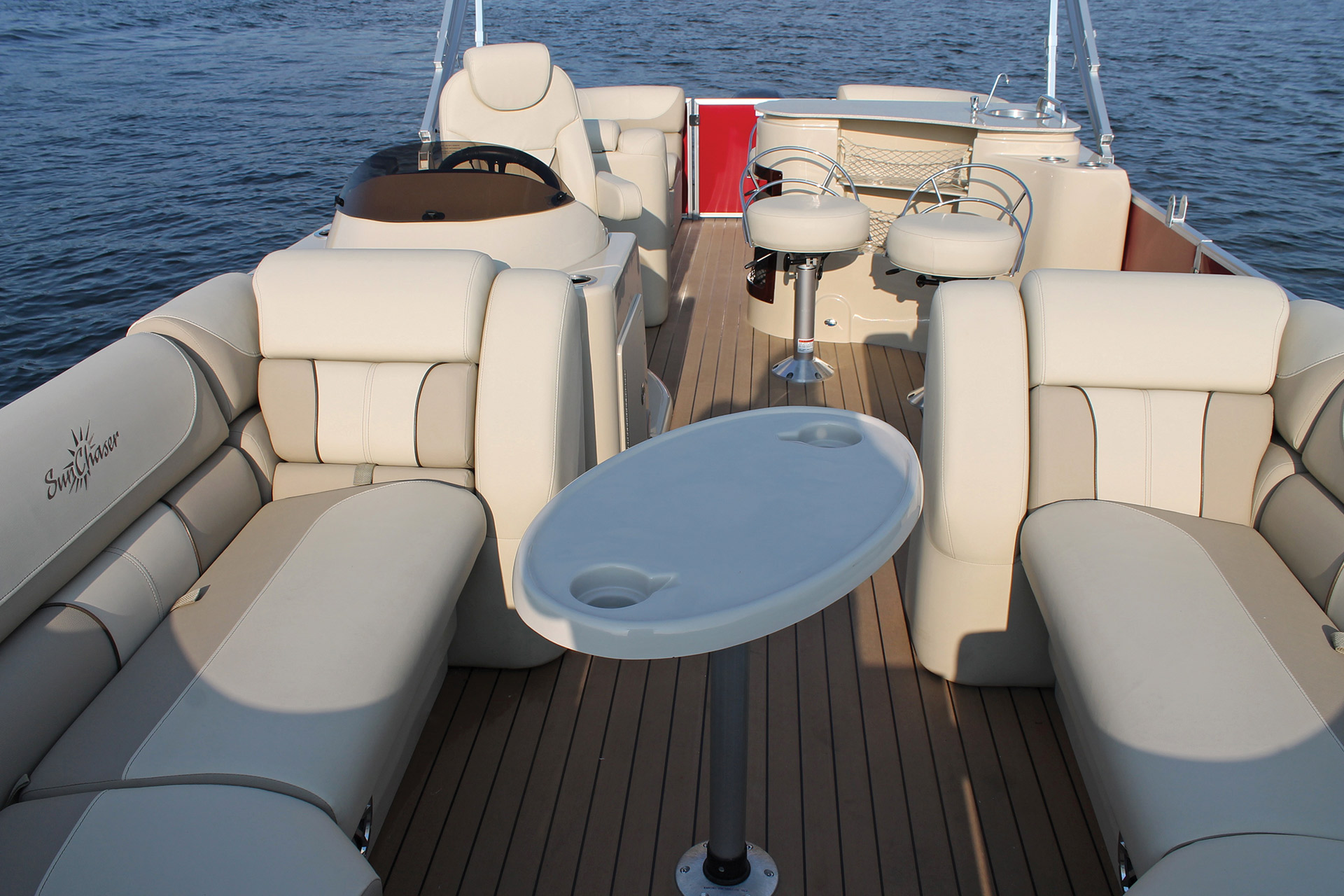 The SunChaser Eclipse 8525 Entertainer features three 30-inch entry gates – wide enough for strollers or wheelchairs alike – with one at the front, one at the stern, and a third gate amidships on the port side. Step forward through the front entry gate and there's a small front deck should you feel the urge to take a refreshing dip. It also provides a convenient boarding option when using shorter cottage docks.
The standard flooring is a sumptuous 22-ounce woven carpet, but our test boat came with SunChaser's spectacular Sea Teak flooring upgrade. Although it's not cheap, the synthetic teak flooring is one optional enhancement that definitely delivers plenty of wow factor. It looks (and feels) like a real teak deck, but without the endless maintenance and upkeep. In fact, it's just the opposite, being one of the most durable and maintenance-free flooring options available. Apart from its stunning good looks, it also offers effective anti-skid properties while still feeling great on bare feet. And unlike the standard carpeting, it dries in minutes.
Moving to the stern of the boat you'll find another inviting wrap-around lounge seat in the aft starboard corner, which faces a cozy club-style seat in the port aft corner. Ahead of it on the port side is the entertainment unit, which is very much the heart of this boat.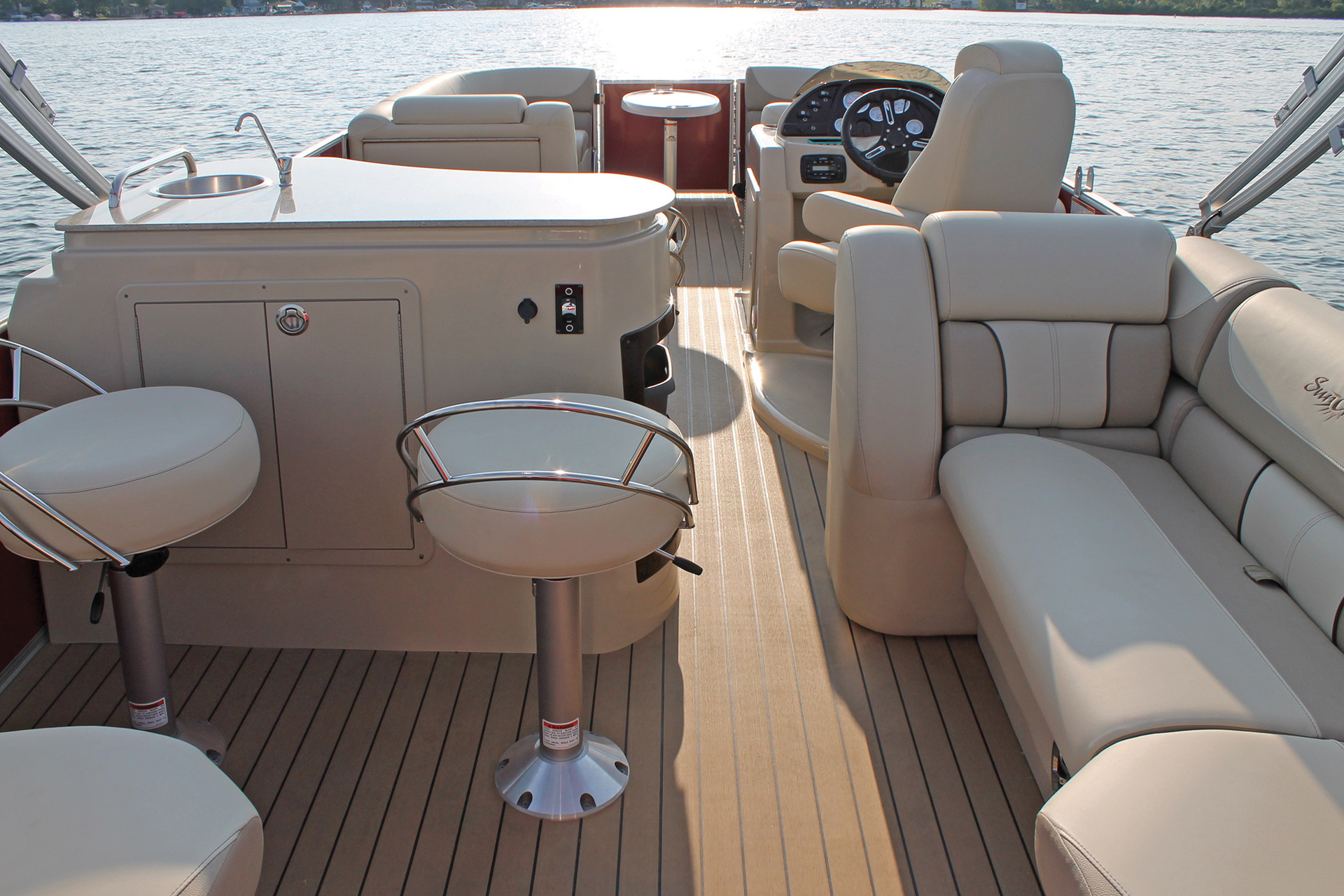 The entertainment unit extends from the port gunnel swinging inward and aft, providing plenty of clearance for the portside entry gate and creating an inviting peninsula breakfast bar-type of space for four on elegant, pedestal-mount bar stools. Because these stools face each other across the unit – two facing forward, two facing aft – it's a natural place to sit and converse with friends, and the ideal spot for lunch with a view.
Under the shade of the protective overhead Bimini top, it's the one spot no one will ever want to leave. That Bimini, by the way, is a full 10-foot top with a hefty, square-tube frame. Sometimes manufacturers cheap out on the Bimini top, but SunChaser has gone the opposite route and upgraded the tops on all its 2017 models.
Storage shelves with mesh facings on the forward side of the fiberglass entertainment unit provide a convenient spot to store smaller essentials, while a larger cabinet with a door is accessed from the aft side. The inboard end features a recess with a trash bin for added convenience. Up top, a gracefully proportioned solid-surface countertop features a convenient sink and faucet on the outboard end.
Step through the aft entry gate and the SunChaser Eclipse 8525 Entertainer reveals its playful side in the form of a large, expansive rear swim platform, with a four-step retractable boarding ladder on the starboard end. Retractable cleats protect against stubbed toes, while perfectly positioned anti-skid strips in the extruded aluminum deck cap provide added security when boarding this area from the dock.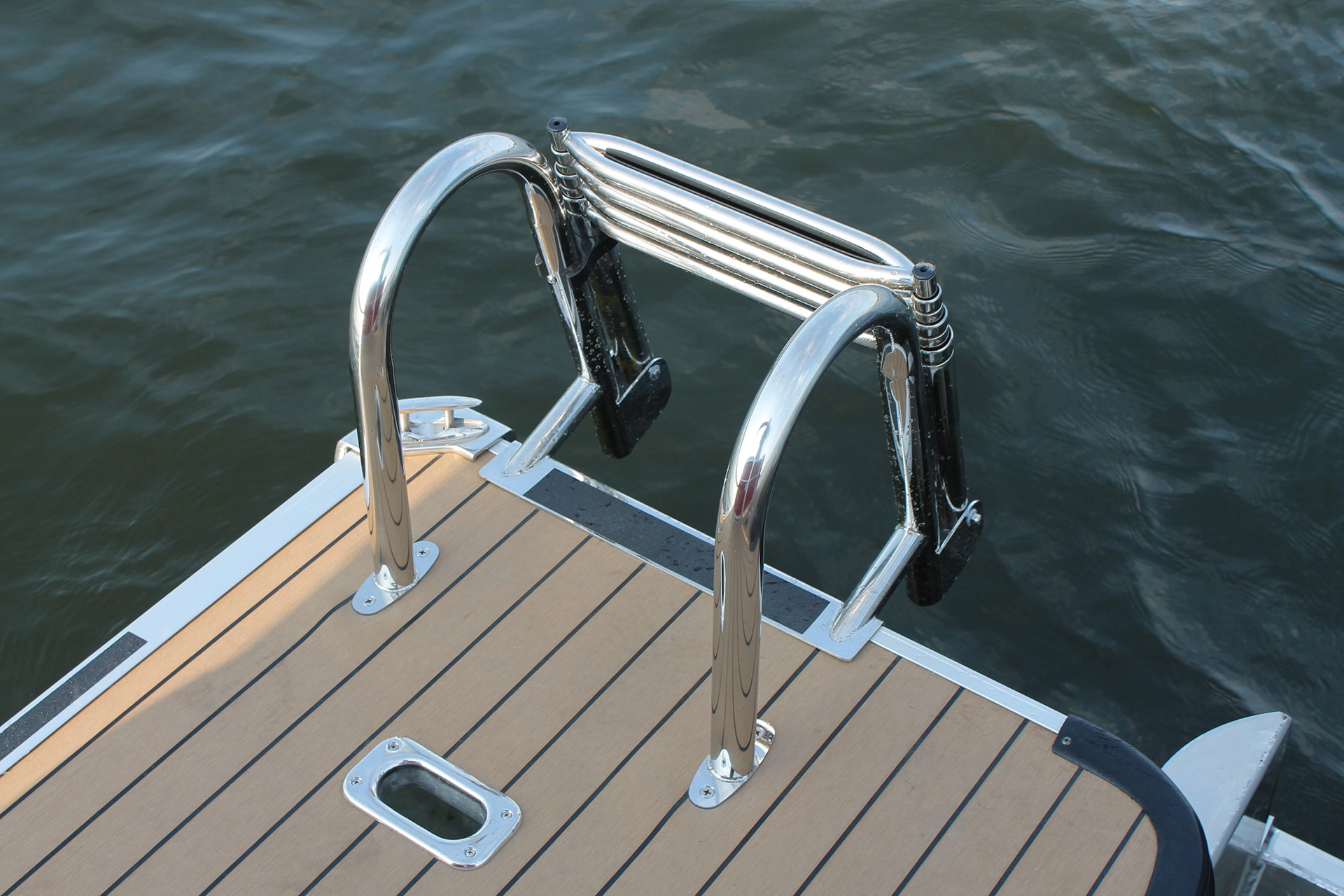 While the guests are clearly spoiled in this boat with its plush seating and its awesome bar setup, SunChaser didn't exactly neglect the driver. A stylish fiberglass executive console with multiple beverage holders and a large storage compartment in its base features a refined wood grain dash panel that's topped with a small but effective windscreen. The classic black-on-white analog gauges with chrome bezels offer a timeless charming look, with the speedometer and tach, mounted up top and the voltmeter, fuel gauge and trim gauge slightly below.
Illuminated rocker switches with breakers for the boat's various electrical components flank the main dash panel on either side while to center, a sporty Torcello steering wheel adds a dramatic touch of Italian sports car flair. The control for the Infinity PVR250 stereo – with MP3 input and Bluetooth connectivity – sits to the inboard end of the console where everyone can reach it.
The helm seat is a beautifully upholstered Captain's chair with fold-down armrests, which is mounted on an elevated fiberglass platform for enhanced visibility. The seat rotates, of course, and rides on a slider base for automotive-like comfort adjustment. The executive platform is itself lit with LED courtesy lights for added safety when operating at night.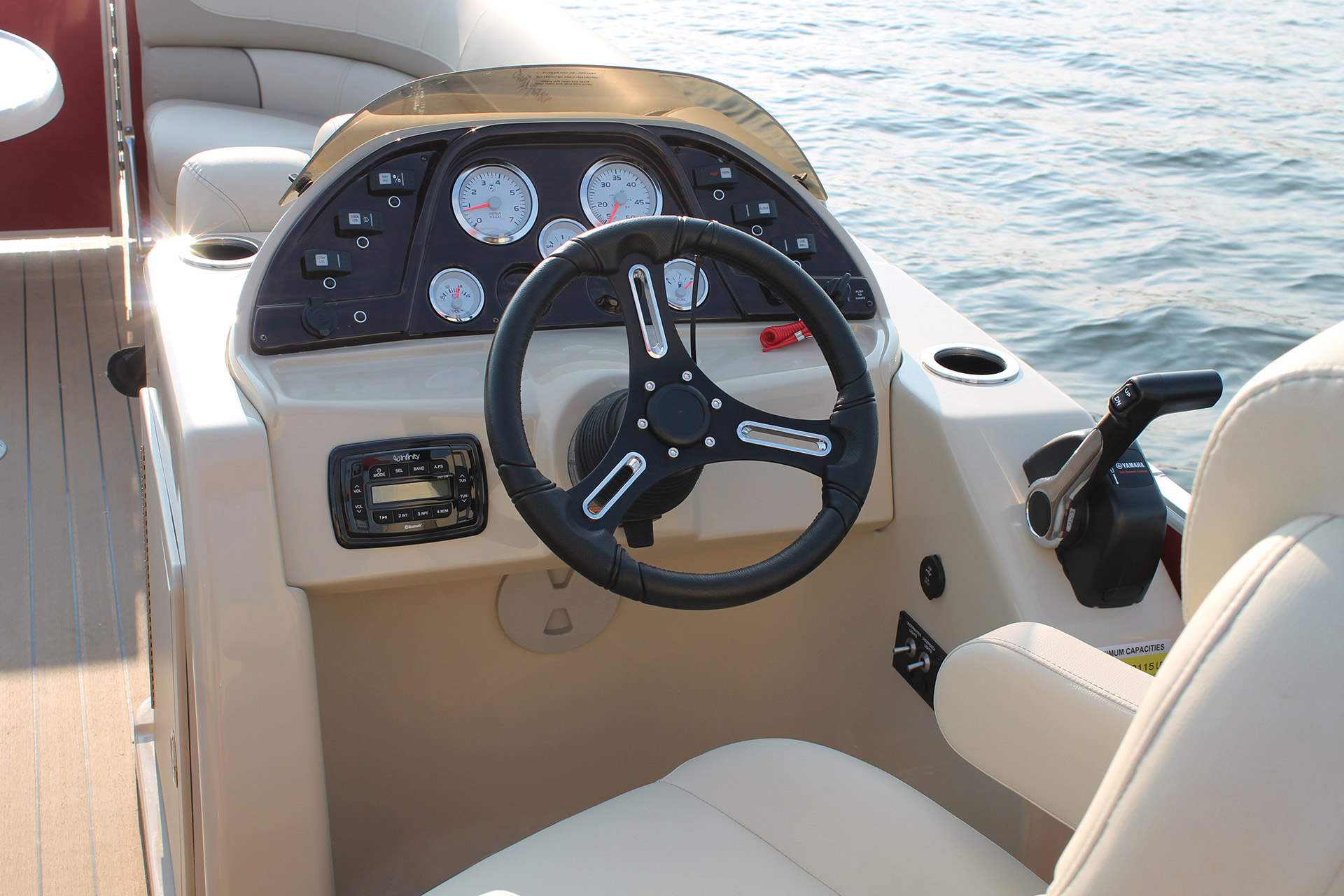 Not all of the Entertainer's innovative engineering sits on the top side of the deck, however. This boat rides on SunChaser's time-tested hat-channel frame which forms a rigid, solid structure that yields stable, solid handling. SunChaser backs its boats with a limited lifetime warranty on the decks, tubes, and transom, and offers a six-year warranty on just about everything else. The warranty is even transferable to the second owner, adding to the boat's resale value.
The standard tubes on the SunChaser Eclipse 8525 Entertainer are twin 25-inches, but a variety of tube options are available including heavy duty and saltwater packages. Several tri-toon upgrades are also offered, including an Extreme PR25 Performance Package that adds a center tube, a performance shield, lifting strakes and a bunch of other goodies that collectively raise the maximum horsepower rating from 175 ponies to a honking 300 horses.
Our three-log SunChaser Eclipse 8525 was rigged with a Yamaha F200 and the Extreme Performance Package – not maximum power, but plenty of power-to-weight given the Yamaha's svelte 487-pound frame. In fact, it remains the lightest 200 four-stroke on the market.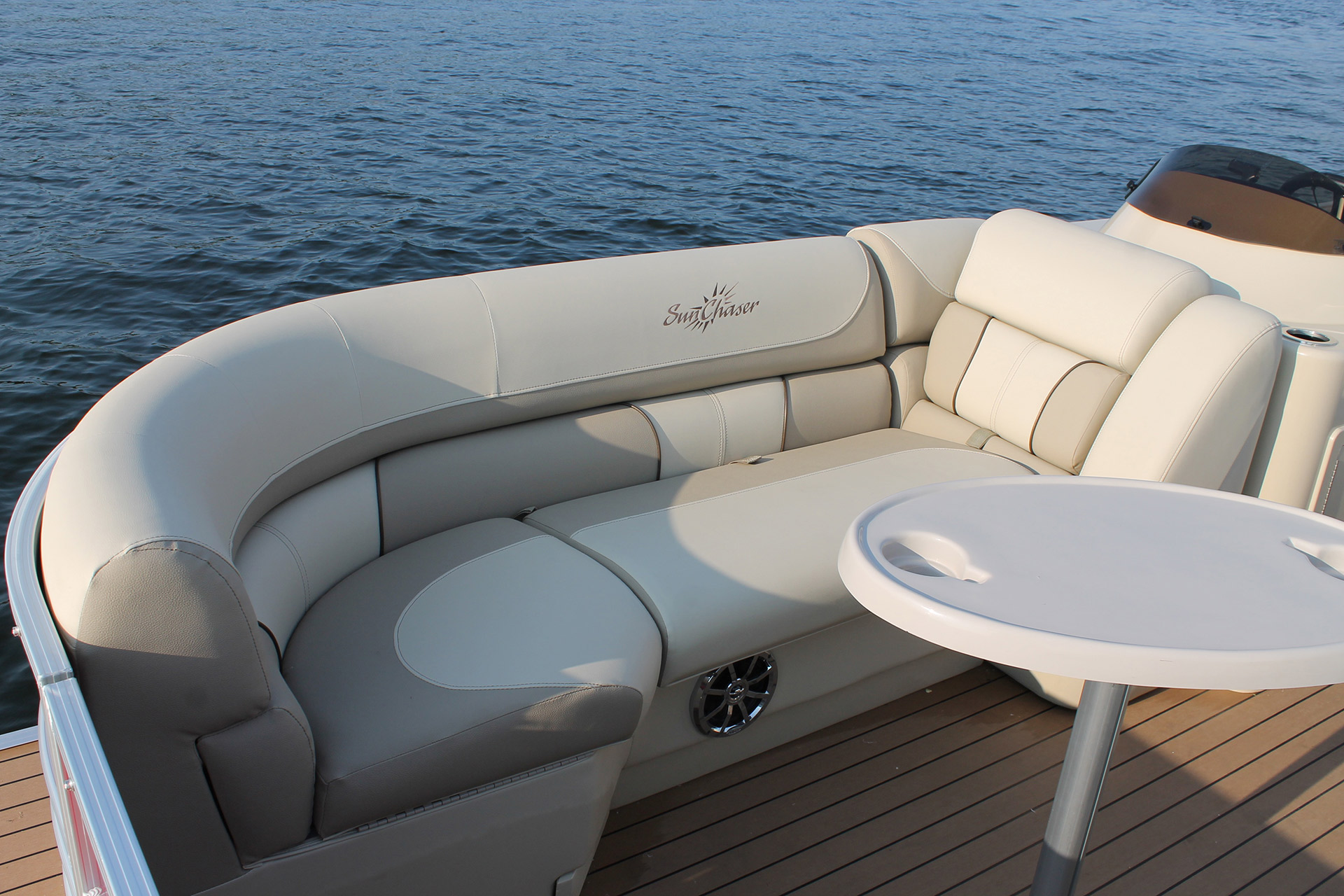 It's also a great match for the 2,471-pound SunChaser Eclipse 8525 Entertainer. The boat rises onto plane easily with just a touch of negative trim, and quickly finds a comfortable running attitude with minimal trim adjustment. At wide-open throttle with a full tank of fuel and three aboard, it recorded 36 mph on the GPS and felt like it wanted to do more. But the real fun with this boat isn't in straight-line acceleration, but in its nimble handling when some steering input is applied. That's when those three tubes, the lifting strakes, and the performance shield all work together to deliver the kind of ride you would expect from a V-hull, not a pontoon.
With its infinite ability to please, the SunChaser Eclipse 8525 Entertainer is an ideal boat for delighting family and friends. Spring for the maintenance-free Sea Teak flooring upgrade, and maybe add a ski pylon, and you have everything you need for making the memories of a lifetime.

best boat, Best boat buying website, best boat marina website, best boat travel website, best place to rent a boat, boat accessories, boat angler, boat boondocking, boat buyers guide, boat camper, boat camping, boat dealers, boat DIY, boat Fishing, boat Fixer, boat Home, boat information, boat insurance, Boat Maintenance, boat marinas, boat marinas in Alberta, boat marinas in BC, boat marinas in Canada, boat marinas in Manitoba, boat marinas in Saskatchewan, boat marinas in the USA, boat marinas near me, boat products, boat rentals, boat repair, boat road test, boat sharing, boat sites near me, boat supplies, boat Tech, boat tips, boat touring, boat trade, boat Travel, boat traveling, boat travelling, boat vacation, boat vacation cost, boat websites Canada, boating Canada, Boating Canada's Boat Lifestyle Magazine, Boating Lifestyle Magazine, boating website, Canadian marina websites, Eclipse 8525, Entertainer, expert boat information, find a boat dealer, how much does a boat cost, how much does marina cost, how to choose a boat, how to drive a boat, marina products, marina supplies, motor boat, Pontoon, Pontoon Boat, power boating magazine, SunChaser, top boat website, used boat reviews best boat, Best boat buying website, best boat marina website, best boat travel website, best place to rent a boat, boat accessories, boat angler, boat boondocking, boat buyers guide, boat camper, boat camping, boat dealers, boat DIY, boat Fishing, boat Fixer, boat Home, boat information, boat insurance, Boat Maintenance, boat marinas, boat marinas in Alberta, boat marinas in BC, boat marinas in Canada, boat marinas in Manitoba, boat marinas in Saskatchewan, boat marinas in the USA, boat marinas near me, boat products, boat rentals, boat repair, boat road test, boat sharing, boat sites near me, boat supplies, boat Tech, boat tips, boat touring, boat trade, boat Travel, boat traveling, boat travelling, boat vacation, boat vacation cost, boat websites Canada, boating Canada, Boating Canada's Boat Lifestyle Magazine, Boating Lifestyle Magazine, boating website, Canadian marina websites, Eclipse 8525, Entertainer, expert boat information, find a boat dealer, how much does a boat cost, how much does marina cost, how to choose a boat, how to drive a boat, marina products, marina supplies, motor boat, Pontoon, Pontoon Boat, power boating magazine, SunChaser, top boat website, used boat reviews