Power Boating Canada wants to ensure our magazine readers and website visitors are aware of this voluntary recall affecting certain Kidde Fire Extinguishers.
According to Health Canada, the fire extinguisher can become clogged or require excessive force to discharge and can fail to activate during a fire emergency.  In addition, the nozzle may detach with enough force to pose an impact hazard.
As of November 2, 2017, the company has received 2 reports of limited or failed activation in Canada, 1 of these reports involved property damage. Neither Kidde nor Health Canada have received any reports of consumer injuries in Canada related to the use of these products. In the United States, the company has received approximately 391 reports of limited or failed activation or nozzle detachment, including 1 fatality, approximately 16 injuries, including smoke inhalation and minor burns, and approximately 91 reports of property damage.
Approximately 1.2 million units of the Plastic Handle Fire Extinguishers, and approximately 1.5 million units of the Push-Button Pindicator Fire Extinguishers were sold in Canada from January 1, 1973 to September 22, 2017 at various retailers.
Summary: This product recall involves two styles of Kidde disposable fire extinguishers: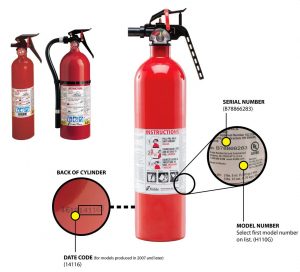 Plastic handle fire extinguishers
Plastic push-button fire extinguishers
This Recall does not include Kidde Professional or Badger branded fire extinguishers. Units with metal handles/valve assemblies are not included in the recall
Follow These Steps:
1.  View the following links to determine if you have an affected model:
•  Plastic handle Fire extinguishers: Open to view the Fire Extinguisher ID Guide (Opens in new browser window)
•  Push-Button Fire Extinguishers: Open to view the Fire Extinguisher ID Guide (Opens in new browser window)
2.   If you believe that you may have an affected model, before continuing, also use the Fire Extinguisher ID Guide (link above) to locate and collect your Model Number, Serial Number, and Date Code (if applicable). The Date Code is a 10-digit number printed on the side of your fire extinguisher, near the bottom.  Digits five through nine represent the day and year of manufacture, and these five numbers are what you will need to proceed.
NOTE: The image at right is NOT affected by this recall.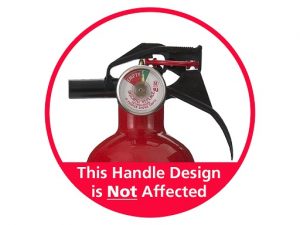 3.  When you are ready to proceed, select your unit from the list below. Note: If you have a push button model used on a personal watercraft, be sure to select the personal watercraft option.

best boat, Best boat buying website, best boat marina website, best boat travel website, best place to rent a boat, boat accessories, boat angler, boat boondocking, boat buyers guide, boat camper, boat camping, boat dealers, boat DIY, boat Fishing, boat Fixer, boat Home, boat information, boat insurance, Boat Maintenance, boat marinas, boat marinas in Alberta, boat marinas in BC, boat marinas in Canada, boat marinas in Manitoba, boat marinas in Saskatchewan, boat marinas in the USA, boat marinas near me, boat products, boat rentals, boat repair, boat road test, boat sharing, boat sites near me, boat supplies, boat Tech, boat tips, boat touring, boat trade, boat Travel, boat traveling, boat travelling, boat vacation, boat vacation cost, boat websites Canada, boating Canada, Boating Canada's Boat Lifestyle Magazine, Boating Lifestyle Magazine, boating website, Canadian marina websites, expert boat information, find a boat dealer, how much does a boat cost, how much does marina cost, how to choose a boat, how to drive a boat, marina products, marina supplies, motor boat, power boating magazine, top boat website, used boat reviews