Netherlands boat builder, Steeler Yachts has introduced their new aluminium cross-over of coupe and convertible.
The aluminium 52-S Offshore is Steeler Yachts' major entry in the Mediterranean market with a motoryacht that transforms from Coupe to Convertible with a push on the button. The unique combination of a vertically lifting wheelhouse roof, an optional integrated XXL glass sliding roof and a 'hidden' canopy in the cockpit literally makes it adaptable for the warmest, coldest, roughest and calmest conditions in all offshore markets.
The 52 S-line is Category A certified and features all characteristics the yard has been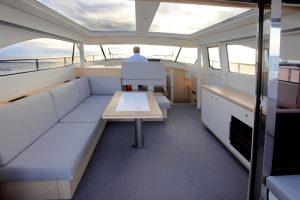 focussing on for the past few years – design, use of space, fast-sailing efficiency and comfort solutions. And in all areas taken to the next level of safe, efficient and comfortable cruising.
But most striking is the development of the meanwhile patented "Steep High-Flared bow" that marks all Steeler S-line models and offers significant advantages in all areas of functionality and design: the S bow virtually eliminates the bow wave, which in turn produces less spray and less resistance. That explains the remarkably efficient fuel consumption. Moreover, the steep bow offers almost 3 feet additional interior space, allowing for even more roomier and spacious interiors.
Other features include the pantograph door on starboard in the pilot house near the steering position. Convenient during mooring, particularly because the fenders are readily available in the "fender storage" in the gangway. The canopy / bimini, often not the best aesthetic feature in yachts, is hidden in a cassette in the cockpit bench.
The amount of glass in the 52-S Offshore is striking. Examples include the aforementioned sliding roof, the windows in the pilot house, the glass surrounding both sides of the hull and the window above the lounge and dining area of the pilot house. The absence of jambs in the windows of the pilothouse is particularly beautiful.
The 52-S Offshore is available as a two or three cabin version. She comes standard with two Yanmar diesels of 440 hp each, which makes for a top speed of 26 knots. The CE-A motor yacht measures 15.70 overall, but has a hull length of 14.99 metres, which means it is exempt from the Rijnpatent (Rhine navigation licence).
Company data:
Steeler Yachts
Wheermaten 16
8331 TL Steenwijk, Netherlands