This fishboat embodies the perfect blend of toughness and versatility for every angler's pursuit.
By Jarrett Matthews
The Starcraft STX 2050 is a testament to the rich history and dedication of Starcraft Marine, a company that has been manufacturing aluminum fishing boats for an impressive 120 years. This boat exemplifies the brand's commitment to constant innovation and genuine boating expertise, as it is designed and operated by avid boaters. The STX 2050 has been recognized as one of the best all-around fishing boats on the market, and with its battleship-like build and thoughtful amenities, it's easy to see why.
Measuring 20' 2" in length with a beam of 100", the STX 2050 boasts a sturdy construction. Stepping aboard, you're immediately struck by the spaciousness of the elevated bow deck. This deck provides ample room for anglers to cast comfortably without the risk of knocking elbows or stepping on each other's toes. The height of the bow deck strikes a perfect balance, allowing for easy pitching and sight fishing while still enabling anglers to reach over the side to lip a bass without strain. The bow panel on the portside is a testament to the boat's thoughtful design, featuring a full set of controls, including an electric motor plug, volt gauge, courtesy light, 12-volt outlet, and backlit waterproof toggle switches. This level of attention to detail could only come from serious anglers who understand the needs of fellow fishermen.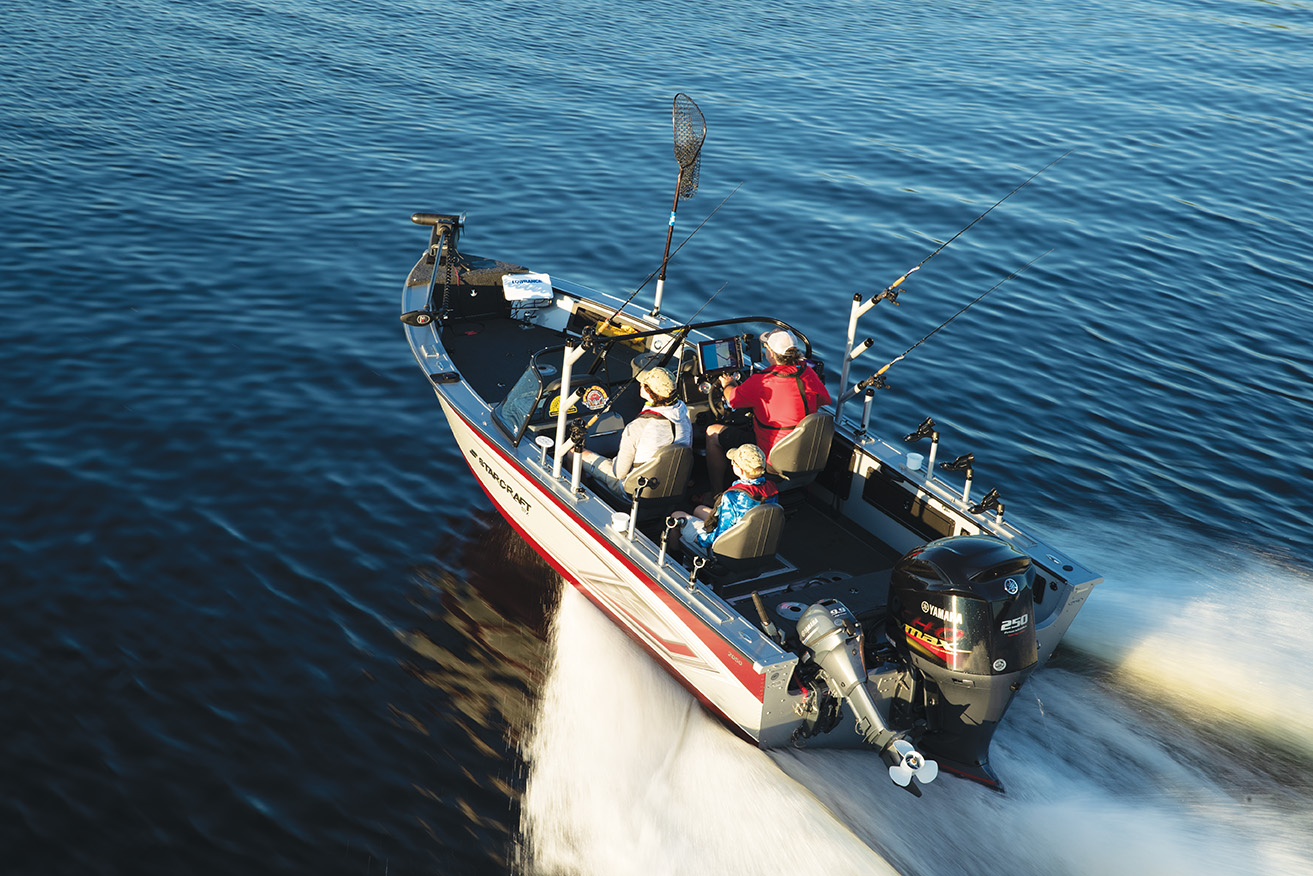 The main cockpit of the STX 2050 is equally impressive, offering abundant space and generous freeboard, ideal for challenging days on the water when offshore winds become fierce. It's a rarity to find a boat that offers a large front casting deck without compromising the cockpit space, and the STX 2050 achieves this balance flawlessly. Even with its expansive front deck, the boat comfortably accommodates four anglers, allowing them to troll with ease, even when utilizing downriggers and multiple rods.
Storage is an important consideration for any serious fishing boat, and the STX delivers in this aspect. Throughout the boat, you'll find numerous secure storage lockers for tackle, rain suits, tool kits, and personal flotation devices. The massive in-floor rod locker between the twin consoles can hold rods up to eight feet in length, ensuring they stay organized and protected. The boat's 36-gallon live well is well-equipped with lighting, aeration, recirculation, a timer, and an integrated oxygenator. Additionally, the three-bank battery charger is a standard feature, exemplifying Starcraft's commitment to convenience and functionality. With a massive 52-gallon fuel tank, the STX 2050 offers an impressive range, enabling anglers to reach the most distant spots on tournament days without the need for additional fuel containers.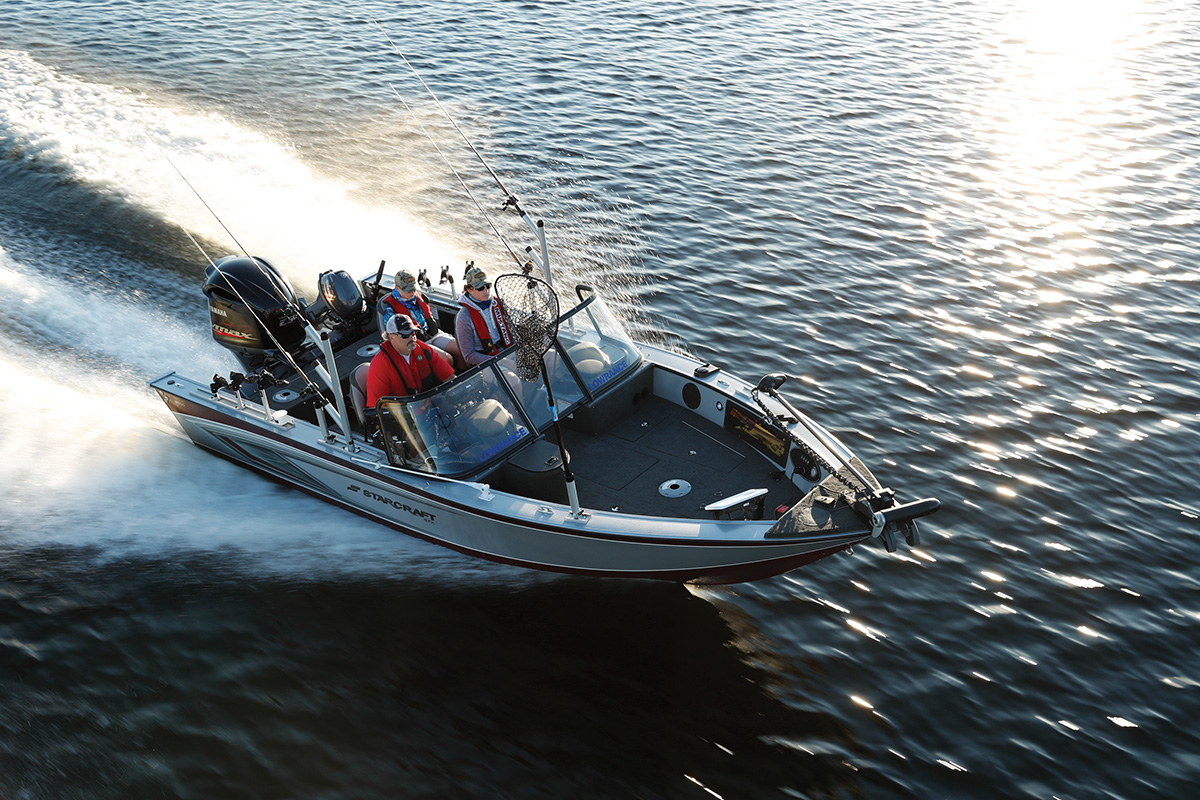 Driving the Starcraft STX 2050 is akin to piloting a high-end SUV. The boat's solid build, featuring a heavy 0.125-inch one-piece bottom plate and robust 0.080-inch side plates, instills a battleship-like confidence. Built on Starcraft's performance-enhancing Power-Trac hull design with internal torsion beam construction, the STX 2050 not only handles rough waters adeptly but also remains stable in windy conditions, reducing the need for constant course corrections. The boat's attention to detail shines through in its heavy-duty hinges, latches, and through-bolted cleats, underscoring its durability and longevity. With a maximum power of 250 horsepower (Honda, Suzuki, Mercury, or Yamaha), the STX 2050 effortlessly navigates the waters, delivering an exhilarating ride and swift acceleration.
The boat's performance is exceptional, with instant time-to-plane, rapid acceleration to 30 mph in just five seconds, and a top speed nearing 60 mph. The Power-Trac hull provides outstanding handling at both low and high speeds, maintaining stability during turns without sacrificing speed or causing prop ventilation.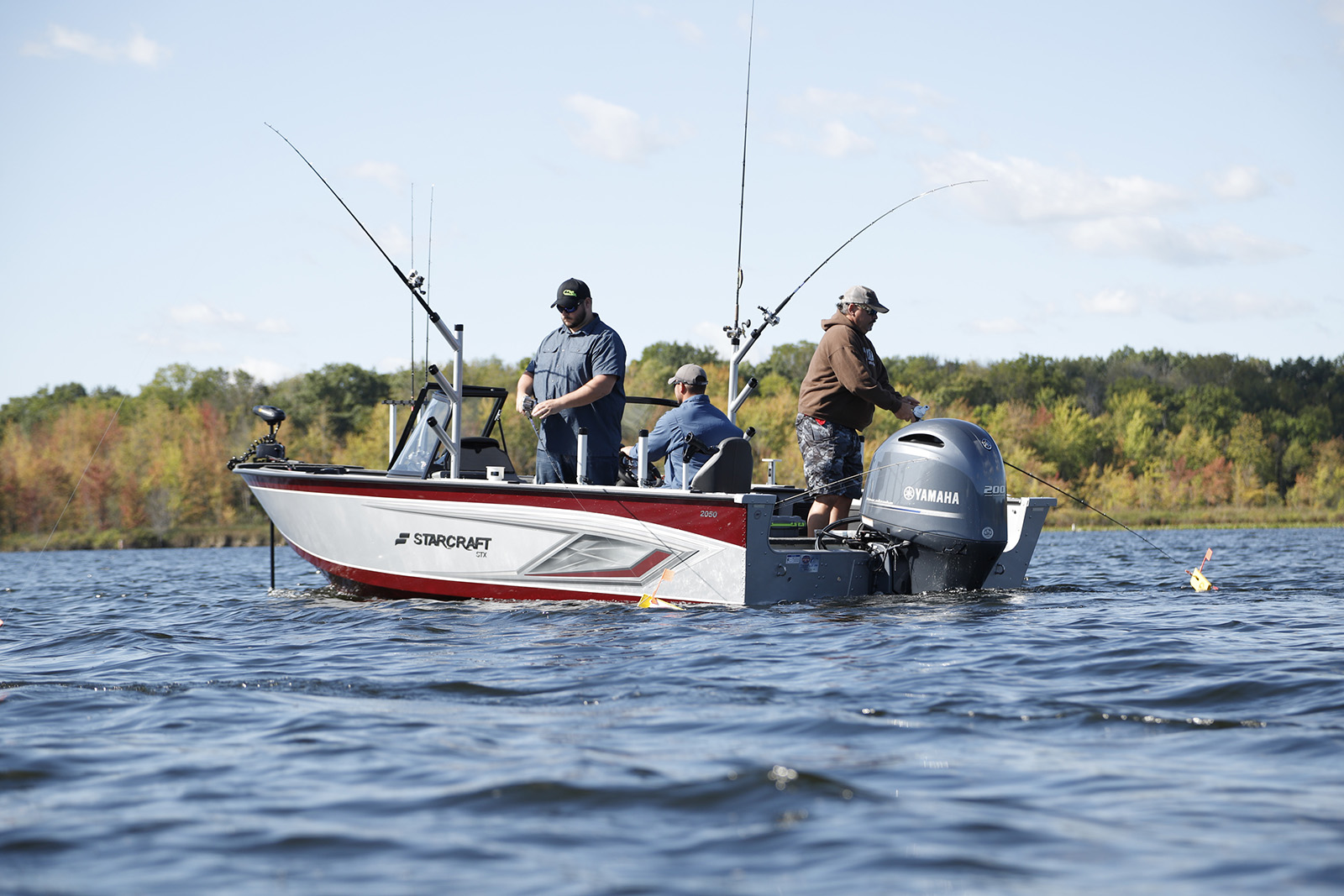 The Starcraft STX 2050 defies the traditional trade-off between a big water boat and a shallow draft vessel. It excels in both roles without compromising on performance or versatility. For anglers who relish variety and enjoy pursuing different species of fish, this boat offers an unparalleled experience.
Whether you're casting from the elevated bow deck or cruising through rough waters, the STX 2050 delivers an exceptional fishing experience that will exceed the expectations of even the most discerning anglers. The STX's battleship-like build, spacious design, and thoughtful amenities make it one of the best all-around fishing boats available today. 
---
Specifications

LOA: 20'-10"
Beam: 101"
Dry Weight: 2160 lbs
Max HP: 250 HP
Max capacity: 10 People

MSRP starting price: $51,244 CAD


For more information: www.starcraftmarine.com 

 

best boat, best boat models, best boat trailer, best center console, best centre console, best performance boats, best pontoon, best runabout, Best Used boat, boat accessories, boat parts, boat reviews, boat tests, boat touring, BOATING Buyer's Guide, boating guide, BOATING in-water Tests, boating lifestyle, Boating Lifestyle Magazine, BOATING rentals, BOATING rentals near me, BOATING traveller, boating vacation, go boating, go boating Canada, how to choose a boat, marine accessories, New Boating Products, new boats for 2023, performance boats, Power Boating Canada, Starcraft, Starcraft STX 2050, Tender boat, top boat models, top boats, top cottage boat, top cruiser, top power boat best boat, best boat models, best boat trailer, best center console, best centre console, best performance boats, best pontoon, best runabout, Best Used boat, boat accessories, boat parts, boat reviews, boat tests, boat touring, BOATING Buyer's Guide, boating guide, BOATING in-water Tests, boating lifestyle, Boating Lifestyle Magazine, BOATING rentals, BOATING rentals near me, BOATING traveller, boating vacation, go boating, go boating Canada, how to choose a boat, marine accessories, New Boating Products, new boats for 2023, performance boats, Power Boating Canada, Starcraft, Starcraft STX 2050, Tender boat, top boat models, top boats, top cottage boat, top cruiser, top power boat