Sproat Lake in Port Alberni, on the West Coast of Vancouver Island, was again roaring with drag boat races as the fourth year of revival for the Sproat Lake Regatta ensued on July 15 and 16.
Sproat Lake is located 15 minutes west of the town of Port Alberni and is a popular destination for water enthusiasts, tourists, and boaters of all sorts. More than 25 kilometers in length, Sproat Lake is home to the world's largest flying bloats ever flown operationally—the Martin Mars water-bombers.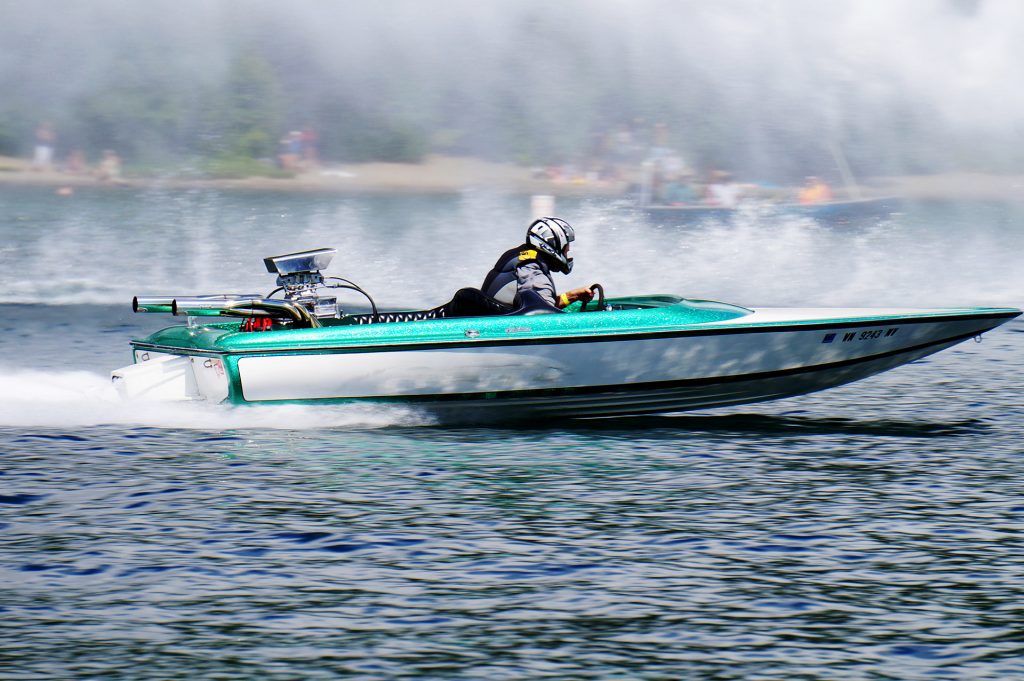 Stemming from a group of dedicated boating enthusiasts, the regatta got its start in the 1950s and proved to be extremely popular among spectators and racers alike. In its heyday, the regatta would see close to 5,000 spectators and 200 participants.
The Regatta was put on hold for several decades when organizing the event proved
too rigorous for volunteers. After a 51 year hiatus, a group of boating buffs from the Alberni Valley Regatta Association (AVRA) who wanted to see boat races back on Sproat Lake, came together four years ago to plan a revival.
"Basically this is a group of boat enthusiasts that started this back up again, so that's basically what we are is drag boat racing," said Greg Steel, AVRA president. "We create a safe environment that two [racers] can go out and go real fast. This way it's a controlled environment, we've got first aid, rescue divers and first responders on site."


The races take place off the shoreline of Sproat Lake Provincial Park, where spectators can lounge and watch the events. Prior to 1966, this area along the north shore of the lake was not a provincial park and therefore races could take place without government approval.
The area became a provincial park in 1966 and so members of the AVRA needed approval from the B.C. government to hold the drag races again. The group was successful in their efforts and obtained a 10-year permit from BC Parks, and thus planning a revival for the beloved races began.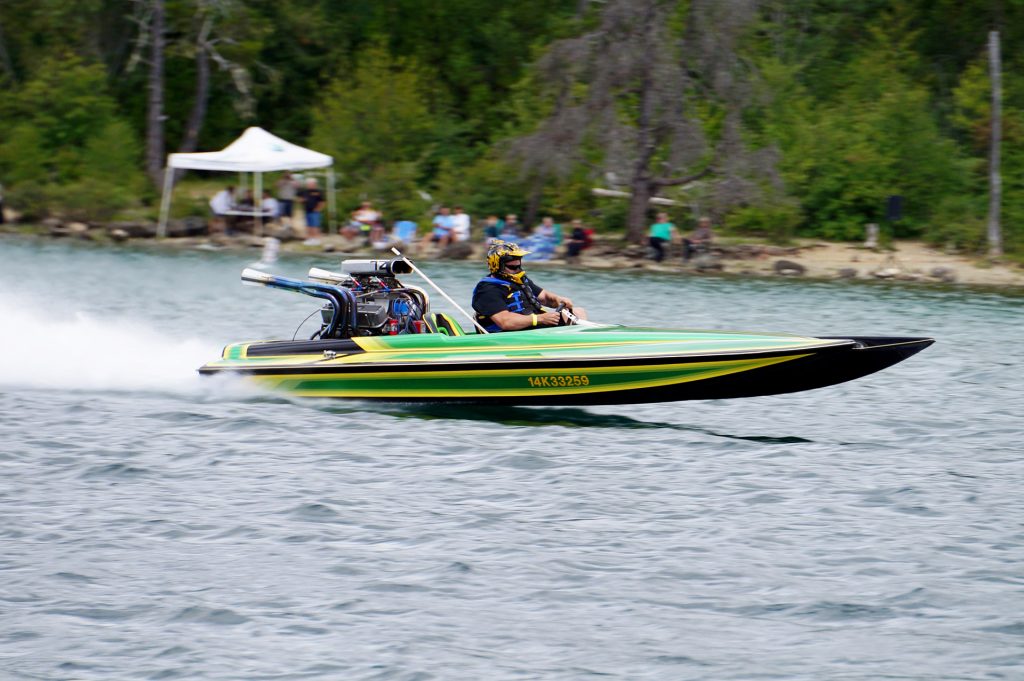 This year, 27 participants signed up to race the quarter-mile-long strip. Race categories vary from 10 horsepower and under, up to 260 horsepower and above. Steele said the fastest boat at this year's regatta was a 5,000 horsepower Top Fuel Hydro. "That's a 200 mile an hour plus boat," he said.
Adding to the excitement of the regatta weekend, four Formula 1 tunnel boats cruised around the lake for viewers' entertainment doing circle races. Boats racing in the regatta varied from outboard boats, inboard boats, big block Chevys, Formula 40s, flat bottom boats, V drives and even bathtubs.

For the second year in a row, Suzuki Canada was on the lake promoting their motors. "We're the only engine manufacturer that's here," said Dave Ingram, director adjoint with Suzuki Canada. "We're involved because we wanted a grassroots marketing and involvement plan."
Ingram operated a press and safety boat— an Allied B24 Dominator series with a 300hp Suzuki V-6 4-stroke—over the regatta weekend that was made available from Breakers Marine, a Suzuki outboard dealer in Port Alberni.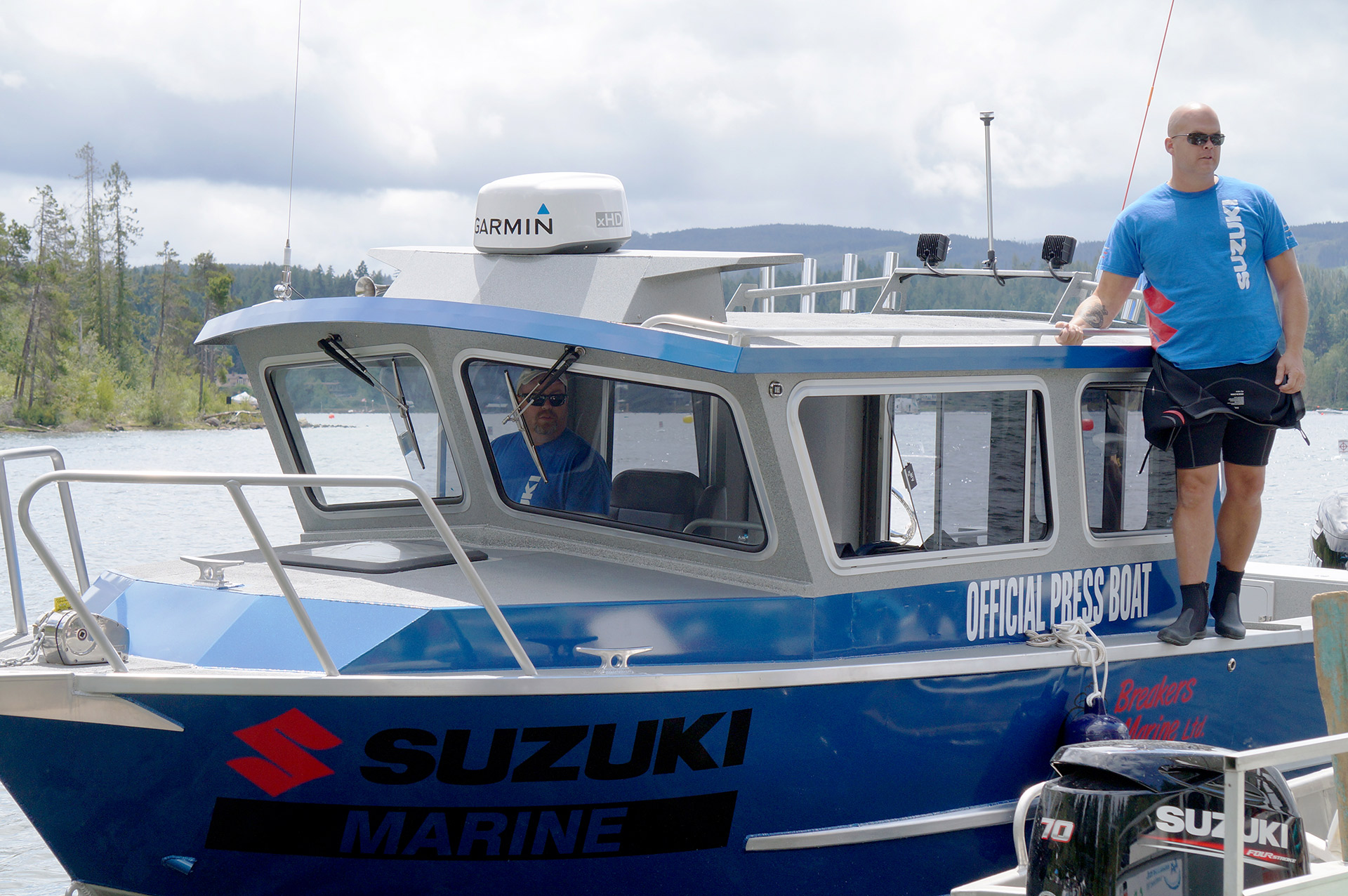 "Breakers is one of our top dealers in Canada," Ingram said. "I'd say [Breakers] is our big V-6 dealer. They do a lot of charter boats, a lot of the commercial and the recreational boats are just incredible."
Sprout Lake Regatta Results
The winner of the 40 hp and under class was Neil Peffers with his son, Al Peffers, both of Port Alberni, taking runner-up. The winner of the 200 hp and under stock was Al Peffers with Dennis Griffin as runner-up. For the 200 hp and under Pro Stock Al Peffers took first place. The winner of the 260 hp and under superstock was Paul Fraser with Al Peffers as runner-up.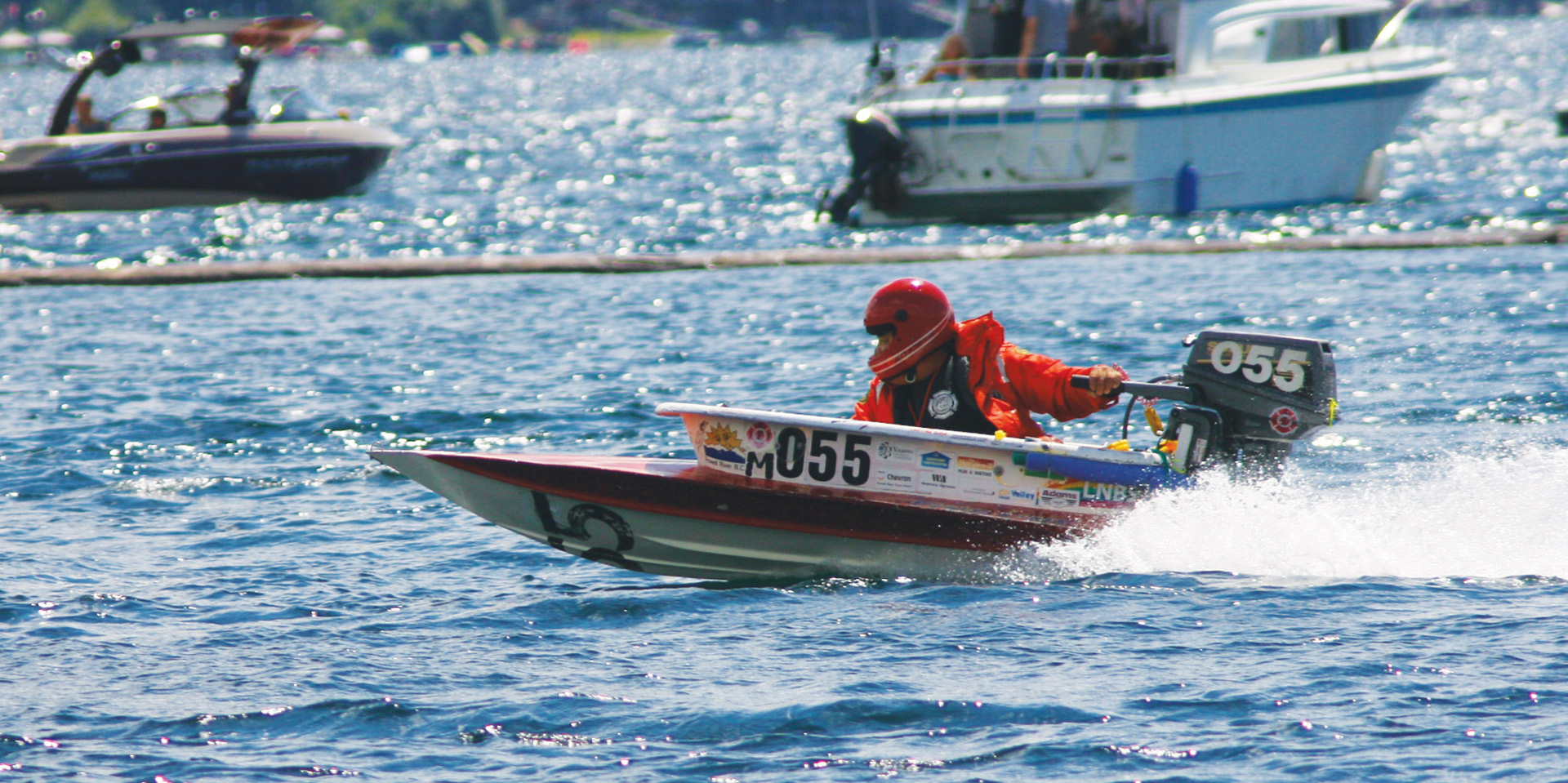 In the Jet boat races, Tyler Mearns took first place and Curtis Hudie runner-up. The winner of the flat bottom V Drive race was Stan Kujala of Port Alberni and Ryan Buss took runner-up. For the unlimited outboard class, Paul Fraser took first place and Al Peffers runner-up. Winning the unlimited outboard green race was Curtis Hudie and runner-up was Jake Kimmerly. In the Unlimited class, Tyler Mearns took first place and Ryan Buss runner-up.
Neil Peffers took first place the Formula 40 races. Quin Stacey came in second and Ashton Stacey in third. In the Formula 1 category, Mike Nass took first place for the second year in a row, Kyle Maskall took placed second and Ashton Stacey third.
A Novice trophy was won by Curtis Hudie, the Entertainer trophy went to Ryan Buss, Longest Tow went to Mike McLellan of Kelowna, the Most Professional Team trophy was won by Mike McLellan, the Hard Luck trophy went to Mo Davidson and the Best Pit Crew went to Tyler Mearns. Congratulations to all the entrants and winners – you helped to make it a great event.
For more information, visit the Regatta website at www.avraracing.com.
By Karly Blats, Special to Power Boating Canada.

best boat, Best boat buying website, best boat marina website, best boat travel website, best place to rent a boat, boat accessories, boat angler, boat boondocking, boat buyers guide, boat camper, boat camping, boat dealers, boat DIY, boat Fishing, boat Fixer, boat Home, boat information, boat insurance, Boat Maintenance, boat marinas, boat marinas in Alberta, boat marinas in BC, boat marinas in Canada, boat marinas in Manitoba, boat marinas in Saskatchewan, boat marinas in the USA, boat marinas near me, boat products, Boat Races, boat rentals, boat repair, boat road test, boat sharing, boat sites near me, boat supplies, boat Tech, boat tips, boat touring, boat trade, boat Travel, boat traveling, boat travelling, boat vacation, boat vacation cost, boat websites Canada, boating Canada, Boating Canada's Boat Lifestyle Magazine, Boating Lifestyle Magazine, boating website, Canadian marina websites, Drag Boat, expert boat information, find a boat dealer, how much does a boat cost, how much does marina cost, how to choose a boat, how to drive a boat, marina products, marina supplies, motor boat, power boating magazine, Racing, Regatta, Sproat Lake, Suzuki, suzuki marine, top boat website, used boat reviews best boat, Best boat buying website, best boat marina website, best boat travel website, best place to rent a boat, boat accessories, boat angler, boat boondocking, boat buyers guide, boat camper, boat camping, boat dealers, boat DIY, boat Fishing, boat Fixer, boat Home, boat information, boat insurance, Boat Maintenance, boat marinas, boat marinas in Alberta, boat marinas in BC, boat marinas in Canada, boat marinas in Manitoba, boat marinas in Saskatchewan, boat marinas in the USA, boat marinas near me, boat products, Boat Races, boat rentals, boat repair, boat road test, boat sharing, boat sites near me, boat supplies, boat Tech, boat tips, boat touring, boat trade, boat Travel, boat traveling, boat travelling, boat vacation, boat vacation cost, boat websites Canada, boating Canada, Boating Canada's Boat Lifestyle Magazine, Boating Lifestyle Magazine, boating website, Canadian marina websites, Drag Boat, expert boat information, find a boat dealer, how much does a boat cost, how much does marina cost, how to choose a boat, how to drive a boat, marina products, marina supplies, motor boat, power boating magazine, Racing, Regatta, Sproat Lake, Suzuki, suzuki marine, top boat website, used boat reviews