A perennial lunchtime favourite.
By LaDonna Gundersen
Serves 4
Ingredients

 
3 ounces thin rice noodles, cooked
12 round rice paper sheets
1½ cups crabmeat (if using king or snow, slice into small strips)
1 large avocado, sliced into strips
2 cups red cabbage, shredded
2 cups carrot, shredded
½ cup cilantro leaves
½ cup mint leaves
½ cup basil leaves
6 green onions, cut into thin strips
Peanut Dipping Sauce 
1/3

 

cup creamy peanut butter
1 tablespoon low-sodium soy sauce
2 tablespoons hoisin sauce
2 teaspoons Siracha hot sauce
1 teaspoon ginger, grated
6 tablespoons hot water, to thin
Directions
Peanut Dipping Sauce:  In a bowl, mix together the sauce ingredients until smooth.  Arrange all the ingredients separately around a large cutting board or tray set before you.  Set out a platter to hold the finished rolls, as well as a large shallow bowl filled with very warm water. 
Spring Rolls: To make each roll, slide one sheet of rice paper into the pan of warm water and press gently to submerge it for about 15 seconds. Remove it carefully, draining the water and place it before you on the cutting board.  Line up a horizontal row of each of the following ingredients on the rice paper sheet, starting on the lowest third of the sheet and working away from you: a small amount of crabmeat, a tangle of noodles, a few avocado slices, a row of cabbage and carrots, a row of cilantro, mint and basil and a row of green onion slivers on top. 
Fold the bottom half of the wrapper over the filling, hold the filling in place, tuck in the sides and roll tightly.  Repeat with the remaining filling and serve with the dipping sauce.
Makes 10-12 rolls.
---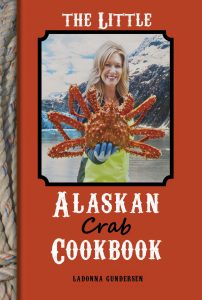 Recipe expert from The Little Alaskan Crab Cookbook, by La Donna Gundersen.

Copyright 2020 by Ole and LaDonna Gundersen. www.ladonnarose.com 

best boat, Best boat buying website, best boat marina website, best boat travel website, best place to rent a boat, boat accessories, boat angler, boat boondocking, boat buyers guide, boat camper, boat camping, boat dealers, boat DIY, boat Fishing, boat Fixer, boat Home, boat information, boat insurance, Boat Maintenance, boat marinas, boat marinas in Alberta, boat marinas in BC, boat marinas in Canada, boat marinas in Manitoba, boat marinas in Saskatchewan, boat marinas in the USA, boat marinas near me, boat products, boat rentals, boat repair, boat road test, boat sharing, boat sites near me, boat supplies, boat Tech, boat tips, boat touring, boat trade, boat Travel, boat traveling, boat travelling, boat vacation, boat vacation cost, boat websites Canada, boating Canada, Boating Canada's Boat Lifestyle Magazine, Boating Lifestyle Magazine, boating website, Canadian marina websites, crab recipes, expert boat information, find a boat dealer, how much does a boat cost, how much does marina cost, how to choose a boat, how to drive a boat, marina products, marina supplies, motor boat, power boating magazine, top boat website, used boat reviews best boat, Best boat buying website, best boat marina website, best boat travel website, best place to rent a boat, boat accessories, boat angler, boat boondocking, boat buyers guide, boat camper, boat camping, boat dealers, boat DIY, boat Fishing, boat Fixer, boat Home, boat information, boat insurance, Boat Maintenance, boat marinas, boat marinas in Alberta, boat marinas in BC, boat marinas in Canada, boat marinas in Manitoba, boat marinas in Saskatchewan, boat marinas in the USA, boat marinas near me, boat products, boat rentals, boat repair, boat road test, boat sharing, boat sites near me, boat supplies, boat Tech, boat tips, boat touring, boat trade, boat Travel, boat traveling, boat travelling, boat vacation, boat vacation cost, boat websites Canada, boating Canada, Boating Canada's Boat Lifestyle Magazine, Boating Lifestyle Magazine, boating website, Canadian marina websites, crab recipes, expert boat information, find a boat dealer, how much does a boat cost, how much does marina cost, how to choose a boat, how to drive a boat, marina products, marina supplies, motor boat, power boating magazine, top boat website, used boat reviews