By The Wine Ladies
With so many folks out there experiencing foiled travel plans due to Covid-19, we thought well… if you cannot get to your planned destination, maybe you can bring the destination to you! What do they say… when life gives you lemons make lemonade?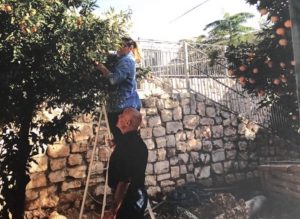 For us… a hopeful visit to the Mediterranean was not to be, so since  we couldn't get to the Med, why not bring a little of the Med to us! Starting with one of the Mediterranean's star features: food, glorious Food,
Here, we will introduce you to a brand-new restaurant embracing the delectable, mouth-watering, and healthy cuisine of the Mediterranean. We'll touch upon the incredible diversity the region has to offer.
With Twenty-three countries bordering the Med, one can only imagine the possibilities for the foodie, from a country's signature dish to a unique spice, indigenous herb and/or traditional recipes handed down over generations.
Montfort Mediterranean Cuisine, located in Oakville, ON, is a quintessential Mediterranean  restaurant with some of the best authentic dishes you can imagine.
We had the opportunity to sit down with the Founder Rebecca Shoufany Amoury and- over a glass of wine and a variety of mouth-watering dishes- she began to share her story.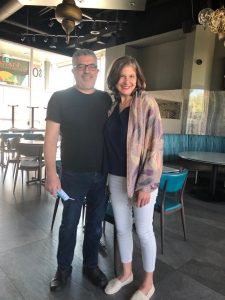 Rebecca, or Rabab as she is affectionately known, grew up in the North Galilee Israel, in a town that overlooks Lebanon which we learned  is located just a half hour from where the Last Supper was held. Now that is pretty cool! Rebecca's roots go back many generations in the area with her grandparents and parents having a passionate connection with the land, harvesting grape leaves, lemon and olive trees, growing a variety of vegetables, different herbs and more.
Rabab tells us this is where she has many fond memories of harvesting the trees, grinding  falafel, and learning to prepare traditional recipes of the Mediterranean which are still being used today at Montfort. She recalls how everything was always so fresh, so delicious, and prepared with so much love and attention.
"Growing up, I had the opportunity to be a part of the most incredible experience of what the true meaning of traditional Mediterranean cuisine is! Every October, we harvested olives and pressed our own olives at the olive press which was in our village."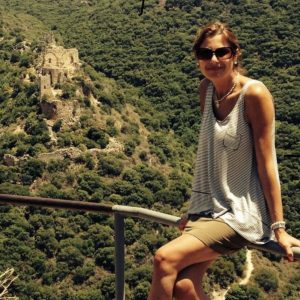 We learned that family time together was most often spent sitting at a large harvest table, enjoying one another's company over food and drink. This, she tells us, has a lot to do with her philosophy today.
"The Shoufany Amoury family represents the true foundation of Montfort and we stand behind the belief that "food, family and friends" are a shared richness that is not only a part of our culture, but a way of life that we have been privileged enough to share here in Canada at our restaurants."
Rebecca founded Montfort Mediterranean Cuisine over 25 years ago with  "the grateful assistance of my parents Melad and Georgette" .The name Montfort she says was chosen "because it represents a big part of who my family are; "strong mountain " She recalls on many occasions sitting  far above the Montfort Castle from where the name Montfort came, in Galilee, Israel.
After 25 years in one location, they recently relocated, reopening in a space where the atmosphere and environment of Montfort bellows out "welcome to the Mediterranean"!  And welcome to our place for friends and family to gather and enjoy fresh, delicious, home-made traditional dishes of the Mediterranean.
In 2013, the Montfort family grew after Rebecca met Dr. Jad Amoury in Israel.  Jad had been practicing dentistry for 15 years and since coming to Canada has joined the family business at Montfort.
An astute businessman, Jad runs the business  and oversees the kitchen, whilst on off hours spending time with two young babies, ages 2 and 8 months. How do they do it all? "It's about passion," Rebecca tells us. Passion for family, for tradition, for the wonderful flavours and dishes of the Med!
What is the Mediterranean diet?
Twenty-three countries across 3 continents border the Mediterranean Sea. Although all the Mediterranean diets share common characteristics, there are slight variations depending on the region.  A typical Mediterranean diet consists of plenty of vegetables, grains, nuts, legumes and fruits. Olive oil is the predominant fat and thank goodness… wine and homemade Arak often accompanies meals!
To our own experience on this day at Montfort Mediterranean Cuisine, Although the countries of France, Spain and Italy have garnered much of the "Mediterranean" attention, today as you may have surmised, Rebecca and Jad are eager to explore several of the eastern countries bordering the Mediterranean Sea. Israel, Lebanon, Palestine, and Egypt, to name a few are represented on a beautiful spread Executive Chef Fouad sets down before us. "Chef Fouad," Jad informs us "hails from Egypt, studied in France and in Holland. Let the tasting begin!"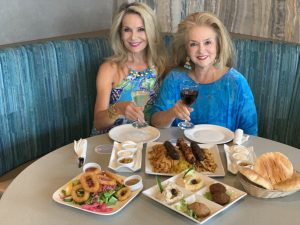 We begin with an appetizer plate "Maza" which is a selection of four appetizers, (you are free to choose your own)  baba ghanoush, humous, kibbeh and falafel.
Each of these represent a different birthplace including Israel, Lebanon, Greece and Egypt,  although all are a key staple around the Mediterranean with slight variations. A delicious starter to be sure.
After a plate of delicate, delicious fried calamari, seasoned with Montfort Mediterranean spices and drizzled with a reduced balsamic vinaigrette, the main course, a Mixed Grill featuring their signature dish, Montfort Chicken, Chicken Shawarma, Pork Souvlaki and Kafta arrived. All juicy, flavorful, tender and with fragrant and flavourful herbs and spices… where am I?  Could it be the eastern part of the Med? No… alas, we are not permitted to travel, but this is definitely the next best thing!
In closing we have to applaud Rebecca and Jad for having the courage to push forward with the launching of the new Montfort Mediterranean Cuisine during these challenging times. Jad, as the operations Manager took a bold  and  savvy step, by being an early adopter in creating their own apps for Montfort for takeout and delivery. This allows their local customers to order online, earn loyalty points and receive an automatic credit of $5.00 with each download.
T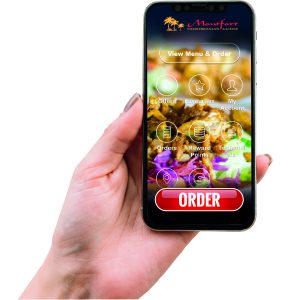 his has helped the restaurant  immeasurably, allowing for greater sales, and pickup and delivery costs to be minimized during Covid 19.
Before we part ways. Rebecca wants to make it clear that she credits the continued success of Montfort to her loyal customers, many of which have become good friends and are like family.
As she maintained throughout our chat, "I've learned that fresh quality food is just as important as the service, atmosphere and presentation, but most importantly, pleasing my guests just like they are family is the key to a successful restaurant."
If you would like to experience the delectable and diverse foods of Montfort Mediterranean Cuisine, please visit their website www.montfortrestaurats.com
Bravo Rebecca and Jad!
---
About The Wine Ladies:
Charismatic and entertaining, The Wine Ladies take life 'one sip at a time', as they share the splendor of wine and food and the ideal 'Lifestyle' it entails. As hosts of their own TV show  "One Sip At A Time… Adventures Around the Globe, and of their weekly radio show about wine, food and lifestyle, The Wine Ladies share their passion and live life to the fullest and without hesitation. These 'Lifestyle' passions are also shared through national newspaper columns and a very active social media platform, engaging their many followers and fans through their blogging, videos, Facebook, TWITTER, You Tube and more.   
www.thewineladies.com

 

Adventure, Baba ganoush, Boating, boating life, COVID-19, Egypt, Falafel, Food, France, fruits, grains, Holland, homemade Arak, Isreal, Lebanon, Lemon, Lemon Tree, Lifestyle, Mediterranean, Montford, Montford Mediterranean Cuisine, North Galilee, nuts, Oakville, Olives, ON, Online ordering, Palestine, power boat, power boating, Power Boating Canada, powerboating, Recipe, restaraunt, Staycation, takeout, takeout menu, travel, vegetables, Wine, wine ladies Adventure, Baba ganoush, Boating, boating life, COVID-19, Egypt, Falafel, Food, France, fruits, grains, Holland, homemade Arak, Isreal, Lebanon, Lemon, Lemon Tree, Lifestyle, Mediterranean, Montford, Montford Mediterranean Cuisine, North Galilee, nuts, Oakville, Olives, ON, Online ordering, Palestine, power boat, power boating, Power Boating Canada, powerboating, Recipe, restaraunt, Staycation, takeout, takeout menu, travel, vegetables, Wine, wine ladies