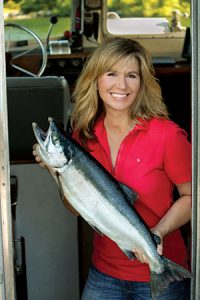 I'm a little obsessed with frittata's, which is the perfect make-ahead boat food. 
It uses up leftovers, it can be made with many different ingredients, transports easily and contains no pastry-a bonus in this healthy age. 
Serve it with a crunchy green salad and a crisp white wine and you'll have one outstanding boat lunch.
Serves 4
Ingredients

 
2 tablespoons olive oil
1 cup chorizo sausage (or kielbasa, cut into bite-size pieces)
2 cups sweet potato, shredded
½ cup sliced yellow bell pepper
¼ cup yellow onion, diced
8 eggs
1 tablespoon milk
½ teaspoon sea salt
¼ teaspoon ground black pepper
2 Roma or Vine tomatoes, sliced
1 cup crabmeat (if using king or snow, cut it into bite-size pieces)
½ cup Monterey Jack cheese
cilantro, for garnish
Directions

Preheat your oven to 350˚F.  Heat the oil in an oven-safe skillet over medium heat.  Add sausage, sweet potato, yellow pepper and onion and sauté for a few minutes.

Beat the eggs with the milk and salt then pour into the skillet and cook for 2 minutes.  Scatter the crabmeat and cheese over the eggs.  Arrange the tomato slices in a circular pattern on top of the eggs.  Place the frittata in the oven and bake for 20 minutes or until eggs test done.

Garnish with cilantro and serve.  

best boat, Best boat buying website, best boat marina website, best boat travel website, best place to rent a boat, boat accessories, boat angler, boat boondocking, boat buyers guide, boat camper, boat camping, boat dealers, boat DIY, boat Fishing, boat Fixer, boat Home, boat information, boat insurance, Boat Maintenance, boat marinas, boat marinas in Alberta, boat marinas in BC, boat marinas in Canada, boat marinas in Manitoba, boat marinas in Saskatchewan, boat marinas in the USA, boat marinas near me, boat products, boat recipes, boat rentals, boat repair, boat road test, boat sharing, boat sites near me, boat supplies, boat Tech, boat tips, boat touring, boat trade, boat Travel, boat traveling, boat travelling, boat vacation, boat vacation cost, boat websites Canada, boating Canada, Boating Canada's Boat Lifestyle Magazine, Boating Lifestyle Magazine, boating website, Canadian marina websites, crab recipes, expert boat information, find a boat dealer, how much does a boat cost, how much does marina cost, how to choose a boat, how to drive a boat, marina products, marina supplies, motor boat, power boating magazine, top boat website, used boat reviews best boat, Best boat buying website, best boat marina website, best boat travel website, best place to rent a boat, boat accessories, boat angler, boat boondocking, boat buyers guide, boat camper, boat camping, boat dealers, boat DIY, boat Fishing, boat Fixer, boat Home, boat information, boat insurance, Boat Maintenance, boat marinas, boat marinas in Alberta, boat marinas in BC, boat marinas in Canada, boat marinas in Manitoba, boat marinas in Saskatchewan, boat marinas in the USA, boat marinas near me, boat products, boat recipes, boat rentals, boat repair, boat road test, boat sharing, boat sites near me, boat supplies, boat Tech, boat tips, boat touring, boat trade, boat Travel, boat traveling, boat travelling, boat vacation, boat vacation cost, boat websites Canada, boating Canada, Boating Canada's Boat Lifestyle Magazine, Boating Lifestyle Magazine, boating website, Canadian marina websites, crab recipes, expert boat information, find a boat dealer, how much does a boat cost, how much does marina cost, how to choose a boat, how to drive a boat, marina products, marina supplies, motor boat, power boating magazine, top boat website, used boat reviews