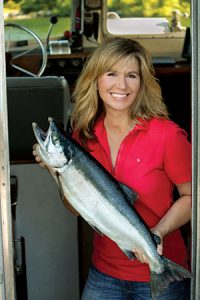 I'm a little obsessed with frittata's, which is the perfect make-ahead boat food.
It uses up leftovers, it can be made with many different ingredients, transports easily and contains no pastry-a bonus in this healthy age.
Serve it with a crunchy green salad and a crisp white wine and you'll have one outstanding boat lunch.
Serves 4
Ingredients
2 tablespoons olive oil
1 cup chorizo sausage (or kielbasa, cut into bite-size pieces)
2 cups sweet potato, shredded
½ cup sliced yellow bell pepper
¼ cup yellow onion, diced
8 eggs
1 tablespoon milk
½ teaspoon sea salt
¼ teaspoon ground black pepper
2 Roma or Vine tomatoes, sliced
1 cup crabmeat (if using king or snow, cut it into bite-size pieces)
½ cup Monterey Jack cheese
cilantro, for garnish
Directions
Preheat your oven to 350˚F. Heat the oil in an oven-safe skillet over medium heat. Add sausage, sweet potato, yellow pepper and onion and sauté for a few minutes.
Beat the eggs with the milk and salt then pour into the skillet and cook for 2 minutes. Scatter the crabmeat and cheese over the eggs. Arrange the tomato slices in a circular pattern on top of the eggs. Place the frittata in the oven and bake for 20 minutes or until eggs test done.
Garnish with cilantro and serve.
boat recipes, crab recipes