Having a compass onboard your boat is very important to ensure you are going in the right direction, and to be able to reroute if you get lost. But many boats don't have space for a flush-mounted model, which is why the Bracket Mount Helmsman compass from Ritchie Navigation is designed to be mounted onto any steering station to reduce space usage.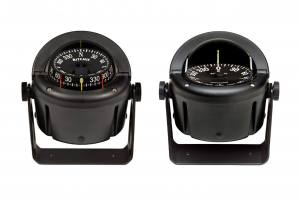 The Bracket Mount Helmsman is available in two configurations. The open face version (HB-740) has a flat dial designed to be viewed from a downward angle. It has degree marks on the top of the card and a single yellow centerline and dual white 45° lubber marks along the back.
The CombiDial model (HB-741) is ideal for boats where the driver may be standing or seated. Its card has two sets of degree marks, on top and along the raised periphery. Yellow centerlines are fore and aft, and red 45° lubber lines are on the front of the polished dome.
Both 3-3/4″ dial types are set upon sapphire jewels in a hardened steel gimbal. Combined with powerful DirectiveForce magnets, the Ritchie Bracket Mount Helmsman provides a highly accurate direction reading without distracting card-spinning, no matter the sea state. Plus, unlike a GPS, it delivers guidance when stopped or moving at slow speeds.
The Bracket Mount Helmsman comes with built-in compensators for deviation adjustment. This allows it to be used on metal boats and around steel components without affecting the magnetic heading accuracy.
Integrated 12V green NiteVu lighting delivers illumination to the compass at night. Optional 12V red and 24V green replacement kits are easily installed. A movable sun shield provides shade to the dial when needed.
Built from a black composite that's unaffected by temperature, the Bracket Mount Helmsman installs simply with two screws. The rugged metal bracket has large thumbscrews that allow the compass to pivot for the optimal viewing position, even when installed on a steeply-angled console.
The Bracket Mount Helmsman from Ritchie Navigation is 100% repairable and comes with a five-year warranty. Both the HB-740 open dial and HB-741 CombiDial models cost $227.06. A white protective cover is $39.48.
accessories, best boat cleaning supplies, best new boat products, boat, boat accessories, boat chairs, boat checklist, boat cleaning supplies, boat equipment, boat furniture, boat hacks, boat Lifestyle Products, boat supplies, boat tips, boat water purifier, boat water softener, Boating, boating accessories, boating equipment, boating gear, Boats, bracket mount helmsman, compass, how to clean a boatproducts, how to level a trailer, how to set up a boat, marine products, must have boating gear, new boat products, ritchie, ritchie navigation, water softener