The new king-size 2021 Escalade raises the bar in the battle for luxury tow vehicle supremacy.
By John Cacciutti
"This Super Cruise is Super-Cool!" quipped the delivery driver before the soft close electric door lock even came to a close. Not only is the soothing 2021 Cadillac flagship quiet and easy to drive – even with no hands and feet – but it also ushers in a full roster of technological advancements for towing and entertainment.
Engineers started with a clean sheet of paper and departed from some long-standing conventions in its pedigree such as a solid rear axle. The result is a more commanding physique outside, a lower floor inside and greatly expanded passenger and cargo space. 
To give you an idea of just how imposing this 17.5 feet long SUV is, Escalade's hood meets me neck high on my five-foot, seven-inch frame and it has driver selected ground clearance settings that can raise it even higher.
Inside, the third-row leg room increases by more than 10 inches and since the middle seats slide back, this gain can largely be shifted forward to benefit second row passengers when desired. Behind all the seats you'll find a whopping 68% increase in cargo space which is ideal for transporting large boat coolers, suitcases and more.
Overall, the dramatic increases in space are due primarily to a longer and slightly wider wheelbase.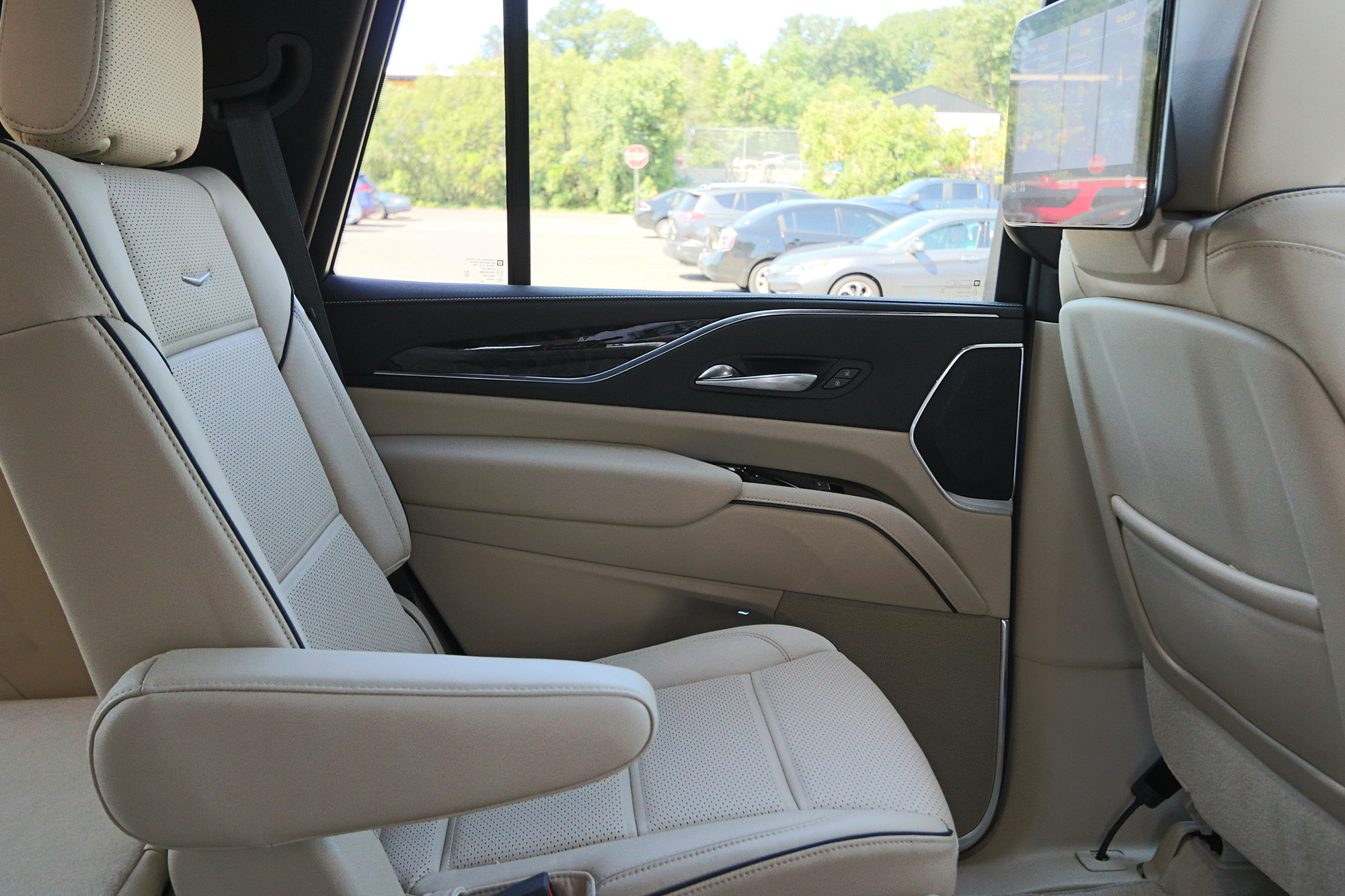 It also benefits from an electric folding back seat that disappears into the lowered floor – just like it has for years in the Lincoln Navigator. This simply was not possible without sacrificing coach space when shouldering this disappearing act above the previous solid rear axle.
The bigger, better Escalade utilizes a 6.2-liter V8 engine or an optional 3-liter turbo-diesel mated to a 10-speed transmission to lug up to an 8200-pound trailer. This tow rating is actually 100 pounds less than before but it pulls with such ease and stability. The standard 22" wheels with 32" tall rubber and 121" wheelbase give it a wide, prize-fighter stance that is not easily pushed around by long trailers in a heavy cross wind. 
The new independent rear, combines with available magnetic ride control and air adaptive suspension to offer exceptional isolation from the road even when trailering. 
Here is how it works. Wheel accelerometers read the road up to 1,000 times per second and trigger changes in the magnetic charge within the shock absorber fluid. This alters the damping rates almost 8200-pound. Adjusting the shock absorbers in this way helps to keep the maximum amount of tire in contact with the road so the 5600-pound SUV can better respond to varying road surfaces and lateral wind force.
Meanwhile the air suspension system, delivers automatic load-leveling and ride height adjustments at all four wheels. On the highway it automatically lowers to improve aerodynamics. Driver-selectable settings can be used to lower the suspension 2 inches to aid passenger entry and exit when the vehicle is parked or raise the body for additional ground clearance when driving off-road.
A trailering package is standard on all trim levels but our 4WD Premium Luxury test vehicle also came with a Trailering Integration Package, which helps keep a watchful eye with up to nine camera views. When hitching-up, guidelines appear on the rear facing camera display to help the driver steer the ball into place.
The package also includes an integrated trailer brake controller on the dash and a trailering app that offers trailer profiles, tire pressure and temperature monitoring, and an extended side blind zone alert. After 15 years of towing boats back and forth to Florida, I can tell you from experience that the ability to monitor all the tire pressures/temperatures of your rig while rolling is a huge benefit! Unfortunately, most tire issues for me came to light when one blew-out!
Technology
The new command control center of this iconic VIP carrier is straight out of Star Wars! Bucking the recent industry trend toward large rectangular screens – resembling iPads in the dash – Cadillac's Imagineers layered three, irregular shaped, touch-control OLED screens in front of the driver in an ideal curved cockpit configuration.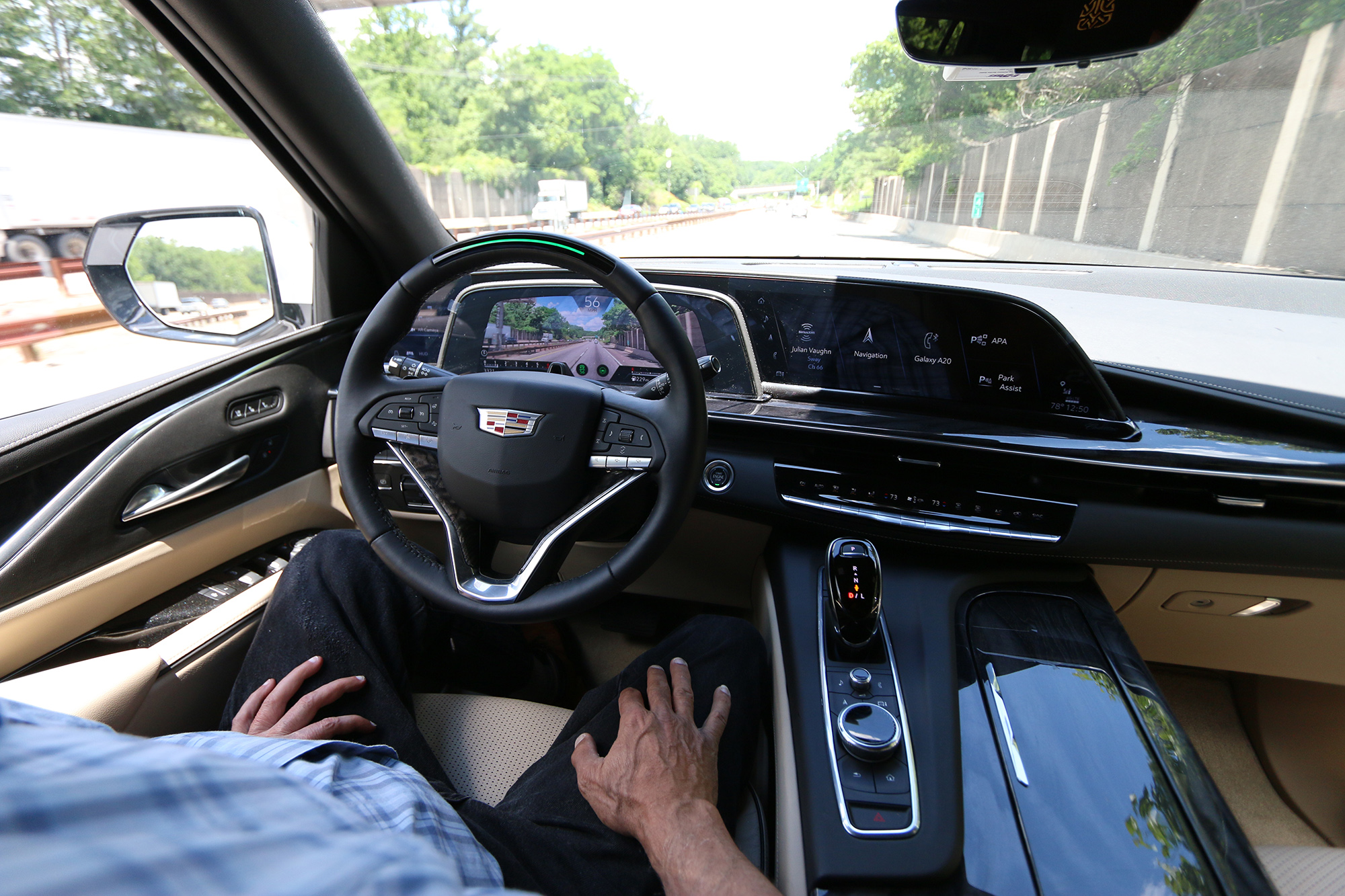 In total, the color displays offer more than 38 inches of diagonal viewing area, with twice the pixel density of a 4K television and the largest color range of any automotive display available today. The brightness and visual quality of OLED technology virtually eliminates the need for the "hood" shrouding of traditional automotive dashboards which further adds to the space-age look.
A mix of multi-function rotary dials and push buttons compliment the touch screens and turn them into a variety of useful views. These include infrared night vision, overhead surround vision and an optional Augmented Reality-enabled navigation, which utilizes live street views with directional overlays to enhance driving directions.
The standard rear-view mirror can also be turned into a four-way adjustable, live rear-facing camera view. This is especially helpful when towing a trailer and when you have boxes or luggage piled high in the back, blocking the conventional rear-view mirror.
As you approach the vehicle, Escalade's lighting does somewhat of a dance like a k-9 friend who is happy to see you. LEDs around the exterior illuminate and twinkle in sequence. Inside, colored lighting greets you from hidden strips in the doors, dashboard and floor areas and an image of an Escalade travels across all three screens and turns toward the driver.
Reinventing

 

In-Vehicle Audio

 
Traditionally, high fidelity mobile audio has been delivered utilizing left, right and center front speakers and rear speakers to create a forward focused sound field as if the passengers were sitting at a concert with the musicians playing in front of them.
In the new Escalade, Cadillac broke tradition and partnered with AKG – known for creating studio microphones and headphones – to create a recording room listening experience using 14 or the optional 28 channel amplifier and a whopping 19/36 speakers. Small tweeter speakers are hidden everywhere, even in the seats. High and low sounds come from everywhere and literally become music inside the listener's head.
Also praiseworthy are several interactive innovations. Embedded microphones in the front and rear of the interior capture voices and help to reproduce them in the designated zone so it's easier to have a two-way conversation with back seat passengers.  
Audible navigation instructions are now more intuitive and easier to follow thanks to AKG's novel idea to broadcast turn-by-turn instructions exclusively through the corresponding left or right-side speakers with the prompt moving nearer to the driver as the turn gets closer.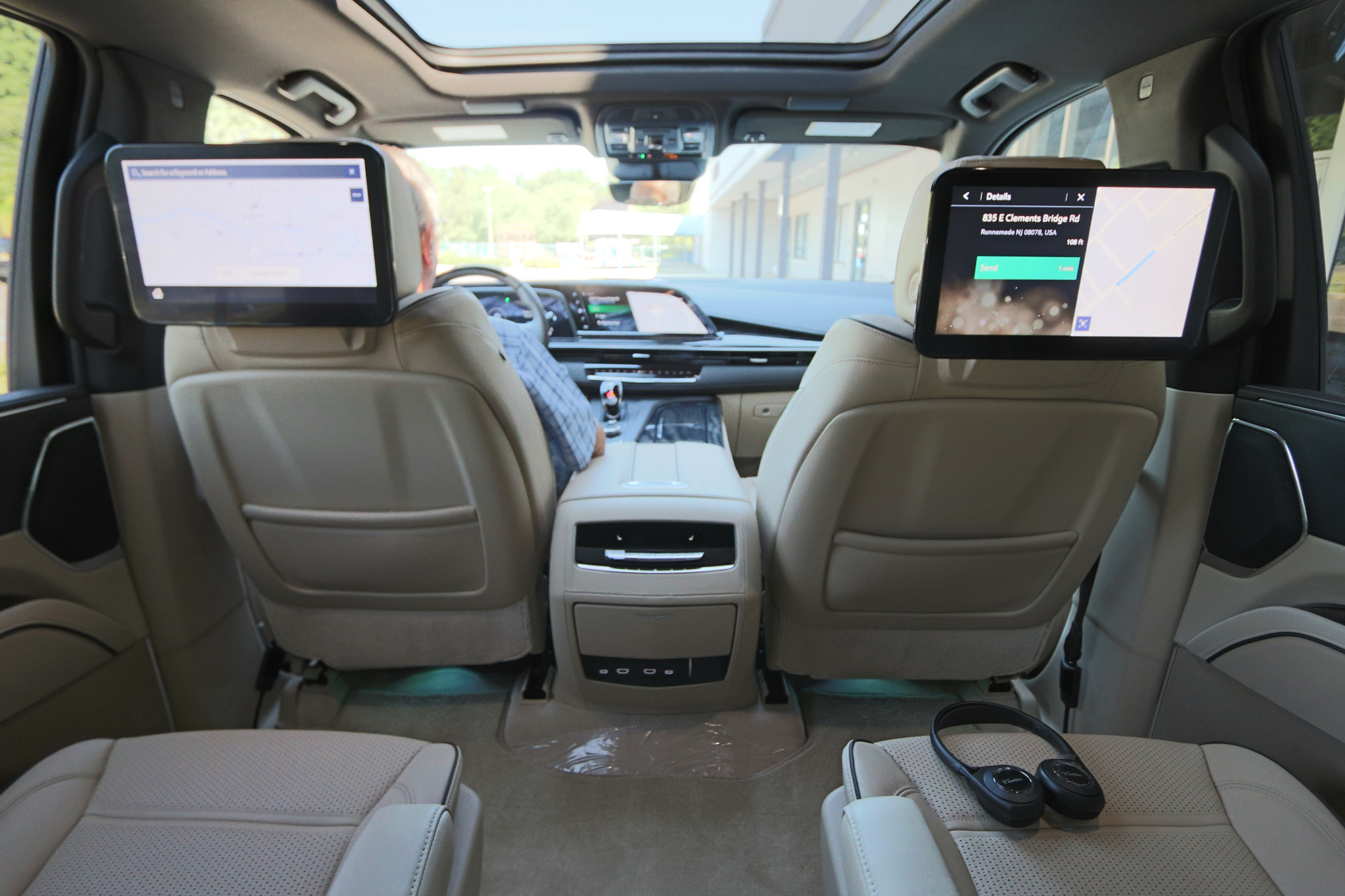 The new rear-seat entertainment system offers passengers many independent viewing and listening options to pass the time on long drives. Showcased for the first time are a pair of giant 12.6-inch-diagonal independent touch displays with navigation as well as streaming capability to play home video game systems, music and videos through HDMI and USB inputs.
The screens can also mirror Android smartphones. Additionally, destination "suggestions" can be "sent" by rear passengers to the front navigation screen, for the driver to accept or decline. This allows backseat passengers to do all the typing to enter business names or addresses and then effortlessly send it to the front OLED display while the driver is watching the road. 
Tow Tested
As expected, the 420-horsepower sport utility vehicle, towed our loaded 6300-pound Yamaha 252SE along at highway speeds with ease and it could even accelerate going up inclines. However, what impressed us most was how incredibly quiet and car-like that it drove compared to previous models. This is largely due to the new independent rear suspension and the ten-speed transmission.
One of our rear seat passengers commented "This is actually quieter than my Tesla". Just a reminder that this noise level comparison is to an electric car!  You don't actually hear the engine while cruising unless you purposely step on the accelerator, provoking a downshift and the double rubber door seals go a long way toward eliminating wind and road noise.
The Super Cruise self-driving feature is a must-buy option that is only available on the Premium Luxury, Sport and Platinum editions but it can convert any hesitation that a driver may have for making long highway trips. 
On the first few tests of the system, it was unnerving and surreal to sit in the command post of the 6000-pound goliath as it took control of the wheel. During that familiarization period you are riding with white knuckles ready to grab the wheel as it sometimes pilots itself around highway bends with eighteen wheelers on both sides!
However, after a few trips it becomes apparent that the vehicle's 360-degree array of cameras and radar systems don't make mistakes and actually have a better handle on what's going on around the vehicle than the driver would alone.  
Once you learn to trust it's ability, the relaxing experience is so compelling that I don't think that I ever will buy a vehicle again without it or similar autonomous operation capability. Simply press one button and if you are driving on one of the 200,000 miles that have been mapped for it then the steering wheel turns green and the highly intelligent driving system takes over. It's that easy!
When activated there are no hands, no feet, no need to brake, accelerate or steer on the highway and when you arrive at your destination more relaxed than normal, the eight-passenger transport can even park itself.
When you couple all these benefits with a lavish, ultra-quiet interior that is available in no less than eight color and trim choices, the Escalade becomes the obvious front runner in the race for luxury tow vehicle supremacy.  
Specifications
2021 CADILLAC ESCALADE
EPA-ESTIMATED MPG

City: 14 (2WD) – 6.2L1
13 (4WD) – 6.2L1
21 (2WD) – 3.0L
20 (4WD) – 3.0L

Highway: 20 (2WD) – 6.2L1
19 (4WD) – 6.2L1
27 (2WD) – 3.0L
26 (4WD) – 3.0L

Engine: 6.2L V-8 VVT DI with Dynamic Fuel Management

Horsepower (hp / kW @ rpm): 420 / 313 @ 5600

Torque (lb-ft / Nm @ rpm): 460 / 623 @ 4100

Transmission: Hydra-Matic 10L80 10-speed automatic

Wheelbase (in / mm): 120.9 / 3071

Overall Length (in / mm): 211 / 5382

Overall Width (in / mm): 81.0 / 2059

Overall Heigth (in / mm): 76.6 / 1948

Base price: $76,195 USD

Price as tested: $99,375 USD


For more information visit:
www.cadillac.com/suvs/escalade


2021 cadillac escalade, 2021 SUV, best boat cleaning supplies, best new boat products, boat, boat accessories, boat chairs, boat checklist, boat cleaning supplies, boat equipment, boat furniture, boat hacks, boat Lifestyle Products, boat supplies, boat tips, boat water purifier, boat water softener, Boating, boating equipment, boating gear, Cadillac, cadillac escalade, family vehicle, How to clean a boat, how to level a trailer, how to set up a boat, luxury suv, luxury tow vehicle, must have boating gear, new boat products, new SUV, tow test, Towing, towing a boat, towing vehicle, water softener 2021 cadillac escalade, 2021 SUV, best boat cleaning supplies, best new boat products, boat, boat accessories, boat chairs, boat checklist, boat cleaning supplies, boat equipment, boat furniture, boat hacks, boat Lifestyle Products, boat supplies, boat tips, boat water purifier, boat water softener, Boating, boating equipment, boating gear, Cadillac, cadillac escalade, family vehicle, How to clean a boat, how to level a trailer, how to set up a boat, luxury suv, luxury tow vehicle, must have boating gear, new boat products, new SUV, tow test, Towing, towing a boat, towing vehicle, water softener