Thunderboat Row brand updated with the latest technology – The Black Panther Goes Carbon Fiber
Press Release – Raleigh, NC – The name Pantera Boats conjures up memories of Miami's notorious Thunderboat Row and the rousing days of offshore powerboat racing, when tough men fought rough waters in new hulls to earn trophies and bragging rights. Says legendary offshore racer, race boat builder and author of Tales from Thunderboat Row, Allan "Brownie" Brown, "The heart of these boats, the hull shape, was drawn by a small number of visionary architects. Some were ugly, some 'wet,' some fell apart. The survivors, Formula, Cigarette, Magnum, Apache, Cougar, Donzi, and Pantera, are all still existent in one form or another. I just learned that Pantera was rescued by a young and willing builder who intends to integrate today's space age materials with the well-known ride and performance of the Pantera. Should be a good fit!"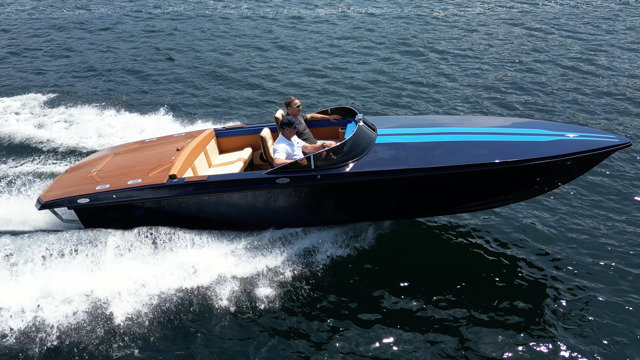 And that fit stems from Carbon Marine, a Canadian performance fan and builder of carbon fiber boats that has reincarnated the Pantera brand with today's technological updates, to again be a leader in the performance boat market. The first Classic Sport 24' sport deck models are being delivered between June and July 2023 to proud new owners in Canada, Detroit, and South Florida. The boats are built using 100% aerospace grade carbon fiber, with infusion and pre-preg carbon parts with fully exposed upgrades available for all models.
Carbon Marine entered the boating market in 2016, creating light, strong, fast and efficient fully-exposed carbon fiber tenders. The company has made innovation inroads into several exciting new technologies, including EV boats, battery range and fast charging, integrated control systems and electrification in related transportation industries.
Pantera, meanwhile, had suffered a number of tough economic and personal blows since the heyday of Thunderboat Row, struggling to sustain business in a declining market and ultimately declaring bankruptcy in 2012. In 2017, the Miami Dade Court system awarded ownership of all remaining equipment, machinery and tooling, together with the 24', 28' and 36' molds, brand domain name for the website and the Pantera brand logos and trademarks, including the Pantera Boat 'Eyes,'" to a creditor, who put them up for sale.
The assets found a willing buyer in Carbon Marine, which saw an opportunity to reincorporate the brand and restore it to its prior glory, with modern technologies and materials. A contract manufacturing deal was struck with Jaguar Boats in Raleigh, North Carolina where Pantera Boats, Inc. was legally incorporated, with Jeff Howat, as Vice President and its current operator. However, the COVID pandemic created a shortage in labor and supply chain issues and delayed the original orders. Carbon Marine then opted to take full control of Pantera Boats, focused on 100% carbon hulls for all Panteras and moved construction to Ontario, Canada. While the domain name is still being settled by the current and former owners, the company currently uses the name Pantera-Boats.com on the web and in social media.
While the renowned "Deep-V" bottom hull was maintained with the classic 24-degree deadrise and 7' beam, the upper deck was reconfigured by yacht designer, J. David Weiss, who incorporated styling cues inspired by Singer Definitive Design, made famous by its Singer 911 Porsche restorations. Weiss' tweaks made the boat appear longer and with updated design, he revolutionized the interior from a bare bones race boat to an ultra-luxury speedboat, using high end finishes liken  real teak decks, Sileather and Alcantara upholstery, Nardi steering wheels and suspension seating by Ullman Dynamics. Rockford Fosgate sound systems, Garmin twin screens, and Lumitec lighting are standard in all new Panteras.
A wide range of customization options are included in the Elite Carbon model, an upgrade available for each of the 24, 28, and 36 models, featuring fully-exposed carbon fiber, coated with a semitransparent gelcoat that shows the fiber weave, while protecting the finish. A coloured translucent gelcoat was even used on the first boat to match the owner's selected McLaren blue. Various colour and gelcoat—or even paint options–are available. Real or synthetic teak decking, mahogany trim, and seating styles are available for buyer selection, as is preferred power. The first Classic Sport 24 model is powered by a 570 HP (MV8) Ilmor engine, while the second is a 6.2L Mercury Racing sterndrive. Outboard engines of 300+ HP are also optional, providing a "stretched" cockpit with lounge seating and trendy sport appeal.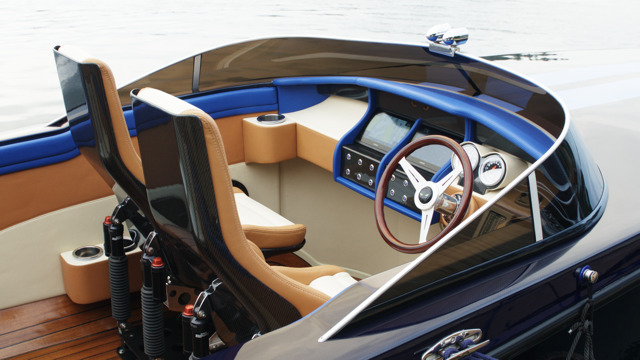 The re-design was approached with respect and admiration for Pantera's racing heritage which began in 1974, with the last World Championship in Key West won by the father-son team of Pepe and Jo Nunez in 2000. "We expect that if this deep-V hull was still racing, with our re-design, light, strong carbon fiber construction and power-to-weight ratio, it would again be a champion," states Howat, "Even the cat eyes were re-designed from cartoonish to more of a glaring, piercing eye." he adds.

The Classic 36' hull with an 8' beam will be next in the production line, followed by the 28 Classic. First, the company seeks a new president who will be the brand ambassador as the company looks to relocate the company's manufacturing to South Florida. "Pantera belongs in the Miami area," says Howat, "Real estate is tough in Florida, but we're confident we'll find the right spot soon to begin building here where Pantera has roots." Currently, the boats are being sold by Marine Unlimited, a performance dealer in racing-rich Tom's River, New Jersey and UNRIEHL Performance, a top-brand dealer in Detroit. Pantera also seeks other dealers in strategic locations across the country. While the boats reflect their quality design and build with prices of $249,000 to $900,000, depending on model and customization, Pantera Boats believes in the integrity of the hull, its build and new ownership.

"We are bringing a true love of performance and respect for the brand in bringing Pantera back to life—the life it deserves with racing heritage and now a technological advantage," says Howat, "We are proud to be the steward of this iconic go-fast brand." For more information visit www.Pantera-Boats.com or call 833-972-6837.

10 best boats, 10 new boats, 2023, 2024, apache, best performance boats, black panther, Boats, Canada, carbon fiber, carolina, cigarette, cougar, detroit, Donzi, Florida, Formula, hull, Inboard, miami, new boats, new jersey, Offshore, Pantera, performance, powerboats, racer, raleigh, release, stern, Technology, Thunderboat Row, upholstry 10 best boats, 10 new boats, 2023, 2024, apache, best performance boats, black panther, Boats, Canada, carbon fiber, carolina, cigarette, cougar, detroit, Donzi, Florida, Formula, hull, Inboard, miami, new boats, new jersey, Offshore, Pantera, performance, powerboats, racer, raleigh, release, stern, Technology, Thunderboat Row, upholstry