The Palm Beach International Boat Show is returning for its 40th year to West Palm Beach Florida from March 24th to 27th, 2022.
The show will feature hundreds of boats and marine accessories, including new models and 300 feet superyachts.
The show will take place at 101 S Flagler Dr, in downtown West Palm Beach, FL directly across the Intracoastal Waterway from Palm Beach Island.
Please Note: Access to the boats during the show is at the discretion of the broker, dealer, or manufacturer.
Make sure to get your tickets online at www.pbboatshow.com as there will be no box office at the show to purchase tickets.
Prices:
General Admission Adult One-Day Ticket | $29
General Admission Adult Two-Day Ticket | $54
General Admission Children 6+ One-Day Ticket | $15
Windward VIP Experience Adult One-Day Ticket | $350
Superyacht Show Adult Two-Day Ticket | $1000
Show Times:
Thursday 03/24 | 12pm – 7pm
Friday 03/25 | 10am – 7pm
Saturday 03/26 | 10am – 7pm
Sunday 03/27 | 10am – 5pm
For more information, visit www.pbboatshow.com or connect with the following contacts:
Phone: (954) 463-6762
Sales: Sales.ypi@informa.com
Marketing: Marketing.ypi@informa.com
Press: Pbibs@kivvit.com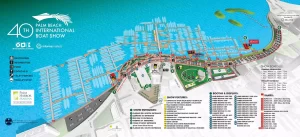 Adventure, best boat, boat, boat life, Boat Show, boater, Boating, boating adventures, boating daily, boating fun, boating life, boating season, boating with family, boating with friends, Boats, discover boating, experience, Florida, lets go boating, luxury, luxury boat, luxury boating, luxury boats, marine, marine life, maritime, nautical, ocean, on the water, Palm Beach, palm beach florida, Palm Beach International Boat show, Power Boating Canada Magazine, power boating for dummies, Power boats brands, powerboat, powerboating, powerboats, safe boating, safety, sea, speedboating, speedboats, travel, us power boating, Watercraft, watercrafts, what is power boating, what power boats Adventure, best boat, boat, boat life, Boat Show, boater, Boating, boating adventures, boating daily, boating fun, boating life, boating season, boating with family, boating with friends, Boats, discover boating, experience, Florida, lets go boating, luxury, luxury boat, luxury boating, luxury boats, marine, marine life, maritime, nautical, ocean, on the water, Palm Beach, palm beach florida, Palm Beach International Boat show, Power Boating Canada Magazine, power boating for dummies, Power boats brands, powerboat, powerboating, powerboats, safe boating, safety, sea, speedboating, speedboats, travel, us power boating, Watercraft, watercrafts, what is power boating, what power boats